Ready to explore the world of super-automatic espresso machines? You've come to the right place. As a coffee enthusiast with hands-on experience, I've tested and reviewed numerous models, and poured over user comments to help you find the best fully automatic espresso machine.
From budget-friendly to premium options, from grinder quality to programmable settings, I've analyzed the features that genuinely impact your espresso experience.
Also, investing in an automatic coffee machine is a big deal. That's why I've shared a detailed buying guide based on my experience and market insights. Let's dive in and equip yourself with all the knowledge you need before making that purchase.
Curated Machine Recommendations
There are dozens of automatic espresso machines on the market. I've had the pleasure of testing and researching 11 of the best and analyzing their functionality, aesthetic appeal, programmability, and overall coffee brewing quality.
| Product Image | Product Name / Primary Rating | Drink Options / Milk System | Made In / Dimensions | Primary Button |
| --- | --- | --- | --- | --- |
| | | | | |
| | | | | |
| | | | | |
| | | | | |
| | | | | |
| | | | 17.32"D x 9.45"W x 14.17"H | |
| | | Automatic Milk Carafe & Commercial steam wand | | |
| | | | | |
| | | | | |
| | | | | |
| | | | | |
New models are introduced each year, and some classic ones have been discontinued. So I always keep an eye on the market and update this super-automatic espresso machine guide frequently to ensure my recommendations stay current and relevant for you. Most of the models I recommend on the list are available, with some even making their debut this year. So rest assured, these picks are fresh and tailored for today's coffee enthusiasts!
1. Best Value for Money: Philips 3200 LatteGo
Best Value for Money
We earn a commission if you make a purchase, at no additional cost to you.
Our best value-for-money choice is the Philips 3200 LatteGo. When I first saw this machine, I was immediately drawn to its sleek and modern aesthetic. Though you might have reservations about the plastic finish, rest assured it still feels premium and robust.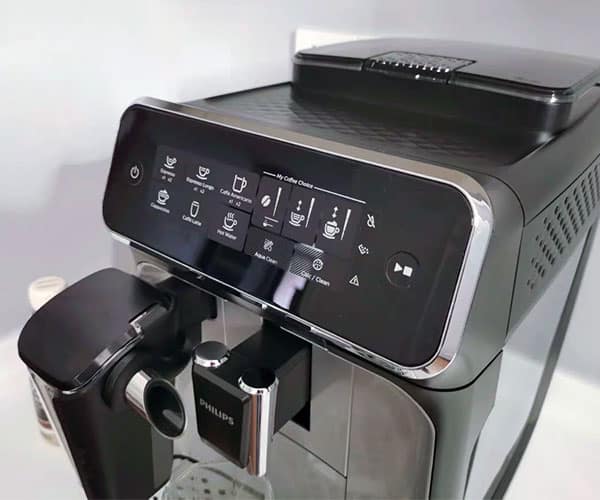 What sets it apart from other options is its automatic LatteGo milk frother. As someone who really loves cappuccinos, this was a must-have. With just the press of a button, I can have hands-off latte macchiatos and cappuccinos that rival my local coffee shop.
With its intuitive touch display, this espresso machine is my best companion. Selecting my coffee is a breeze, and the My Coffee Choice Menu lets me customize the strength and quantity of my coffee drinks to how I like it. The system also keeps the water temperature in the perfect range for your taste to perfectly capture the coffee beans' aroma.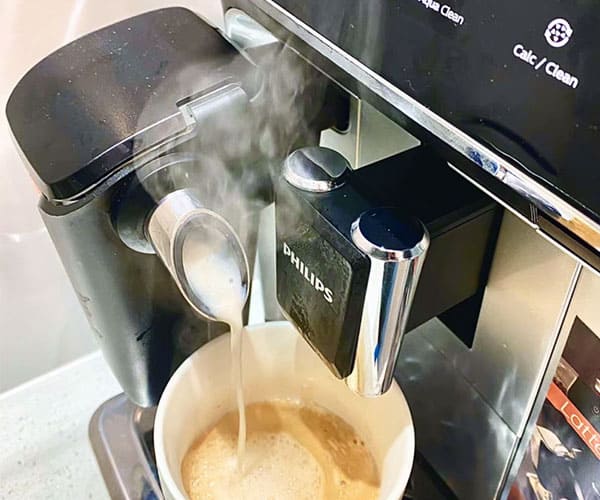 Moreover, the AquaClean filter is a dream come true—imagine not having to descale the machine for 5,000 cups! I've never enjoyed cleaning my coffee makers, so this makes my life easier and less stressful.
Overall, the machine is user-friendly and a great fit for beginners and experts. It has an entirely automatic process, so you don't have to worry about setting up too many customized features if you don't want to.
The Philips 3200 is budget-friendly and priced similarly to a mid-range semi-automatic espresso machine. You don't need to master any barista skills to brew espresso and other espresso drinks at home. While the LatteGo version has an automatic milk frother and is pricier, there's also a more affordable version with a manual milk frother for those on a budget.
Check out our hands-on review of the Philips 3200 LatteGo for more details.
Pros
So easy to operate that there's no need for advanced barista skills
Its contemporary aesthetic will complement most kitchen interiors
Fully automates the coffee-making process from beans to the finished cup
Cleaning is hassle-free, especially with a dishwasher-safe milk tank
Offers several features at a relatively affordable price point
Comes with a 12-step ceramic burr grinder for a range of grind settings, from very fine to coarse
Affordable price for the impressive features it provides, the best espresso machine under 1,000.
Cons
The grinding of beans and frothing of milk can be fairly loud
It doesn't have a steam wand, limiting your control over milk froth, not possible for latte art
2. The Elite Choice: Jura E8
The Elite Choice
We earn a commission if you make a purchase, at no additional cost to you.
If you're on the hunt for a top-notch super-automatic coffee machine, Jura is your go-to brand. Packed with cutting-edge technology, their designs are simply unparalleled. In our tests, Jura consistently delivered the finest espresso drink quality.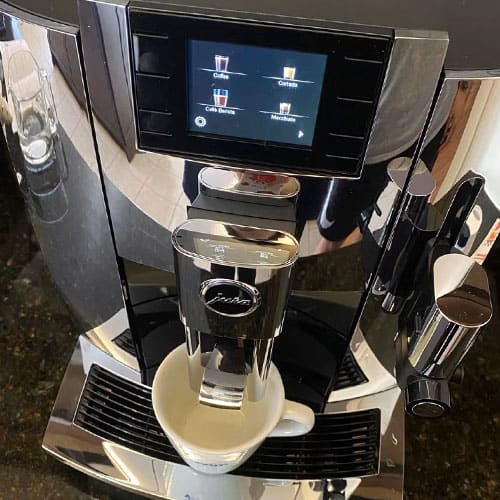 The Jura E8 is one of their best-selling machines, perfect for the coffee connoisseur who doesn't mind spending more for quality.
What truly sets this super automatic espresso machine apart is its ability to brew 17 different coffee beverages with just a button. If you love trying out different types of coffee like me, this feature opened up a world of new flavors.
It also comes with a professional aroma grinder which guarantees an increase in aroma and consistently performs at a very high quality. It is also the fastest and quietest machine in our testing.
The machine utilizes pulse extraction, bringing out as much flavor as possible. It also boasts dual spouts—one for your ristrettos, espressos, and coffees and a fine foam frother for those creamy, milk-infused delights.
The E8 is meticulous about making milk-based drinks. For a cappuccino, it froths the milk before adding espresso. But for a latte, it pours the espresso first, followed by steamed milk. The result? Coffee that mirrors the quality and taste of a pro barista's brew.
It also comes with a 2.8" color display. While many modern machines have jumped on the touchscreen bandwagon, the E8 keeps things simple with six physical buttons, perfectly blending classic and contemporary. However, not all customers would appreciate this feature.
The espresso machine also has a one-touch milk system cleaning option that I love. This process makes cleaning far easier and less of a drag. The integrated smart water system with an RFID chip is a step into the future—keeping descaling at bay and ensuring every cup is brewed with pristine water.
If you're tech-savvy, you can sync it up with your smartphone using the JOE app. However, you'll need to purchase the WiFi receiver separately. Previously we reviewed the Jura E8, check it out here.
Pros
Brews up to 17 different coffee beverages
Exceptional coffee taste and texture
Fully customizable drink settings
Premium features at a competitive price point
Cons
Compatible with Smart Connect but needs to be purchased separately
Traditional buttons and no touchscreen
3. Top All-Rounder: DeLonghi Dinamica Plus
Top All-Rounder
We earn a commission if you make a purchase, at no additional cost to you.
The DeLonghi Dinamica Plus is another fantastic option if you're looking for the best super automatic espresso machine . It has a striking titanium finish and a 3.5″ fully touchscreen display.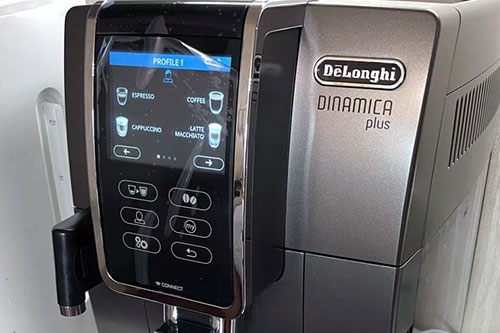 This machine offers 16 recipes using the innovative one-touch feature, so you can create everything from espressos to creamy lattes and cappuccinos. It also has an automatic LatteCrema System, allowing you to produce creamy, dense, and long-lasting milk foam at the perfect temperature.
The latte crema system is not only efficient but also dishwasher-friendly. The machine's self-rinsing feature and easily accessible brew unit make cleaning a breeze. The system also supports the coffee link app allowing you to personalize your coffee. You can also use three different user profiles, a feature my family members love using!
Beyond its touchscreen, I love the integrated burr grinder with 13 grind settings and a bypass doser for pre-ground beans. It lets the machine adapt to various coffee preferences, even decaf!
Moreover, Its quieter grind and froth operations are perfect if you love your peaceful, noiseless morning.
However, this machine is made of quite a bit of plastic, in addition to the titanium finish, which might not appeal to all users. Here is our Delonghi Dinamica Plus Review.
Pros
16 one-touch coffee drink recipes
The touchscreen is intuitive and easy to navigate
Allows users to customize their drinks and save them under individual profiles
You can use the De'Longhi Coffee Link App on your smartphone to access settings on the machine
Features the latest De'Longhi brewing tech and has an upgraded milk carafe
Cons
It's the most expensive model in the Dinamica range
Like many of De'Longhi's machines, it's made of a lot of plastic
4. Best Smart Option: Miele CM 6360
Miele is synonymous with luxury, offering a broad spectrum of top-tier home appliances. Living up to their high standards, this Miele CM63560 is no exception and exudes premium quality.
The Miele CM 6360 is a beautifully designed espresso machine that will look great in your kitchen and operate efficiently and consistently. It has various color options, each of them looks elegant and premium.
This isn't a one-size-fits-all machine. Instead, it allows you to tweak cup size, brewing temperature, and coffee amount and even activate pre-infusion for optimal extraction. It saves up to eight user profiles and is perfect for large families or households with varying coffee preferences.
Miele CM6360 offers dozens of built-in drink recipes, including coffee and tea, single or double. Whether you're in the mood for a shorter ristretto, a classic espresso, a creamy latte, or even a tea, everything's just a button press away. Hosting a gathering? The coffee pot function lets you brew a generous amount with ease.
Many of its components, like the auto-milk cleaning system, drip tray, and brew unit, are dishwasher-safe. It's clear that Miele designed this machine keeping the end-user in mind.
In today's connected world, its WiFiConn@ct feature is a great addition, letting you control the machine and brew your favorite cup via a smartphone or tablet.
It also comes with the One Touch for Two Preparation feature. You can prepare two cups of coffee simultaneously with a single touch. This is super efficient when my partner and I need individual coffees made immediately.
The only downside is that the control panel is not as high-tech as the others with larger display and touch screen. Also, its high price point might be outside the budget of many coffee lovers.
Pros
Has a sleek, uncluttered design
Makes a premium brew of espresso and coffee
Straightforward and easy to use
Easy to clean with dishwasher-safe components
Great for both tea and coffee drinkers
Eight user profiles
Cons
The control panel could be more intuitive
High price point
5. The Budget-friendly Choice: DeLonghi Magnifica Evo
De'Longhi ECAM29084SB Magnifica Evo with LatteCrema Espresso Machine
Pros:
Compact

Innovative milk foam system

Ease of use, including intuitive one-touch drink options and customizable "My Latte" drink option

High-quality espresso and milk froth

Value for money
Cons:
Slightly disappointing plastic exterior

Inability to customize milk froth density

No display screen meaning it's not as intuitive as it could be
We earn a commission if you make a purchase, at no additional cost to you.
DeLonghi never ceases to amaze me, and the Magnifica Evo is no exception. It comes in a sleek black and silver design that looked great in my kitchen as soon as I installed it. It only takes up a standard amount of space on my countertop and has an efficient design.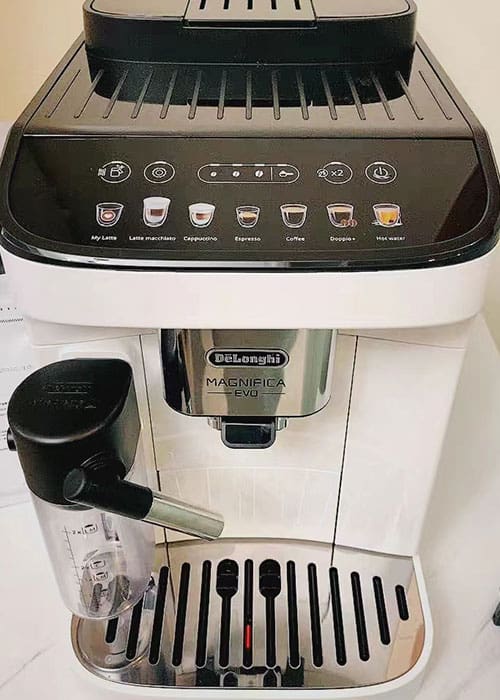 Its built-in, conical burr grinder has 13 adjustable sizes, ensuring optimal grind consistency. And if you fancy using your own pre-ground coffee, it features a bypass chute that makes the process seamless.
Whether you crave a rich espresso, a classic Americano, a chilled iced coffee, or even a foamy latte macchiato, this machine has you covered with its seven preset recipes. I especially love the 'My Latte' button, which lets me save my own concoctions! Plus, it has a one-touch brew feature that allows you to create espresso, late, and much more with a single tap.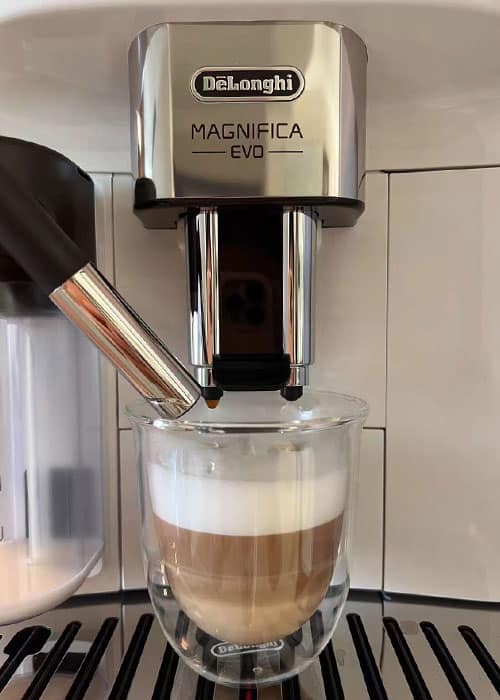 This is neither the most expensive nor luxurious machine I've ever tested. But, considering its capabilities, this espresso maker offers excellent value for money. It's a high-performing machine at a more reasonable price point.
The only downsides I could find are in the exterior design. Some parts of the machine are plastic, making it less durable than other options. Plus, this espresso maker doesn't have a display screen, so it's not quite as intuitive and easy to use as other options. Here is a detailed Delonghi Magnifica Evo review.
Pros
Compact design
Its automatic milk carafe delivers perfect froth every time
Offers one-touch drink options and a customizable "My Latte" setting
Produces high-quality espresso and creamy milk froth
Offers premium features at an accessible price
Cons
The plastic exterior lacks the premium feel and durability of stainless steel
No option to adjust the milk froth density
While still user-friendly, the lack of a screen makes it less intuitive
6. Compact Marvel: Jura ENA 8
Compact Marvel
We earn a commission if you make a purchase, at no additional cost to you.
This is another Jura espresso maker I tried out and loved. It's a compact yet feature-rich espresso machine that is easy to operate and produces only the highest quality coffee.
It has a sleek brush aluminum face that adds to the machine's overall aesthetics and small footprint. This espresso machine would be a good fit if you had a specific kitchen aesthetic featuring reds, whites, and blacks.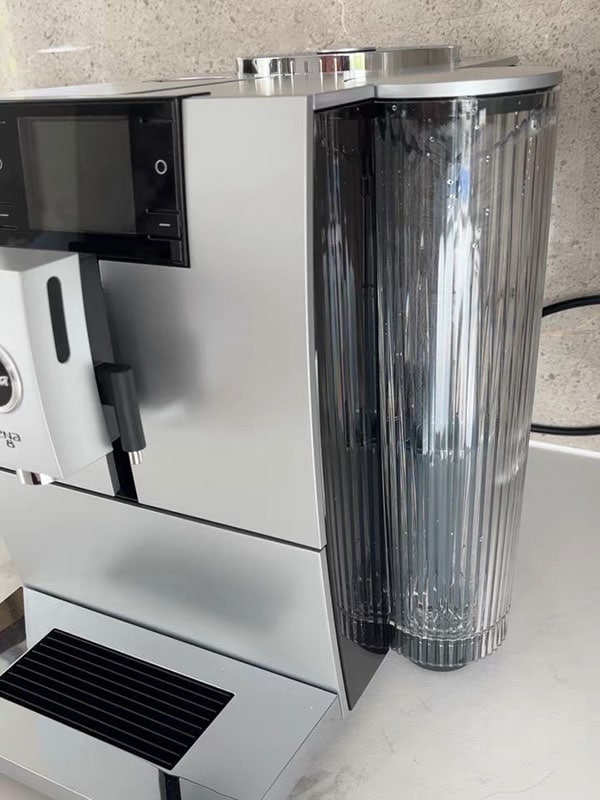 The jewel-facet water column reservoir, while being an aesthetic wonder, is also designed to save you much-needed counter space. This is a big win for apartment dwellers like me!
It also comes with small water filtration, which produces clean water for every brew, ensuring that your coffee's taste is always top-notch.
The automatic coffee machine also supports One Touch Brewing, letting you create a customized cup of coffee with a single button press. It offers ten different customizable drink recipes, allowing you to experiment with various beverages easily. You can also boost the caffeine by choose extra shot for some coffee drinks.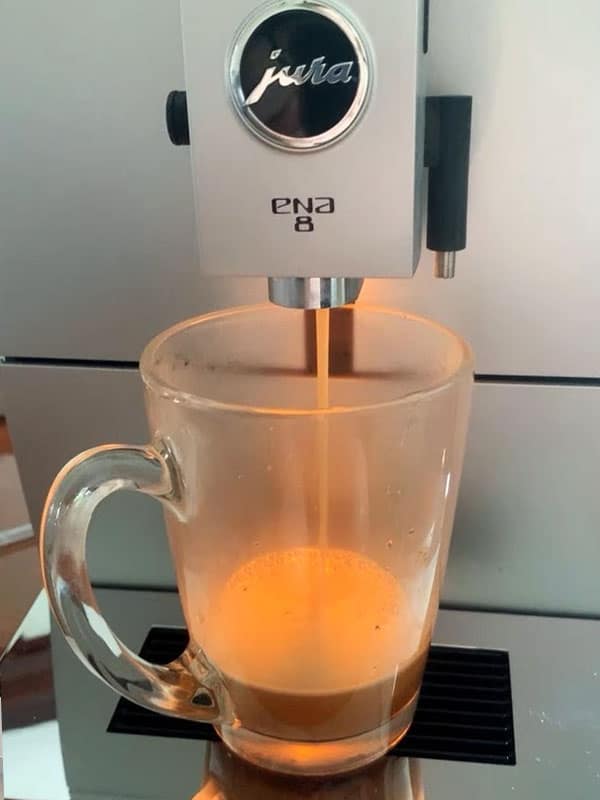 However, this Jura machine is a premium investment, like most of the company's products. While it has several fantastic features, and the design is certainly up there with the best options on the market, the price might be a deterrent.
Also, because of its compact design, it has a limited water and bean capacity. I found myself refilling it more often than the E8 mentioned above.
Pros
You can pick from an array of 10 specialty espresso beverages
Lets you adjust the brewing temperature, coffee strength, and the water temperature
You can make a larger cup in the AM and scale back on the caffeine in the PM with a smaller brew
Stylish and compact design
Cons
Its water capacity falls a bit short compared to some other machines on the market
The power switch is at the back, making it difficult to reach if the device is placed against the wall
7. Made in Italy: Gaggia RI9781/46 Accademia Espresso Machine
Made in Italy
We earn a commission if you make a purchase, at no additional cost to you.
The Gaggia RI9781/46 Accademia Espresso Machine is another top-notch choice for coffee lovers. It's Gaggia's latest model released in 2023.
As the new and top-of-the-line model in Gaggia's product line, you can expect the luxury of authentic Italian coffee, and yes, it's made in Italy. It offers steel housing and black glass front panel elements in its design, giving a sophisticated look.
It also offers 19 drink options, so you can explore brews from espressos to cappuccinos and most coffee drinks you can order at your local cafe. All the options have unique flavors and textures, turning your kitchen into a personal cafe.
The machine also has a perfectly responsive touch display making navigation easy. It has touch buttons and a textured rotary knob, allowing you to fully control every aspect of your coffee brewing, from its strength and volume to the temperature.
It also has a ceramic burr grinder with eight grinding settings, a unique feature that enhances the coffee's richness, and a programmable heated cup warmer.
Here's a unique feature rarely spotted in a super-automatic espresso machine: Gaggia Accademia boasts both an automatic milk carafe and a commercial-style steam wand. Feel like perfecting your latte art? Go right ahead! But if you're craving a quick sip, just let the machine craft it seamlessly for you.
The other drawbacks you should consider are the machine size, which is cumbersome for smaller kitchen spaces, and its premium price point.
Pros
19 customizable drink options
Intuitive touch screen
Auto frothing milk carafe is self-cleaning
Dual milk frothing system
Cons
Large in size, so not suitable for small kitchens
It's on the pricier side and can be a huge investment
8. Best for Espresso Purist: Tchibo Fully Automatic Coffee & Espresso Machine
Best for Espresso Purist
We earn a commission if you make a purchase, at no additional cost to you.
For those who only drink a simple black coffee or a classic espresso, why pay more for built-in recipes and milk frothing you won't use? Tchibo is the best automatic espresso machine tailored for you. With just a press of a button, indulge in a shot adorned with rich crema, brewed to perfection with the ideal pressure and temperature.
This espresso machine allows you to grind your beans and brew your coffee all in one step. All you have to do is pour in whole beans and hit the start button, and in no time, you'll have a fresh cup of coffee! It also has an elegant LED panel to allow for more precise control and personalize your brew.
This coffee maker comes with a new descaling process that keeps the machine and top shape far longer. It certainly makes your daily life easier, knowing you will have a clean, consistent, and delicious cup of coffee every time you brew.
This machine is relatively less expensive than the other options. However, it doesn't offer many settings or drink options, so it may not be the best option if you're a coffee enthusiast.
Overall, this espresso machine is perfect for anyone who wants a quality coffee experience at home without the fuss of dealing with complex, large machines with too many options.
Pros
Compact and sleek design
User-friendly with a precise functionality
Reasonably priced considering its good quality
Cons
Adds no new value, with no groundbreaking features
Produces a coarse grind
9. The Luxury Choice: Jura Z10
The Luxury Choice
We earn a commission if you make a purchase, at no additional cost to you.
If you're in the market for an espresso maker and have much money to burn, the Jura Z10 might be the one for you. It is equipped with all the lastest Jura technology.
It's an exquisite automatic coffee machine that I had the pleasure of trying out in Jura's showroom. One of its standout features is its revolutionary cold brew extraction process. It pulls cold water through the coarsely ground coffee at high pressure, delivering a genuine cold brew that I can't get enough of, without waiting for hours.
Amazingly, the machine has 32 specialties it can prepare, both hot and cold! From cappuccinos to flat whites, there's something for every taste preference when you use this machine.
The Jura Z10 also uses an exclusive product-recognizing grinder. This brilliant feature adjusts the grinder automatically depending on the selected brew specialty. This is not available in other machines on the list.
The machine also comes with WiFi connectivity. This allows you, through the JOE app, to manage your settings and preferences.
The main downside of this product is that it's nearly $4,000. This place is in the super-premium category and certainly out of reach for most consumers. It also has a smaller water capacity, meaning you'll likely have to refill it more often than you'd like.
Here is our comprehensive Jura Z10 review, you can learn more about it before purchasing. It's not cheap after all.
Pros
Sleek design with a high-quality build
Offer both hot and cold brews with 32 drink options
Features the Product Recognizing Grinder (PRG), which adjusts the grind's consistency depending on the drink
Several customization options and WiFi connectivity
Cons
Only has a single thermoblock heating system
Large in size
May be too expensive for all coffee enthusiasts
10. Most Stylish Option: SMEG Fully Automatic Coffee Machine
Most Stylish Option
We earn a commission if you make a purchase, at no additional cost to you.
The SMEG Fully Automatic Coffee Machine is our most stylish option. It combines the iconic 1950s-style retro design that SMEG is renowned for with modern functionality.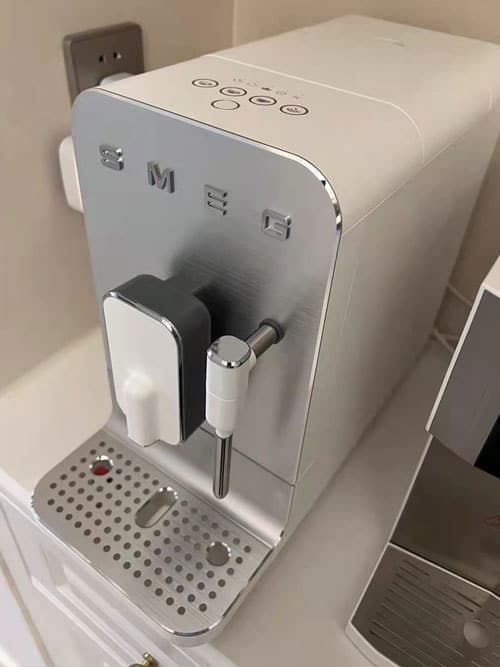 The espresso machine is incredibly elegant and perfect for those who love making and experimenting with coffee. You'll love its steel exterior mixed with various casing covers, each looking like top-end designers produced it. It's available in four colors, allowing you to pick the machine that perfectly fits your aesthetic.
It also comes with a one-touch beverage selection option, simplifying the process of brewing espresso. However, it doesn't offer auto milk frothing, instead, you have a steam wand. So if you are making cappuccinos or latte, you need to steam milk with its manual steam wand.
Its 19 bars of pump pressure and thermal block heating system guarantee a delectable espresso with a lush crema every time. The warm-up is swift; brewing from grinding to pouring takes approximately 30 seconds.
While this espresso maker isn't quite as expensive as the super-premium options on our list, it's still a bit on the pricier side. Additionally, it doesn't have a proper display panel. It only offers a few buttons on the top of the machine to help you customize each coffee you want, and it lacks the programmability of other products at its price point. However, if you like the minimalist and retro style, this is the machine for you.
Check our hands-on review of the SMEG automatic coffee machine for more details.
Pros
Stylish design blending traditional and modern look
Straightforward control panel and easy-to-navigate menus
Small footprint
Easily removable components make it easy to clean
Cons
Doesn't have as many features as other espresso machines in its price range
Doesn't have automatic milk frothing system
12. Coffee Enthusiast's Pick: Breville Oracle Touch
Coffee Enthusiast's Pick
We earn a commission if you make a purchase, at no additional cost to you.
The premium stainless steel build instantly stands out when unboxing the machine, making it a luxurious addition to any kitchen. This exceptional espresso machine comes in black and silver and is a fantastic blend of convenience and quality.
Unlike any other machines on the list, Brevill Oracle Touch looks like a semi automatic espresso machine but is packed with automatic features. Meaning you still need to lock the portafilter into the brew head and steam the milk manually, but it handles all the challenging parts, from tamping to brewing.
It comes with a touchscreen display that has been a game-changer. With a single touch, I can navigate through controls and menus, customize my drinks, and even name them. The entire experience feels very intuitive and engaging. If you have a household full of coffee enthusiasts, the Oracle Touch has got you covered, allowing eight custom drink settings! So everyone gets their favorite drinks without hassles.
It has dedicated brew and steam boilers, a unique temperature control, and a heated brew group. One of my favorite features is the dual boiler capability. Being able to brew and steam simultaneously significantly reduced my morning coffee prep time. Moreover, it supports single and double espresso baskets, making your morning coffee just how you like it.
I also love the quality of the milk steaming. It has a very creamy texture that makes my cappuccinos and lattes taste divine. It's the only automatic espresso machine on this list that can produce micro-foam for latte art. Of course, you need some practice and steaming technique.
Plus, its digital temperature control (PID) means that every cup I brew has that balanced taste I crave in my morning ritual, especially on hectic mornings when I'm sprinting out the door for work.
The built-in conical grinder has 45 grind settings. Instead of the ceramic burr grinder used in many automatic coffee machines, it is a sharp steel burr which is often used in other espresso grinders.
However, compared to other super automatic espresso machines I've tried, the Oracle Touch takes a tad longer to warm up and requires more manual involvement when making coffee drinks. Additionally, the device is undoubtedly pricey and can take some time to learn because of its many features. It's suitable for those who like more control and hands-on barista experience, but still want more automatic features and assistance.
Pros
Fully automated touch screen that lets you personalize your brew
Features a high-end conical burr that it grinds and portions your coffee just like the professional machines in cafes
Its Over Pressure Valve creates smooth shots without any bitter aftertaste
Dual boiler machine, brew and steam at the same time
Cons
Its warm-up time is longer compared to most super automatic espresso machines
Requires some barista skills and more manual operation
Key Features to Look Out For
If you're in the market for a super automatic espresso machine, there are many critical features you should look out for.
Some of them include the grinder quality, programmability, capacity regarding water and bean hoppers, compatibility with pre-ground and whole beans, and milk frothing options.
Budget
We established that super automatic espresso makers are expensive, so just how expensive are they? We picked the best espresso machines for you from the following price ranges:
Budget: $500 – $1,000 (Philips 3200 LatteGo, DeLonghi Magnifica Evo, Tchibo, SMEG)
Medium Budget: $1,000 – $2,000 (DeLonghi Dinamica Plus, Jura ENA 8)
High Budget: $2,000+ (Miele NEW CM 6360, Jura E8, Jura Z10, Breville Oracle Touch, Gaggia Accademia)
Generally speaking, the higher the price, the more customization options and espresso drink recipes you'll get from the machine.
Drink Options – Exploring Beverage Varieties
If multiple people will use your espresso machine or if you like changing up your coffee beverages, you'll want to choose an espresso maker that offers different espresso drink styles.
Most entry-level machines can only make specialty coffee drinks like espressos, lattes, and cappuccinos. Higher end machines offers more drink recipes. In fact, some espresso machines offer a double-digit number of options!
Machines with more advanced features allow you to customize your coffee strength, milk temperature or density, some even brew iced coffee.
However, if you mainly drink espresso or black coffee, an affordable espresso machine will suffice.
Perfecting the Milk Froth
A velvety, creamy milk froth is the crowning glory of coffee specialties like cappuccinos and lattes. Creating the perfect foam consistently is a sign of a quality espresso machine.
Automated vs. Manual Milk Preparation
Fully automatic espresso machines may offer an integrated milk frothing system and have a dedicated milk carafe or an automatic steam wand. At the press of a button, the device heats and froths the milk directly into your cup, ensuring a consistent texture each time.
Machines may also have a manual steam wand, giving you more control over the milk's texture and temperature. It takes some practice to master, but once you do, you can craft barista-quality foam tailored to your preference.
Like semi automatic espresso machines, high-end models typically have a professional-grade steam wand that effortlessly produces velvety microfoam, perfect for pouring latte art. On the other hand, entry-level machines often feature a manual Panarello steam wand, more suited for creating frothy milk with larger bubbles.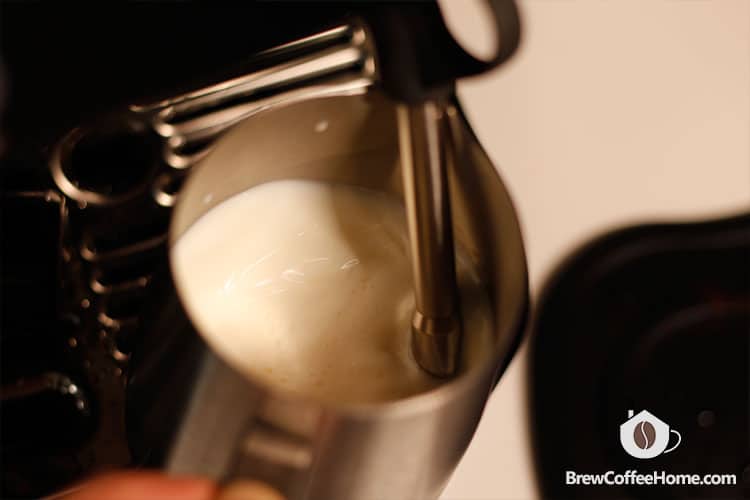 Crafting Milk-Based Specialty Coffees
The most advanced super automatic machines allow you to craft specialty milk-based coffees with great precision. These machines can offer multiple milk options and the choice to add milk or coffee first.
For example, I love making a latte macchiato in a tall glass. Pour in the frothy milk, add the espresso, and watch those cool layers form in the middle. Well, an automatic coffee maker like Jura E8 or Z10 can whip it up with just one click. Pretty neat, right? This is something that really replicates a barista experience. However, with great quality often comes a heftier price tag.
Automatic Level and Programmability
Super automatic machines usually handle all processes automatically, including grinding, tamping, and brewing. They also offer customizable settings that allow users to program specific parameters.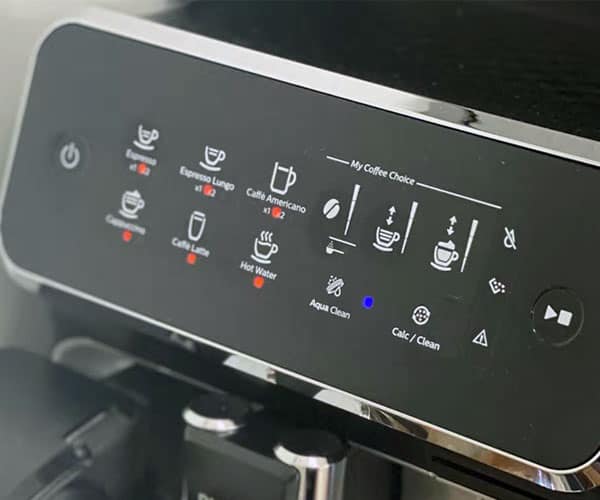 Some questions to ask yourself as you consider your options include:
Would you like more pre-set menu settings, or do you prefer more flexibility with adjusting the machine's settings?
Do you want the steaming to happen automatically for milk drinks with the built-in milk frothing system, or would you prefer to control it via a steam wand?
Do you want to adorn your coffee drinks with latte art? If so, you should know that an automatic milk frother is great for frothing milk, but it can't achieve the microfoam for latte art. You need to choose the one with a steam wand.
If you want full control over the espresso and milk frothing like a pro, consider getting a semi-automatic espresso machine.
Grinder Quality
The quality of the grinder can influence the taste of the coffee to a significant degree, that's especially true with espresso brewing. Some machines feature ceramic burr grinders, which are well-known for their durability, while others have a sharper stainless steel burr grinder.
The number of grind settings and noise levels can also vary. They allow for more or less customization and comfort while brewing your coffee.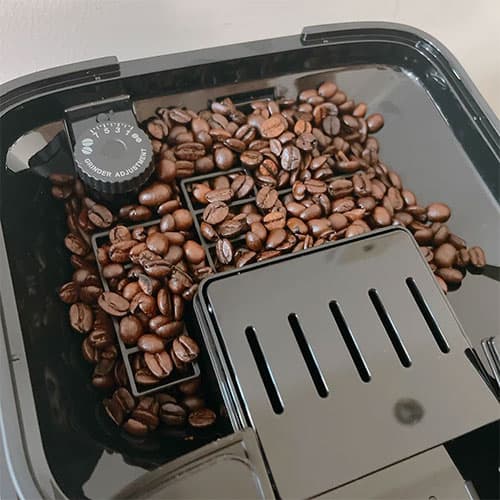 Compatibility with Pre-Ground and Whole Beans
Some super automatic machines offer compatibility with both whole and pre-ground coffee beans. This is seen through ground coffee bypass chutes which allow more flexibility and convenience.
It also enables you to use pre-ground coffee for decaf or specialty blends without emptying the bean hopper. Freshly ground coffee beans are always recommended, but this feature can add to the overall versatility and adaptability of the machine.
Capacity: Water and Bean Hoppers
The capacity of water and bean hopper determines how many cups of coffee you can brew before you need to start refilling.
Larger capacity machines are convenient for those who use them frequently or will serve multiple people. Smaller machines, which are usually also less expensive, are better suited for individual needs.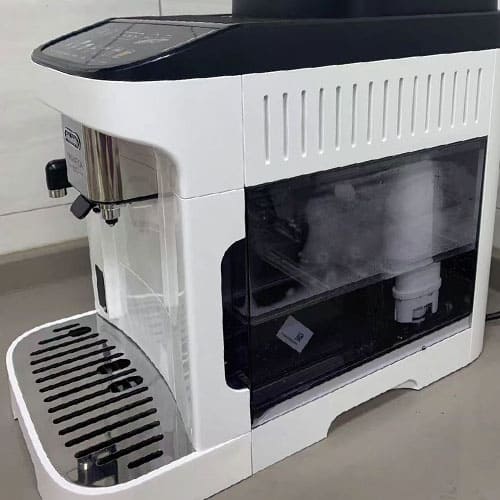 Machine Interfaces and Displays
The interface and display of some super automatic coffee machines may be a selling point regarding user experience. Some models have a simple touch screen that provides intuitive navigation, while others have a high-res full-color LCD.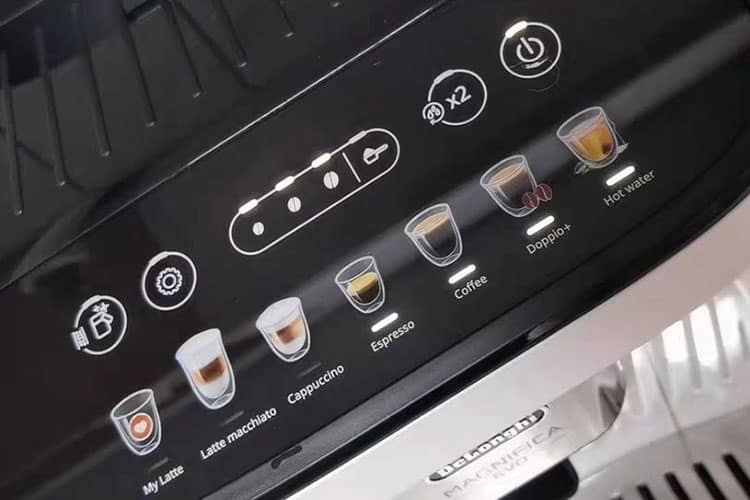 Alternatively, machines with physical buttons offer a tactile experience that their digital counterparts don't. Some more stylish machines are known for their physical buttons and dials, which might fit your desired aesthetic.
Smart Technology – WiFi and App Support
Some super automatic espresso machines incorporate smart technology like WiFi connectivity and apps. This integration lets users control and customize their experience directly from smartphones or other smart devices.
Some features you can expect to see in these smart technology-compatible machines include scheduling brewing times, saving favorite recipes, remote start, and maintenance reminders.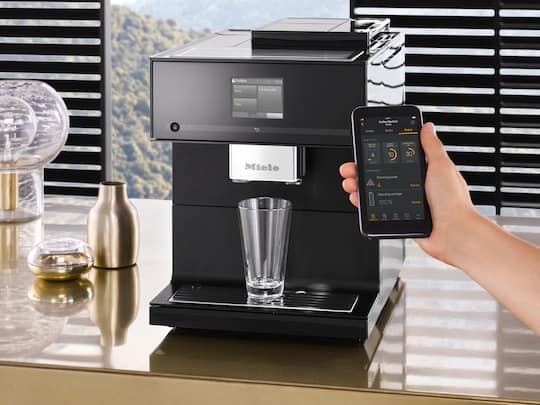 The Brew Group Insights
The brew group is another critical component in these coffee machines. The design and technology can vary significantly between brands and models.
One example is the machines that the company Jura produces. They're well known for incorporating advanced technology into their brew groups. Some of this technology includes pre-brew aroma systems and multi-level grinders for precise grinding. These features work together to optimize extraction, temperature, flavor consistency, and more.
On the other hand, entry-level machines often have simpler brew group designs. These may focus on basic functionality and ease. They usually provide a more straightforward coffee-making experience, with the components feeling far less intricate. These are more suitable for beginners.
Some premium machines employ innovative technologies like thermoblock heating systems or specialized water filtration, which can aid in temperature control and reduce scale buildup.
Care, Maintenance, and Longevity
Regular maintenance is vital to ensuring the longevity of a super automatic coffee machine. The ease of maintenance varies among models and brands.
For example, Miele's super automatic machines stand out for their auto-milk system cleaning features. This automates the often tedious process of cleaning milk residue.
Moreover, descaling, which involves running a descaling solution or clean water through the machine to remove these deposits, is also crucial. Over time, coffee residues can accumulate, affecting the machine's performance and the taste of your coffee. Thus, regularly cleaning the brewing unit is also necessary.
Lastly, some premium models mentioned above offer advanced cleaning assistance like guided cleaning cycles, reminders, and specialized cleaning products.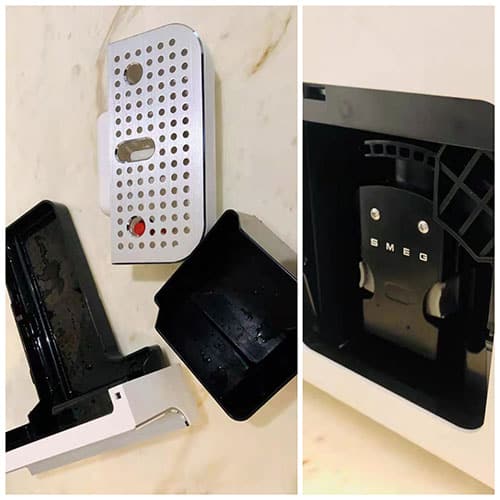 Read the super automatic espresso machines cleaning guide for more information.
Newer Models or Classical Models?
Technology lovers will want to choose newer super automatic machines since they come with the latest features, often including the ability to connect them to your smartphone, newer heating system or form technology. The newer models also tend to have a more minimalistic look, blending in well with modern kitchens.
I've refreshed this super automatic espresso machines buying guide a few times over the last two years. I took some classic models off them list, such as the Jura D6 and A1. They're still great, but finding support for discontinued models can be tricky. Machines like Saeco Xelsis, Gaggia Anima and Gaggia Brera have been around for years and are still available, but they don't quite match the sleek look and fresh features of the latest models. So I replaced them with some of the newer models on the market.
Choose From the Popular and Reputable Brands
Among the countless espresso maker brands on the market, we've chosen brands for this guide that have a long history of providing high-quality products. The brands you'll see in our review include:
* Click on the link to check the model comparison and my top picks for each brand.
Nespresso is also a great choice that lets you make espresso shot or drink at a push of a button. However, they are quite different from the traditional bean-to-cup espresso machines mentioned in this buying guide. They use coffee capsules and different brewing methods. I discuss them in another article: The Best Nespresso Machines, so you can take a look if you are interested.
Smart Spending and Value Maximization
As with all purchases, it's imperative to carefully consider how much money you're spending on a super automatic espresso machine and weigh that against the true value of the machine and your experience using it.
Keep reading to explore some ways you can maximize the value of your machine and make the right choice for your budget.
Tips for Cost-Effective Purchases
Purchasing a refurbished espresso machine can be a smart way to save money without sacrificing quality. Refurbished models are machines that have been returned to the manufacturer, repaired if needed, and rigorously tested to ensure they meet the original performance standards. Since they have been owned before, they are usually sold cheaper.
Previously I wrote a detailed guide for choosing refurbished espresso machines, you can find some reputable marketplaces in that article.
Is It Worth Buying A Super-automatic Espresso Machine?
I won't beat around the bush here—even cheap automatic coffee machines typically cost hundreds of dollars more than the average coffee maker.
While spending thousands on an automatic machine might seem steep, the investment can pay off over time.
If you visit your local coffee shop on a daily basis, you'll eventually recoup that money. Don't believe me? Let's run a quick math equation.
$4 for an average cup of specialty coffee + 365 days in a year = $1,460 per year
Aside from recouping your almost $1,500 per year expenses at coffee shops, having a barista-quality automatic espresso machine in your home is more convenient.
A super-automatic espresso machine also has a built-in burr grinder that ensures the perfect grind size, so you can save the budget on an expensive espresso coffee grinder.
Semi-automatic vs. Super Automatic Espresso Machines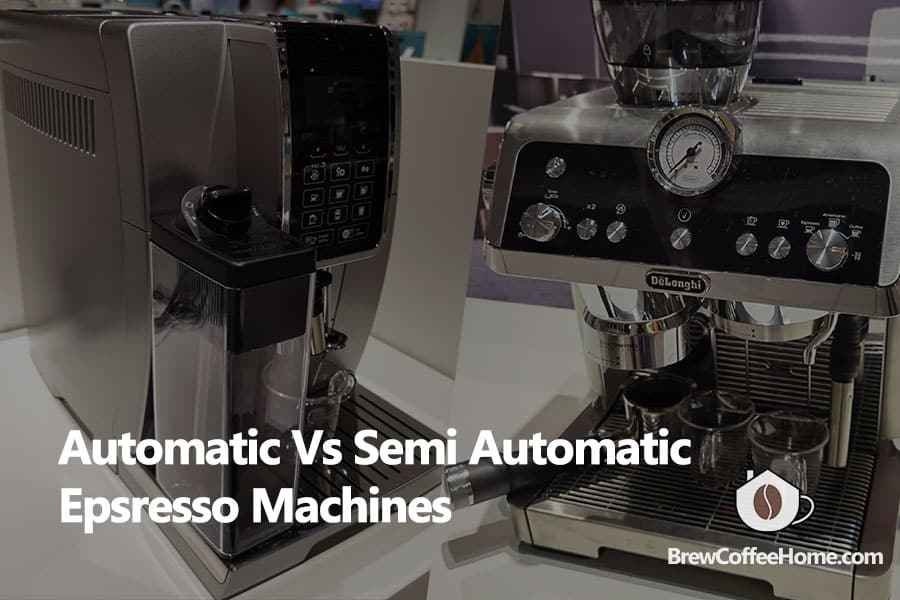 Semi-automatic and super automatic espresso machines cater to different needs and preferences. The key differences include their control and customization, complexity, features and options, the price and maintenance level needed, and the final product.
When it comes to customization and control, semi-automatic machines offer more hands-on control. They allow you to grind the coffee manually, tamp the grounds, and control extraction time. These are best if you enjoy the craft of making espresso.
On the other hand, super automatic machines provide automated processes for grinding, tamping, brewing, and more. They are best if you are looking for convenience and consistency without manual effort.
Moreover, semi-automatic machines often require more skill and understanding. Meanwhile, super automatic machines include more integrated features and fewer complex processes to learn.
It's also important to note that semi-automatic machines may offer manual steam ones for frothing milk, allowing more creative freedom in crafting your drinks. On the other hand, super automatic machines include integrated features like grinders and milk frothers, enabling a wide variety of coffee beverages at the touch of a button.
There is also a significant difference in the price. Semi-automatic machines can be more affordable, while super-automatic machines are usually more expensive due to their integrated features.
Lastly, you'll want to consider the final product. Semi-automatic machines allow the coffee maker to influence the cup's final nuances. At the same time, super automatic machines deliver consistent results with less manual intervention and are best suited for those who prioritize ease and efficiency.
Also read: I compared the semi-automatic vs fully-automatic espresso machines in detail.
Selecting the Ideal Coffee for Espresso
When selecting coffee for espresso, there are some considerations to remember. You'll want to stay away from overly oily beans. They can clog up and harm the built-in grinder. Look for beans with a matte finish rather than a glossy, oily appearance.
It's also critical to choose fresh beans. Try to purchase those that have been roasted within the last month. Moreover, a medium two-dark roast level is often recommended for espresso. This will allow your machine to produce a rich flavor and crema. You can find our espresso beans recommendation in our coffee beans buying guide.
Concluding Thoughts
Super automatic espresso machines bring the art and science of coffee brewing into your home. They provide you with added convenience without compromising on quality. From your choice of beans to their freshness and roast level, these machines can cater to your preferences.
Whether you're looking for the sleek design of a SMEG or the high-tech features of a Miele, it's essential to consider not just the immediate gratification but also the long-term care and functionality.
Some key features you should remember to look for include grind quality, ease of maintenance, personalization options, and programmability. You'll also need to consider whether you'll purchase a refurbished model, a budget-level machine, or something more expensive.
With the proper care and understanding, your chosen espresso machine can be a trusty companion in your daily rituals for years to come.
FAQs
Here are a few frequently asked questions about super automatic espresso machines:
Can I use any coffee beans in my super-automatic machine?
Yes, most super-automatic machines can be used with a variety of beans. However, any that are too oily or flavored might pose an issue. These can clog up the grinder, so it's best to refer to the machine's manual to know which type of beans are recommended. 
How often should I clean my automatic coffee machine?
Regular cleaning is essential to maintain the flavor of your coffee and the machine's functionality. It's best practice to rinse it daily and to perform a deep clean with specialized cleaning products weekly or monthly. 
Are super-automatic machines worth the investment?
Super-automatic machines are definitely worth the investment if you love coffee, that is. Your investment will be proven if you value the time-saving features they come with and the ability to customize your coffee. 
Can I make regular coffee with my espresso machine?
Yes, the vast majority of espresso machines can make regular coffee. You'll just need to find the proper settings and adjustments. You can add more water to get a cup of regular coffee, similar to an Americano. However, espresso brewing uses pressure, you can't make drip coffee style drink with an espresso machine.
What's the difference between a coffee maker and an espresso machine?
The main difference between coffee and espresso machines is that regular coffee makers drip hot water through ground coffee. Espresso machines, on the other hand, use pressure to force hot water through the ground coffee, creating a much more concentrated espresso.