There is a huge range of coffee grinders on the market, so it can be difficult figuring out which is the best one for you. For example, which coffee grinder represents the best value for money? Which best serves your requirements? Should you opt for a blade grinder or a burr grinder? This guide will help give you the answers to questions of this nature.
The first part of the guide will examine the theory of coffee grinding. It will explain its importance in the coffee-brewing process and how this impacts the price of grinders.
The second part will offer categories of coffee grinders based on their cost and features, highlighting the top coffee grinders we've tested in each category to showcase what to expect from specific categories of coffee grinders.
By the end of the article, you should be far better equipped to find a coffee grinder that suits your requirements and budget, leaving you with a clear path to choosing a device that's an integral part of making great-tasting freshly-brewed coffee at home.
Our Best Picks At A Glance
Should I Choose A Blade Coffee Grinder Or A Burr Grinder?
Blade coffee grinders have a small motor positioned on the spinning blades. When you start the grinder, the blades begin to spin rapidly. Those blades then utilize that speed to chop the coffee beans into small pieces.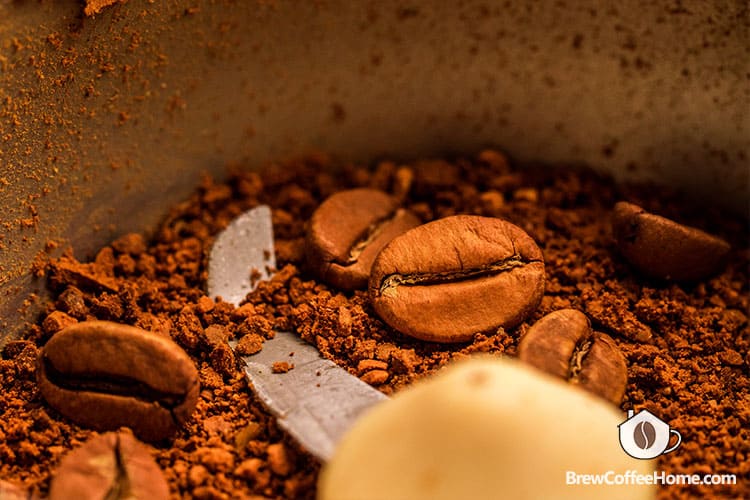 The longer you allow the blades to spin, the more fine the grinds will be.
This process may sound great. However, you have no real say over the grind size using a blade grinder because it chops the coffee beans indiscriminately, leading to a range of sizes in every batch. Because there will be various grind sizes per batch, this causes muddiness, dullness, and bitterness in the brewed coffee. Uniformity of the grind size is vital in the quality of the coffee, as we will explain later on in the article.
Why Burr Grinders Are Always Better Than Blade Grinders
Decent burr grinders contain two cutting disks, with one spinning against the other. You are also able to determine how far they are apart when you change the grind setting. This leads to more consistent grounds.
Blade grinders are far more suitable for spice grinding. Therefore, if you have one, we suggest using it for cooking rather than coffee grinding. With coffee grinding, there is simply no comparison: a burr grinder is always the best option. Even a cheap manual coffee grinder is better equipped to grind coffee than a blade grinder.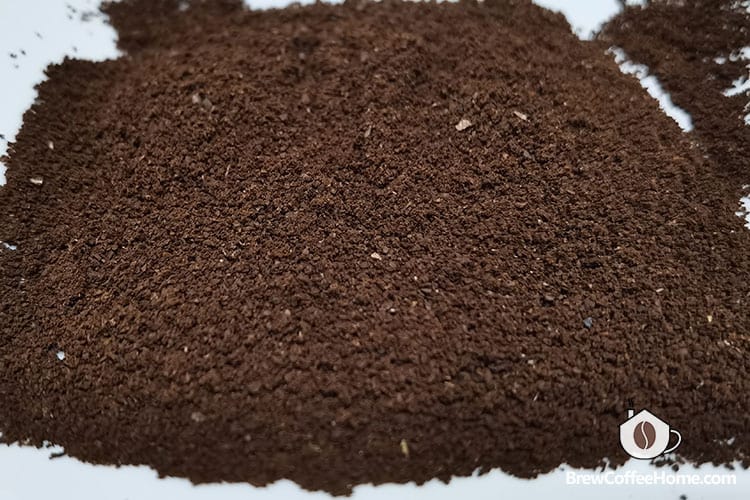 Consistent coffee grounds from a burr grinder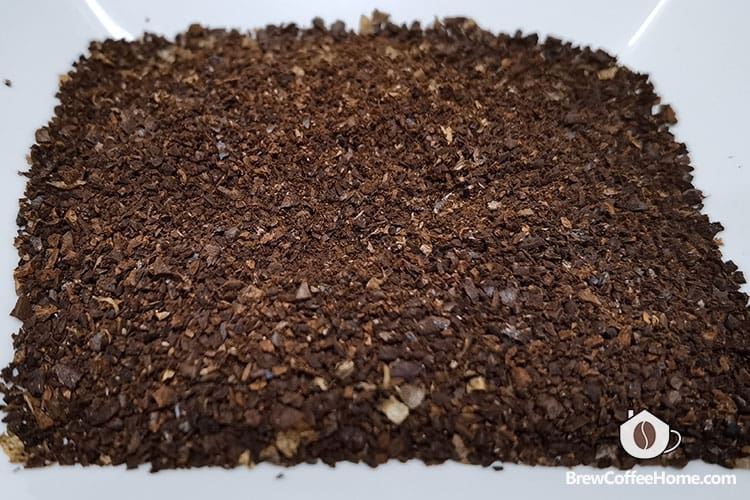 Inconsistent grounds from a blade coffee grinder
How To Select The Best Coffee Grinder For Use At Home
Now that you know the benefits of having a burr coffee grinder, which one should you buy? Let's examine some of the elements.
Last update on 2023-09-27 / As an Amazon Associate, if you buy via the links, Brewcoffeehome earns a commission at no extra cost to you.
Consistency (Uniformity)
The ideal scenario when grinding coffee beans is for all the pieces in each batch to be the same size. When you are brewing coffee, the closer the size of the coffee grounds are to each other, the better, as this will ensure the flavor of the brewed coffee is far more consistent.
To help make it easier to understand, imagine you are cooking potatoes. If you boil very small pieces of potato in the same pot as very large potato pieces, it will take the latter longer to cook than the former.
It is a similar situation when grinding coffee. If the grounds you use to brew have some very small pieces mixed with far larger pieces, you will extract plenty of flavor from the small pieces, but not as much from the larger ones. This situation leads to an inconsistent, unbalanced, and unpleasant brewed coffee. The fine ground coffee adds a bitter flavor, while the bigger pieces add a sourness, which, when mixed, leads to a nasty overall taste.
Grind Settings
The ability to control the grind size is one of the big advantages of using a burr coffee grinder. As we mentioned in our article examining coffee grind sizes, each brewing method needs its own grind size to extract the best possible flavor.
For example, the perfect grind size when brewing espresso is far different from the grind size you'll need for French press. Espresso requires a very fine grind size because the brewing method uses a small amount of water quickly to extract a robust flavor. However, a French press should use a coarse grind size.
Most electric or manual burr grinders can work for French press, drip coffee, pour over, Aeropress, or cold brew without any issues.
A stepped grinder will offer several fixed settings to alter the grind size. Most basic, cheaper home grinders have stepped settings.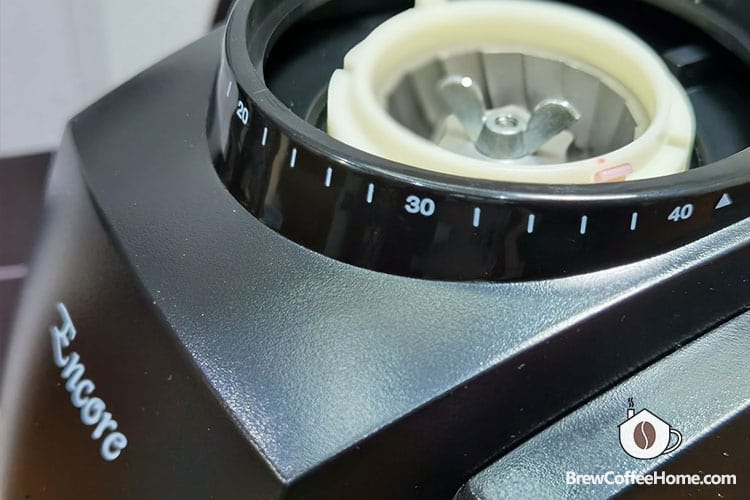 More expensive coffee grinders for filter coffee and espresso have stepless adjustments. This means they require you to turn a wheel to dictate the coarseness or fineness without the gaps in between. In other words, you can adjust the setting as little or a much as you require, which is great if you want to find the perfect grind size for your tastes.
If you mainly brew espresso, check our coffee grinders for espresso guide for more options.
Having control over the grind size is vital. The more settings your grinder offers, the more control you have over the level of extraction.
Speed, Motor, And Noise
Grinding beans is not an easy process. Cheaper motors carry out the task by spinning faster to produce the necessary power to chop the beans.
The speed of the grinder uses revolutions per minute (RPMs) for measurement. The less expensive grinders tend to have higher RPMs.
If you are grinding beans for espresso, they will need to be extremely fine. Achieving this requires the motor to have plenty of torque and power, and less expensive motors cannot reach the necessary levels. That's why many cheaper grinders are fine for brewing manually, such as filter coffee, but not as equipped to brew espresso. This is the reason that espresso grinders cost more.
In a home coffee grinder, the higher RPM doesn't mean a faster grind as they usually have a smaller size of burr. They also create more noise too.
If you are interested in brewing espresso at home, you need a grinder that has a high RPM, a larger burr size, and a high-quality motor. Coffee grinders with lower RPMs are better for manual brewing methods.
Other Features To Consider
The most efficient coffee grinders aren't always the ones with the most functionality. However, if you grind coffee several times a day, a few extra features can be useful. You will need to decide if the features the grinder offers are of any use to you and whether they're worth the added cost.
Here are some of the extra features common to electric burr grinders. None of them are needed, but they can be useful.
Pulse – At the push of a button, the grinder will get to work. If you let go of the button, it stops. This feature offers more control over the amount of grounds you'll get.
Auto-grinding – This feature lets you grind coffee without needing to press the button. Move the dial, and the machine will begin grinding, only stopping when it has completed a pre-set batch.
Time-grinding – Set the time, and the machine will grind for the number of times you have set.
Grind into the portafilter – If you are brewing espresso, certain grinders allow grinding directly into the portafilter. This feature removes the need for dosing into a ground container and transferring it afterward.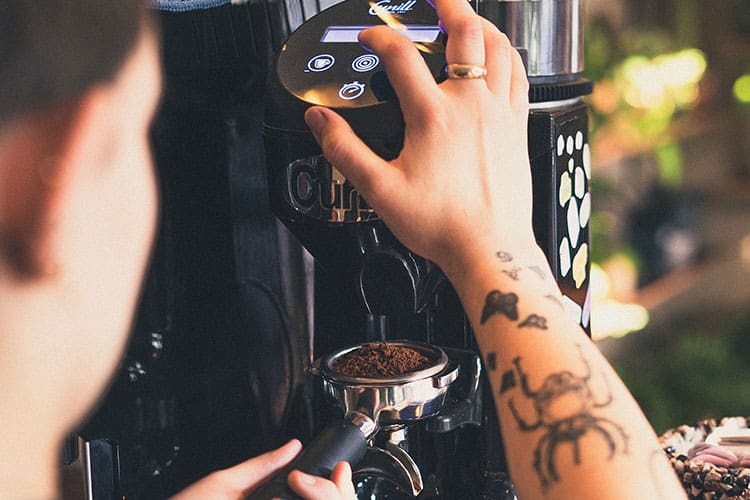 Electric Coffee Grinder vs Manual Coffee Grinder
Manual coffee grinders are fairly inexpensive. For this reason, many coffee lovers opt for a hand grinder as a starting point for grinding coffee at home. The big advantage is it's a cheap way to get started and learn the process before moving onto more expensive options.
Because, by definition, manual grinders don't have a motor, this means you can spend more money on elements such as the burr quality, which offers better results at a lower price. Another plus is manual grinders are easy to transport, so you can pack them away to take on your travels and brew fresh coffee wherever you are. Electric grinders can only sit on the kitchen counter.
Hand grinders designed for beginners usually have ceramic burrs. The more costly ones tend to use metal burrs that have more control over the grind size. Some of the very high-end hand coffee grinders can dial in and grind for espresso. However, these tend to cost more than even some electric coffee grinders. There is a selection of options to choose between. If you don't mind the physical work and spending the time needed, manual burr coffee grinders are a good choice. Check out our 'Best Manual Coffee Grinder' best picks for more information.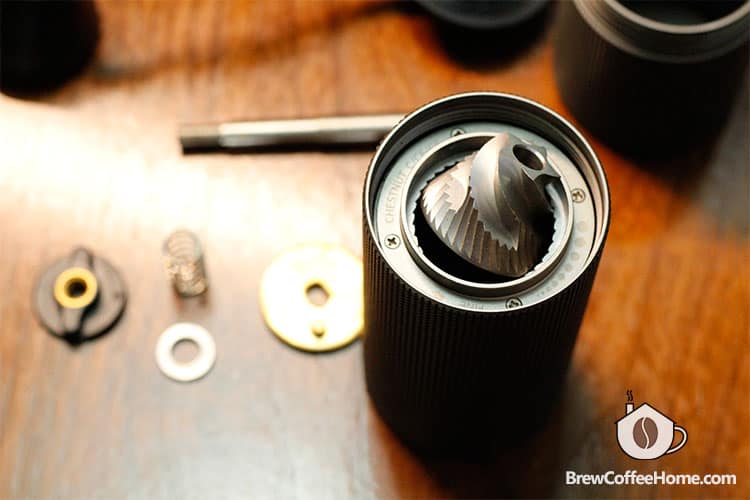 The biggest disadvantage of a hand coffee grinder is you have to do the work grinding every time. This grinding is both physical in nature and time-consuming. Some home brewers enjoy the process of grinding manually. However, if this is not for you, or if you tend to enjoy coffee when you're limited for time, consider an electric burr grinder instead. Many coffee enthusiasts have both!
Flat Burr vs Conical Burr Grinders
Conical burrs are used in many home coffee grinders. The cutting surface of them is large, meaning they can chop more coffee each turn. In contrast, flat burr grinders consist of two rings or disks of cutting teeth that spin against each other. Each of these rings is controlled the same way, but whether you get a fine or coarse grind is determined by how closely you move them together. Flat burrs are more often used in commercial coffee grinders.
Conical Burr in Baratza Encore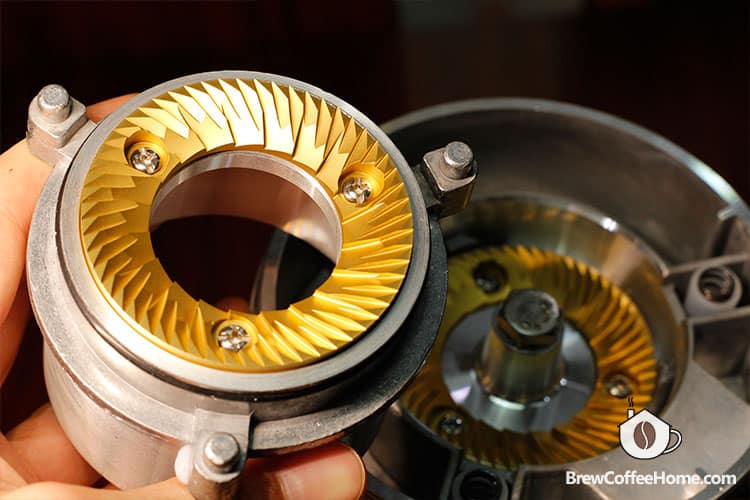 Flat Burr in DF64 Grinder
There are differing views on whether conical or flat burrs are the most suitable where espresso is concerned. Some people insist that conical burrs work the best for espresso because there is more variation in the size of each particle, which provides more body and texture in an espresso.
However, others suggest flat burrs work better for espresso as they offer more sweetness and clarity (although they don't offer as much texture).
Whether you buy a conical burr grinder or a flat burr grinder, if it's your first grinder, this isn't a particularly big consideration. Over time, you may develop a preference for one over the other, but for now, all you need to consider is if the grinder is up to the task of chopping beans for great espresso.
If you want to know more differences between these two types of burr design, check our flat burr vs Conical burr comparison.
Why Do Espresso Coffee Grinders Cost More Than Other Grinders?
Espresso only needs an incremental change in the grind size to affect the brewed beverage significantly. Because of this, the more control you have over the process, the better to get the perfect shot. For espresso, a stepped grinder provides plenty of options for a fine grind size. Meanwhile, a stepless grinder has infinite dialing-in potential.
How much coffee is in each shot is a consideration, too. Espresso grinders have more grinding options, including grind dosage and time. This all helps to provide a consistent shot every time.
Grinding for espresso also requires a stronger motor, which, naturally, is more expensive.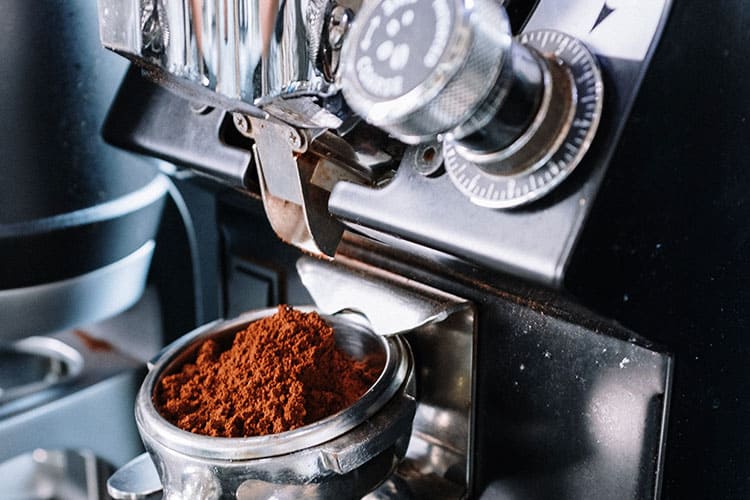 Best Burr Coffee Grinder Reviews – From Entry-Level To Premium
There are many choices regarding coffee grinders, meaning it can be an overwhelming process narrowing them down. Things to consider include the burr size, motor size, and grind settings. Even if you're clear about what you'd like based on what this article has set out so far, you still need to factor in things such as value for money, additional features, and the manufacturer.
This section will help narrow that down further by looking at areas such as features and budget. We will also select one coffee grinder that is representative of each category. This will allow you to choose our top pick based on the most important category or simply understand more about what to expect from each grinder category.
Most Affordable Burr Coffee Grinders
1. Bodum BISTRO Burr Coffee Grinder
Last update on 2023-09-27 / As an Amazon Associate, if you buy via the links, Brewcoffeehome earns a commission at no extra cost to you.
Grind Settings: 12
Motor Speed: 720 RPM
Burr: 35mm stainless steel, conical
Bodum Bistro Premium is relatively cheap, straightforward to operate and look after. It won't offer the most consistency, but it works very well for most brewing methods except espresso. It will certainly brew more satisfying coffee than using either a blade grinder or pre-ground beans.
Its stylish looks, ease of use, and affordability are what make the product so appealing. There are also several color options, while it's compact, so it won't use up too much counter space. However, because it's so cheap, there is plenty of plastic in the build rather than sturdier materials.
On top is a timer with a range of 5-20 seconds. Meanwhile, the lid has a grind time and grind size chart to show you at-a-glance which setting is best depending on the brewing method. However, we recommend measuring the beans separately before grinding, which offers more consistency than a timer.
The device has 12 grind settings. To alter the setting, twist the hopper.
The consistency is not that great. However, it is best for medium grinds. For regular brew styles like AeroPress, pour over, and French press, that lack of consistency won't be an issue. Using the finest setting, you might be able to use a portafilter, but the Bodum Bistro is not designed for espresso.
The grounds bin is constructed of borosilicate glass, which is better than the plastic one of the standard version. However, it does still get a little messy after grinding.
With a motor speed of 720 RPMs and conical burrs on the small side, at 35mm, it's not that quiet either.
Pros
Cheap.
Compact.
Easy to use, maintain, and clean.
Modern, sleek design.
Cons
Much of the build is plastic.
Not particularly durable (especially the borosilicate grounds bin).
The motor can get quite hot, so it sometimes needs to cool to stop it from overheating.
It's quite loud.
2. Cuisinart DBM-8 Supreme Grind Automatic Burr Mill
Last update on 2023-09-27 / As an Amazon Associate, if you buy via the links, Brewcoffeehome earns a commission at no extra cost to you.
Grind Settings: 18
Motor Speed: 720 RPM
Burr: 35mm stainless steel, conical
At a really affordable price, this device is a great choice for people on a limited budget. It's one of the older grinders on the market, yet it's still a popular grinder for beginners.
The grinder looks great, with a finish of brushed stainless steel, giving it a professional appearance. It will also blend in nicely with other kitchen devices.
There are 18 grind settings, which are plenty of options for most brewing methods, though they are not suitable for espresso.
This device uses block burrs (also called disc burrs) which are not as good as flat or conical burrs and generate more fines. Block burrs have small protruding knobs for crushing the beans.
Like the Bodum Bistro, it's a high-speed grinder. Unfortunately, also like that device, it's quite loud and produces static in the grounds bin. However, it can grind an impressive 12 cups of coffee in just seconds.
This device is simple, affordable, and does a decent job, but, despite its nice appearance, it's not even close to a professional machine. That means if you want to take your coffee brewing further, it probably won't be long before you're looking to upgrade. Check our Cuisinart DBM-8 coffee grinder review for more details.
Pros
18 grind settings.
Very affordable.
Easy to operate.
Block burr grinders are better than blade grinders.
Cons
Quite loud.
Static cling issue in the grounds bin.
Best Entry-Level Burr Coffee Grinders
This entry-level grinder has better burrs, builds, and motor quality than those listed in the last category. There is also a greater consistency of grinding because they offer more control. However, they are still not suitable for espresso. Best burr coffee grinders for beginners generally cost less than $200 and, if you're not worried about brewing espresso, they'll last you for years.
3. Baratza Encore Conical Burr Coffee Grinder
Last update on 2023-09-27 / As an Amazon Associate, if you buy via the links, Brewcoffeehome earns a commission at no extra cost to you.
Grind Settings: 40
Motor Speed: 550 RPM
Burr: 40mm stainless steel, conical
Of all the entry-level conical burr grinders, this is the best. It offers excellent consistency and is reliable.
The machine is available in white or black, and while it has a no-frills appearance that doesn't look particularly modern, it is capable and trustworthy.
The Baratza Encore is also easy to operate. On the side is an on/off switch, while there's a pulse button at the front. Below the hopper are some numbers. You need to turn the hopper to alter the grind size.
Because there are 40 grind settings, this is a great device for most brewing methods. However, even at the finest setting, don't expect it to grind for espresso or Turkish coffee.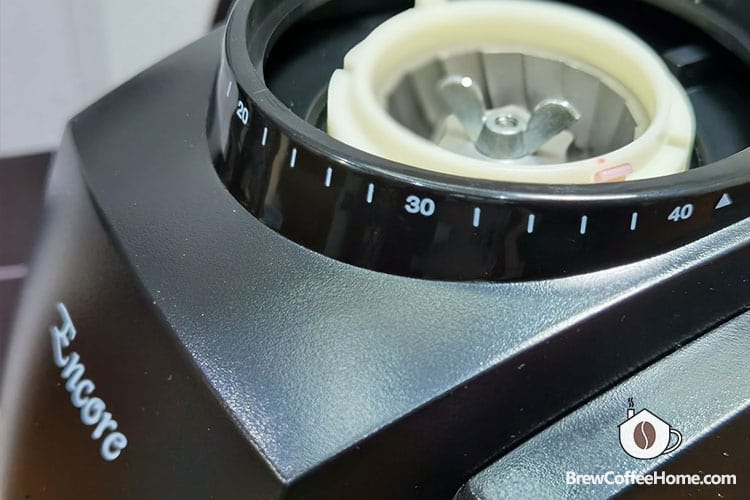 The device has 40mm conical burrs built from stainless steel. It also has speed reduction technology and an updated gearbox to control the burr rotation to 550 RPM. This helps reduce heat, noise, and static produced while grinding. However, it is still fairly loud, although quieter than the machines mentioned earlier.
The Baratza Encore is the best coffee grinder for coffee lovers who aren't worried about brewing espresso. We have been using this grinder for years, check out our hands-on review of the Baratza Encore here.
Pros
Excellent value for money.
Easy to use and minimalist design.
Great grind consistency for manual brewing.
Good-quality burr set and motor.
Cons
No additional features.
Can't grind fine enough for espresso or Turkish coffee.
Not particularly fast.
4. Capresso Infinity Conical Burr Grinder
Last update on 2023-09-27 / As an Amazon Associate, if you buy via the links, Brewcoffeehome earns a commission at no extra cost to you.
Grind Settings: 16
Motor Speed: 450 RPM
Burr: 40mm stainless steel, conical
The Capresso Infinity is another affordable entry-level grinder with a simple design available in either stainless steel or black. It will look great among other kitchen appliances. However, there's no wow factor in the design.
Like the Baratza Encore, you select the grind setting by turning the hopper and, on the top of the device, twist the rotary timer control to begin grinding. However, we find the timer inconsistent and confusing, so opt for measuring the beans.
There are 16 grind settings in four categories: extra-fine, fine, medium, and coarse. While 16 settings doesn't seem like many, this device is reasonably good at grinding more finely.
The fine grounds are suitable for a pressurized portafilter, and you may even be able to make good Turkish coffee. However, it will not be possible to pull the perfect espresso shot with a non-pressurized portafilter because it lacks the necessary adjustment.
The 40mm conical burrs are built from hardened steel, while the 450 RPM motor speed makes for a quieter, slower grind speed.
This device is a wonderful example of a grinder in this category, concentrating on grind consistency and burr quality. It's an excellent home-brewing option, though it's still not suitable for espresso using a non-pressurized portafilter. Check the full review of the Capresso Infinity grinder.
Pros
Can grind finely enough for Turkish coffee or espresso with a pressurized portafilter.
Low RPM, quality burrs.
Easy to maintain.
Affordable.
Cons
Not as many grind settings as its rivals.
No additional features.
The coarsest setting isn't coarse enough for French press or cold brew.
5. OXO Brew Conical Burr Coffee Grinder
Last update on 2023-09-27 / As an Amazon Associate, if you buy via the links, Brewcoffeehome earns a commission at no extra cost to you.
Grind Settings: 15
Motor Speed: 400 RPM
Burr: 40mm stainless steel, conical
The OXO Burr Grinder bears the hallmarks of other OXO devices. It's similar in style and tone to the company's drip coffee makers, for example. This device has excellent build quality for an entry-level grinder, and it should last for several years.
The grinder uses 40mm burrs built from stainless steel to offer plenty of control over the grinding process. Meanwhile, the burr is easily removable for cleaning.
There are 15 grind settings with extra precision between those numbers leaving, in essence, over 40 settings.
The device struggles with grinding finely enough for espresso, but for pour over, French press, and similar brewing methods, it does an excellent job.
The grounds bin is made from stainless steel, which helps reduce the static cling, and this is markedly better than the plastic grounds bins of the Capresso Infinity or Baratza Encore.
Pros
Reduction of static cling because of the stainless steel grounds bin.
Easy to operate and maintain.
High-quality burr set.
Cons
Inconsistent for coarser grinds.
Loud.
Best Coffee Grinders For Upgrading
If the entry-level grinders don't offer enough for you, these models have some useful additional features.
6. Breville Smart Grinder Pro
Last update on 2023-09-27 / As an Amazon Associate, if you buy via the links, Brewcoffeehome earns a commission at no extra cost to you.
Grind Settings: 60
Motor Speed: 450 RPM
Burr: 40mm stainless steel, conical
This device has a professional, easy-on-the-eye appeal. The front of the machine houses a blue LCD giving it a high-end, stylish look. It also benefits from great programmability, lending itself to producing a consistent amount of ground coffee every time you use it.
The machine produces beans from fine to coarse, meaning it's good for espresso to French press coffee and an array of grind sizes in between. You can also grind straight into a portafilter or container. It's an excellent choice if you would like to brew espresso as well as a range of other brewing methods.
There are 60 grind settings, and these can be fine-tuned too for the perfect espresso shot. However, it does have limitations with coarser grind sizes.
The 40mm premium-quality burrs and their low RPM makes for an excellent grind quality and consistency.
Grinders as well-built as the Breville Smart Grinder Pro with as many features are a rarity in this price bracket.
The device will offer easy grinding, a range of sizes for many brewing methods, and it's easy to repeat them once you've found the perfect setting, too. This machine is the best option for beginners looking to grind for espresso.
Pros
A range of useful features.
High-quality burrs that are built to last.
60 grind settings (and 10 micro-adjustments)
Can grind for Turkish coffee and espresso.
Excellent value for money.
Cons
Not the best at coarse grinds. Neither consistent nor coarse enough for cold brew or French press.
Not that simple to program.
It's an all-rounder, but it's not as good as a grinder dedicated to espresso or a grinder dedicated to filter coffee.
7. Fellow ODE Brew Grinder
Last update on 2023-09-27 / As an Amazon Associate, if you buy via the links, Brewcoffeehome earns a commission at no extra cost to you.
Grind Settings: 31
Motor Speed: 1400 RPM
Burr: 64mm professional-grade, flat
The Fellow ODE is a candidate for the most hyped home brewing grinder in recent times. The product was launched on Kickstarter, and it's designed only for filter coffee grinds.
It has an impressive aesthetic design, which you would expect when looking at Fellow's other devices. This device looks great alongside the Fellow Stagg EKG pour over kettle, and both look fantastic in the kitchen.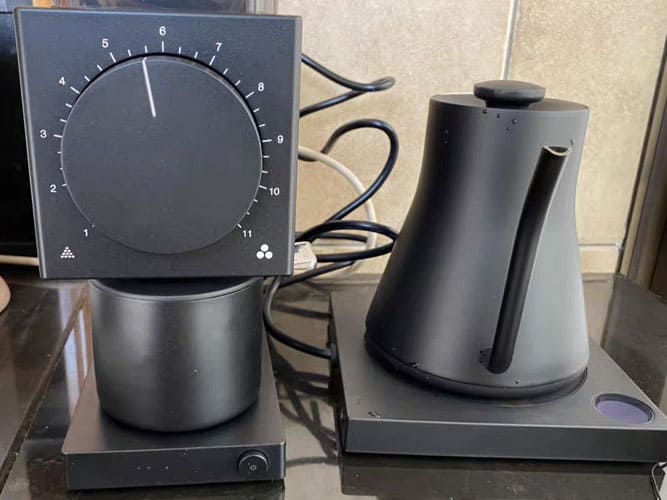 This is a single-dose grinder, so it's compact, and the top doesn't have a big hopper. It has a capacity of 80g of beans and you'll need to weigh the beans before you grind.
The device has a large dial featuring 11 settings (with a total of 31 levels), 64mm café-level flat burrs, and one button to handle everything. The lid also has a grind guide chart.
As a grinder dedicated to filter coffee, the consistency is excellent.
With 64mm burrs and a 1400 RPM motor, this is a high-speed grinder. It is doesn't make as much noise as many other grinders, and it can turn off automatically after grinding each batch.
It's a good option for people who have a higher budget. However, the Baratza grinder is half the price and also does a great job grinding for filter coffee.
Previously we tested the ODE Brew grinder, here is the review. Additionally, they updated the Gen 2 burr for the Fellow ODE, making it a more versatile grinder for filter coffee drinkers.
Pros
Beautifully designed.
Compact so won't take up much counter space.
Cafe-level flat burr for rapid grinding.
Cons
Expensive for a filter-only grinder.
The ground knocker doesn't do a good job of reducing coffee grounds retention.
Best Espresso Coffee Grinders
This category looks exclusively at grinders for espresso. As we mentioned earlier, espresso grounds require precision and the ability to tweak the grind settings for certain devices and roasts. Not only that, but many grinders can't produce a fine enough grind and allow you to dial in. If your main focus of brewing is espresso, you should consider a dedicated espresso grinder.
8. Rancilio Rocky Espresso Coffee Grinder
Last update on 2023-09-27 / As an Amazon Associate, if you buy via the links, Brewcoffeehome earns a commission at no extra cost to you.
Grind Settings: 55
Motor Speed: 1725 RPM
Burr: 50mm steel, flat
This Rancilio Rocky grinder is a flat burr grinder with commercial quality for home grinding. It's been around for the last 20 years and has the coffee enthusiast who only wants the best quality in mind.
This device has an array of grind settings. It will offer a completely consistent espresso grind size, as well as every other brewing method you can imagine. There is a detachable portafilter bracket for grinding into a container when manual brewing.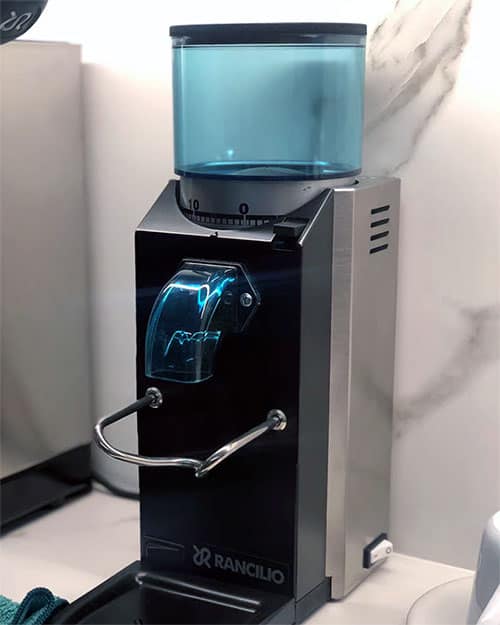 You can easiliy switch between the 55 grind settings, while the 50mm steel flat burrs and impressive 1725 RPM motor allow the machine to grind large batches without difficulty.
It is recommended that you make certain tweaks as you grind, which can be tricky. For example, you turn the grinder on by pushing a button and then pressing another button and turning the hopper. This process makes it less user-friendly than some of the other grinders. Check our full review of the Rancilio Rocky grinder.
Pros
Can grind large batches easily.
Detachable portafilter fork.
Each device is factory-tested.
Commercial-level build quality.
Cons
Doesn't allow for fine-tuning of the espresso grind because of the stepped adjustment.
It won't grind finely enough for Turkish coffee.
Expensive.
9. Eureka Mignon Specialita Espresso Grinder
Last update on 2023-09-27 / As an Amazon Associate, if you buy via the links, Brewcoffeehome earns a commission at no extra cost to you.
Grind Settings: Stepless
Motor Speed: 1350 RPM
Burr: 55mm steel, flat
Italy-based brand Eureka has been producing coffee grinders since 1920. With a history as established as that, it's little wonder the company manufactures some of the world's best grinders – especially those dedicated to espresso grinding.
This Mignon Specialita is hand-built in Italy for a prosumer-level grinder. It's very well built and demonstrates wonderful craftsmanship. Each part of the body of full metal is robust. However, it is compact enough to sit neatly beside your espresso machine.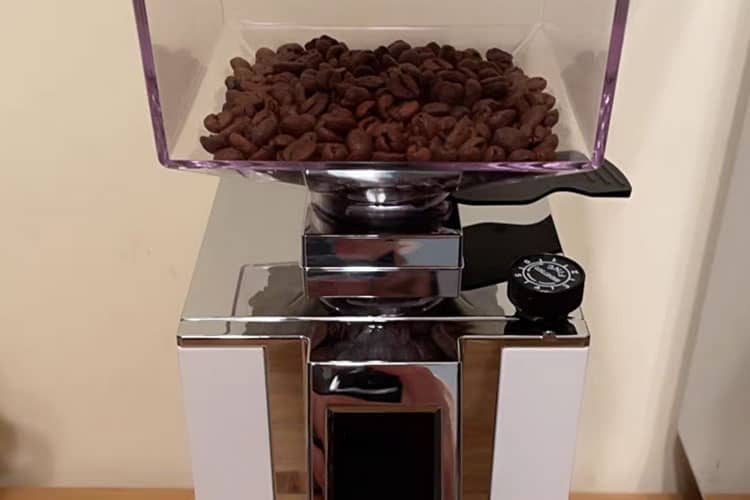 The 55mm flat burrs are commercial-grade, ensuring you can grind for café-level espresso from home.
The Mignon Specialita grinder is stepless, and you adjust the grind size by turning the dial positioned at the top of the device. You can alter the grind setting precisely in tiny increments to find your sweet spot, making it an excellent device.
You can also make filter-style grounds with the Eureka Mignon Specialita. However, you will have to twist the dial three or above rotations to reach the more coarse size you'll require for French press or pour over. One issue is the dial is small, and it is not easy remembering the setting and going back and forth. This is a problem because you don't want to lose it when you find the perfect spot.
The grinder also has a touch-screen display, and you can set a highly accurate timing to one-tenth of a second, with a couple of shot options.
This grinder is also one of the quieter ones on the market, with the interior optimized to reduce the noise. Here is our hands-on review of the Eureka Mignon Specialita.
Pros
Hand-built in Italy with a premium build.
One of the quietest grinders around.
It offers the ability to tweak or opt for a full range grind size.
Cons
Difficult to remember the ideal grind setting and find it again.
Expensive grinder
Best Coffee Grinder for All Brewing Styles
10. Niche Zero Conical Burr Coffee Grinder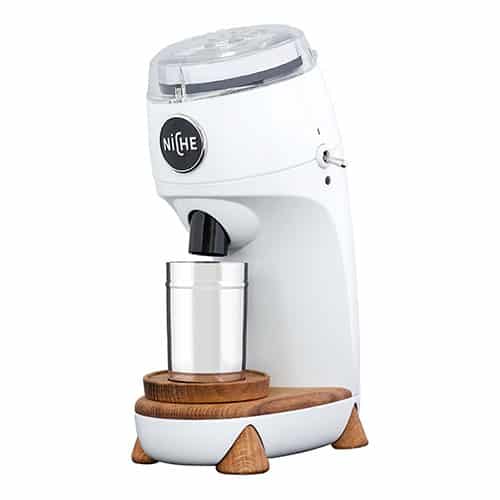 Grind Settings: Stepless
Motor Speed: 330 RPM
Burr: 63mm hardened steel, conical
This single-dose grinder offers lots of control and precision, allowing you to brew top-quality espresso along with many other brewing types.
The 63mm hardened steel conical burrs the device uses are made by Mazzer, which you would usually find in a burr grinder for a commercial operation. A gearbox for the permanent magnet DC motor can reduce the speed to around 330 RPM. The motor and burr are high-quality. As a result, you'll get years of use from them.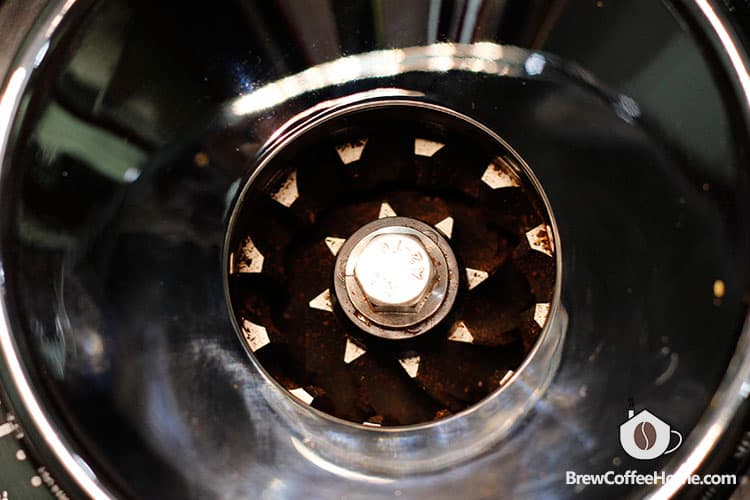 The grind adjustment control is stepless, and it offers total command of the grind size with a straightforward turn of the stainless steel hopper.
There are 50 grind sizes marked, but you can go far beyond allowing for coarse enough grinds for cold brew or fine enough for Turkish coffee. The consistency is great, too. The Niche Zero grinder gives you the grounds to brew amazing espresso, and the grind size can be tweaked easily.
What sets this grinder apart from the others is the zero grind retention design. In our experience using the device, there was only a tiny amount of coffee remaining. This impressive feature means you won't have much coffee waste – or mess- each time you alter the grind size, and you'll have beautifully fresh coffee consistently.
It also allows for grinding in a dosing cup of 58mm, it is extremely quiet, and the design is beautiful and compact. Overall, this is a wonderful grinder for use at home.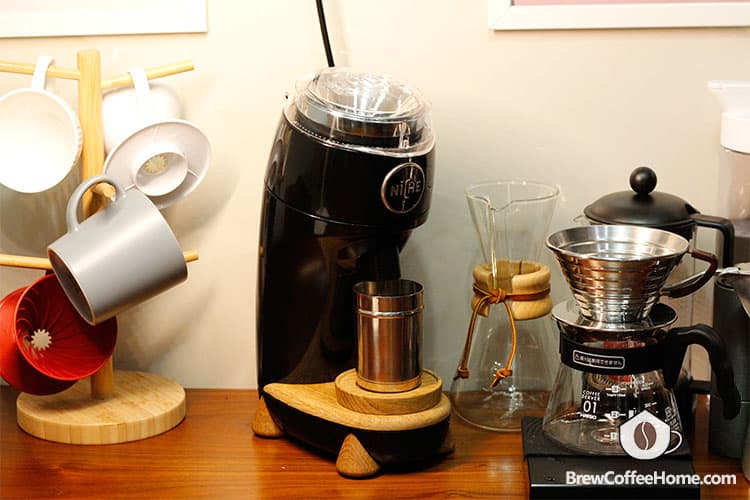 Yes, this grinder is quite expensive, but we think it's so good it still represents value for money. One issue: it's quite often out of stock. We have been using it for quite a long time, check our Niche Zero grinder review for more details.
In 2023, Niche released a new model Niche Duo with two swappable 83mm flat burrs. We compared the Niche Duo vs Zero so you know which one is better for you.
Pros
Almost no grind retention.
Hardened steel 63mm conical burrs.
Very user-friendly, particularly the 58mm grind chamber.
Extremely quiet.
Beautiful aesthetic design and compact.
Extensive grind range for any brewing method.
Cons
It can be hard to find as it's sometimes out of stock.
On the expensive side.
Why Is A Good-Quality Burr Coffee Grinder Necessary?
Let's examine the process of grinding coffee and why we do it, instead of leaving it to others.
Whole coffee beans do not lead to a pleasant coffee taste. That's because, with whole beans, water is unable to optimally extract the flavor as it can only impact the bean's exterior. If you were to pour some whole beans into hot water, there would be some flavor, but it would be limited.
By grinding the coffee beans, the water can reach more surface areas. The more finely the bean is ground, the more surface areas the water can reach, and the more flavor is extracted. If you grind the coffee beans to the correct size for a particular brewing method, the brewed coffee will be more pleasant.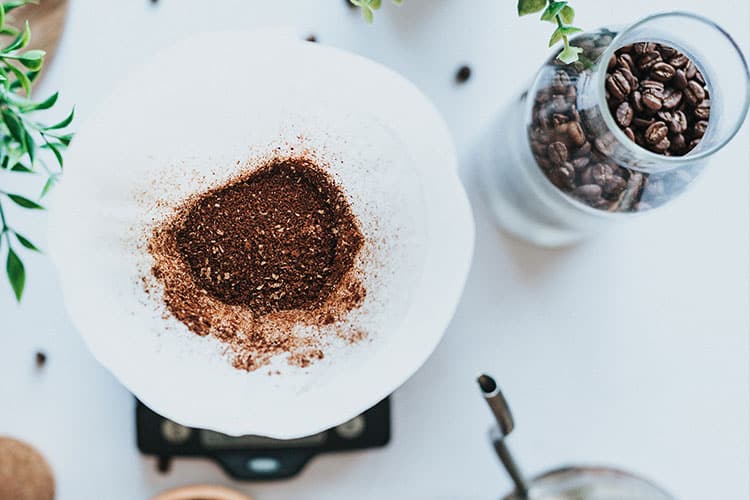 Freshness Is A Vital Component Of Great-Tasting Coffee
One of the main reasons for buying a high-quality coffee grinder is freshness. That's because if you can grind the beans, this results in fresher ground coffee than any pre-ground coffee.
Grinding the coffee beans leads to more surface areas being exposed. However, when you do this, the beans quickly become stale, so the closer you can grind the beans to the brewing process, the better.
There are several ways the ground beans can become stale. Volatilization is one. After you grind your beans, the aromas and flavors begin to disappear into the atmosphere. The longer the time between grinding the beans and brewing, the more those flavors and aromas are lost.
Another way beans can lose their freshness is the staling reaction. After grinding, separate compounds interact with each other creating new flavors that aren't always palatable. This process can negatively impact the taste of the brewed coffee and remove some of the more complex flavors in the beverage.
Finally, there is the oxidation of some of the oils and fats in the coffee. Once the beans are ground, they start to oxidize and eventually become rancid.
The best way to prevent coffee beans from going stale in the first place is to grind them immediately before brewing. Doing this will mean you retain more flavor and quality, making for a far more satisfying beverage.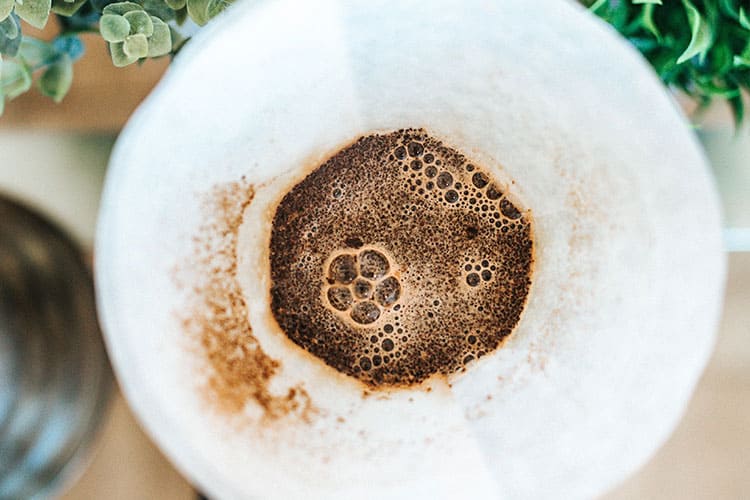 Freshly Ground Coffee Is Amazing
As you grind coffee beans, you will be immediately struck by the incredible aroma that fills the air. As far as we're concerned, that aroma is wonderful and one of the major reasons for brewing coffee from scratch.
If you are a coffee enthusiast, you ought to have your own coffee grinder. The process of grinding coffee at any time of the day is a fantastic experience. One whiff of the freshly ground coffee will be enough to convince you.
Our Verdict: Which Is The Best Burr Coffee Grinder For Use At Home?
We hope this guide has given you plenty of information about the range of grinders available and which one is best for you.
As you will now be aware, there is a great deal to consider aside from more obvious elements such as your budget, the amount of space you have to hold the grinder, and aesthetic preferences. You also need to think about the type of coffee you're likely to grind for most regularly, your level of experience, the speed and batch size you require, and whether you would like additional functions, among several other things.
If you are still to decide on the right grinder for you, here are the grinders we recommend based on the price range and what they can do.
If you don't intend to brew espresso:
In our opinion, the Baratza Encore conical burr grinder stands out from the crowd for drip coffee and a range of other brewing methods. It's a good option for people on a smaller budget, has been given the seal of approval, and is durable. Not only that, but the grind quality it produces is unlikely to leave you disappointed.
If you intend to make espresso and brew coffee:
The Breville Smart Grinder Pro is an excellent option for beginners to espresso brewing, but it's also good for a range of other brewing methods. It also can't be beaten for the price considering what it offers. If the cost of the grinder isn't an issue for you, the Niche Zero is an excellent conical burr grinder that does just about everything. However, it can be difficult to find, so you may need to do plenty of shopping around to track it down.
If you intend only to make espresso:
The Eureka Mignon Specialita offers the full package for coffee enthusiasts who want to concentrate on brewing espresso. It has a stepless grind setting meaning you can dial in perfectly with small increments. As far as we're concerned, it is without a doubt the best grinder for espresso, and it has an extremely sturdy build, too.