Picture this: a lazy Sunday morning, chilling on your sofa in your comfy clothes and sipping your favorite espresso drink out of your favorite mug. Doesn't that sound like a dream? This could be your story when you choose the best Breville espresso machine for your kitchen.
Why Choose Breville?
Breville earned a name as one of the world's leading kitchen appliance companies. The Australian company started in Sydney in 1932 when Bill O'Brien and Harry Norville created radios and mine detectors to help with the war effort. The business remained a family affair for three generations and developed hundreds of successful household appliances.
Perhaps the most popular of the Breville appliances remain their coffee makers and espresso machines, including Nespresso machines. Today, Breville products sell in more than 70 countries worldwide. Of note, the company forged several partnerships, and the European market operates as the Sage brand.
The Best Breville Espresso Machine Reviews in 2023
Alright, so without further ado, let's take a look at the best Breville espresso machines.
1. Breville Barista Pro – BES878BSS
Specifications:
Dimensions: 13" x 12" x 13"
Water tank: 67-ounces
Bean Hopper: ½-pound
Portafilter: 54 mm
Control panel: knobs, buttons, and LCD screen display
Our top pick is the Breville Barista Pro because it represents an ideal blend of function, high-end features, and user experience. With the latest ThermoJet technology, a built-in grinder, and a sleek LCD control panel, the Barista Pro balances aesthetic appeal with a superior user experience.
This model features an integrated conical burr grinder, so you don't have to purchase a separate grinder. In addition, with 30 steps grind settings, you can easily dial in compared with Barista Express's 18 grind settings.
Ease of use is another benefit of Barista Pro as it features an intuitive LCD. You get all the information you need from the screen, such as grind time, grind size, timer, and temperature settings. So you can replicate your brewing recipes for different beans or roasts with less guesswork.
BES878 Barista Pro uses the innovative ThermoJet heating system, so you can start pulling a shot after 3 seconds of heat-up time. Another benefit of the ThermoJet is the quicker transition between brewing and steaming, which's essential for a single-boiler espresso machine. It takes only 8 seconds to start steaming right after pulling a shot. That's much quicker than the previous models using the Thermocoil, which takes about 30 seconds.
The Barista Pro could turn you into a home barista overnight. Aside from the user-friendly control panel, users can make several adjustments to brew their perfect cup. You can create awesome latte art with every cup thanks to the 4-holes steam wand and powerful steam pressure.
It's attractive and includes many features that you would expect to find on a commercial machine. Check out our hands-on review of the Barista Pro.
Pros
It comes with an internal conical burr with 30 grind settings;
Intuitive LCD with progress animations and all the information you want;
Super quick preheat and transition time between steaming and brewing;
Stylish design with many color options.
Includes a two-year limited product warranty
Cons
Priced in the mid-range, more expensive than BES870 Barista Express and Infuser.
It may be too complicated for beginners.
2. Breville Barista Express – BES870XL
Specifications:
Dimensions: 12.8" x 12.2" x 13.1"
Water tank: 67-ounces
Bean Hopper: ½-pound
Portafilter: 54 mm
Control panel: knobs, buttons, and gauge
The Breville BES870XL Barista Express may be the favorite espresso machine of the past decade. You get the best blend of features and pricing, including a milk frothing wand and built-in grinder. While it's a bit of a step down from the Barista Pro, millions of satisfied users can't be wrong about this machine.
Though you see some features from the Pro, the Barista Express espresso machine dials it back with the bells and whistles, resulting in a more affordable machine.
Barista Express also comes with an integrated conical burr grinder, and you can save a big budget on a decent espresso grinder. And the powerful steam wand provides reliable performance for steaming milk. With some practice, you can definitely make great espresso and perfect latte art with it.
You can get the Barista Express espresso machine in classic stainless steel, black and red. All of them are built with solid stainless steel materials. Even though it's been there for a decade, the aesthetic design is not outdated.
If you're looking for a Breville semi-automatic espresso machine that lets you make some adjustments and includes all of the barista-quality features, you may want to consider the Express. It's a single boiler machine with a Thermocoil heating system, so it won't brew as fast at the Pro, but you still get a high-quality brew. You can also monitor the classic pressure gauge and program the shots accordingly to perfect your shots.
Essentially, the Barista Express delivers a delicious cup of espresso without the cutting-edge tech and upgrades you get with the Pro.
Breville also released an upgraded model Barista Express Impress, which added a new tamping system. We compared the Barista Pro Vs Express Vs Express Impress. Check it out if you are interested in their differences.
Pros
Excellent espresso quality and steaming performance
A reliable model that has been tested and trusted by users in the past decade
It comes with an integrated burr grinder so you can enjoy freshly ground coffee without extra investment
Cons
It takes longer to heat up compared to other ThemoJet models, a longer transition between brewing and steaming
Not suitable for those who prefer newer models
Fewer grind settings than Barista Pro and other higher-end models
3. Breville Bambino Plus – BES500BSS
Specifications:
Dimensions: 7.7" x 12.6" x 12.2"
Water tank: 64-ounces
Bean Hopper: none
Portafilter: 54 mm
Control panel: knobs and buttons
Are you short on space but desperate for home-brewed espresso? The Breville Bambino Plus may be the answer to your dilemma. This machine may be compact, but it delivers a decent espresso drink.
Notably, this espresso maker features an automatic steam wand, so things like milk frothing are easy. As a result, it's very suitable for those who like milk-based espresso drinks. It's easy to adjust the temperature and texture for the perfect micro foam milk. So, you can prepare high-quality milk-based espresso such as lattes and cappuccinos without practicing the steaming technique.
For a low-profile machine, the Bambino Plus packs a lot of power. Breville incorporated the ThermoJet technology to ensure you get espresso fast, and it delivers the same rich flavor that you expect from the brand. It is also available with a low-pressure pre-infusion system.
Unfortunately, to make a smaller, less expensive machine, Breville had to make some concessions. The Bambino Plus lacks a built-in burr grinder, and the display is minimalistic. However, since you can't make as many adjustments and it comes with a detailed user guide, the Bambino Plus is an excellent choice for beginners.
Also, it doesn't come with unpressurized filter baskets like the other models on the list. So if you are an espresso purist, remember to get an unpressurized portafilter for enhanced espresso quality.
Pros
Features an automatic steam wand with adjustable temperature and texture
It uses the ThermoJet heating system for a fast brew
A compact coffee maker that fits well on kitchen countertops
Several neutral color options
Cons
It may not satisfy the espresso purist
You need to use pre-ground coffee or purchase a grinder.
It doesn't come with unpressurized filter baskets
It doesn't have a hot water spout
4. Breville Infuser – BES840XL
Specifications:
Dimensions: 13.7" x 11.5" x 13.2"
Water tank: 61-ounces
Bean Hopper: none
Portafilter: 54 mm
Control panel: knobs, buttons, and gauge
If the Baristo Pro or Express feels like too much of a machine, but the Bambino Plus falls short of your espresso brewing needs, you may want to consider the Breville Infuser. It has many of the same quality components that you get with other Breville models, such as low pressure pre-infusion system and PID digital temperature control. With all these, your espresso quality won't downgrade.
The Infuser boasts a high-pressure steam wand to create milk-based drinks and even some latte art if you want to get creative. You can also choose one or two shots to meet your needs. The Infuser even includes maintenance indicators to alert you when you need to clean components.
For people who already have an espresso grinder or purchase pre-ground beans, the Infuser offers a more affordable alternative to the Barista Pro or Express. This espresso machine proves that you don't have to compromise quality espresso to get a reasonable price.
Pros
Equipped with PID temperature control, pre-infusion
A powerful 1650W Thermocoil heating element
Automatic purge feature ensures optimal espresso temperature
It comes with both single-wall and double-wall filter baskets
Cons
A bit louder than other models
The price is more affordable than Barista Express and Pro, but you'll need an extra espresso grinder
5. Breville Barista Touch – BES880XL
Specifications:
Dimensions: 12.7" x 15.5" x 16"
Water tank: 67-ounces
Bean Hopper: ½-pound
Portafilter: 54 mm
Control panel: touchscreen display
The Breville Barista Touch is their top single boiler machine, and not just because it looks incredible. You get all of the features from the Breville Barista Express and Pro and then various additional features, like auto steaming.
If you want a high-end machine with all the bells and whistles, this may be the one for you. The Breville Barista Touch features everything you could want in a home machine without upgrading to a commercial-grade model. It's also easy to learn and operate, even with the extra programming options.
It has 5 pre-programmed coffee recipes for you to get started. If you want a more personalized flavor, you can also easily change the coffee strength, texture of milk, and temperature. Also, the machine lets you create and save up to 8 personalized coffee recipes.
Like the Bambino Plus mentioned above, this Barista Touch also features an auto steam wand which allows you to tweak the milk temperature and texture. It's a combination of all the single boiler Breville espresso makers.
Though you can expect to pay more for the Touch, this Breville espresso maker may be worth every penny for espresso purists seeking an exceptional user experience.
Previously we compared the Breville Barista Pro vs Touch.
Pros
Equipped with a premium and intuitive touch screen display
Offers preset coffee recipes and programmable personalized recipes
Auto steam wand with customizable temperature and texture options
ThermoJet heating system, pre-infusion, and all the other top features available in Breville's single boiler line-up.
Includes a two-year warranty.
Cons
The most expensive model in single boiler line-up, but still cheaper than dual boiler options
6. Breville Dual Boiler – BES920XL
Specifications:
Dimensions: 14.7" x 14.8" x 14.7"
Water tank: 84-ounces
Bean Hopper: none
Portafilter: 58 mm
Control panel: knobs, buttons, gauge, and LCD screen display
When the single boiler systems can't keep up with your espresso brewing skills, it's time to upgrade to a commercial-grade machine. Breville's Dual Boiler offers you a chance to be a true home barista. You get commercial performance without the oversimplified industrial look because this machine has the modern look and feel of other Breville models.
BES920XL offers many commercial features and functions you need. For instance, the PID and Over Pressure Valve (OPV) control guarantees precision temperature and pressure so that you can achieve professional quality and consistency each time.
Also, unlike the single boiler machines introduced on top, this dual boiler espresso machine uses a commercial-grade 58mm portafilter with a capacity of 19-22 grams. Simply push a button, and you can pull a single shot or double shots with ease.
The Dual Boiler features some of the best elements from the single-boiler models but takes them up a notch. You get a small LCD screen and pressure gauge to ensure you get the brew you want every time. The steam wand allows you to get the perfect texture for latte art.
As noted, a dual boiler system brews and steams at the same time to produce quality espresso shots faster. You can start frothing milk when you start pulling a shot. You can make coffee drinks back to back without waiting since dual stainless steel boilers handle brewing and steaming individually.
Before you jump aboard the Dual Boiler model, make sure you can handle the price. Don't forget to factor in that you need an espresso grinder because this model doesn't include one. However, if you don't like waiting for your espresso and know your way around the system, it may be a worthwhile upgrade. It's the best double-boiler espresso machine of our picks.
Pros
PID and OPV guarantee consistency and espresso quality
It comes with a commercial grade 58mm portafilter
Brew and steam at the same time without waiting
The large 2.5L stainless steel tank is easy to access and amply-sized.
Cons
It costs far more than any single-boiler models
Takes time to learn the functions and controls
7. Breville Oracle – BES980XL
Specifications:
Dimensions: 14.5" x 14.7" x 17.6"
Water tank: 84-ounces
Bean Hopper: ½-pound
Portafilter: 58 mm
Control panel: knobs, buttons, and LCD screen displays
The Breville Oracle represents the best dual boiler system that the company has to offer. Unlike the base Dual Boiler model, the Oracle features a combination of an automatic machine and a semi-automatic machine. It features a built-in grinder and some helpful bonus features, like the One Touch Americano, auto tamping, auto grinding and steaming. This model is one beast of an espresso machine, and it was made to last.
This dual boiler espresso machine features some impressive auto functions to create a truly user-friendly experience. You don't need to do much to get the ideal shot of espresso because the machine handles it for you. For example, the Oracle grinds and tamps automatically.
Speed is another high point for the Oracle. Not only does it use a triple heat system to deliver the best shot of espresso, but you can also steam milk while your espresso brews. That means you can make a latte or cappuccino, complete with foam art, in less than a minute. Plus, the Breville Oracle includes recipes and those auto features.
Investing in the Breville Oracle means paying for convenience and top-notch, commercial-grade performance. If you're feeling inspired, you can upgrade to an Oracle Touch for additional features, including a touchscreen display.
Pros
Features multiple LCD screens to show everything you need every time you brew
Flexible shot control allows you to brew one or two shots or create a custom dose
Includes auto grind, auto dose, and auto tamp features
Excellent micro-foam for coffee shop quality milk-based drink
Dual boiler machine, prepare your coffee drink in a very short time
Cons
It requires a larger budget, and the price is higher than many super-automatic or some prosumer espresso machines
Only available in one color option
What To Expect From a Breville Espresso Machine – The Common Features
Why should you go with a Breville espresso machine? Not only has the company built a reputation for producing reliable appliances, they include some impressive features that enhance the user experience.
While each model is slightly different, all Breville espresso machines have some features in common.
Solid Build Quality
The Breville espresso machine line features durable construction with high-quality parts, including some Italian components. Further, the Breville line features brushed stainless steel exteriors, though some models are available in several colors. Not only do the machines stand up to serious use, but they also look good at your coffee station and won't disrupt your aesthetic.
PID (Precise Temperature Control)
Each machine features digital temperature control, known as the PID. Breville's PID ensures that water reaches the optimal brewing temperature to produce better espresso extraction.
Pre-infusion
Pre-infusion refers to the time coffee spends soaking in the portafilter before applying full water pressure. Breville reports that its pre-infusion feature controls the water pressure. By gradually and gently increasing water pressure, you get an even extraction, meaning a more balanced drink.
Auto Purge
Water pressure and temperature affect coffee extraction. While the pre-infusion feature manages water pressure, the auto-purge option handles temperature. This feature automatically adjusts water temperatures after steam to deliver the best coffee extraction possible.
Optimal Pressure – 15 bar
One of the most important components of an espresso machine is the BAR pressure. It refers to the pump pressure limit, or the amount of pressure forcing water through the coffee. The optimal range for espresso is somewhere between 10 BAR and 15 BAR, and all of Breville's machines boast a 15 BAR pressure.
Accessories
Accessories can be a make-or-break issue for espresso makers. Purchasing too many extra pieces to improve your brewing experience can be a deterrent. Thankfully, most Breville models (except for the Bambino and Bambino Plus) feature two filter baskets.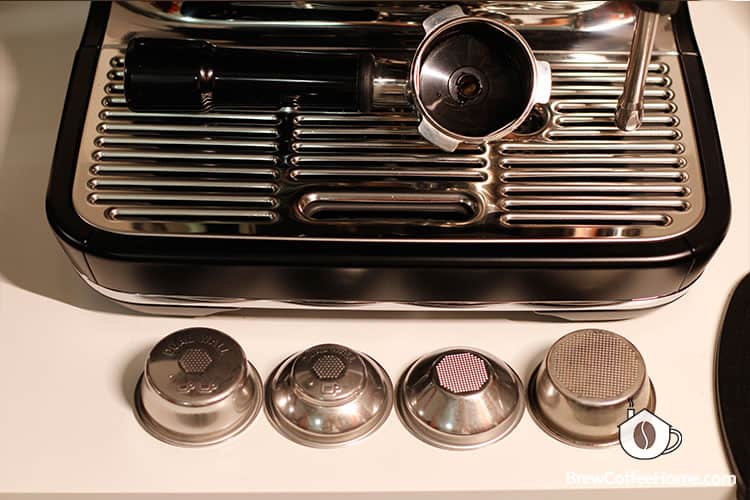 Single wall filter baskets are unpressurized and work well for experienced brewers who can adjust their coffee grounds to get a precise consistency.
Dual-wall filter baskets are pressurized. They are excellent for beginners and those working with pre-ground coffee.
Of note, if you would like to upgrade or replace components, you can find several accessories and alternate parts through the company website.
Great Customer Support and Limited Warranty
Breville has established itself as a reputable company, especially among coffee and espresso drinkers. Users needing support for their Breville purchases can expect exceptional customer communication.
Additionally, all Breville espresso machines come with a warranty. You get at least a one-year limited warranty, but some models include a two-year warranty.
How to Choose Between The Breville Espresso Machines – Models Comparison
It can be challenging to choose the best Breville espresso machine to meet your needs. The models all have a lot in common and deliver quality drinks; however, some differences could impact your experience. Let's take a look at some of the comparison points so that you can make the best decision for your coffee station.
Built-in Coffee Grinder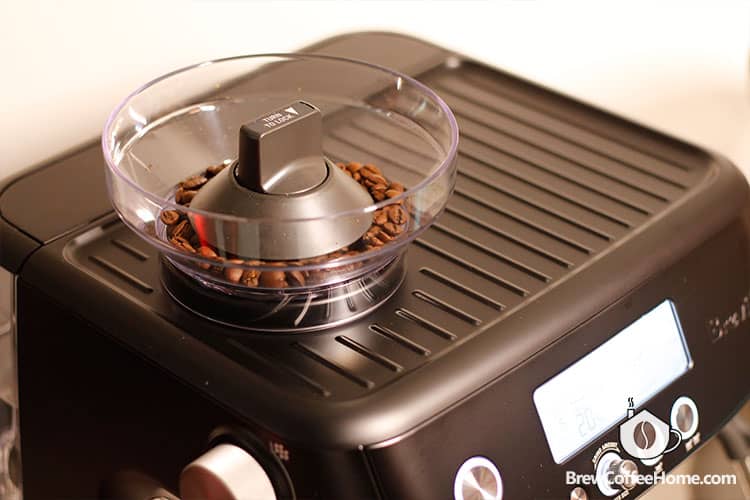 Not everyone loves pre-ground espresso, but if you prefer to purchase whole coffee beans, then you need a grinder. Some Breville models feature a conical burr grinder inside the machine. Other models only brew the espresso, meaning you would need to buy a separate espresso grinder.
As you review the models, you may want to consider whether you want a separate grinder or if it would be easier to have one built-in. Keep in mind that if you don't already have a coffee grinder, they can be expensive.
Breville Barista Express, Barista Pro, Barista Touch, Oracle, and Oracle Touch come with a built-in conical burr grinder.
Heating System
Breville machines use one of three heating systems, the ThermoCoil, ThermoJet, or triple heat system. Knowing the difference could help you decide which is the best Breville espresso machine for you!
ThermoJet heating systems represent the latest technology and deliver a shorter brew and steam time. It takes 3 seconds to preheat, meaning you get coffee faster. ThermoJet is used in the newer Breville espresso machines, including Bambino Plus, Barista Pro, Barista Touch.
ThermoCoil heating systems are older and take longer to reach the ideal temperature. Themocoil heating system is used in older models, such as Infuser, Barista Express, etc.,
Triple heat systems brew and steam at the same time, so you only find them in the dual boiler models, including Dual Boiler, Oracle, and Oracle Touch.
It's important to note that each type delivers an excellent shot of espresso. The difference comes down to brew time and how long you want to wait for your espresso.
Single Boiler or Dual Boilers
Another differentiator is a single boiler system versus dual boilers. Most home espresso machines feature single boilers that cannot simultaneously brew and steam. Commercial espresso machines tend to feature dual boilers that brew and steam at the same time, making it easier to make multiple drinks.
If you usually make one espresso drink at a time, a single boiler system should suffice. However, for those who make multiple drinks, a dual boiler system may be more efficient.
Portafilter Size
Does the portafilter size matter to you? Breville espresso machines come with a 54mm or 58mm portafilter. Typically, domestic espresso machines feature 54mm portafilters, while commercial-grade models have 58mm portafilters. Though the difference seems minimal, you get better extraction with the larger size.
Only Dual Boiler, Oracle, and Oracle Touch use 58mm portafilters, while the others are 54mm.
Control panel
How do you want to operate your Breville machine? While some models don't include a display, others have fancy LCDs or touchscreens. If you like buttons and dials, then basic gauges should be sufficient to meet your needs. However, if you prefer to see an automated, user-friendly screen, you may want an upgrade.
Note that there's less guesswork with more detailed displays and touchscreen capabilities. However, those screens cost more than the traditional gauges, buttons, and dials.
Automatic functions and levels
Most of Breville's products are semi-automatic espresso machines, though certain models require more manual control while others offer more assistance via automatic features. The more manual controls you have, the greater the learning curve and the more brewing skills you need.
Further, some models only offer factory preset settings, meaning you can't tweak as many things as you might like. On the other hand, the more expensive models let you customize more variables, like the exact brew and steam temperatures. When you have more control over the brewing process, you can create custom recipes, but only if you know how to do it.
Water Tank Capacity
How much coffee do you drink every day? Smaller tanks require more frequent refills, which can be tiresome if you are a heavy coffee drinker. Larger tanks can save you time, but they may not help the one-cup-a-day drinkers. Breville espresso machines feature one of three water tank sizes (61-ounce, 67-ounce, or 84-ounce).
The Verdict – Breville Offers The Best Home Espresso Machines
If you love the idea of making your own espresso drinks, it may be time to invest in one of these Breville models. Whether you're a beginner or a retired barista, there's a model for you.
Our pick for the best Breville espresso machine is the Barista Pro because it provides an excellent balance between price and features. You can easily make a delicious espresso drink with the touch of a button, and the heating system quickly delivers your shots at the perfect temperature.
Of course, you can't really go wrong with any of the espresso machines on this list. Hopefully, this guide helps you make the best decision for your home-brewing needs!