New espresso machines are expensive, and there are risks with buying a used one. So, you might be curious about purchasing a refurbished espresso machine.
In this guide, we'll introduce you to the concept of refurbished espresso machines and share our top four tried and trusted companies that offer reliable refurbished machines.
What Are Refurbished Espresso Machines?
Where To Buy? A quick glance.
Refurbished coffee machines are more than used machines because they undergo maintenance and repair. That way, they function like new.
Some refurbished espresso machines were demo models at stores. Others were from people purchasing them new and returning them after light use. In either case, the manufacturer or a third party puts the espresso machine through a rigorous maintenance and testing process for resale with a great discount.
Below are some steps a refurbished coffee maker may go through:
Rebuilding and parts replacement
Testing that the machine works
Deep machine cleanse and factory restored
Of course, the amount and type of refurbishing required depend on what shape the espresso machine was in when the manufacturer received it.
There are a few things to be aware of when you buy a refurbished model. They include the potential absence of:
Accessories such as water filters, spoons, other non-essential parts and consumables
Manufacturer packaging
Factory warranty
Finally, although you can expect a well-working coffee machine, it may contain blemishes from previous use.
Used vs. Refurbished Espresso Machine
If you hop on Craigslist, eBay, or coffee-based forums, you'll encounter countless individuals trying to sell their espresso machines.
In that case, they're used machines, not refurbished. Although used espresso machines have their place in the market, you're often taking a bigger risk by purchasing one.
The reason being is that you're working with a personal seller who may try to make their machine sound like it's in better shape than it is. Alternatively, they may unintentionally offer misinformation because they're not knowledgeable in mechanics like those espresso machine experts.
The advantages of buying a refurbished espresso machine from a reputable reseller instead of a used machine from a personal seller include:
Fair shipping costs
Tested and cleaned product
Access to customer support
Peace of mind with a warranty
Security of purchasing from a reputable dealer
It's wise to choose a refurbished espresso machine because, should you encounter any issues, you'll have support from a reliable manufacturer or third-party refurbishing company.
Can You Save Money On A Refurbished Espresso Machine?
There's a reason why your local coffee shop charges so much for a cup of espresso—espresso machines are expensive. Luckily, buying a refurbished espresso machine is cheaper than purchasing a new one, making a huge difference for people on a tighter budget.
Top-of-the-line espresso machines from the best brands cost anywhere from $1,000 to $3,000. However, by purchasing a refurbished machine, you could save up to around $1,000.
In contrast, entry-level espresso machines and cheaper brands can cost hundreds of dollars. By purchasing a refurbished version, you could save as much as a few hundred dollars.
Because of the significant discounts you receive, some people seek out the refurbished versions because they receive a higher quality product for the same amount of money as a new product.
Things To Consider When Choosing A Refurbished (or Used) Espresso Machine
If you're new to the refurbished espresso machine world, it's crucial to know what you're looking at. Below are three areas you should consider before handing over your money.
Brand Reputation
The brand you purchase impacts the quality you can expect to receive from your machine. However, when it comes to refurbished products, it's equally important to investigate the refurbishing company.
Below are some questions you should be able to answer before buying your machine:
How long has the company been in business?
What are their reviews like?
What's the process they use for refurbishing their machines?
Do the machines undergo factory refurbishing, or are they certified in refurbishing?
Warranty
Warranties are one of the selling points of why buying a refurbished espresso machine is more advantageous than purchasing a used one. Many reputable refurbishing companies offer a guarantee, but the type of warranty they offer may differ.
Below are some examples of the warranties you may encounter.
1-Year Warranty: The company will fix any machine defects for one year from the date of your purchase.
Extended Warranty: A warranty that lengthens the standard warranty timeframe.
Expressed Warranty: Promises that your espresso machine will meet pre-specified quality and performance.
Shipping Cost
If you've ever tried moving an espresso machine, you know how heavy they can be. Therefore, it's critical to understand the shipping costs. Otherwise, you could end up paying as much or more in shipping than the product itself.
Some questions you should look into before getting your heart set on a refurbished espresso machine are:
Does the company ship to your area?
Is there a free shipping option? (Note: Such benefits are often location dependent)
If there's a fee, how much is it?
How will the company handle a machine that arrives damaged during the shipping process?
Where Do You Buy A High-Quality Refurbished Espresso Machine?
If you're ready to welcome a refurbished espresso machine into your morning (or afternoon and evening) routine, we've got you covered with these four trusted refurbishing companies.
1st in Coffee is an excellent fit for someone wanting a dedicated Jura machine. Jura is a Swiss brand that combines user-friendly and high-functioning features with a stunning design.
By using factory refurbished and testing processes, you can have peace of mind knowing that you won't be receiving a half-completed refurbished espresso machine.
Furthermore, 1st in Coffee states that you won't receive a model loaded with scratches and dents or needing repairs. To back up their claim, they offer a 1-Year Warranty and a 30-day money-back guarantee.
You'll have a great selection of refurbished Jura espresso machines to choose from, including but not limited to:
Jura E8
Jura A1
Jura Z6
Jura ENA Micro 5
Jura GIGA W3
Jura X9
1st in Coffee also offers extensive details on each of their Jura models, making it easy for you to understand the differences between them. Not sure which one to choose? Check out our best Jura coffee machine reviews.
The prices for these espresso machines start in the mid-$700s and can surpass $4,000. Furthermore, they also offer refurbished coffee grinders such as Rancilio Rocky, Baratza grinders, and other commercial-grade grinders.
To make these reasonably-priced espresso machines even more attractive, people living in the contiguous 48 United States receive free shipping.
As a certified company that refurbishes Philips and DeLonghi espresso machines, Seattle Coffee Gear is an excellent business to turn to if you want one of these brands.
They offer a small but powerful refurbished stock of some of DeLonghi and Philips' most prized machines. Examples include:
DeLonghi Magnifica
Philips 3200 LatteGo
Saeco Xelsis, PicoBaristo, Incanto Carafe and more.
These refurbished super-automatic espresso machines are excellent for coffee lovers looking for a good deal; the machines start at $399 and range up to $1,699.
Seattle Coffee Gear's user-friendly website lets you filter the features you're looking for in an espresso machine, helping to pair you with your ideal match quickly.
Free shipping is available for all customers within the contiguous United States. Furthermore, they offer you the option to return your refurbished espresso machine within 30 days of the date of your purchase.
Seattle Coffee Gear offers a 6-month warranty for their refurbished machines.
Because this company primarily refurbishes two brands, they're experts in the machines and models they sell. Therefore, they encourage people to get in touch with them so they can help them determine which is the best model for their needs.
Whole Latte Love is a great option if you're looking for a higher-end refurbished prosumer espresso machine, dual boiler machine, and coffee equipment. They have a name as catchy as their selling points since they guarantee that you'll receive a like-new machine for the best price on the market.
Unlike 1st in Coffee, you'll have more brand options to choose from with Whole Latte Love. Examples include:
Gaggia
JURA
DeLonghi
Rancilio Silver
Profitect Pro
Rocket Espresso
Whole Latte Love offers refurbished espresso machines that range in price to meet many client budgets. For example, their Gaggia Classic Pro starts at $399, and their Jura Impressa Z6 goes up to $3,299, at the moment we wrote this article.
For ease of comparison, Whole Latte Love shows you the retail value of the espresso machines in new condition so that you can compare them to the refurbished prices.
Among the many outstanding qualities of Whole Latte Love is its excellent customer support. The support team is very responsive via live chat, email, and phone. Usually, their espresso machine experts will reply to your question immediately if you contact support via live chat. That's impressive.
Whole Latte Love offers a Quality First warranty, including six months of support with parts and labor. They also offer free shipping and a 30-day return policy.
Buy Refurbished Breville Espresso Machines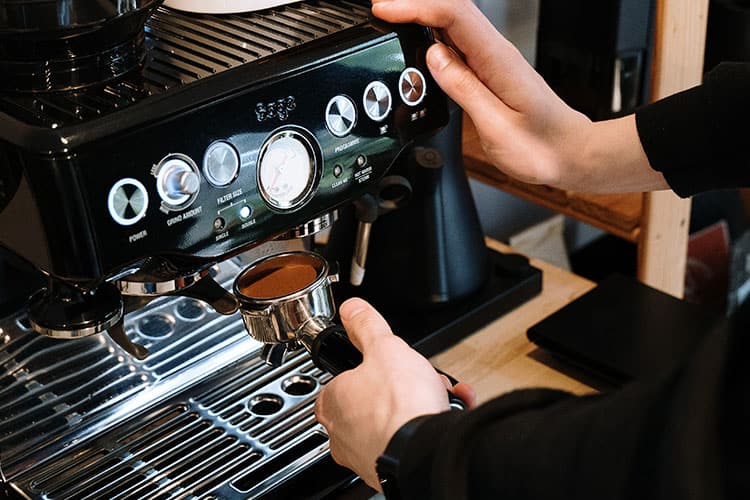 Up until now, we've talked about companies that specialize in refurbishing espresso machines. However, these businesses aren't machine manufacturers, often you have limited warranties instead of a factory warranty.
That said, some manufacturers, such as Breville, offer remanufacturing services. There are significant advantages to this because no one knows the ins and outs of an espresso machine's mechanics better than the company that made it.
Furthermore, remanufacturing is a slightly different process than refurbishing. For example, remanufacturing an espresso machine is often more expensive because the manufacturer often puts the machine through a more rigorous repair and cleaning process to ensure that the product matches the brand's positive reputation.
In the case of Breville, they offer remanufactured espresso machines for models such as:
Oracle
Dual Boiler
Barista Express
Duo-Temp Pro
Infuser
The prices for their remanufactured products range from $319 to $1,399, and all orders come with free shipping. If the model you'd like to purchase isn't available, you have the option to sign up for a notification when availability opens.
Breville's remanufactured espresso machines come with a 6-month limited warranty. So, if you struggle with deciding if the traditional refurbishing company is a right fit for you, buying a remanufactured machine directly through a manufacturer like Breville is an excellent choice.
Buy Refurbished Keurig Coffee Makers
Apart from espresso machines, if you are looking for single-serve or drip coffee makers, you can also try to search their official websites and see if they offer a refurbished version. For example, Keurig also lists some refurbished brewers with a great discount. Check out the list here.
Conclusion
Buying a refurbished espresso machine is an investment, but it will help save you money.
While all the refurbishing companies we covered have their advantages, our top pick is 1st in Coffee. They offer the most consistent warranty across their espresso machines, have competitive prices, and provide free shipping.
So, if you're in the market for a super-automatic Jura espresso machine, in our opinion, 1st in Coffee is hands-down the best refurbishing company to work with.