Semi-automatic espresso machines are among the most popular options for brewing hot drinks at home. It is an ideal option for beginners, providing the best automatic features to control how extraction works. They are often considered a better option in comparison to automatic espresso makers because they allow you to customize your drink and show off your barista skills.
This buying guide will provide the best semi-automatic espresso machines and their distinct features to make an informed decision based on the type of model you want.
How to Choose the Best Semi-Automatic Espresso Machine
Before you invest in a new semi-automatic espresso machine, you consider several factors before choosing your model. There are machines with single and double boilers, portafilter types, and a built-in grinder.
The difficulty level is essential, as you'll want a machine that is easy to use — especially if you're new to using an espresso maker. If you're working within a budget, the price range is another crucial aspect of your purchase.
A Quick Look Of Our Best Picks
| Preview | Product | Rating | |
| --- | --- | --- | --- |
| | Breville Barista Express Espresso Machine, Brushed... | 21,720 Reviews | See on Amazon |
| | Breville Bambino Plus Espresso Machine,64 Fluid... | 1,395 Reviews | See on Amazon |
| | Gaggia RI9380/49 Classic Pro Espresso Machine, 21... | 483 Reviews | See on Amazon |
| | Rancilio Silvia Espresso Machinet,0.3 liters, with... | 596 Reviews | See on Amazon |
| | De'Longhi La Specialista Espresso Machine with... | 1,972 Reviews | See on Amazon |
| | De'Longhi EC680M Espresso, Stainless Steel,... | 3,550 Reviews | See on Amazon |
| | Mr. Coffee Espresso and Cappuccino Machine,... | 2,846 Reviews | See on Amazon |
| | Calphalon Espresso Machine with Coffee Grinder,... | 3,836 Reviews | See on Amazon |
Last update on 2023-05-31 / As an Amazon Associate, if you buy via the links, Brewcoffeehome earns a commission at no extra cost to you.
Here are some factors you should consider in more detail.
Single vs. Double Boiler
One of the first options you'll notice when you shop for an espresso machine is whether to choose a single or double boiler. A single boiler machine allows you to brew your drink or steam your milk, but not at the same time.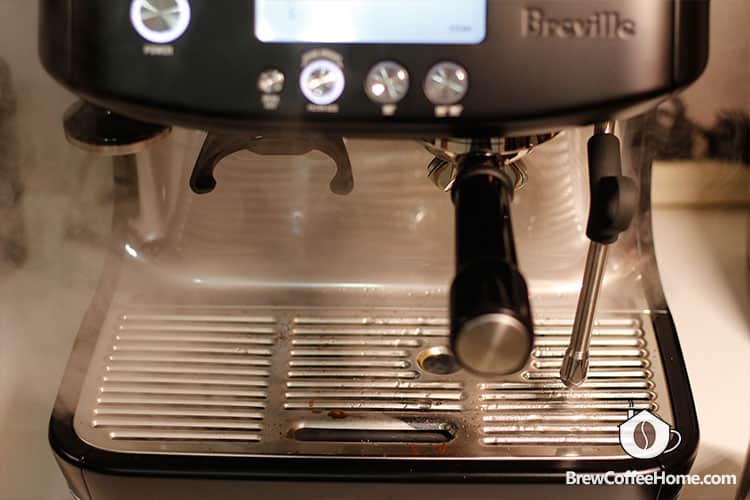 Once the shot is ready, the boiler is reheated to steam your drink. These two steps must be performed separately due to the limited heat in a single boiler espresso machine. Dual boiler or heat exchange boiler is more common in prosumer level machines, which provides the ability to steam and brew at once. The choice you make depends on your preferred brewing process and budget.
The Built-In Grinder
Do you have a coffee grinder at home? If you are partial to using the one you have, you can easily skip this feature when considering your espresso machine. On the other hand, it's a great option to include for convenience. High-quality espresso machines often include a built-in coffee grinder.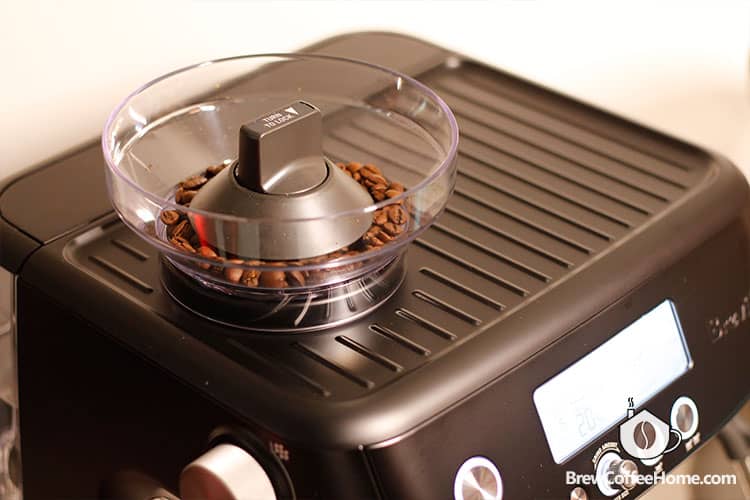 These machines produce acceptable coffee grounds so that your espresso shot or specialty coffee is perfectly layered with the right amount of oils to create a delicious crema (top layer). Here are more options for coffee makers with built-in grinders.
Normal coffee grinders for drip coffee or pour-over can't produce fine enough coffee grounds for espresso. Good quality espresso grinders are quite expensive, but they offer more adjustable room for dialing in.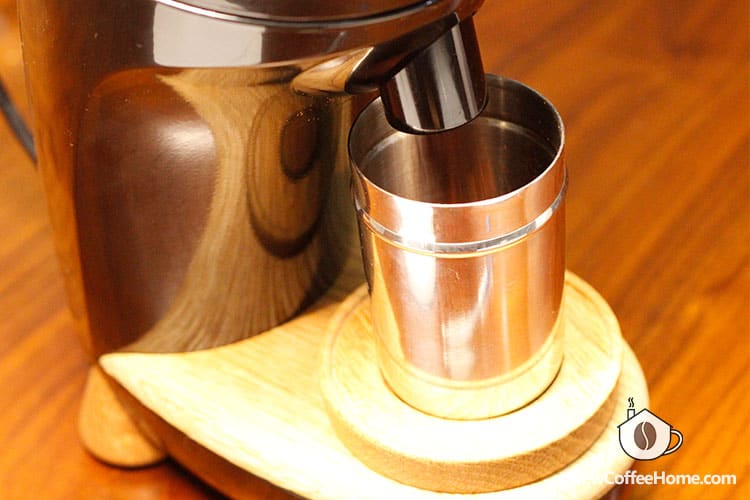 Portafilter Type
The portafilter in an espresso machine is a spoon-sized basket that holds the coffee grinds for the brewing process. It's attached to the espresso maker's head, which is where the hot water is filtered through to extract the espresso.
While there is typically no standard size, the most common portafilter is 58mm. The variance in size depends on the shape of the espresso machine and its various parts.
There are several types of portafilters to consider:
Pressurized portafilters are considered more forgiving since the coffee will be collected in the holding area and then forced through a tiny hole, you can have 'espresso crema' on top regardless of the coffee grinder you have. It's good for beginners to pull a decent shot of espresso.
Non-pressurized portafilters are more sensitive to your grind size since it brew directly into your cup. If you grind too fine or too coarse you'll get a poor shot of espresso. Normally a decent espresso grinder is needed. You need to fine-tune the coffee grounds to a good shot.
Normally lower budget machines come with a pressurized portafilter, while some provide both options.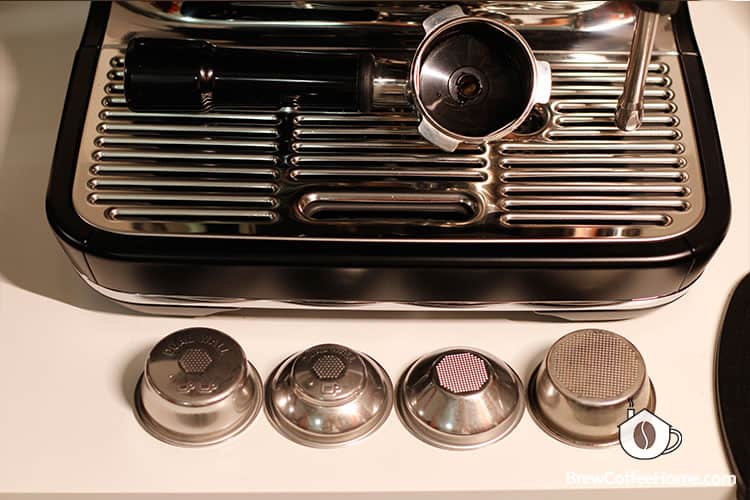 Commercial portafilter baskets are typically 58mm in size and can be applied with various accessories to enhance your espresso results. You may want to review the styles and types of portafilters, tampers, and other add-ons to determine what fits best with your espresso machine.
Ease of Use
How easy is the semi-automatic espresso machine to use? If you're familiar with coffee makers, you may prefer preset functions, timers, and other options. An espresso machine with extra functions and preset options offers cappuccino settings, lattes, steamed milk, single or double espresso shots. If you prefer to show off your pro barista skills, you may prefer some manual settings.
When you review the various models of espresso machines, you'll want to consider the preset and manual options for steaming, brewing, timing, temperature, and other ways of perfecting your favorite brew, depending on your skill level. Semi-automatic espresso machines offer an excellent option for some preset buttons.
If you want to get excellent espresso drinks at a push of a button without requiring extra espresso knowledge, consider the Fully Automatic Espresso Machines.
Budget
How much are you willing to invest in a new semi-automatic espresso machine? Some of the best semi-automatic espresso machines are not the most expensive, though you'll want to keep in mind which features you want to include. If you're aiming for a low-cost machine, and you're an entry-level barista, many single boiler machines are available for around $200 or so.
Semi automatic machines with built-in coffee grinders and other mid-level features and performance can increase the average price to $500 and above. If you're a novice or working your way to creating more varieties of morning coffee drinks, you may want to consider a model in this range.
At the higher end of the semi-automatic espresso machine with a dual boiler or more advanced performance, you'll find a price range that exceeds $1,000. These models are designed for experienced baristas and are not explicitly recommended for entry-level espresso-making for beginners.
Top 9 Best Semi-Automatic Espresso Machines Reviews
When you are looking for the best semi-automatic espresso machine, you'll find many options with a wide range of features for any price range, experience level, and preference. Here are our top-picked models for home use.
1. Breville BES870XL Barista Express Espresso Machine
The Breville Barista Express semi-automatic espresso machine is one of the top models of Breville's line. Some fantastic features contribute to a consistent, high-quality brew with the roasted beans of your choice.
This well-built stainless steel machine has a built-in grinder that allows you to adjust the grind setting based on your bean choice. It also maintains optimal temperatures and water pressure for the best flavor and strength. Once it's set up, this Breville takes only two minutes to prepare your perfect cup of coffee.
You also get a bounty of accessories with this efficient machine. The package includes a 54mm portafilter, an integrated tamper, one and two-cup filter baskets with both pressurized and non-pressurized versions, a cleaning disc, and a water filter.
Overall, it's an ideal model for beginner and novice baristas and anyone interested in upgrading from a simple coffee maker or espresso machine to a mid-range model. You can definitely pull a perfect espresso shot and make stunning latte art with it.
However, Barista Express is available for a few years, newer version of Barista Pro and Barista Touch offer more great features but cost a bit more. We shared a hands-on review of Barista Pro before and it's worth consideration as well.
Also Read: Breville Espresso Machines Comparison
Pros
Built-in coffee grinder with adjustable grind settings
A pressure gauge in the middle is helpful
Steam wand with foam-making options
Optimal, controlled water pressure starts low and gradually increases during the brewing
Accurate digital temperature control (PID)
Cons
It doesn't have the new technology that used in the newer models, such as the ThermoJet.
2. Breville the Bambino Plus Espresso Machine
The Bambino Plus espresso machine is an excellent option for producing a great barista-level espresso. Like the Barista Express mentioned above, this Bambino model focuses on quality so that your espresso is of professional-grade value. This good-looking stainless steel machine has a smaller footprint to save your kitchen counter space.
Thanks to the Innovative ThermoJet heating system, this semi-automatic machine reaches target temperatures in only three seconds, which is much faster than Barista Express. It also allows a quick transition from brewing to steaming. You can also create lattes and cappuccinos with the automatic microfoam milk steam wand that controls both temperature and texture.
This Breville Bambino espresso machine is ideal for beginners. The price is mid-range and average for this level of the machine. However, compared with the Barista Express, this Bambino is much cheaper without a built-in grinder. So you can consider this combination which gives you more control over the grinding: Bambino Plus and Breville Smart Grinder Pro.
Pros
54mm portafilter size and dose control for grinding
Automatic microfoam milk steam wand allows you to create latte art
Innovative ThermoJet heating system reaches optimum temps in three seconds
Pre-infusion maximizes the coffee flavor
Compact design fits almost any kitchen space
Includes a pressurized portafilter, but you can easily upgrade
Cons
No built-in grinder
Doesn't come with a single wall basket for espresso shots
3. Gaggia RI9380/49 Classic Pro Espresso Machine
Gaggia's Classic Pro machine is an excellent match for beginners so that you can develop your barista's touch with a solid set of features and easy-to-use functions. The machine uses 58mm portafilters with commercial single and double shot baskets.
This product remains one of the most popular in its class for several good reasons. It's easy to use and versatile, featuring some commercial-grade elements, like the portafilter and steam wand. Plus, you can choose between six different colors so that it matches your kitchen decor.
Overall, this Gaggia espresso machine model is ideal for first-time baristas and offers many ways to create delicious lattes and espresso beverages without too many settings. It's the ideal beginner coffee machine, with a mid-range price, and offers consistently good coffee quality. We recently tested and review this machine, check out our Gaggia Classic Pro Review.
Pros
A three-way solenoid valve system
Commercial steam wand and 58mm portafilter
Includes a single shot and double shot filter basket
Can use either non-pressurized or pressurized portafilters
Easy to use controls
Multiple colors
Cons
Can take up to 50 seconds to brew, longer than other models
No built-in grinder, so you'll need to purchase one
The space under the portafilter is very limited so you can't fit in a bigger cup or thicker coffee scale
4. Rancilio Silvia Espresso Machine
The Rancilio Silvia espresso machine is considered one of the best semi-automatic espresso makers in recent years. You'll pay a bit more for this phenomenal machine, which is worth the investment. It's one of the top options for espresso and coffee fans looking to create professional lattes, cappuccinos, and specialty coffees.
The modern, sleek design fits well in any space and works with a wide range of décor styles. The Rancilio line of espresso machines is famous for all levels of expertise and great for first-time baristas.
This semi-automatic machine strives to make a superior quality brew without adding too many extras. You'll find this espresso maker is consistently high-quality for creating crema espresso and lattes.
Due to its popularity, you can easily find guides, modding, and upgrade tips online.
Pros
58mm portafilter with single and double shot baskets
Takes up minimal countertop space.
Commercial-grade group heads keep heat stable
Ergonomically designed portafilter handle
Three-way solenoid valve system maintains ideal pressure
Features an option to purchase a pod and capsule adaptor kit
Cons
Without PID, sometimes it's tricky to find the perfect brew temeperature
More expensive than other similar models
5. De'Longhi La Specialista Espresso Machine with Sensor Grinder
Suppose you're a beginner looking for an espresso machine with a shorter learning curve. In that case, this is a fantastic, innovative model that offers a sensor grinder and precise settings to create consistently great espresso every time. It's one of the best-selling Delonghi espresso machines for home baristas.
Pulling a great shot of espresso requires more skills than regular coffee, La Specialista provides more assistance so you can make fewer mistakes. The sensor grinder and tamping station let you grind and tamp the ground coffee perfectly by pulling the lever on the left.
You can select a flat or form on the steam wand to create micro-foaming froth for latte or richer form for cappuccino. It also features a separate hot water spout for brewing tea or making an Americano.
De-Longhi is an excellent brand that combines some of the best brewing technology so that a beginner-level barista can make professional lattes that rival the local coffee shop. We reviewed the De'Longhi La Specialista before, check it out for more details.
Pros
Sensor technology ensures the proper amount of beans for each cup
Ideal for beginners
Portafilter and tamping station create a mess-free experience
Dual heating system maintains temperature control, and instantly switches from brew to steam
Separate water spout for extra hot water
Two-year warranty with the option of adding an extra year
Cons
Lacks some of the controls you get with Breville Barista Express, Rancilio Silvia, or Giggia Classic Pro
Some quality control issues with the water sensor
6. Solis Barista Perfetta Espresso Machine
The Solis Barista Perfetta espresso machine is a Swiss-built entry-level machine that will appeal to serious home baristas with a smaller kitchen. However, it offers features usually reserved for a significantly bigger, more expensive machine.
For example, there is an automatic pre-infusion for even extraction and the elimination of channeling. Meanwhile, the adjustable temperature option is similarly rare for an entry-level machine, which you can tweak to suit your coffee roast levels and taste preference. The machine has a professional steam wand for creating foamy milk for cappuccino or microfoam for beautiful latte art.
It also has a manometer, so you can find the perfect grind size by monitoring the bars of pressure with each batch. Another superb feature rare in entry-level machines is a 3-way solenoid valve, which ensures your coffee puck is dry straight after brewing, meaning knocking it out is mess-free. There's also a quick thermoblock heating element, auto-cool flush, the programmable shot volume, energy-saving and standby modes – and all in a sturdy, compact machine.
The Solis Barista Perfetta also has great accessories, including a stainless steel milk jug, water filter cartridge, and pressurized and non-pressurized filter baskets. We have tested this machine and here is our hands-on review of the Solis Barista Perfetta.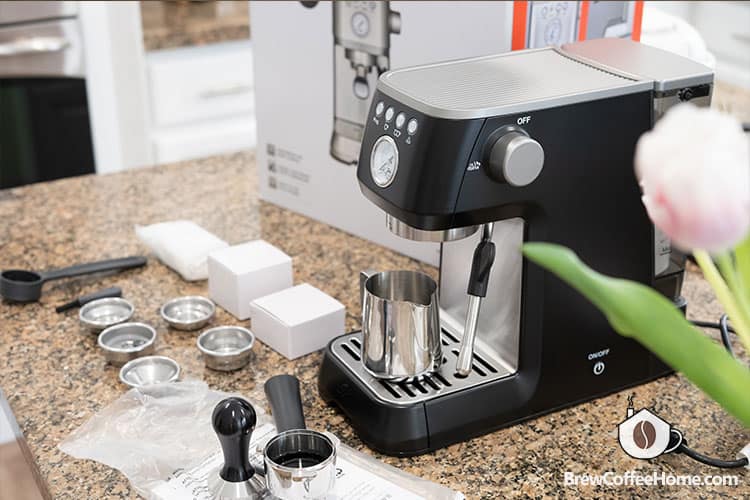 On top of all that, the coffee it produces can be as beautiful as any brewed by a higher-end machine, making it a serious consideration for anyone wanting great espresso for a fraction of the price of a standard semi-automatic machine.
Pros
Compact and well built
Functionality befitting of a higher-end machine, such as 3-way solenoid valve, pre-infusion, adjustable temperature and professional steam wand.
Excellent high-quality accessories
Cons
More expensive than most other entry-level machines
7. De'Longhi EC685M Dedica Deluxe Automatic Espresso Machine
The Dedica Deluxe Automatic espresso machine is ideal for a budget investment while providing excellent espresso shots and lattes. It may not provide the same level of performance as the models mentioned above, but you'll enjoy the key features that allow you to control every cup you create.
This is easy to clean, dishwasher safe, with parts that are easy to remove. You can create multiple cups without waiting for the machine to heat, as the Advanced Cappuccino System keeps the temperature at an optimal level for your next brew.
If you have limited space but love a homemade latte in your day, this espresso machine could fit the bill. It may not have all the bells and whistles you get with some of the larger options, but this De'Longhi can make an impressive espresso drink if you have done everything right.
Pros
15-bar extraction pressure to create and adjustable controls
High-quality espresso extraction
Compact size fits anywhere
Set your preferences and let the machine do the rest
Manual foam frother for cappuccinos and lattes
Removable drip tray to accommodate larger, taller cups
Cons
The drip tray and water tank are small
Some users reported issues with the steam wand clogging
8. Mr. Coffee One-Touch CoffeeHouse Espresso Maker and Cappuccino Machine
A very budget-friendly espresso maker and cappuccino machine, Mr. Coffee is an excellent solution for beginner espresso lovers who want to experience the barista touch without making a sizable investment. It's one of the best semi-automatic espresso machines within the inexpensive price range and an ideal product for any fan of coffee.
The machine is easy to use, though it may take time to get acquainted with the espresso maker and its setup. The instruction manual offers instructions for priming the unit. This must be done before. The Mr. Coffee espresso maker is an ideal starting point for creating your favorite espresso beverages. It's durable and offers a great tasting brew the way you like it.
Pros
19-bar Italian pressure pump adjusts pressure to your favorite coffee flavor
Automatic milk frother
Can make single and double espresso shots
Easy to use control panel
Easily removable tray fits tall and short cups
You can store the easy to use milk reservoir in the refrigerator
Cons
Need to buy a separate coffee grinder or purchase an upgrade
Difficult to find replacement parts
9. Calphalon Temp IQ Espresso Machine with Grinder
The Calphalon Espresso machine is a well-balanced, high-quality investment that includes some notable features and a built-in burr grinder. You also get various accessories, including a stainless-steel milk pitcher, one and two-cup single and dual wall filters, a steam wand, and cleaning tools.
One of this model's critical features is the Temp IQ system, which offers thermoblock heating technology and PID temperature controls. This system controls the heat at a consistent level, with espresso extraction and pre-infusion to create a delicious cup of espresso every time.
This espresso machine is a great mid-range model for making your favorite espresso, lattes, and coffee beverages. The burr grinder with 30 grind settings makes the brewing process easy, and the overall quality of this product is ideal for beginners and novice-level baristas.
Pros
Built-in burr grinder
15-bar Italian pump
Pre-programmed single and double shots
Control panel allows you to select steam or hot water
58mm portafilter with a pressurized pitcher and basket
Cons
May not include as many features as other models
Customer service leaves a lot to be desired
Best Espresso Machine Brands
When you consider purchasing your first espresso machine, you'll find some familiar brands in the industry that provide high-quality products and unique features.
Breville
Breville is an Australian-based brand of home and kitchen appliances. The company's products are sold internationally, including a wide range of coffee and espresso machines, kettles, microwaves, toasters, juicers, blenders, and other small appliances. Breville is known for high-quality, durable products available in many retail outlets and purchases online.
The brand's website offers helpful tools about your espresso machine and your warranty coverage. Customer support can provide you with assistance regarding replacement parts, product registration, product returns, and other questions about your specific model. Breville is considered one of the top choices for espresso machines and coffee makers.
De'Longhi
De'longhi is a small appliance company based in Treviso, Italy. The company was initially started over one hundred years ago as a family-owned business. De'longhi began as a small, industrial manufacturing company and grew into an international brand of espresso machines, coffee makers, cooking appliances, space heaters, and other similar products for your home.
The company's website is an excellent resource for new and upcoming products, features, and customer support to register your product and address questions and concerns about your appliances. De'longhi is a top maker of espresso machines and specializes in various models to suit your preference and budget.
Gaggia
Gaggia specializes in making professional espresso machines with a variety of features. The company manufactures both manual and automatic machines for brewing lattes, cappuccino, coffee, and espresso. Gaggia was founded in Milan, Italy, in 1948, focusing on creating coffee machines and specialty products for brewing coffee products.
The brand's website offers an excellent resource for the company's line of professional espresso machines, including accessories that can be purchased to upgrade your machine. They also feature a line of coffee and related products for customers. Recipes, food preparation ideas, and articles about espresso products offer many fantastic ideas for new and experienced baristas.
Mr.Coffee
Mr. Coffee began in 1970 in Cleveland, Ohio, USA, and they offer affordable, quality espresso machines, coffee makers, and iced tea makers. You'll find a lot of variety on the company's website, including steam, pump, manual, and semi-automatic espresso makers. You'll find regular coffee makers and specialty tea and coffee machines.
Mr. Coffee's brand is known as one of the best inexpensive espresso machine manufacturers for new baristas looking to make a quality brew without investing in a high-end model. The products are durable and sustainable, so you'll have the benefit of spending less and enjoying your espresso maker for a long time.
A Few Tips for Brewing Espresso with Semi-automatic Espresso Machine
Once you invest in a new semi-automatic espresso machine, there are a few essential tips to keep in mind when you begin creating your favorite coffee, cappuccino, or latte. The quality of your brew partially depends on the espresso machine.
Still, it is also essential to choose the right blend of coffee beans, adjust your grind size, and other factors that will determine the flavor and result of your espresso.
1.Adjust the Grind Size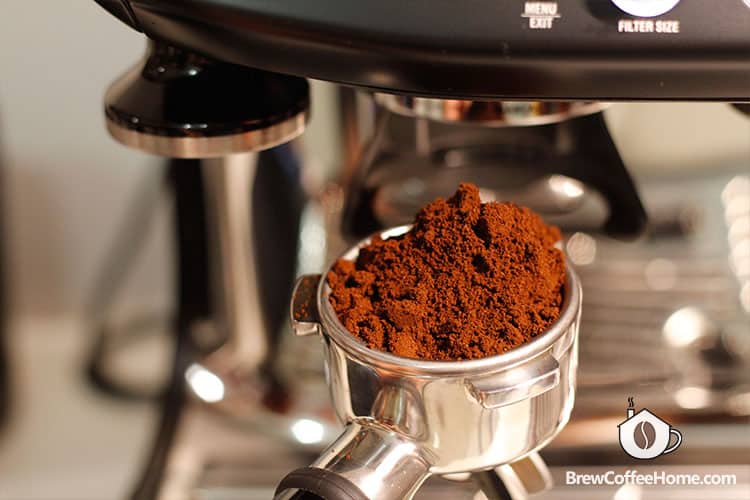 Adjusting your grind size is one of the most critical steps in creating an excellent cup of espresso. If you purchase an espresso machine with a built-in grinder, it's important to grind your beans fine and create your espresso within 30 seconds.
If you purchase a separate espresso grinder for your machine, choose a high-quality brand, preferably the same quality as your espresso maker.
2.Fresh coffee beans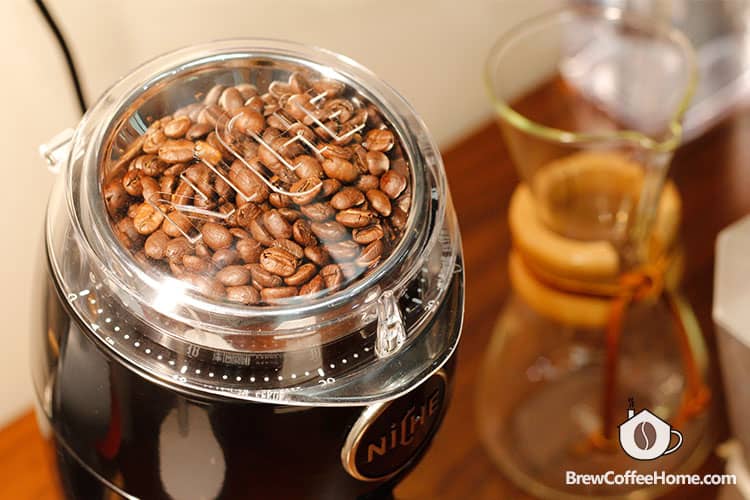 Quality and freshness are critical when you choose your coffee beans. Measure your beans carefully and use a scale or measuring spoon to make sure you use the correct amount. Freshly roasted beans are the best option for your brew. You'll find organic, quality coffee blends at your local market or grocery store.
3.Brew temperature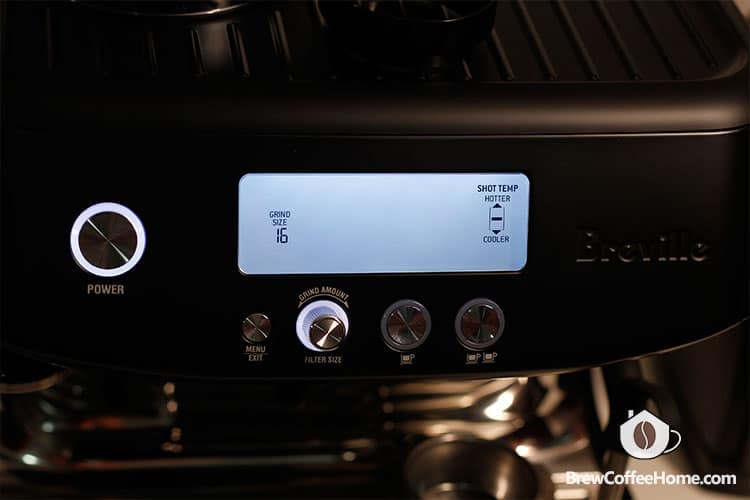 Always warm up your espresso maker before you begin your brew. Preheat the portafilter by fitting it in the group head and allowing at least 10 minutes for a single boiler. It may take a bit longer for a double boiler.
If you're new to working with an espresso maker, it's crucial to get accustomed to this step, as it is vital in creating a quality cup of latte. If PID temperature control is an option, set the temperature to 200 degrees Fahrenheit.
4.Tamping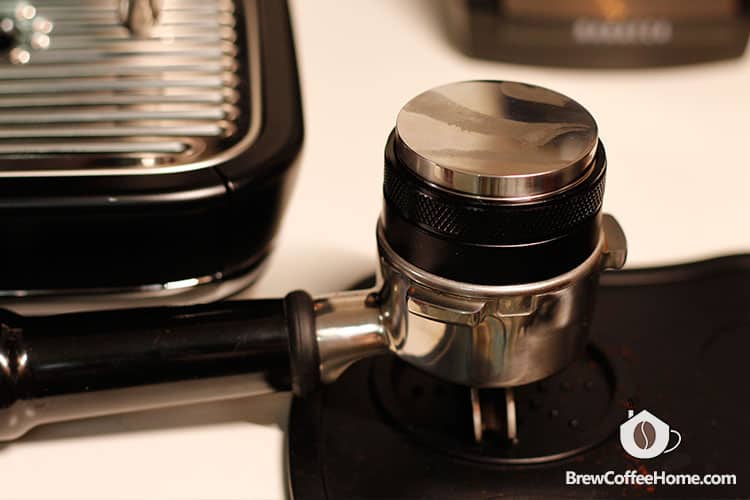 When you measure the amount of coffee in your machine, you can either use a tamper, which may be included in your espresso machine's purchase or as a separate accessory. A heavier tamper is ideal and works best to flatten or press down the grinds before you level off the portafilter and begin your brew. This measuring and leveling process may take a few attempts to get the desired pressure, and it will ensure your espresso is consistently high-quality every time.
If you want to know more about the technique, check out our espresso beginners guide: How to make great espresso at home.
The Verdict
After going through the top espresso machine reviews, hope you can narrow down your list and find the best one that suits you the best. Here are our favorite semi-automatic espresso machines.
Last update on 2023-05-31 / As an Amazon Associate, if you buy via the links, Brewcoffeehome earns a commission at no extra cost to you.
Best Espresso Machine with Grinder
The best all-in-one solution for brewing professional espresso at home is the Breville BES870XL Barista Express. It's one of the most popular brands with an exceptional grinder for a fine quality brew.
Best Coffee Quality
The Rancilio Silva offers one of the most delicious cups of coffee with professional results in your home. The machine's commercial-grade quality makes a significant impact on the consistency in taste.
Best Overall
Gaggia Classic Pro provides the best overall quality in coffee, price range, and equipment quality. Gaggia specializes in espresso machines and specialty coffee products, making every option they create a worthwhile investment for multiple reasons.