Because an increasing number of people are working from home, the need for delicious home-brewed coffee throughout the day is more pressing than ever. However, if you have deadlines to meet in your line of work, it's not practical to spend a lot of time performing coffee-related tasks like preheating, grinding, tamping, and pulling shots during your working hours.
The answer? A super-automatic machine that brews the coffee at the push of a button whenever you need it. But which one is best for you? After all, there are myriad fully automatic coffee machine options.
Miele is one of the best-known super-automatic coffee machine manufacturers, and if you're considering buying one of its products, we encourage you to read on. That's because this article will detail the best-selling and the latest models to give you a far better grasp of which Miele coffee machine best suits your requirements.
About Miele
Miele is a Germany-based luxury home appliance manufacturer that was established in 1899. Nowadays, the company has expanded its product lines to include almost everything you need in the home, including cooker tops, ovens, dishwashers, refrigerators, vacuum cleaners, among many other appliances. Better still, it also makes high-quality countertop and built-in coffee machines. This guide focuses largely on the Miele countertop coffee machines.
Quick Glance Of The Best Miele Coffee Machines in 2023
* Seattle Coffee Gear is a reliable distributor of Miele machines, they offer free shipping, professional live chat, 30-day easy return and price guarantee.
What Are The New Series Of Miele Coffee Machines In 2023?
All the features we have detailed so far are present on older and newer Miele espresso machine models, including the CM5300, CM6150, and CM6350. However, Miele has also expanded the product line of countertop coffee machines in 2021. The company recently unveiled its CM5 Silence and CM6 MilkPerfect series.
This new series has all the usual features but expanded and improved. Let's take a look at these models.
CM5 Silence – this is an improved version of the CM5300. The company states this model is 50% quieter than previous models, hence the name.
CM6 MilkPerfect – because of the double Venturi process, new Miele coffee machines generate milk foam with a lighter, finer texture. This increases the milk-based drink options to 18, including flat white.
There is also a double tube, which makes cleaning the milk pipe even more straightforward. Furthermore, all CM6 models are Wi-Fi enabled. So, the machine connects to your smartphone or tablet, then you can control it with the Miele app and voice commands.
Best Miele Coffee Machine Reviews In 2023 And Models Comparison
This section rounds up the best Miele countertop coffee makers, looking at both established and newly released models.
1. Miele CM6360 MilkPerfection Automatic Wifi Coffee Maker & Espresso Machine – Most Versatile
The CM6360 is the latest top-of-the-range model in Meile's countertop coffee machine line-up. It has all the features outlined in earlier models, with several additions.
The overall build quality is more premium, while it is available in several colors – Lotus White, Clean Steel Metallic, Obsidian Black, and Bronze Pearl Finish. Just like the Miele built-in coffee makers, CM6360 will look great in any kitchen.
Like the CM6160, this newer model has the MilkPerfect system for producing the perfect microfoam for a range of specialty coffees. So, you can opt for a ristretto shot, an espresso to whichever milk-based drink you choose, and many tea drinks, all at the touch of a button. It also has the OneTouch For Two feature for brewing two cups of coffee simultaneously. You can also use the coffee pot function to make a large pot of coffee.
Every drink is customizable. So, you can alter the cup size, brewing temperature, coffee amount, and activate pre-infusion for the best possible extraction. When you're content with your settings, you can save up to eight user profiles. This is particularly useful for large families, as everyone can enjoy the coffee they want – in the precise way they like it – at the touch of a button.
The espresso maker also has the WiFiConn@ct feature offering control via a smartphone or tablet.
Another advantage is that the auto-milk cleaning system, removable drip tray, and brew unit are dishwasher-safe, so maintenance couldn't be easier.
Finally, it isn't as expensive as many of its rivals, so overall the machine offers excellent value for money considering its superior build, features, and performance.
2. Miele CM5310 Silence Automatic Coffee Maker & Espresso Machine – The Quietest Model
This is one of the CM5 Silence models with the quieter grinder that we mentioned earlier. Aside from the less noisy grinder, the dimensions, build materials, and features are identical to the CM5300.
There is a broader variety of color options with the CM5 Silence, too. So, you can choose Tayberry Red, Obsidian Black, and AluSilver Metallic, depending on your preference.
This model is slightly more expensive than the CM5300, but the quieter grinder will be welcomed in offices or those households where early coffee making can wake others up.
If you choose a CM5 Silence model, the CM5510 is part of that range. Not all CM5 series machines have hot water spouts, but the CM5510 allows you to dispense hot water through the coffee spout. It also has two additional programmable user profiles. If those features appeal to you, it's well worth considering.
3. Miele CM6160 MilkPerfection Automatic Wifi Coffee Maker & Espresso Machine – Latest Mid-Range Miele Model
The Miele CM6160 is the latest upgrade from the CM6150. It has the CM6 MilkPerfect feature we mentioned earlier. It's a more sophisticated option than its predecessor but is around the same price.
The CM6160 is a mid-range model, so while it has less functionality than the CM6360, it has more features than the CM5.
The first thing that you're likely to notice about the machine is its appearance, with a hot water spout beside the coffee spout. This is very handy for brewing Americano or hot tea.
The control panel has more buttons, and there are eight quick brew options.
Both the water tank and hopper are larger than the CM5 equivalents, holding 60oz of water and 11oz of coffee beans, respectively. However, it has the same dimensions as the CM5.
Because of the hot water spout and CM6 MilkPerfect milk-foaming feature, CM6 machines have 22 drinks options. So, you get all the options of the CM5 and older models, but additionally flat white, espresso macchiato, cafe au lait, and a range of tea drinks.
The machine can save up to four user profiles. This means that if four people have different coffee preferences, each can customize their beverage, which the machine will brew on selecting their profile.
Finally, the CM6160 has WiFiConn@ct, meaning you can use an app on your device to control the machine – including voice commands. So, you could say, "Hey, Siri! Make me a coffee," and the CM6160 will do the rest. Impressive!
4. Miele CM6350 Countertop Coffee Machine
The CM6350 was the top-of-the-range model until the newly released machines. While the newer models have some fresh features, the CM3650 is still an excellent option, offering everything you would expect of an automatic machine in this price category.
At the top of the machine is a cup warmer, which you'll only find on this and the CM6360. It's a nice feature, which helps you retain the heat of the coffee, offering a more satisfying experience.
Also, the machine has a programmable timer so you can choose when the machine switches on and off, while there is a double insulated stainless steel milk flask, so your milk will remain cold for longer.
Like the CM6161, the CM6350 can save up to four user profiles. However, on the downside, it doesn't have Wi-Fi connectivity, while there are fewer drink options than the CM6160 or CM6360.
Overall, the CM6350 is a high-end model with better programmability than the CM5300 and CM6150.
5. Miele Coffee System CM5300 – Most Budget Friendly
This is an entry-level coffee machine, which is less expensive than the other models. Don't be fooled by the term "entry-level" in this case, though – it still has all the features you'll find in more expensive Miele models and performs better than many other machines on the market.
The design is in keeping with other Miele models, with a robust, compact box-like exterior that saves your counter space. Yes, the CM5300 Miele coffee maker is largely plastic, but it still looks solid and high-end.
The control panel is straightforward to use, with four quick brew drink options on the left and some buttons on the right for navigating the menu. At the front is an adjustable coffee spout with a cup clearance of approximately 5 1/4 in.
The CM5300 has a smaller water tank than the CM6150 and CM6350, with a 43oz capacity. Meanwhile, the coffee bean container is also smaller. You can customize your drink, but there's no option to create profiles and store those customizations separately, unlike other models.
The drink options are identical to the more expensive CM6150, CM6350, CM5310, and CM5510. Meanwhile, the quality of the beverages is on a par with those machines.
Overall, it's a great choice for coffee lovers who have a smaller budget but don't want to compromise on the coffee drink quality.
Why Choose Miele Coffee Machines?
As we've already mentioned, if you're looking for a fully automatic espresso machine, you'll be spoiled for choice, with a range of manufacturers offering some seriously high-quality options. However, there are several factors that ensure Miele's products stand out from the crowd. Let's look at them.
Bean-To-Cup Automatic Coffee Machines
The first thing to note is that Miele coffee machines are bean-to-cup automatic machines. This means you don't need any separate equipment to grind coffee beans and make a great cup of coffee – all you require is already built into the machine.
Meanwhile, the coffee machines have a built-in burr grinder with five easily adjustable settings according to your preference. Therefore, you can always brew freshly ground coffee.
Each model has a ground coffee chute, too, so you can sample other coffee without needing to pour all your coffee beans out of the bean hopper first. For example, if you stick to decaf coffee after a certain time of the day, you can easily add a scoop of decaf coffee to the chute.
All the Miele Coffee Makers come with an automatic milk frothing system. They take care of all the brewing, so even if you're not an expert, you'll have no issues getting coffee shop-quality beverages at the push of a button.
Wide Range Of Coffee Drink Options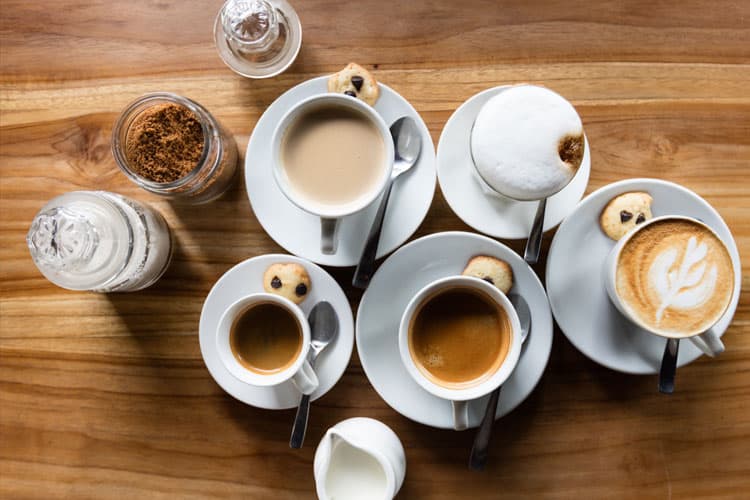 Every Miele countertop coffee machine brews a minimum of seven types of coffee, plus hot milk and milk froth. That means that whether you're a coffee lover who likes espresso, ristretto, lungo, or Americano, or someone who prefers milk-based espresso drinks like cappuccino, latte, and latte macchiato, it will have you covered.
You can also make hot milk and milk foam for specialty coffee drinks, while the machines can brew a pot of coffee for an additional caffeine fix or when bigger batches are required. The recently released Miele CM6 MilkPerfect range goes even further, with up to 22 drink options.
Easy To Clean And Maintain
Miele coffee makers are famed for their ease of use, but cleaning and maintaining them is almost as straightforward. Removing the drip tray and brew unit is easy. Once you've brewed one or two cups of coffee, simply pull the drip tray out, empty the coffee residues and remaining water, then rinse the brew unit with water, and it's ready to use again.
Another significant advantage of the Miele coffee machines is their automatic milk pipe-cleaning system. Clumpy and unpleasant residue builds up inside milk pipes over time, so they need to be kept clean to ensure you still get the flavorful coffee. However, cleaning the milk pipe is easier said than done with many automatic machines.
All of that hassle is removed with Miele coffee makers. All you need to do is place the milk pipe inside drip tray and choose "Rinse Milk Pipework" from the menu. Then, very hot water flows down the milk pipe to clean it. This is a significant advantage over many rival machines.
One Touch For Two
This clever feature allows you to make two coffee drinks simultaneously – a nice timesaver and the perfect option if you and your partner enjoy the same coffee first thing in the morning.
Press the One Touch For Two button on the control panel and position a cup under each of the two spouts. You can now make two cups of the same drink simultaneously.
Miele Coffee Machine Alternatives
Miele may be one of the most well-regarded manufacturers of super-automatic espresso machines, but it has stiff competition. For that reason, even though Miele machines are full of useful features and are not overpriced, it's prudent to consider the alternatives before making your final buying decision.
After all, whichever super-automatic machine you purchase will cost a considerable amount of money, so it's important to make the best possible decision. Let's consider two alternative brands.
Jura Espresso Machines
Jura is one of the best-known manufacturers of automatic coffee machines. Jura's machines are built with more durable stainless steel than Miele products for a higher-quality overall build. Not only that, but the coffee Jura machines produce is consistently excellent. Therefore, if you have the budget, Jura is a brand to consider.
For a similar price to Miele coffee machines, you should look at the Jura D6, E8, ENA8, and S8 models. We go far more in-depth in our Jura espresso machine buying guide.
Breville Espresso Machines
Some coffee lovers prefer to control the brewing process, meaning push-button options aren't the ideal option. However, if you want to hone your barista skills while still brewing outstanding coffee, Breville espresso machines are well worth looking at. Breville produces both semi-automatic and super-automatic machines.
For a similar price to Miele coffee machines, take a look at the Breville BES990BSS Oracle Touch if you want a fully automatic machine. However, for better-quality coffee where you are more in control of the process, the Breville BES980XL Oracle may be your best option. This machine allows you to pull a shot like a professional barista. In both cases, they are bean-to-cup machines with their own grinders.
For more information, feel free to a look at our Breville espresso machines reviews.
Our Verdict
Nowadays, it is not just possible for many people to work from home – it is becoming the norm in certain professions. Because of this, the need to have a reliable coffee machine that doesn't require a lot of preparation or hands-on expertise is increasing.
Super-automatic espresso machines offer the ideal solution for coffee lovers who desire high-quality coffee at the touch of a button, and Miele's range is among the best around.
However, this still leaves the issue of which model to choose. As ever, your decision will be based largely on factors including budget, aesthetic tastes, and the type of coffee you prefer.
This article has detailed the best Miele espresso machines on the market, demonstrating that, even if you opt for an entry-level model, you will be getting a machine that produces outstanding coffee without the hassle associated with semi-automatic machines. Of course, you can opt for more expensive models, too, offering even more features, programmability, and drink options.
Whichever you choose, we're confident that Miele coffee machines are among the best on the market, offering beautiful, hassle-free coffee. In other words, the perfect fit whether you have work deadlines to meet or if you just love the idea of beautiful beverages at the touch of a button.