Nespresso is popular for several reasons, among them its speed, simplicity convenience, and consistent results. The machines themselves are invitingly easy to operate. Usually, no more than positioning the capsule and pushing the button is needed.
They're also quick, producing a piping hot beverage akin to espresso in just a few minutes. However, finding the best Nespresso machine for your needs can be an altogether more complex issue. There are many models and several brands to consider, after all.
We will go through the best of those in this guide to make the task of choosing the suitable Nespresso machine for you as easy as possible.
Quick View Of Our Best Picks:
Product Name / Primary Rating

Product Image

Key Feature List

Primary Button

VertuoLine Machine
Brew larger cup of coffee
Water reservoir: 37 oz
Centrifusion extraction

Original Line Machine
Water reservoir: 24 oz
19 bars pump

Original Line Machine
Water reservoir: 20 oz
19 bars pump

Original Line Machine
Water reservoir: 34 oz
19 bars pump

5 preset espresso drinks
Touch control panel
Auto milk frother
16oz milk carafe

Sleek design
8 preset milk drinks
LCD display
Automatic milk frohter

Handheld manual brewer
Work with originalline capusles
Portable, best for camping

Compact
More colors
Straightforward to use
Nespresso Machine Product Lines
First, let's clear things up. Because there are so many types of Nespresso machines, finding the one most suitable for your needs can be daunting. To make things a little easier straightaway, let's consider the following:
Nespresso machines are more often than not divided across two lines:
OriginalLine – The single-serve coffee makers mainly focus on espresso and lungo, some models brew both espresso and espresso drinks with milk. Original line machines brew coffee with pressure.
VertuoLine – This brews coffee and espresso with a bigger cup size. Vertuo line machines brew coffee with centrifugal force by rotating the capsule.
*Aeroccino milk frother is available for both product lines. It comes in a standalone device or as a bundle with the Nespresso machine.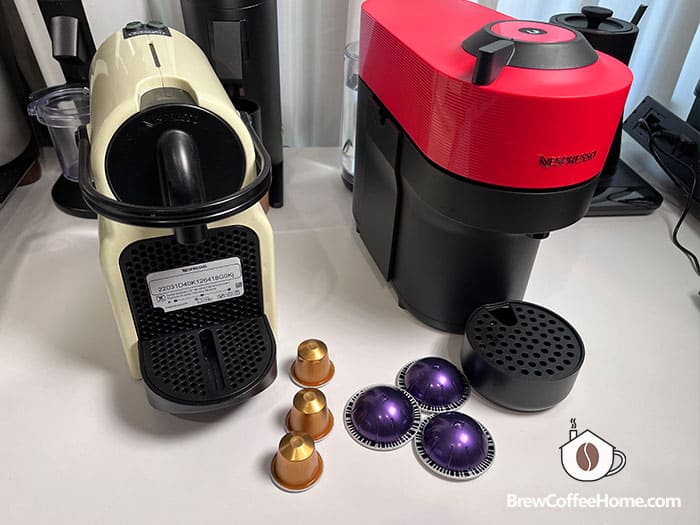 This should make your decision far easier – if your favorite coffee-based beverage is espresso, the OriginalLine coffee makers are for you.
If, however, you like bigger cups of coffee, VertuoLine coffee and espresso machine will suit you best. That's because Nespresso Vertuo Line makes anything from espresso and lungo to 18oz carafes quickly.
There are other differences between OriginalLine and VertuoLine, too. For example, they are compatible with different Nespresso capsules, and they employ different brewing methods.
However, for this article, we won't delve too deeply into those differences. Instead, we will look at what differentiates the various brands and models.
Take a look at our comparison of Nespresso Original Vs Vertuo for further details. We also made a short video showing you the differences between them.
Nespresso Manufacturers
Even when you're comfortable with the differences between the product lines, there is still the issue of which manufacturer to go with when choosing a Nespresso machine.
Nespresso itself doesn't manufacture espresso coffee makers. Instead, the company licenses or sells the manufacturing to companies worldwide. For example, in the USA, the dominant Nespresso manufacturers are De'Longhi and Breville. However, in Asia and Europe, other companies are more prominent in the space.
However, there are some models that certain companies enjoy exclusivity over. For example, Lattissima is exclusive to De'Longhi, while Breville only produces Creatista.
An important point to remember is that regardless of the manufacturer, the quality of the finished cup of espresso will be identical. That's because the technology used in the manufacture is standard regardless of who makes the machine. Where they will differ is in design.
Hopefully, you now have a slightly better idea of what you're looking for, so let's review the best Nespresso machines so you can narrow down your search further.
8 Best Nespresso Machines of 2023

1. Nespresso Vertuo Next – Best Nespresso Vertuo machine
Nespresso Vertuo Next by De'Longhi
Pros:
New Vertuoline machine

Brew 5oz, 8oz, 14oz, 18oz of coffee and single/double shot espresso

Use centrifusion technology instead of pressure

Barcode recognition ensure optimal extraction
Cons:
Only work with Vertuoline Nespresso capsules

Capsules are more expensive than the originalline
We earn a commission if you make a purchase, at no additional cost to you.
The Vertuo Next is the most versatile Vertuo Nespresso machine on the market. Launched in 2020, there is a range of finishes and colors to choose between.
The models that came before it, the Vertuo and Vertuo Plus, can brew 5oz, 8oz, or 14oz of coffee and either single or double espresso. The Vertuo Next goes a step further, producing 180z of coffee at the press of a button. So, whether you would like a carafe of coffee, a single shot of espresso, or the drink sizes in between, this coffee and espresso maker is up to the task.
The Vertuo Next uses a brewing system with centrifusion extraction technology, which differs from OriginalLine machines. With the capsule system, the machine can read the barcode on the capsule. Depending on what it reads, it spins to the correct position to extract correctly from each capsule.
There are three sizes of Nespresso VertuoLine coffee capsules, but they do cost more than the OriginalLine ones. Another drawback is that you can only buy the VertuoLine capsules from Nespresso, whereas with OriginalLine, you can pick them up from a range of different sellers.
The Vertuo Next connects to Bluetooth and Wi-Fi to ensure the software is entirely up to date. However, we didn't find much use for the feature. Check out our review of the Nespresso Vertuo Next.
2. Nespresso Inissia Espresso Maker – Best Budget Option
Nespresso Inissia
Pros:
An affordable Nespresso model

Compact footprint

24 oz water tank
Cons:
25 seconds startup time, longer than newer models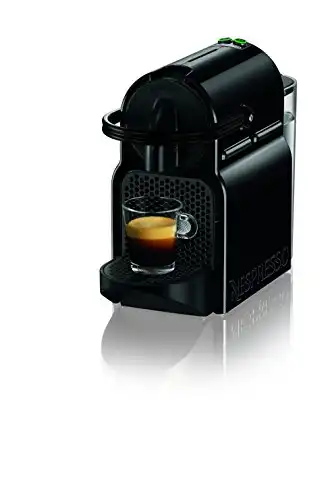 We earn a commission if you make a purchase, at no additional cost to you.
The Nespresso Inissia is a beginner-friendly machine with an attractive price tag. However, it still has a 19-bar pump capable of making the high-grade espresso of other Nespresso makers.
This coffee maker is very straightforward to use. You turn it on, and after 30 seconds, it'll be ready to brew. Thanks to the quick heating system, you'll have your morning coffee within 2 minutes. There are the options of espresso or lungo, each a touch of a button away. There is a nifty trick in the drip tray too, which folds to allow for bigger mugs. Once you've finished brewing, the energy saving feature turns off automatically after 9 minutes.
The Nespresso Inissia's water reservoir is on the small side, at only 24oz. However, this will still be big enough to make 8 to 10 cups. Meanwhile, the used capsule container holds 11 pods, meaning you won't need to empty it daily for regular use.
With measurements of 12.6 x 4.7 x 9 inches, and a weight of 7lbs, it amounts to a compact machine. Perfect if you're space-limited and on a budget.
3. Nespresso Vertuo Pop – The Latest Vertuo Model
We earn a commission if you make a purchase, at no additional cost to you.
The Nespresso Vertuo Pop is a new product in the range that offers the same quality coffee as the Nespresso Vertuo Next but at a lower price.
As well as the cost, the biggest difference is the machine's compact size. That makes it ideal for anyone with limited countertop space who would like to experience Nespresso coffee.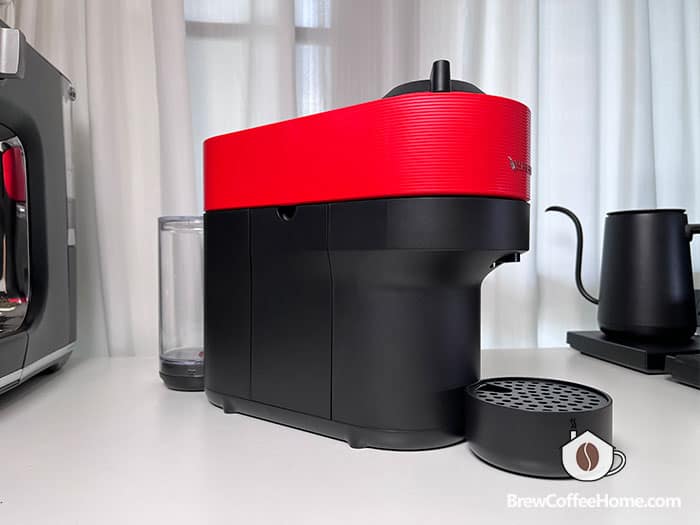 There are four sizes – espresso, double espresso, lungo and coffee although, because of its smaller size, it is not compatible with the Nespresso carafe capsules.
Because of its small size, the water tank has only a 750ml capacity, too, so it will need refilling every two to three cups.
Overall, the machine is a good option for anyone on a smaller budget and with limited space but who would like to enjoy the advantages of Nespresso coffee at the touch of a button.
Not only that, but the machine only takes 30 seconds to heat up and produces the coffee within around one minute. Check our hands-on review of the Vertuo Pop for more details.
4. Nespresso Essenza Mini Espresso Machine – Most Compact
Nespresso Essenza Mini
Pros:
Most compact Nespresso model

Auto shut-off after 9 min and turn into eco mode after 3min
Cons:
Mainly built with plastic materials

Smaller water tank capacity (20oz) compared to others
We earn a commission if you make a purchase, at no additional cost to you.
If you thought the Nespresso Inissia had compact dimensions, this is even smaller! This machine, incredibly, has a width of barely over three inches, making it ideal for small kitchens or dorm rooms.
It's incredibly lightweight, too – coming in at just 5lbs, so taking it with you on your travels won't be a problem. However, despite being this light, it's surprisingly robust and hard-wearing.
Of course, a machine this small is bound to lack some of the more sizeable Nespresso machines' features. For example, with the Nespresso Essenza, you're restricted to single and double espressos using two buttons. However, it is reliable and does a great job of brewing them.
As with other Nespresso machines, the 19-bar pump is a significant feature, meaning a creamy and rich espresso will await your tastebuds after just 30 seconds.
The Nespresso Essenza offers you the chance to use its pre-programmed settings or alter the water volume manually. After three minutes left idle, the machine will switch to a low-energy mode, while after nine minutes, it switches itself off entirely.
The most significant disadvantage of this machine is its small water tank capacity, reaching only 20oz. The used capsules container only stores five coffee pods, so you will have to perform relatively frequent water refills and clear out the container quite often. However, this does make for a small footprint.
For this guide, we used a Breville Nespresso Essenza. However, De'Longhi manufactures one too, albeit with a different design. They both perform as well as each other, though, so which one you choose should largely come down to appearance.
5. Nespresso CitiZ Espresso Machine By De'Longhi – Best Design
Nespresso CitiZ
Pros:
Large water tank capacity, holds 34 oz of water

Better build quality with modern design
Cons:
More expensive than the Inissia and Essenza
We earn a commission if you make a purchase, at no additional cost to you.
The Nespresso CitiZ claimed a Red Dot Design Award thanks to its easy-to-use and elegant design. It also benefits from being compact, making it ideal for kitchens where space is limited.
It heats in only 25 seconds, and its 19-bar pump comfortably produces the required pressure for espresso topped with a rich crema. It has two cup sizes as standard – espresso and lungo. There's also the option of manually changing the water volume.
The drip tray is foldable, making it suitable for several mug sizes. Meanwhile, the Nespresso CitiZ can hold 34oz of water and 9-11 used capsules. The espresso maker will turn off automatically after nine minutes without use.
You can buy the Nespresso CitiZ with the Aeroccino milk frother or without it, depending on whether you enjoy milk-based coffees or not.
6. Nespresso Lattissima Pro Espresso Machine by Delonghi – Best For Milky Coffee Beverages
Nespresso Lattissima Pro by De'Longhi
Pros:
Auto milk frothing, allows you to adjust the milk temperature and texture

Auto rinse the milk system

Touch screen with preset recipes
Cons:
A high-end Nespresso machines that cost more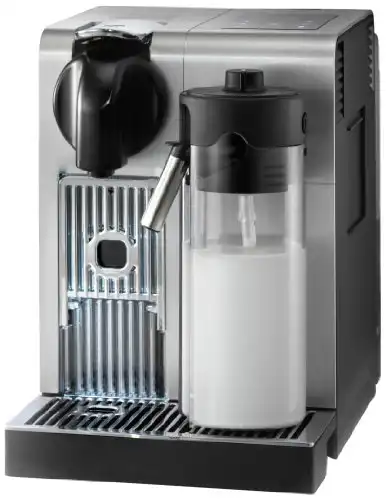 We earn a commission if you make a purchase, at no additional cost to you.
In keeping with other Nespresso machines, this Lattissima uses a 19-bar high-pressure pump for brewing espresso and lungo topped with a rich crema. However, this also has a preset for milk-based coffees. Using the touchscreen, you can brew Latte Macchiato, Cappuccino, and warm milk foam as well espresso and lungo. You can also get it to produce hot water if needed too.
If you often order Latte Macchiato or Cappuccino from a coffee shop, Nespresso Lattissima is well worth considering. It adds long-lasting, creamy milk foam to an espresso effortlessly for a beautifully layered drink.
The carafe has a 12oz capacity for milk, so it has no issue making several coffee drinks per batch. There is also a rinse system in the Lattissima Pro for rapid after-use sterilization.
One issue is you can't make latte art because there isn't a steam wand with the milk frother that you'd find on other espresso machines. That means that rather than a creamy microfoam, you'll have a more airy consistency with the Lattissima Pro.
After nine minutes left idle, the device will turn off automatically. There's also a function for descaling that warns you depending on the setting of water hardness.
Unsurprisingly, this is a costly option with so many functions. However, there are more budget-friendly versions – the Latissima One and Touch, which don't have the same functionality but deliver similar results.
7. Nespresso Creatista Plus Espresso Machine by Breville – Best For Latte
Breville Nespresso Creatista Plus
Pros:
8 preset espresso drinks recipes

Automatic steam wand allows you to craft delicious milk-based espresso drinks

Support milk temp and texture adjustments

LCD display, more intuitive

3 seconds heat up time

Premium design

60 oz large water reservoir
Cons:
One of the most expensive Nespresso models
We earn a commission if you make a purchase, at no additional cost to you.
If you're not restricted by budget and enjoy a latte, Nespresso Creatista Plus by Breville is a great option.
One of the most striking things about the Creatista machines is its gorgeous looks. It has sleek curves and shining chrome accents that are reminiscent of manual espresso makers. This will look great as the centerpiece on any kitchen counter.
However, beyond the impressive aesthetics, this machine performs too. It uses the 19-bar pump to brew gorgeous espresso, lungo, and Ristretto. There are also eight preset milk-based coffee options, including Café Latte, Cappuccino, Flat White, Latte Macchiato.
There's also a built-in steam wand, offering you full command of milk frothing via the slick LCD. There are also eight levels of textual froth settings and 11 temperature settings for the milk. This marks a step up from the Lattissima Pro in that it will produce the best cappuccino or latte around from a system that uses Nespresso pods.
There is a thermojet heater, which ensures the device reaches the perfect temperature in 3 seconds heat up time. Once brewing is complete, hot steam automatically sterilizes the milk frother.
The only downside is the cost – this is the most pricey of all Nespresso makers. However, if you want to save money over time but don't want to buy a premium espresso machine, this could be a good fit.
8. Wacaco Minipresso NS – Most Portable Espresso Machine
WACACO Minipresso NS
Pros:
Compatible with Nespresso original capsules

Portable, best for outdoors and camping

Handheld device, no electricity required

Affordable, suitable for those who occasionally drink Nespresso coffee
Cons:
Small water reservoir, brew one shot each time

Manual operation

8 bars of pressure instead of the 19 bars used in Nespresso machines
We earn a commission if you make a purchase, at no additional cost to you.
Wacaco is rightfully lauded for its commitment to its travel espresso system. The Minipresso is a hand-held machine with a built-in pump.
This machine is straightforward to use. Place the capsules in the outlet head, then pour hot water into the chamber. Then, unlock the piston and gently pump a few times to add pressure and brew gorgeous crema-topped espresso.
Aesthetically, this machine is excellent, and it's also small enough to carry with you anywhere. It is also incredibly lightweight, at just 0.78lbs (350g), while it exerts 8 bars of pressure. The machine has a 70ml capacity.
This is the perfect coffee brewer for camping or other outdoor pursuits as it's so light, compact, and doesn't run on a heat source like electricity. With the machine, some capsules, and hot water, you can brew excellent espresso wherever you are.
The Minipresso is designed for use with Nespresso's original capsules. However, other models, such as GR (ground coffee), and CA, use capsules wedded to the Caffitaly system.
Finally, the price point is very attractive, making this an excellent option for anyone who wants espresso outdoors.
Conclusion – Which One Is The Best Nespresso Machine?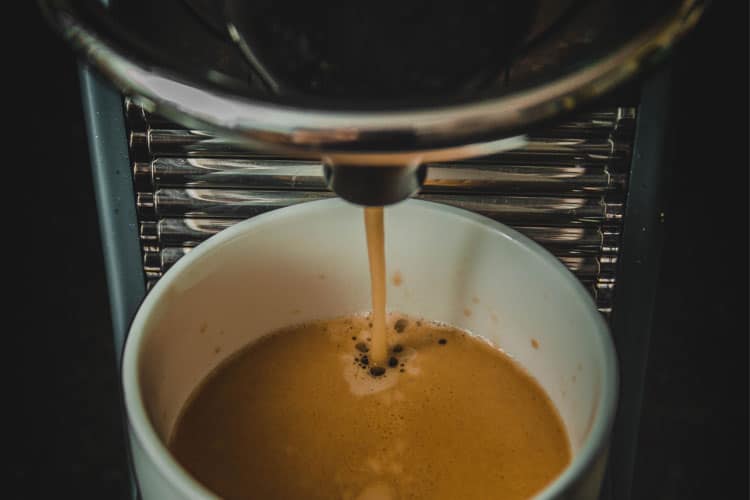 Nespresso machines are a great option for coffee lovers who want to brew efficiently, consistently, and without the hassle. They're also appealing for anyone who's transitioning to a home espresso machine but isn't ready to make the leap.
Each machine has its own design, capacity, price tag but makes quick and delicious coffee with the same quality. Beginners can make awesome coffee drinks like professional baristas.
In our opinion, if you like espresso that is close to the coffee-shop quality, pick one from the original line products. We like the Nespresso Essenza Mini, it's budget-friendly and compact. If you prefer a bigger cup, opt for the Nespresso Vertuo Next, since we like the newer model if the functionality and quality are similar to the previous models.
Hopefully, this guide will help determine which Nespresso machine best suits your needs based on a range of factors, including budget, design, and functionality.
One thing is for sure – with the extensive range of Nespresso machines on the market, there is sure to be one that suits your needs. Narrow that down, and, before long, you can enjoy beautiful espresso at the push of a button.