Let's face it, not all manual coffee grinders are created equal. If you're tired of inconsistent grinds, slow grinding speed, cheap plastic parts, and noisy electric grinders, then you're in the right place.
I have owned and used dozens of hand grinders in recent years, including most 1Zpresso and Timemore grinders, C40, Hario and more. I've also borrowed several grinders from friends for testing.
In total, I've tested over 20 popular hand grinders. I've used that experience to select the top performers in their price range to offer this comprehensive guide to the best manual grinders on the market.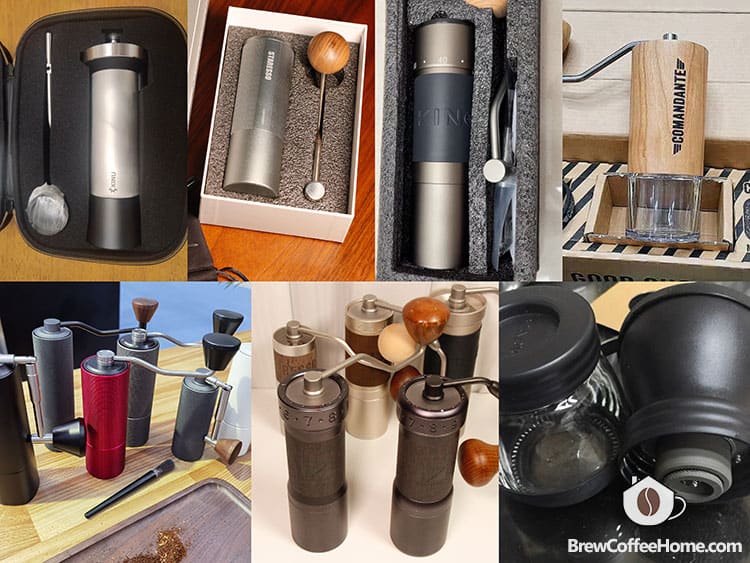 Quick Summary
The 10 Best Manual Coffee Grinders
Updated in April 2023: This post was originally published in 2021, and I have since updated it periodically. With new models and brands emerging every few months, it's important to stay up-to-date on the latest trends and products.
As a result, some of the products on the original list are no longer worth recommending, while others have been replaced by better options that offer superior performance and value.
In this updated version, I have included the latest and greatest manual coffee grinders that are sure to meet your needs and exceed your expectations.
If you are interested in electric coffee grinders, another article shows you the best electric coffee grinders.
1. 1Zpresso K-Ultra – Best Overall
1Zpresso K-Ultra Manual Coffee Grinder
Pros:
Premium design and build quality

Consistent grind quality for filter coffee

20 microns per step, providing a wide window for dialing in espresso

48mm burr, fast grinding speed (45s for 18g espresso grind, less than 30s for filter grind size)

Foldable handle

Easy to disassemble and calibrate
Cons:
The most expensive model in the K-Series
We earn a commission if you make a purchase, at no additional cost to you.
The 1Zpresso K-Ultra has some exceptional features that distinguish it from other manual grinders. One of the most notable is its large 48 mm conical burr. That allows this grinder to grind beans both precisely and consistently.
There is also a foldable handle which is extremely convenient and saves space on my countertop without diminishing the grinding experience.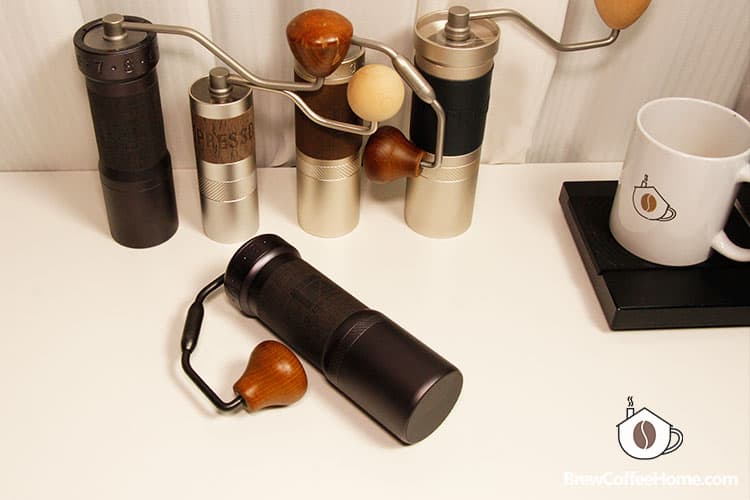 The K-Ultra is quick too. Indeed, it takes less than a minute to grind for espresso and only 35 seconds to grind for filter coffee in a medium setting.
With 20 microns per step, I can easily dial in for espresso and pull the perfect shot. The benefits don't end there. The K-Ultra is also superb with other brew methods. In fact, it's outstanding for each.
The grinder also has an easy-to-read numerical dial that helps users keep track of their grind size. Frankly, this is so handy that I can't imagine returning to an internal adjustment now that I have experienced it. Check my K-ultra hands-on review for more details.
It switches effortlessly between brewing methods too. For example, after dialing in for espresso, I can quickly switch back to pour-over without any guesswork. Meanwhile, its 90 grind settings are plenty for my daily brewing needs.
The build quality is solid, too, while the design is premium.
As a premium hand grinder, the K-Ultra is not cheap. However, it is a bargain when compared to electric grinders. Indeed, you'd need to pay around double to find an electric grinder that offers the same quality of grinds across brewing methods.
1Zpresso is comfortably one of my favorite brands, and they have grinders for any price range. While it can be confusing to find the correct one, we also have a comprehensive 1Zpresso comparison guide to assist you.
Pros:
Premium design and solid build quality
Extremely convenient external grind adjustment
Large 48mm conical burr
Easy to grind, fast grinding time
Foldable handle saves storage space, more portable
Very consistent grinds for both espresso and filtered coffee
Cons:
The most expensive 1Zpresso grinder
2. Timemore Chestnut C2/C3 – Best Entry-Level Hand Grinder
We earn a commission if you make a purchase, at no additional cost to you.
The Timemore Chestnut C2 revolutionized the manual grinder market thanks to its competitive price and 38mm stainless steel burr grinder. I bought it three years ago and still have no issues. Here is my review of the Chestnut C2.
The C2 has a lightweight aluminum body and ergonomic design. Meanwhile, the surface provides additional grip. Considering its affordable price, it is unsurprising that there are some cost-saving plastic parts though.
The Timemore C2 works particularly well for filtered coffee. However, it's not the best option for espresso as the adjustment is too large a step to dial in for a perfect grind. It's also time-consuming to grind for espresso. If you want to grind for espresso with a Timemore grinder, you should consider the upgraded version, the Chestnut C3.
The C3 has a new burr grinder design with vertical lines on the upper part of the inner cone burr. That improves the efficiency of espresso grinds. When I tested it, it took one minute and 30 seconds to grind 20g for espresso, which is quite impressive.
The C2 is the best-value hand grinder, while the C3 offers the best value for an excellent shot of espresso.
Each manual coffee grinder offers greater clarity, sweetness and balance. However, I did detect a slightly short aftertaste and a muted acidity.
A few drawbacks include the fit and finish, which are not as good as some other grinders. However, the two grinders are affordable options that can't be beaten for grind quality in the price range. That makes them stand-out options for budget manual coffee grinders.
Pros:
Full aluminum shell feels durable and premium
Good grind quality and particle distribution at its price point
Fast and easy to grind
Cons:
Some plastic parts make it feel less premium
The C2 is not ideal for espresso due to large adjustments
Fit and finish aren't as high quality as some other grinders
3. 1Zpresso Q2 Manual Coffee Grinder – Most Portable Option
We earn a commission if you make a purchase, at no additional cost to you.
The 1Zpresso Q2 is the smallest of the brand's products that can even fit in an AeroPress, meaning you can easily pack it in your suitcase and travel with it.
Like the other 1Zpresso products, the Q2 has a similar design with aluminum alloy material and wood. This gives it an elegant finish while remaining lightweight.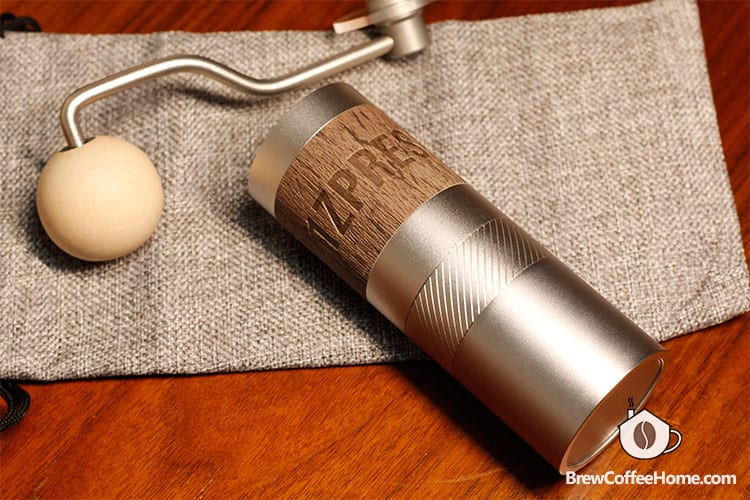 To increase stability, the Q2 has a steel burr grinder inside with a dual bearing and triaxial design. It's also extremely easy to grip and grind, as the dual bearings make the grinder far smoother.
Even though it's small, don't let its size fool you. The 1Zpresso can produce extremely uniform grinds comparable to many considerably more expensive grinders. Also, I can make a better pour-over with the grounds it produces than many electric burr grinders.
It's also easy to switch the grind settings for the burr grinder by clicking the grind adjustment system. Meanwhile, you can easily turn the knob and have a course grind for French press or grind it finer for other methods.
One small issue is that because the Q2 is designed with travel in mind, there is a limited capacity compared to other grinders. The hopper can only hold between 15g and 20g of grounds, equivalent to one cup of AeroPress coffee. If you want to know the performance and more information, check my 1Zpresso Q2 review.
Pros:
So lightweight and compact it can even fit inside an AeroPress
Perfect for filtered coffee with tremendous grind consistency
Easy to hold and grind
Cons:
Can't grind for espresso
Only has a capacity of 20g, meaning you can't grind for larger batches
4. Commandante C40 MK4 – The Standard Of Premium Hand Grinders
We earn a commission if you make a purchase, at no additional cost to you.
The Commandante C40 is a truly iconic grinder and is regarded as the standard in premium manual coffee grinders. Over the years, it has been improved incrementally by the brand.
The MK4 is almost 150g lighter than its predecessor MK3, which makes it easier to handle. But, despite that, its craftsmanship and quality have not been compromised in any aspect of its manufacturing and build. On that subject, it is done in-house in Germany, which speaks to its high quality. Here you can see the comparison between MK4 and MK3, and our review of the Commandante C40.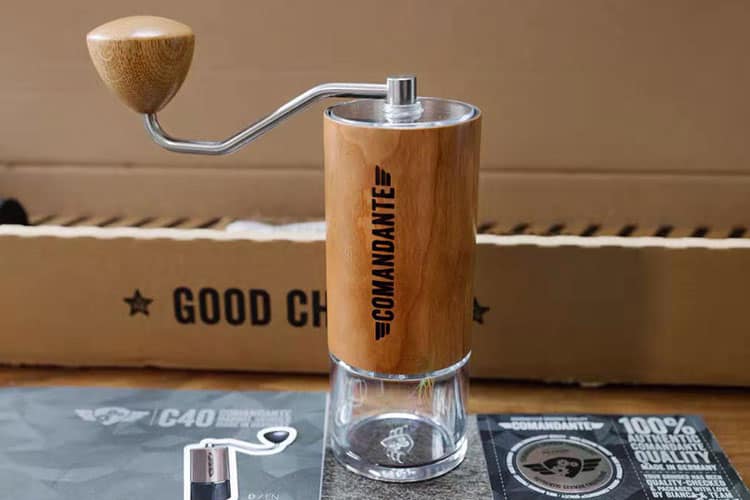 This manual coffee grinder is built from stainless steel on the crank handle in the main body with the lid and support brackets made from hardened plastics. It comes with two screw-on grinds catches. One is made of clear polymer glass, while the other is made from regular amber glass.
The grinder has 39 mm high alloy, high nitrogen treated steel burrs with its own geometry, making it stand apart from most hand grinders. In particular, the grind quality is outstanding for pour-over. In my sifting test, 85% of the grounds were in the optimal zone. Meanwhile, it is also known for bringing out the sweetness of the coffee beans.
The grinder is a stepped grinder with 12 clicks per full dial rotation. There are around five full rotations for workable grind settings. The 30 microns per step is perfect for filtered coffee but not espresso. However, you can buy an add-on, the Red Clix, to decrease it to 15 microns per step.
Another downside is that it is not the fastest grinder, and it took around 15 seconds to grind 20g of coffee in my testing.
A drawback is that there are no numbers to indicate your setting, so switching grind sizes can be a hassle as you need to go back to 0 and count the clicks again.
Despite those minor issues, the Commandante is a highly trustworthy brand that coffee lovers understandably rate very highly. In addition, the C40 is a top-performing manual grinder with high-quality craftsmanship and accuracy.
However, considering the emergence of new brands in the manual grinder markets, I think it is in danger of getting left behind. It needs to become more innovative and improve its user-friendliness to stay relevant.
Pros:
Lightweight and easy to handle
Redesigned brackets prevent beans from bouncing out or catching, making dosing easy
Two screw-on grind catches make it compatible with a variety of brewers
Unique geometry and consistent edge burr set improve efficiency and maximize the quality of the grinding output
Crafted in-house in Germany with high-quality materials
Cons:
No numbers to indicate your setting on the grinder
Relatively expensive compared to other manual grinders
If you are interested in grinding for espresso, you'll need to spend more money on the Red Clix add-on
5. KINGrinder K6 – Great Value Option
We earn a commission if you make a purchase, at no additional cost to you.
The KINGrinder K6 is worth considering if you have a tight budget. Despite being affordable, it offers excellent grind quality comparable to higher-end alternatives.
It has 48mm burrs similar to those on the 1Zpresso and Commandante grinders, while a big advantage is it can grind for either espresso or filter coffee.
One unique feature of the grinder is its external adjustment system that makes it easy to remember the grind size. Each click is 16 microns, which is more than adequate for diving in for espresso, too.
The hand coffee grinder has a silicon band to provide grip and a plastic top that fits well to prevent beans from spilling. Also, if desired, it can be used with a power drill, meaning you can turn your manual grinder into an electric one. The brand's official blog features a tutorial to refer to if you want to know more. One downside is that using a power drill to filter coffee can produce more fines.
It took around 35 seconds to grind filter coffee and around one to two minutes for espresso. One issue some users reported was that the top plastic parts could come off easily while grinding.
This manual coffee grinder is relatively inexpensive. However, it is potentially not as durable as other premium end grinders.
Overall, the KINGrinder K6 is an excellent choice for anyone looking for a versatile manual grinder that offers good value for money.
Pros:
Click system makes it easy to remember the grind size
16-micron precision is good enough for dialing in espresso shots
Compatible with power drills
Offers excellent value for money
Cons:
The handle can come off easily while grinding
The overall build quality is not as premium as others on the list
6. Kinu M47 – Most Durable Grinder
We earn a commission if you make a purchase, at no additional cost to you.
The stand-out features of the Kinu M47 are its simplicity, durability and versatility.
It is made almost entirely out of solid steel making it a really high-quality product. Also, it has 47mm steel conical burrs coated with a proprietary black fusion treatment designed to improve their longevity.
There's also a dual-bearing system that ensures proper alignment and consistency in the grind size. The grinder is not cheap, retailing at over $300. However, it is built to last.
The grinder is known for its speed and takes only 50 seconds to grind 20g of beans for filter coffee. Also, at just over a minute, it doesn't take much longer for espresso. There is also no shaped piece for the thumb to push against, allowing for a more comfortable and controlled grip.
The Kinu M47 has a minor adjustment system offering even more control than competitors. Every checkmark represents 10 microns and can go down to 5 or 4 microns if needed.
Of course, the taste is vital, and if you are a fan of a clean cup of coffee with plenty of clarity, the Kinu M47 will more than satisfy your needs.
There are one or two drawbacks. One is that the grinder is heavier than alternatives, which may make it more unwieldy to travel with. Additionally, making adjustments is not as straightforward as the grinders that use an external dial ring.
This coffee grinder is also relatively expensive compared to its rivals. However, its superior build quality, ease of use, and consistent grinds make it an excellent contender as one of the best manual coffee grinders. Overall, the Kinu M47 is an excellent choice for a premium end and reliable manual coffee grinder.
Pros:
Solid build
Unique design for comfortable grip
Stepless adjustment system
Fast grinding time
Lip at the top for easy bean pouring
Dual bearing system for alignment
Cons:
Relatively heavy compared to other manual coffee grinders
More expensive than many grinders on the list
7. VSSL Java – Best For Traveling
We earn a commission if you make a purchase, at no additional cost to you.
If you enjoy outdoor pursuits, the VSSL Java could be exactly what you want.
The compact manual coffee grinder is designed with camping and traveling in mind. As a result, it is rugged and compact and can clip onto a bag with its carabiner-like handle.
The VSSL Java is also highly efficient when it comes to grinding. The quality is actually comparable to the Chestnut C2 from Timemore, thanks to their similar burr sets.
The build quality is also excellent. Despite this, it does have a smaller grind arm and underwhelming ball bearings, so it feels slightly less premium than some other grinders. The adjustment steps are also quite large, with a short crank, making it unsuitable for espresso.
The maximum capacity is another hindrance at only 20g, so it isn't particularly suitable for daily brewing. However, it is fine for a few cups of coffee while outdoors.
The VSSL coffee grinder is not cheap, as you pay extra for its portability and design. So, at a similar price point, you can buy a larger grinder that produces better quality grinds. If you can get beyond this though, the VSSL Java is an excellent coffee grinder for any camping or outdoor enthusiast.
Pros:
Rugged and compact design
Carabiner-esque handle for easy clipping
Grind quality comparable to the Timemore C2
Excellent build quality
Push-button lid for easy access
Cons:
Smaller grind arm and mediocre ball bearings
Steps of adjustment are fairly large
Not suitable for espresso
Max capacity of only 20g
Expensive
8. Lido 3 Coffee Grinder – Large Capacity
We earn a commission if you make a purchase, at no additional cost to you.
The Lido 3 is one of the taller hand grinders on the market and one of the best. It's also the only stepless hand coffee grinder on the list.
The Lido 3 has a plastic body, giving it a less premium build and aesthetic than alternatives in the same price range. That all-important burr set is high quality, though. It has 48 mm Swiss-made conical steel burrs and dual axle bearings, which offer excellent uniformity of grinds. It is also a full-range coffee grinder that can grind for both manual brewing and espresso.
There is a stepless grind adjusting ring and a lock that regulates the large steel burr inside, and you can make small changes to the grind size. That's an advantage over many other manual coffee grinders that have fixed grind settings per step. However, one issue is it struggles to replicate the grind settings without clear markings.
The hopper can hold 70g of beans, meaning you can grind more than four cups of coffee quickly and easily.
Overall, The Lido 3 grinder suits anyone in the market for a large capacity with a stepless adjustment.
Yes, the relative lack of user-friendliness and slightly lower-quality materials work against the grinder, but it's still a solid effort that is worth considering.
Pros:
Produces very consistent grind size, which is important for making high-quality coffee
Has a capacity of up to 70g of coffee, which is more than most manual grinders
Stepless grinder offering infinite grind adjustment
Built with high-quality materials that are designed to last for years
Cons:
Larger and heavier than some other manual grinders, which may make it less convenient to use or travel with
Not that intuitive to adjust the grind size
Plastic materials mean it's not as premium as alternatives at the same price
9. Hario Skerton Pro – Budget Hand Grinder
We earn a commission if you make a purchase, at no additional cost to you.
Hario is a Japanese brand with an excellent reputation in the industry. It manufactures affordable and easy-to-use grinders among its wide range of coffee equipment.
The Skerton Pro is also one of the most popular hand grinders on Amazon and only costs around $50.
It's extremely easy to use. A transparent glass chamber and a much wider hopper let you easily pour in your coffee beans. At the other end, a slip-free rubber base helps you steady it on your work surface.
As it's the pro version of their lineup, it has an upgraded burr set with a more straightforward grind size adjustment. The hand crank is also better than the original, with a solid feel.
The Hario Skerton grinder can produce relatively uniform ground coffee for pour-over, French press, and AeroPress with its durable ceramic burr. However, you won't get the same level of uniformity as other higher-level hand grinders with steel burrs.
The glass chamber is elegant, although more fragile than stainless steel or plastic alternatives. Meanwhile, the grinder is easy to clean as all the parts can be easily disassembled.
If you are a fan of Hario products, investing in its manual brewing equipment, including the V60, the Buono gooseneck kettle and the Hario coffee server, is a good idea.
As an aside, this is the first-hand grinder I used when beginning my domestic brewing journey. Here is the Hario Skerton Pro review.
Pros:
Affordable price
Large capacity hopper
Relatively uniform for medium coffee grounds compared to the grinders in the same price range
Easy to clean and maintain
Great value for the price
Cons:
Not suitable for espresso or Turkish coffee
The grind quality is not comparable to grinders with steel burrs
Takes a long time to grind
Relatively narrow range from which to find the right setting for your intended brewing method
Things You Should Consider When Choosing The Best Manual Coffee Grinder
Budget – Entry Level Or Higher Standard
Manual coffee grinders can cost as little as $30 or over $300. Given that's quite a big difference, comparing a cheap grinder with one of the more expensive ones is unfair. Normally the price indicates the quality of design, ease of use, materials used, and, most importantly, the quality of the burrs.
However, even under $100, the manual coffee grinders on this list can handle most brewing methods at home, including pour-over, French press, cold brew, and AeroPress. Those are the most common methods for the domestic baristas. So, generally speaking, that's why you should expect to pay more for an espresso grinder.
Burr Materials – Ceramic Or Steel Burr Coffee Grinder?
Almost every manual grinder uses conical burrs so you won't find a manual blade grinder. However, when it comes to materials, you must decide between steel and ceramic burrs.
The steel burr is sharper than the ceramic burr, meaning you can save energy while grinding beans. Usually, steel burrs produce more consistent grounds too.
Steel conical burr grinders are more expensive. Therefore, it's not surprising that the majority of manual coffee grinders under $50 have ceramic burrs.
Premium hand coffee grinders use larger steel burrs; some are even titanium-coated for better durability and heat resistance.
Grind Setting And Grind Adjustment
Ideally, you want a coffee grinder that works for different brewing methods.
If you like different types of coffee, you have to adjust the grind size for the optimal flavor. We have made comparable comprehensive charts for coffee grind sizes with external and internal grind adjustments available in different brewing styles for your reference.
External and internal grind adjustments are available. However, my preference is external as they are more convenient.
The goal is to find a grinder that can easily change settings and cover your preferred brewing methods.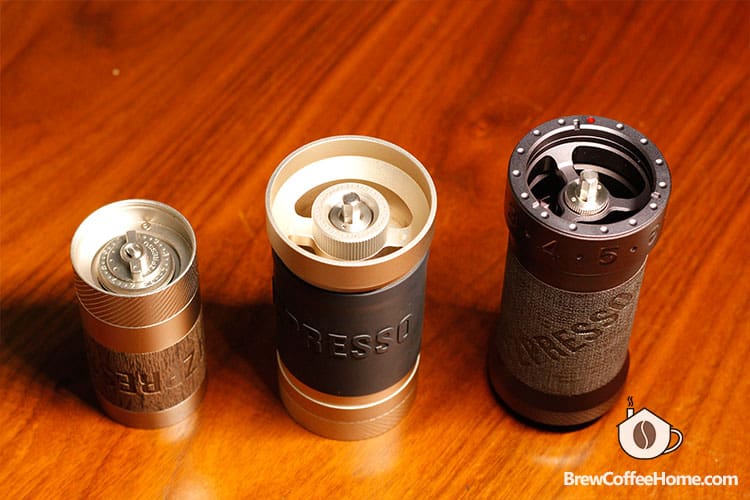 Grind Consistency
If you have coarse and fine grounds in the same batch, the particle size changes the way the water extracts the coffee. That leads to flavor inconsistencies, even with the best specialty coffee. Therefore, having a good burr grinder is essential for revealing complex flavor profiles.
Unlike blade grinders, burr grinders ensure everything goes through the fixed gap between the outer and inner burr. This makes for a more consistent performance of the grinder. You can find a comparison of the blade grinder vs burr grinder here.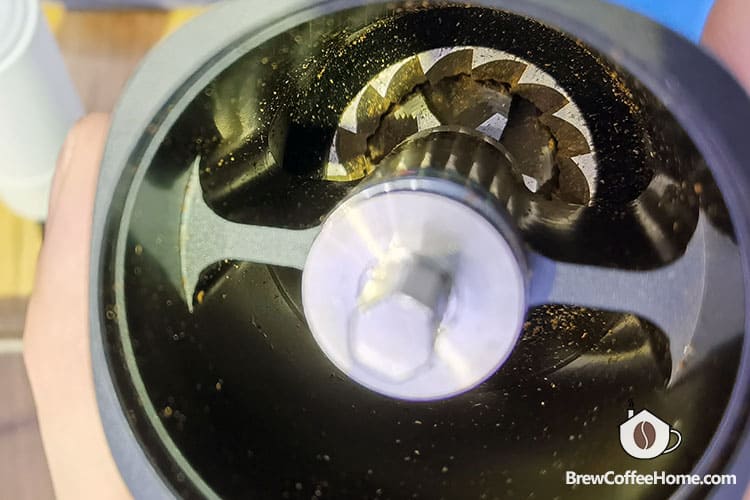 Different burrs with different designs, geometry, and quality of materials can lead to different results. Generally, finer coffee settings produce relatively consistent particles than coarser settings. The more expensive the grinder, the higher quality burrs will be.
Manual Espresso Grinder – Are You Grinding For Espresso?
If you are an espresso drinker, the good news is you have more choices than ever.
Some grinders, including the 1Zpresso J Max, allow you to adjust 0.08 microns per step, which is close to a stepless grinder and provides plenty of room for dialing in. Elsewhere, the Lido 3 and Kinu grinders are stepless, making them perfect for espresso.
The grinding time is also important. For example, it takes much longer to grind beans into fine grinds. However, in our testing, many premium grinders with a large, high-quality, steel conical burrs grind within one minute with ease. That is even better than some entry-level electric espresso grinders.
Capacity – Single Serve Or Multiple Serve Cups
Most compact and smaller manual grinders only produce between 20g and 25g of coffee per time, while some produce over four cups a time.
If you are a regular traveler or enjoy outdoor activities, a small grinder will be best as it'll be easier to transport. Your circumstances will dictate whether you need a larger or smaller manual grinder.
Hand Grinder vs Electric Grinder
Compared with electric grinders, manual grinders often provide more advantages.
For example, if you wake up early in the morning and want to enjoy a cup of coffee, hand grinding is the best option, as electric coffee grinders are more noisy. Similarly, if you're camping and want to enjoy a cup of coffee while taking in the beauty of your surroundings, a portable grinder and manual coffee maker are ideal.
Not only that but there's an affordability aspect, too, as many entry-level manual grinders are cheaper than electric grinders. They also have simpler structures and parts, meaning less can go wrong, and they need neither an expensive motor nor electrical components. Here is a comprehensive comparison between Manual and Electric coffee grinders.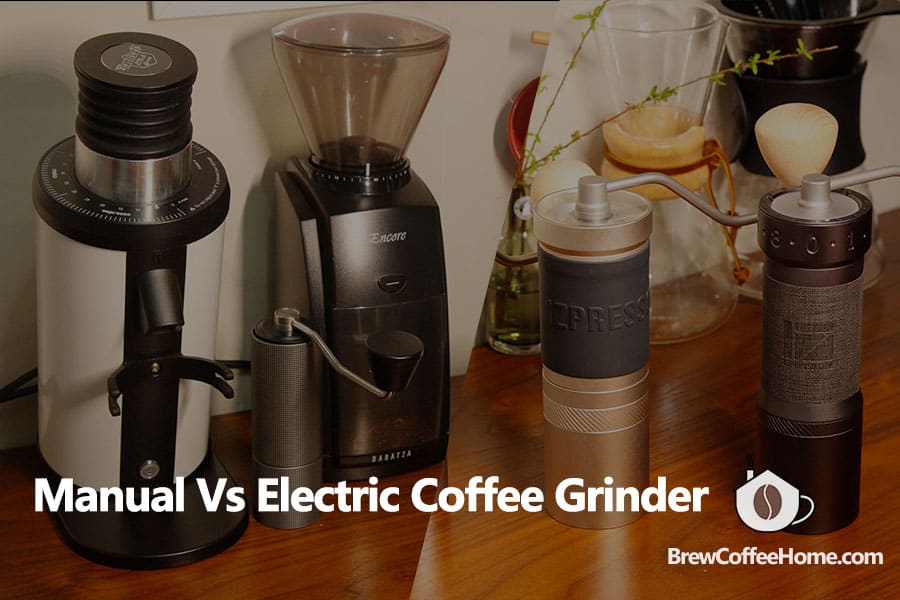 How Do I Test And Choose The Best Manual Coffee Grinders?
Let's evaluate a few key aspects to decide which manual grinders are worth considering.
Grind Quality
I use the Kruve sifter to gauge the consistency and particle distribution of grounds from each manual grinder. The sifter has two layers of sieves with holes measured in microns.
For Pour Over
A range between 500 and 700 microns is perfect for drip and pour-over coffee, according to The Craft and Science Of Coffee, written by Brita Folmer, 2016 – Figure 13.1. Typical average particle sizes and fines content of grounds in each layer.
For Espresso
A range between 200 and 300 microns is best for espresso. I usually test if the coffee grinder can grind finer than 300 microns to determine whether it's suitable for espresso.
However, that's not the only consideration. It is also important to gauge grinding speed and adjustment per step before deciding if it is appropriate.
Other Brewing Methods
If the grinder can cover pour- over and espresso consistently, the grind sizes in between should not offer a problem. Other brewing methods, such as the French press and cold brew, are more forgiving. However, consistency is not the major consideration with those methods as long as the grinder doesn't produce lots of unwanted fine dust.
Blind Taste Test
Sifting tests can determine the particle's sizes but not the microscopic shapes. Hot water extracts coffee at different rates depending on the exposed surface.
To evaluate taste, I make a pour-over with the same technique and brewing variables for each grinder, using the same amount of coffee. I then evaluate the taste of each cup. Finally, I dial in each grinder and pull an espresso shot to evaluate the final shot.
Grinding Speed
Quick grinding is important and makes grinding by hand much easier and more enjoyable on a day-to-day basis.
To test the speed, 15g of medium and denser light-roasted coffee were ground and timed. Meanwhile, the grind times were noted and compared.
If the grinding falls into the espresso range, I also grind the espresso size and compare the time.
User Friendliness
I mainly focus on the design of the grind adjustments by asking the following questions.
Does it have an external adjustment or an inner adjustment?
Is it easy to dial in for espresso?
Is it easy to replicate the previous grind settings?
How is the grinding experience?
Is it easy to hold and grind?
Is it easy to take it apart for a deep cleaning?
Is the grinder good-looking?
Does it use high-quality materials?
FAQs
How long does it take to grind coffee by hand?
Typically, hand-grinding coffee can take anywhere from one to several minutes. That depends on several factors, including the quality of the burrs and grind size. Coarser grinds generally don't take as long as finer grounds for espresso.
Does an expensive coffee grinder make a difference?
Yes, an expensive coffee grinder can make a difference in the quality of the coffee. High-end grinders often have higher-quality burrs and more settings, allowing for a wider range of brewing methods. Of course, the more precise the settings, the better it will be to extract the optimal flavor.
Are manual grinders better than electric?
While each has pros and cons, manual grinders have several advantages. They are quieter than electric grinders. They are typically smaller, making them better for travel as well. Manual grinders are usually more affordable, too.
Conclusion
While each of the grinders in this guide has something to recommend, I can narrow it down even further to my top three.
If you're in the market for a budget manual grinder, you can't do much better than the Timemore C2, which has an excellent brand reputation and high-quality grind performance with good particle distribution. It's also really easy to use and durable.
If you're looking for a manual grinder to take with you on your travels, the 1Zpresso Q2 grinds consistently for filtered coffee and is so compact it even fits in an AeroPress.
However, the best of the bunch is the 1Zpresso K-Ultra, which combines a large conical burr grinder, a degree of portability and fantastic consistency across many brewing methods.
Whichever you choose, I hope this guide has demonstrated that just because the grinders are manual doesn't mean they can't do an excellent job grinding your beans to the size you require quickly and easily.