If you want to make your coffee like a barista, getting a grind and brew coffee maker could be what you need to get that perfect cup of brew every time. By using a coffee maker with a grinder, you can cut a step out of the process and enjoy the best, freshest cup of coffee possible.
These types of machines often allow you to weigh your beans, so there's no guesswork involved. You can tailor the strength of your coffee to suit your tastes completely, and even make individual cups of coffee with varying strengths so that everyone in your family can enjoy their cup of coffee their way.
Combining the two machines also allows you to save plenty of counter space, which is excellent for those living in small apartments, or if you have a little kitchen. If you're a true coffee connoisseur, check out our reviews of the best grind and brew coffee makers. We're sure that there's one on the list that is simply perfect for you!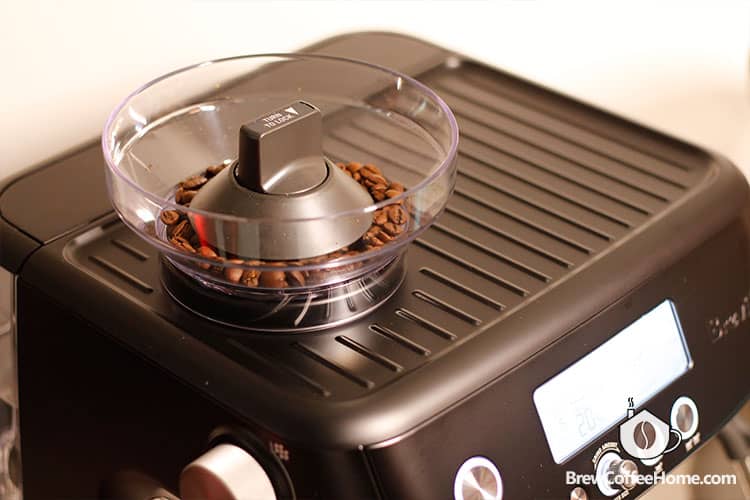 Best 8 Coffee Makers With Grinder
Since everyone is different, there is no "one size fits all" option for coffee makers with grinders, what's best for you based on the features and benefits listed below. All of our options are solid choices and will certainly help you turn your kitchen into a gourmet coffee shop.
Quick Navigation – Best Grind And Brew Drip Coffee Makers
Last update on 2023-09-26 / As an Amazon Associate, if you buy via the links, Brewcoffeehome earns a commission at no extra cost to you.
Quick Navigation – Best Grind And Brew Espresso Machines
Last update on 2023-09-26 / As an Amazon Associate, if you buy via the links, Brewcoffeehome earns a commission at no extra cost to you.
Best Drip Coffee Maker with Burr Grinder
Drip coffee makers give you delicious, old fashioned coffee with the added benefit of having a grinder attached, so you don't need to run through an extra step to grind your coffee beans.
1. Breville BDC650BSS Grind Control Coffee Maker
Breville Grind Control coffee maker is fantastic for those who like the versatility of being able to customize the grind setting for a perfect cup of coffee.
Since it's made out of handsome stainless steel, this coffee machine will look great on just about any countertop and fit in well with your decor. It's also a smart model, with an LCD screen that tells you exactly how much water is left, the amount of coffee to brew, how strong the coffee will be and how much time left for the entire brewing process.
As the name of this coffee machine suggests, you have the full grind control. There are 8 strength settings, if you can't achieve the taste you expect, you can even use the calibration mode to adjust the grind size and ground coffee volume for different strengths according to your taste preference.
You can load it up with a full half-pound of coffee beans. It comes with a double-wall stainless steel thermal carafe, which can hold 12 cups of coffee and keep them hot.
Since the burr grinder part locks completely, there's no mess to clean up. This model is efficient and can brew coffee for both regular and jumbo-sized mugs. If you like to take your coffee on the go in the morning, the Breville is a very reliable choice.
You can program it to grind your coffee beans first thing in the morning; no hands-on effort required, just enjoy the option of waking up to a freshly brewed cup of coffee as soon as you open your eyes. It's truly a gem in our book!
Pros
The thermal carafe will keep your coffee piping hot.
You can brew up to 12 cups of coffee at one time or just a single cup.
It's adjustable so that you can customize the size and volume of your grind.
Cons
The single-cup option can be a little bit slow.
Depending on your settings, the beans may clog up your grinder.
2. Cuisinart DGB-850 Fully Automatic Burr Grind & Brew
If a product is from Cuisinart, you know that it's probably going to be good, and this Cuisinart DGB 850 coffee maker does not disappoint! It can brew up to ten cups of delicious coffee. The design is totally intuitive; the 10-cup thermal carafe will keep your coffee piping hot.
As for the conical burr grinder mechanism, this grind and brew machine works like a charm. The ground coffee seamlessly flows into your brew basket. With the AutoRinse feature, the cup of coffee you're getting will be as fresh as humanly possible without being affected by the extra coffee residue from the previous cup. It holds a half-pound of coffee beans, and the bean hopper is completely sealed so that your beans are always fresh.
With an LCD display that lets you customize the coffee strength and brew amount for your coffee. Cuisinart DGB-850 includes the brew-pause feature, 24-hour programmable auto-start, and auto-shutoff, you can use pre ground coffee as well. All these features make brewing that perfect cup of coffee child's play!
Like all the Cuisinart coffee makers, this grind and brew machine also equipped with a charcoal water filter that removes the impurities from your water that interfere with your coffee taste.
If 10 cups are not enough for you, you can consider Cuisinart DGB-900BC.
Pros
You can get excellent coffee specifically tailored to your taste preferences.
It's really easy for anyone to use.
The charcoal filtration system and the AutoRinse features guarantee the maximum fresh coffee taste
Cons
Some users found it difficult to set up the timer.
It can be slightly noisy.
3. Capresso 488 Team Pro Plus 10-Cup Coffeemaker
If you love style and sophistication, you'll really like this sleek stainless steel coffee maker with grinder that can give you ten delicious cups of coffee at one time.
The conical burr grinder produces very uniform coffee grounds, which is essential to a great cup of coffee. You can select the grind settings by turning the bean container. What's more, the upper burr can be removed so you can clean it thoroughly for the freshest flavor.
The bean hopper holds 7 oz of coffee beans. Capresso designed this machine to maximize freshness, keeping your coffee beans as securely sealed as possible until the last minute. In addition, the hopper is removable so changing beans is easier than most of the coffee machines with a built-in grinder.
This coffee machine also comes with a reusable GoldTone filter that you can pop right into the dishwasher, saving you loads of money on wasteful paper filters. It's programmable, so you can set it and forget it right before bed and wake up to the glorious scent of a freshly brewed cup of coffee to start your day correctly.
Capresso also has a charcoal water filtration that improves the taste of your water. An indicator will tell you when to replace a water filter.
If you love efficiency and want to decorate your kitchen with a good-looking appliance, this model could be exactly what you've been waiting for.
Pros
The brilliantly designed carafe keeps your coffee warm and fresh.
Grind dark roasted oily beans without problems.
You can set it and forget it for great morning cups of coffee.
Removable grinder burr and hopper.
Cons
The burr grinder is slightly noisy.
4. KRUPS Grind and Brew Auto-Start Maker with Built in Grinder
KRUPS is a legend in the coffee world, so you know that their grind and brew machine will be excellent. This black plastic model uses an efficient burr grinder to create your ideal cup of coffee as efficiently as possible.
It's super easy to use, brewing anywhere between two to ten cups of coffee, and you can customize it for each batch. This KRUPS coffee maker comes with five separate grind settings so that you can make your perfect cup of coffee your way, every time.
You can also choose the flavor intensity, selecting between mild, medium, or strong cups of coffee. If you like to plan ahead and wake up to a freshly brewed cup of coffee, this machine has you covered.
You can schedule the device to brew your cup, and it will also keep it warm for you for up to two full hours. One of the best parts of this machine is the brew-pause feature and pouring function, which allows you to get your cup of coffee even when it's still brewing; great for people on a time crunch!
Pros
This model is exceptionally easy to use.
You can specify exactly how you want your beans ground and your coffee prepared.
With a reusable filter, this model is easy to clean and maintain.
More budget-friendly compared to other grind and brew makers
Cons
This model can be a little bit on the noisy side.
It doesn't provide a thermal carafe.
The design doesn't look as elegant as the others.
Best Espresso Machine with built-in Grinder
If you're one of those coffee lovers who prefer the rich and strong espresso coffee, and more possibilities for making espresso-based coffee drinks, such as cappuccinos or latte, it might be a good idea to invest in an espresso machine with a coffee grinder.
As we know the espresso coffee grinders are pricy, 'pulling a shot' of espresso without a proper espresso grinder can be the most frustrating experience in your coffee journey. It's a smart move to choose an espresso machine with a grinder.
These grind and brew coffee machines can genuinely give you the ultimate coffee house experience, and you won't ever need to order out for coffee again.
5. Breville Barista Express BES870XL Espresso Machine
Breville Barista Express takes the art of making the perfect espresso to the next level.
Let's get this straight, making espresso at home is not as easy as you thought. However, with Breville Barista Express, you can definitely achieve a perfect cup of espresso, no matter you are an espresso expert or newbie. It's a semi-automatic espresso machine with a built-in burr grinder. That saves you lots of hassles choosing a decent grinder for your espresso.
The conical burr grinder doses the right amount of ground coffee directly into your portafilter, you just need to tamp it then you are ready to pull a shot of espresso. It allows you to fine-tune the grind size for a perfect shot.
When you use this coffee machine, your espresso will always be right on point, as it uses digital temperature control to make sure the perfect coffee extraction.
You can get coffee house style cups of coffee right from the comfort of your own home with its micro-foam milk texturing steam wand. It's time to practice your latte art skill.
You'll also love the stainless steel design, the build quality is definitely in high standard. Other than flexing your artistic chops, you really don't need to do much of anything else with this grind and brew espresso coffee maker. Breville also offers a few espresso machines with grinders, you can find more in our Breville espresso machines review.
Pros
The frother and micro-foam milk texturing steam wand give you gourmet cups of coffee every time.
It's straightforward to clean and comes with a one-year warranty.
Lets you enjoy the fun of making coffee and gives you more control over your cup of coffee.
Cons
It is more on the expensive side.
Semi-automatic machine requires some skills and adjustment for a perfect cup.
6. De'Longhi ESAM3300 Super Automatic Espresso
If you are serious about your coffee experience, you really need to check out this machine.
ESAM 3300 is a super-automatic espresso machine, it's the most hassle-free espresso coffee maker for any espresso lover. You don't need to worry about the coffee grinder and your espresso skill, it handles everything for you.
It comes with a cappuccino-style frother that gives you the ideal mix of milk and steam, and you can even customize it to suit your specific tastes. If you've always wanted to impress your friends and family with your epic coffee making skills, this is one of the best coffee makers that will help you get there. Of course, it's just as good for making single cups of coffee for yourself at home too. Why not give yourself a real treat?
You can easily program it, and all of the buttons make logical sense. You don't have to worry about guessing what each one will do, because it's all there. This big machine brews up to 14 cups of coffee and uses a system called "direct-to-brew," which fuses your water and beans together at exactly the right time for the absolute ideal cup of coffee. You can use whatever beans that you'd like, and clean up is a breeze.
Pros
It's effortless for anyone to use.
It's an attractive model that will look nice on just about any countertop.
The cappuccino-style frother sets this model apart as a true superstar.
Cons
It's slightly more expensive than other models.
You have to hold the pitcher under the frother while it's on.
7. Gaggia Brera Super Automatic Espresso Machine
Gaggia Brera is an excellent espresso machine at a really great price. It has a ceramic conical burr grinder with 5 grind size settings. It's a super-automatic espresso machine so it doesn't require knowing much about espresso to use it. Gaggia Brera can brew incredible espresso.
You can use this versatile machine to create all sorts of yummy coffee drinks, so if you want flexibility and the ability to stretch your artistic muscles, this one could just be for you.
The other great thing about this machine is how quick it is. Gaggia Brera uses rapid steam technology to give you a gourmet cup of coffee in just a few minutes. It comes with a Pannarello wand that you can use to froth cappuccinos and lattes. You are able to steam milk very quickly without waiting between brewing and steaming.
The LED display always lets you know exactly what state your coffee is in at any time, and since it lights up, most people don't have any problem reading it.
With a one-year warranty, you can rest assured that this coffee maker will be with you for the long haul.
Pros
The price is excellent for what you're getting.
It's relatively quiet.
You can adjust all of your strength settings.
Cons
The machine often self cleans, causing the water levels to drop.
8. Philips 3200 Series Fully Automatic Espresso Machine
If you want a luxurious coffee drinking experience, you should really consider getting your hands on this model from Phillips.
With a 12-step grinder adjustment process, you can control what kind of coffee you're getting, allowing you to tailor it specifically to your needs and wants. It has a built-in aroma seal, so the beans are always perfectly fresh and only get ground right before pouring themselves into the ideal cup of coffee.
The durable ceramic burr grinder takes care of the grinding, you simply need to choose between five different styles of coffee, and operate it seamlessly with a touch display. You can enjoy the best coffee with no fuss. Many users compare the quality of the coffee it makes to Starbucks; it's that good, but you won't break the bank!
One of the best aspects of this model is that most parts are removable and dishwasher safe, and you don't have to play around with washing a bunch of extra parts. You can clean it quickly on the go, and it's ready right there when you need it to brew your next gorgeous cup of joe. The AquaClean feature lets it make up to 5,000 cups of coffee without needing to be deep cleaned.
As a super-automatic espresso coffee machine, Philips 3200 is very suitable for anyone who want to enjoy the best coffee with minimum effort.
You can customize your coffee experience and make up to five different types of coffee.
It looks professional and handsome in just about any kitchen.
It's incredibly easy to clean.
Cons
The machine can be a little bit on the noisy side.
Things to Consider for Choosing the Best Grind and Brew Coffee Maker
Of course, everyone is different, so what constitutes the best grind and brew coffee maker for one person won't be universal across the board. Still, there are a few things to keep in mind before investing in one of these coffee machines. Ask yourself the following questions, and you will be well on your way to making an educated choice.
Espresso or Drip Coffee?
This is easily the biggest question that you need to ask yourself, and both options come with pros and cons. Drip coffee makers make standard cups of coffee, but they do so using freshly ground beans, so the taste is often much better than other types of coffee makers.
Espresso makers make luxury coffee drinks, like lattes, cappuccinos, americanos, and of course, espressos. The downside to these models is that they generally can't make big batches of coffee, so if you're in a time crunch or need to make coffee for many people, you might be better off with a drip coffee machine.
Espresso machines also tend to be on the more expensive side. Of course, that makes sense considering all of the cool things they can do! Ultimately, it comes down to your lifestyle. Do you prefer to have the option to create fantastic coffee drinks at home, or are you just looking for that great cup of coffee to start your morning off right?
Semi-Automatic or Super Automatic Espresso Maker?
Espresso makers come in two varieties; semi-automatic and super-automatic. The difference between the two comes down to how much hands-on time that you will be spending with the machine.
Semi-automatic espresso makers allow you to play barista and get involved with a few different aspects of the coffee-making experience, specifically tamping the coffee down and frothing your own milk. This gives you a lot more creative control over the process, and it can be fun!
Super-automatic espresso makers do everything for you. All you need to do is press a button and sit back and wait for your gourmet coffee experience. If having hands-on control isn't necessary to you, but you still want to enjoy delicious coffee, this might be your best bet.
Grinder Type
Grinders come in two different varieties; blade grinder and burr grinder. Burr grinders are always better than those that use blade grinders because they are more precise. You can customize the size of your ground coffee and tailor it to your specific taste.
With a blade grinder, you have fewer options, and your coffee beans won't get chopped up as nicely as a burr grinder. All of the coffee machines noted on our list use conical burr grinders, making them some of the finest machines that you can buy if you're in the market for a great cup of coffee.
Carafe
You have two choices when it comes to carafes; thermal or glass. Although a glass carafe may look prettier and be easier to clean, we think that thermal carafes are superior for one specific reason; they keep your coffee a whole lot hotter. What's the point of having a fancy coffee maker if you have to drink a lukewarm brew?
Additional Features
Before you purchase your coffee maker, it's essential to think about any additional features you might want it to have. Do you want to program it to brew your coffee for your first thing in the morning? Do you want to be able to adjust the strength settings to get stronger or weaker coffee? Ask yourself what would make the ideal coffee maker for you, and go from there!
The Verdict – Which Grind and Brew Coffee Maker Is Best For Coffee Lover?
Even though all of these grind and brew coffee makers have some great attributes and features, we still have to say that we lean towards these two in their respective categories.
Our Pick: Best Drip Coffee Maker With Grinder
Breville Grind Control
This grind and brew machine takes the cake for us because it's sturdy, temperature-controlled, and it brews a fantastic coffee. You can customize and program the grind setting of the burr grinder. If you're looking for a great coffee maker with a high-quality conical burr grinder that will not let you down, this one is it, plus it's super easy to use. Trust us; this stainless steel model will make your mornings brighter!
Our Pick: The Best Espresso Maker With Grinder
Breville Barista Express BES870XL
What can we say? Breville certainly wins in the espresso maker category as well. This entry-level model makes an excellent cup of coffee, and you can control the flavor and strength with an easy-to-use knob. Never waste your money at a fancy coffee house ever again when you can whip up gourmet creations quickly with this gem.
But sure, if you are looking for a machine that does everything for you with minimal manual effort, other automatic machines are available for you.
Our Pick: Best Super Automatic Espresso Maker
Philips 3200 Series
Philips looks good with a modern design, and you can enjoy different types of coffee drinks at your fingertips. It just handles everything for you. It's hassle-free to make delicious coffee and maintain this coffee machine. It's the best fit for those who want to enjoy great coffee with minimal effort.