Instant coffee is often frowned upon by coffee purists. That's because it's often more bitter and harsh to taste than freshly brewed coffee and is nowhere near as satisfying. However, there's no denying that it is an inexpensive and easy option for those needing a hassle-free coffee.
Because of this, we are not averse to using instant coffee from time to time, and occasionally, it's even the best available option.
Another consideration is improvements in technology over recent years. These are allowing big companies to the flavor of their instant coffee far more palatable. Meanwhile, a host of specialty roasters now join the instant coffee game as well. As a result, in our opinion, some instant coffees are more than decent. So, which ones are worth considering?
There are many instant coffee brands on the market, and while having so much choice is a good thing, it can be confusing when it comes to choosing the one for you. However, we have tried out some of the best to give you a better idea, as this article details.
Our Best-Picked Instant Coffee At A Glance
Last update on 2023-12-08 / As an Amazon Associate, if you buy via the links, Brewcoffeehome earns a commission at no extra cost to you.
If you also drink fresh roasted coffee, here is another list of the best coffee beans and buying guide for you.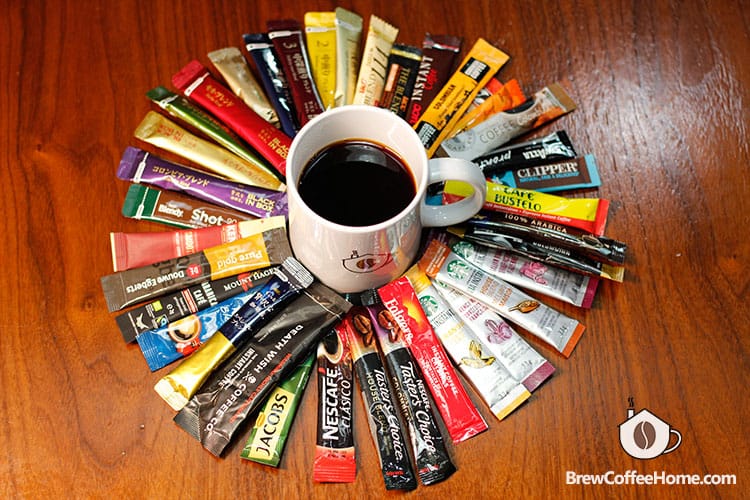 What Are The Instant Coffee Brands In Our Test?
We have sampled 56 instant coffees for research for this article, amounting to over 26 brands from around the world. These include companies based in the US, Japan, the UK, and Germany. We wanted as wide a range as possible to learn what different brands have in common and what sets them apart.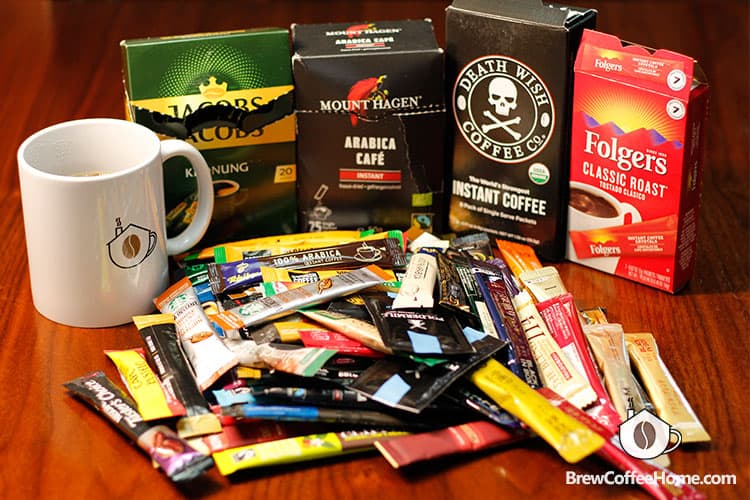 It probably won't surprise you to learn that some of the best instant coffees are produced by smaller companies, meaning you may not find all of them in your local grocery store.
Let's look at our categorizations of the instant coffees we collected.
Dominant Brands Worldwide
Nescafé: Original, House Blend, Classico, Taster's Choice Colombian, Nescafe Gold.
Maxwell House: Original Roast, Mild Blend.
Starbucks VIA: House Blend, Italian Roast, Pike Place, Veranda Blend, French Roast.
Popular Brands Depending On Country
Other popular Instant coffee brands in the US:
Folgers Classic Roast and Cafe Bustelo
Best Instant Coffee in the UK:
Nescafé is the most popular brand in the UK. After that, Kenco instant coffee varieties and Douwe Egberts (Kenco's parent company) are also well-loved. Other brands include Poldermill, Inca Gold, Lavazza, Clipper, Café ETC, Café Express, and Cornish Coffee.
Best-selling Instant Coffee in Germany:
German brands, including Mount Hagen and Jacobs, are also available in the US and worldwide. Tchibo coffee is worth considering too.
Instant Coffee from Japan:
Coffee originating in Japan is well worth sampling. According to recent research, Japan's instant coffee market generates the most revenue as a global comparison. Coffee vending machines are commonplace in Japan, and the Japanese are huge coffee lovers and knowledgeable on the subject of coffee too.
We include the following Japanese coffee brands:
AGF Maxim: Luxurious Coffee Shop Blend, Black In Box Series, Aroma Select
AGF Blendy
UCC: 114, 117, Instant Original
A Few Specialty Categories
We also looked at a range of high-caffeine blends and specialty coffee brands:
Death Wish, Four Sigmatic Mushroom Coffee, Waka Coffee
There are some specialty brands that we excluded, including Voila, Swift Cup Coffee, and Sudden Coffee. However, we intend to look at those options in the future.
What Have We Left Out Of The Instant Coffee Test?
We only sampled plain black coffees in this test. We also excluded 3-in-1 coffee, decaf coffee, and flavored coffees. The reason for this is it's hard to make comparisons between coffees of this type as they differ so greatly.
Finally, single-serve and disposable pour over options are excluded even though they use hot water, don't need coffee makers, and are portable. However, they are generally unlike classic instant coffees.
Top 8 Best Instant Coffee In 2023
We will detail how we tested each instant coffee in the latter part of the article. However, after sampling and rating each coffee, we have narrowed the list down to the top eight. Let's take a look at the best instant coffee options.
1.Mount Hagen Organic Instant Coffee
What we like:
This coffee represents the best value for money of all the instant coffees on the list and offers a well-rounded flavor. It employs the more complex freeze-drying technique (as opposed to spray-drying) to transform the coffee extracts into coffee crystals. This ensures the smells and tastes of the coffee are retained during manufacturing.
The company uses 100% Arabica coffee beans cultivated in high-altitude areas. That means there are no blends with lower-quality beans or more bitter Robusta coffee beans.
Another plus is the company is heavily invested in sustainability. Mount Hagen's coffee is both USDA Organic certified and Fair Trade. The beans are also grown organically with no added artificial chemicals such as fungicides, pesticides, herbicides, or fertilizers.
You would often find attributes such as the ones described above on premium-quality specialty coffee. Not only that, but this is also a relatively inexpensive option.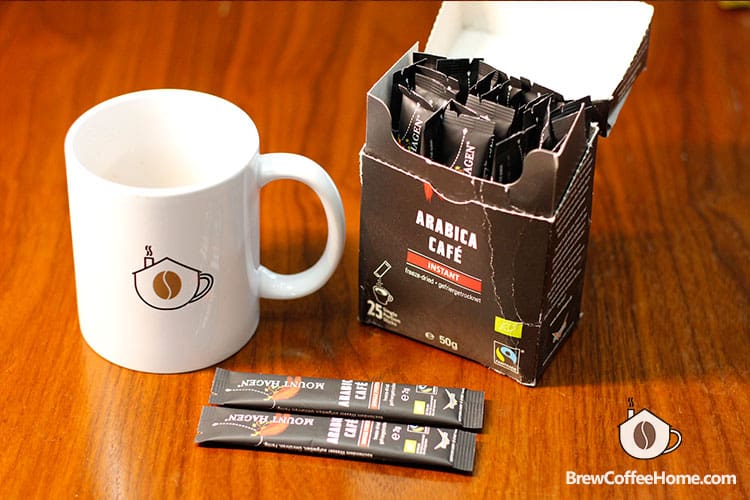 Our tasting note:
Apart from its affordability and impressive certifications of quality, this instant coffee also tastes great! We find the flavor smooth and not watery. Meanwhile, the sweetness balances beautifully with the acidity, and it doesn't have any of the harshness you'd usually associate with instant coffee. Also, there is no bitter aftertaste. However, Mount Hagen is one of the milder-tasting instant coffees on the market. In our opinion, there is a smoother flavor when water is heated to a lower temperature.
Package:
Available in a 25-pack of the single-serve stick (2g) or jar (1.76oz and 3.53oz).
Drawbacks:
This instant coffee is delicate and mild. It's perfect for anyone who would like to enjoy a pleasant cup of coffee without a large amount of caffeine.
However, if you are accustomed to more robust coffee, this might not suit your tastes. You may even need to consume a few cups at a time to give you the caffeine hit you need. If this applies to you, consider Starbucks VIA or Death Wish instead.
2.Waka Coffee Quality Instant Coffee
What we like:
Waka Coffee is an affordable specialty instant coffee brand. Also, while many big brands produce huge amounts of instant coffee and blend different beans, Waka Coffee only uses Arabica 100% single-origin Colombian beans. This means you can enjoy the unique flavors of premium-quality beans in your morning cup without hassles.
Waka Coffee is a freeze-dried instant coffee, meaning they avoid the flavor and aroma losses of spray drying.
Waka Coffee is also an ethical choice concerning the environment, as it donates 4% of its profits towards assisting people in areas lacking clean drinking water.
Our tasting note:
There are three varieties of Waka instant coffee: Colombian medium roast, Indian Light Roast, and decaffeinated (which we didn't include decaf coffee in this test). We opted for the Colombian medium roast.
The coffee rich without a watery look, with the granules dissolving in the water beautifully. The coffee has a nutty aroma, and while it is darker than some medium roast, it isn't smoky.
It has a robust and rich flavor and isn't bitter. We also noted citrus acidity and caramel sweetness with a long sweet finish. It has similarities with freshly brewed Colombian coffee, too, with all the complexity you'd associate with it.
Package:
The coffee is available in an 8-pack single-serve stick and a 3.5oz resealable bag for making 35 cups.
Drawbacks:
It is more expensive than most other instant coffees, but it's still cheaper than most of the other specialty single-origin instant coffees.
3.Starbucks VIA Instant Coffee
What we like:
People all over the world love Starbucks coffee. If you're one of them, you should consider trying the company's VIA range of instant coffee.
The VIA brand was launched in 2009, and, since then, it's become one of the most well-loved instant coffee brands around the world.
There is a large range of VIA blends. The Arabica beans in VIA are the same as the ones used in the company's coffee outlets. Then, a micro-grinding process takes place to retain the beans' aroma.
Worth noting is that Starbucks wouldn't put their reputation at risk selling an instant coffee that didn't taste good. Perhaps not surprisingly, VIA isn't as tasty as coffee brewed in the company's shops, but it is better than average. Even then, some people can't tell the difference between VIA and shop-brewed coffee.
VIA offers a good dose of caffeine, too, with 135mg per packet.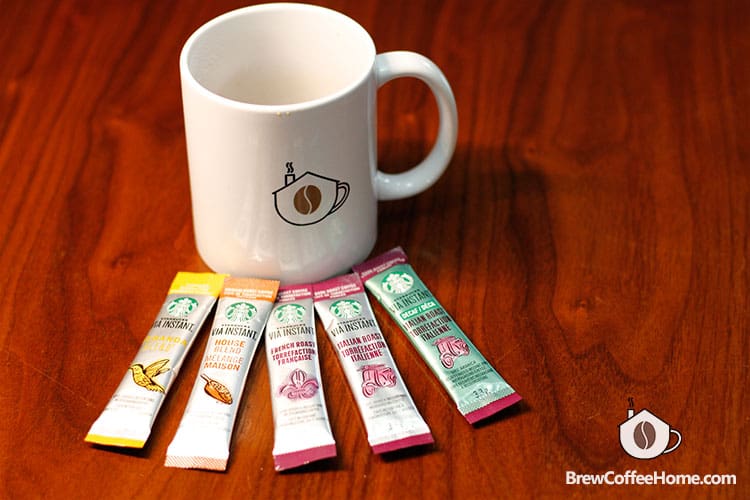 Our tasting note:
We sampled the French Roast, Italian Roast, Pike Place, House Blend, and Veranda.
The house blend is the first-ever Starbucks blend, originating in 1971. The roast is medium-dark and contains notes of toasted nuts and cocoa in a rich, full-bodied coffee. There are similarities with Pike Place. However, we think it is more robust and richer. All the VIA instant coffees taste like freshly brewed coffee.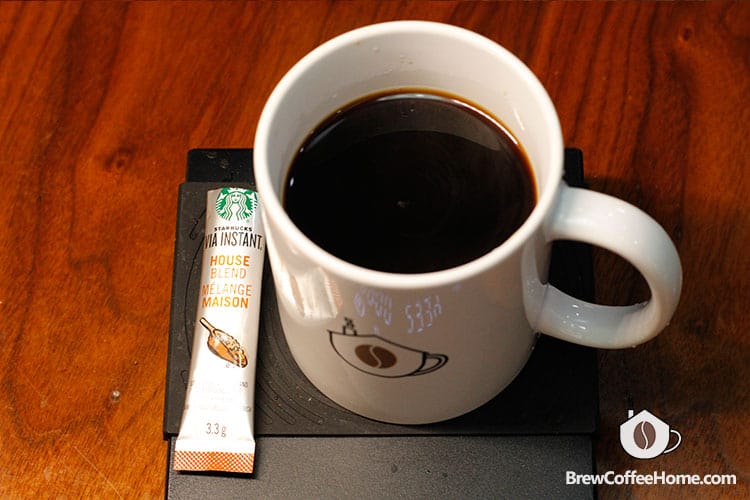 Package:
VIA instant coffee is available in boxes of 8 or 50.
Drawbacks:
Starbucks VIA is not as smooth as other instant coffees we sampled, while it is bolder too. It also has a somewhat bitter aftertaste. For these reasons, it's probably best-suited to people accustomed to Starbucks coffee and who enjoy a strong flavor. For those preferring milder tastes, we suggest Mount Hagen or the Japanese options.
Despite these drawbacks, we love the fact Starbucks has a range of VIA varieties. For darker options, give their Italian Roast and French Roast a go.
4.Douwe Egberts Pure Gold Instant Coffee
What we like:
Jacobs Douwe Egberts is the second biggest coffee brand in the world. With over 260 years of experience, the Dutch company has drawn on that to create its blends of instant coffee. A marker of how good the coffee is is that we rated it highly while testing even before deeply researching Douwe Egberts' background.
The organization is also invested in sustainability. Coffee is sourced in fair trade-friendly ways, while the company keeps the environment in mind during manufacturing.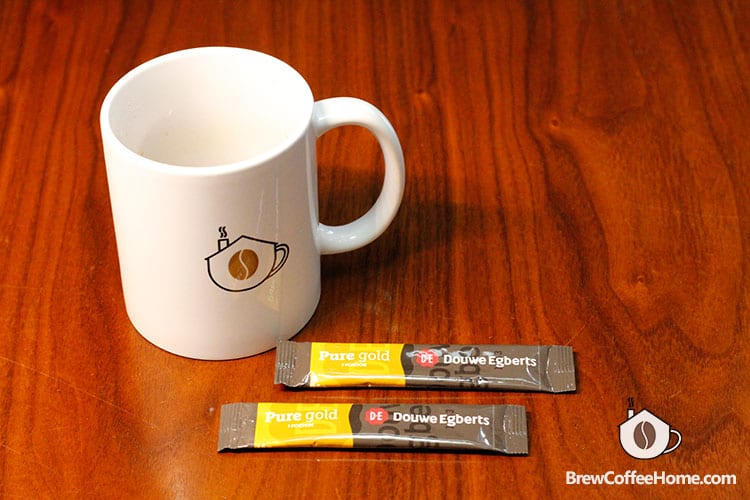 Our tasting note:
Douwe Egberts has the medium Pure Gold and the dark roast Pure Indulgence. Of the two, we prefer the former.
The Pure Gold is less bitter than the Pure Indulgence. It also has a delicate flavor and enjoyable sweetness. This medium blend is smooth, while its flavor lies between the weaker Mount Hagen and the more robust Starbucks VIA. There is also low acidity, making it gentle on the stomach.
The coffee is freeze-dried, while there is an aroma once the coffee grounds meet the water and a small aftertaste. Its taste is akin to drip coffee.
Meanwhile, Pure Indulgence balances a robust flavor without a burnt taste.
Package:
Pure Gold comes in a 7.05oz jar, which is good for 115 cups. There is also a single-serve stick package available.
Drawbacks:
The coffee is well-balanced – it is neither too bold nor too weak. However, the options are limited to only two varieties.
5.Death Wish Coffee Instant Coffee Sticks
What we like:
Having a caffeine boost is one of the main reasons many people enjoy coffee so much. Thankfully, this is where Death Wish comes in.
The company was formed in 2012 in New York, and it wasn't long before it established a reputation for producing great-quality coffee with a big caffeine hit.
Death Wish's instant coffee is USDA-certified organic, fair trade, and is freeze-dried for better flavor.
One packet of the instant coffee stick has 300mg caffeine. To put that into context, the FDA suggests a 400mg caffeine limit for adults per day, so a cup of Death Wish won't leave you too far off that figure.
Many companies proclaim they offer the world's strongest coffee, but Death Wish takes it to another level. That's because, in 2018, the company sent some of its coffee to the international space station, allowing it to stake a claim as offering the "strongest coffee in the galaxy."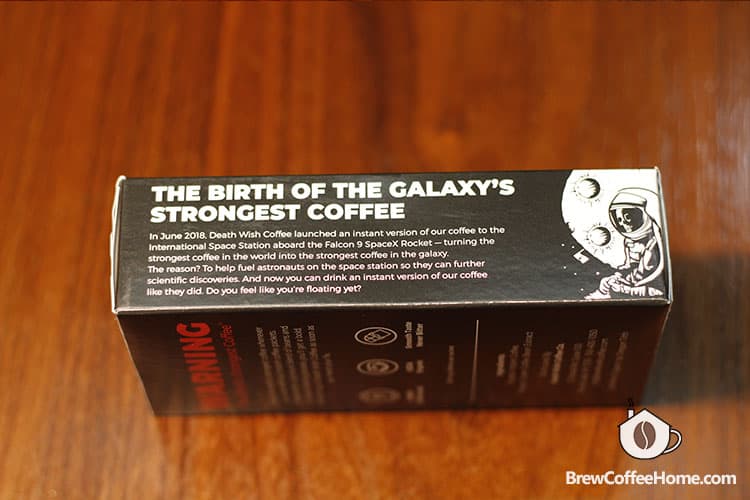 For fans of particularly strong coffee, Death Wish's coffee sticks are well worth trying.
Our tasting note:
As per the directions on the package, we brewed the coffee with 8oz water at a temperature of 170F. This approach resulted in a heavily-bodied coffee that neither looked nor tasted watery.
The taste lacks the smoothness of the other instant coffees we sampled, and there is a definite bright acidic flavor that removes the bitterness.
The coffee is blended using Robusta and Arabica beans for a dark roast, and there is a chocolatey, bitter aftertaste. Robusta beans are more bitter and contain more caffeine than Arabica beans. However, on the whole, the taste is not harsh but robust enough to give you a satisfying pick-me-up.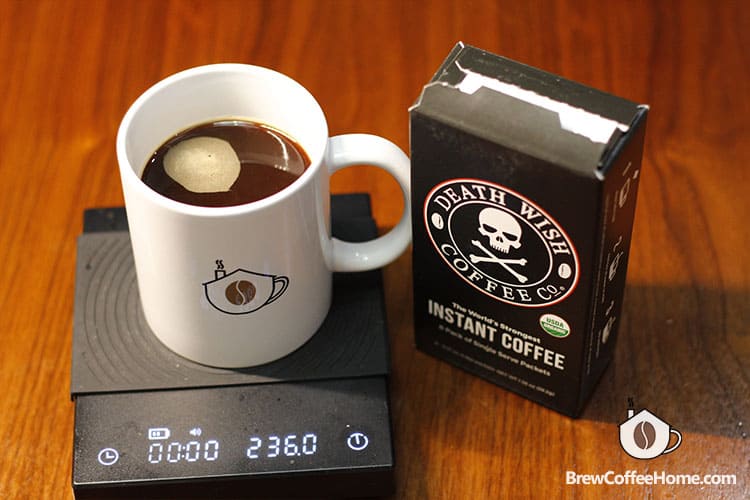 Package:
Death Wish Instant Coffee is available in a box of eight single-serve packs for either brewing at home or taking on your travels.
Drawbacks:
Some coffee fans might find the acidity too much to enjoy, while it is more expensive than most other instant coffees. Also, because everyone metabolizes coffee differently, some people might suffer heartburn from such a highly caffeinated beverage.
6.Four Sigmatic Mushroom Coffee
What we like:
Finland-based Four Sigmatic uses USDA-certified organic, fair trade, Colombian 100% Arabica beans. However, what makes it so different from other coffees is its use of mushrooms – namely, chaga and lion's mane – that support the immune system and offer natural nootropic benefits, respectively.
We can't speak to those long-term health benefits as we only sampled the coffee for this article. However, it is a popular product, hence why we gave it a try.
Our tasting note:
We have to admit that the idea of combining coffee with mushrooms seemed strange to us to begin with. However, despite wondering if a mushroom taste would prevail, we found that the coffee flavor still dominates. Rather, the mushrooms seem to help elevate the mildness and smoothness of the coffee as it's not at all bitter or harsh to taste. Not only that, but the coffee is kind to the stomach.
Package:
Four Sigmatic is available in a range of mushroom mixes. However, we only sampled one of those. Whichever you choose, they are available in packs of 10.
Drawbacks:
If you're a natural skeptic, you might find the idea of health benefits from the inclusion of mushroom flavors far-fetched.
7.Nescafé Taster's Choice Instant Coffee, Colombian
What we like:
This list wouldn't be complete without sampling Nescafé. We sampled every one of their instant coffees, including Taster's Choice, Gold, and the classic, to deduce our favorite.
Nestle originally launched a freeze-dried coffee brand called Taster's Choice in 1966. Nowadays, it is extensively available. It is also very inexpensive and a great choice for people who want a quick, no-frills cup of instant coffee.
The most significant difference between Nescafé Gold and Taster's Choice is the process of micro-grinding. As a result, Nescafé Gold has a fuller body, while the latter offers a lighter cup.
Our tasting note:
Taster's Choice House Blend and Colombian are the most popular, and our favorite is the Colombian. It's medium-roast instant coffee produced from 100% Colombian Arabica beans.
The coffee's aroma bears similarities with the classic Nescafe instant coffee, which isn't particularly inspiring. However, what it lacks in smell it makes up for in flavor. There was no bitterness or harshness. As the beverage cooled, the acidity came to the fore. On the whole, the coffee has a nice balance of sweetness and acidity and isn't too bitter. We could also detect hints of the flavor profile of the classic Colombian coffee.
Packing
It's available in single instant coffee packets, 7 oz jar, and 11 oz canister.
Drawbacks:
The coffee is not particularly robust, but it is smooth. However, it might be too weak for some palates. Also, the aroma is a little offputting. Meanwhile, the flavor is not at the top end of instant coffee brands, but it's widely available and inexpensive.
8.AGF Maxim Japan Luxury Instant Coffee Special Blend
What we like:
There are several blends of AGF Maxim instant coffee. If you like complex, sweet tastes, try the Luxury Coffee Shop special blend. If you like mellow, well-balanced coffee, the Aroma Select is a good option.
In Maxim's Black In Box range, there are choices of light, medium, medium-dark, and dark roasts. Meanwhile, the beans are selected from Tanzania, Colombia, Brazil, Ethiopia, and Indonesia to be blended into four varieties. This variety means there is bound to be a blend to suit your tastes.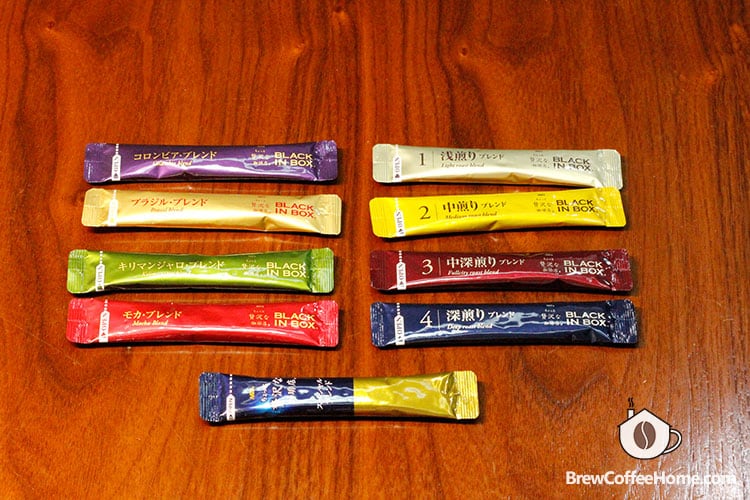 Maxim freeze-dries all their instant coffees and uses a unique T2ACMI roasting method to offer a great range of flavors and aromas.
Our tasting note:
Of all the varieties Maxim offers, our favorite is the Luxury Coffee Shop special blend.
The coffee has an elegant and fragrant smell without a hint of chemicals. After it cooled for a while, we found the flavor beautiful. It has a full body and a pleasant, clear, and fruity aftertaste. There is also a nice balance of bitterness and acidity. The flavor is more reminiscent of drip coffee than instant coffee, and it has a satisfying complexity.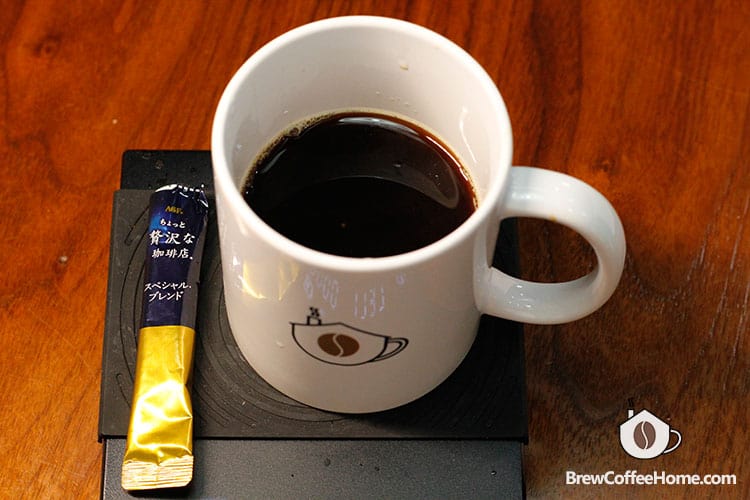 Packing:
The coffee comes in a 2.82oz jar and a 4.76oz refill bag.
Drawbacks:
The coffee is fairly robust, while it is more bitter than other brands. This bitterness is true even of Maxim's lighter instant coffee roasts. For those who don't like the bitterness, try Mount Hagan, Taster's Choice Colombian, or Sigmatic Mushroom Coffee.
Another issue is that because the product comes from Japan, availability may be inconsistent.
Tasting Notes For Other Popular Brands
We sampled a range of other popular instant coffee brands for this test. However, in our opinion, none offer as much as the eight we covered above. Some are still good. However, others are no better than a host of other average instant coffees. Here are some of our opinions on the more popular brands.
Folgers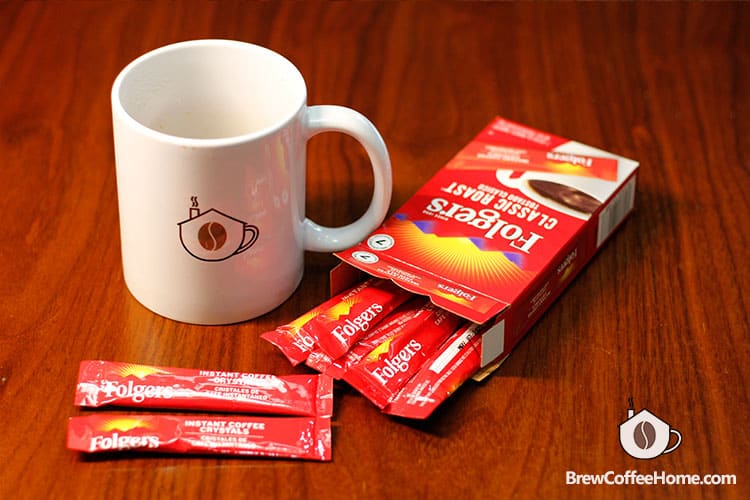 This brand offers a classic mild roast that may be a little too weak for some tastes. However, it is an inexpensive option and works well in certain coffee recipes.
Jacobs Kronung
Jacobs Kronung is a well-known German brand. The coffee has an unappealing aroma – we even detected a rubber band smell. Meanwhile, it has a watery, thin body. Also, once the coffee has cooled a little, it tastes sour. Overall, this didn't make a positive impression.
Kenco
Kenco is the second most popular UK coffee brand. The coffee itself is somewhat bitter and lacks complexity in the flavor. However, it is relatively well balanced. Still, it offers nothing out of the ordinary.
How We Conducted Our Tests To Find The Best Instant Coffee
How We Brewed The Instant Coffee
We followed the brewing directions on the packages to test the coffees. Where there wasn't an instruction, we used 8oz (226 ml) water heated up to 185F (85C).
How We Rated The Coffee
Our editors were given scoring sheets and took notes after sampling each coffee. We then analyzed our notes in discussions to arrive at a top 10.
Rating Criteria
Each coffee received a score based on the following elements: Flavor, balance, aroma, bitterness.
Because instant coffee is typically more bitter and harsher than freshly brewed coffee and has weaker flavors and aromas, we believe the scoring criteria easily reveals which instant coffees taste better when compared with each other.
What's Bad About The Flavor?
We think instant coffee generally has harshness and bitterness. There is also a rubbery and chemical aroma to some of the lower-quality brands. It's also more difficult to detect the complexity and clarity than in freshly brewed coffee.
What's Good About The Flavor?
Any instant coffee that has low levels of bitterness is a good thing. The more flavorful they are, the better, too. Whenever instant coffee tastes like freshly brewed coffee, that's a real winner.
What Else Is There To Consider?
Aside from the flavor, we also examined the packages to determine if the particular brand of instant coffee is suitable for taking outdoors or traveling. So, does it come in a bottle or a stick packet, for example?
We also look at the availability. If a brand is scarce or generally difficult to find, we didn't include it in our test. However, most of them can be found on Amazon if you would like to try them.
What To Look For In Instant Coffee?
Single Serve vs. Jar
The majority of instant coffees in our test are on the market in jars or single-serve packages. Because we purchased the coffees for testing, single-serve worked best for us.
However, when considering convenience when traveling, single-serve instant coffee is likely to be the best option for many other coffee lovers. Another significant advantage of single-serve packaging is that the manufacturers have pre-measured the coffee, meaning all you need to hand is a cup and hot water. However, if you enjoy coffee at home, a jar will work out both convenient and less wasteful.
However, single-serve sachets have a longer shelf life than instant coffee by the jar as they are sealed well. That means that as long as they remain unopened, they will be just as good even after the expiry date.
Moisture and air tend to make coffee granules go off, so instant coffee stored in a jar won't have as long a shelf life. That's because whenever you open the jar, it will inevitably lead to air getting in. You also should make sure you use a dry spoon for scooping out the granules.
Freeze Drying Or Spray Drying?
When you are purchasing instant coffee, you may have noticed that certain brands make a point of highlighting that it is freeze-dried. But what does this mean?
Instant coffee originates from real coffee. However, there is a further stage where it comes to instant coffee once brewing is complete: turning the coffee into a powder. But how is this done? The simple answer is by taking out the water. There are two main ways of doing this – freeze-drying and spray-drying.
Spray-drying involves spraying the liquid coffee into dry, very hot air so that the water evaporates. Meanwhile, freeze-drying is a technique that takes place below zero degrees. The brewed coffee extract is frozen, and then, using low pressure, the water is sublimated with this method.
Because of the lower temperatures freeze-drying employs, the chemical composition, and aromatic compounds are retained. It follows, then, that freeze-drying is preferable as it results in a more pleasant taste and smell.
The drawbacks are that freeze-drying is a more lengthy process and is more complex than spray-drying, which leads to freeze-dried instant coffee being more expensive.
However, it undoubtedly offers a more palatable instant coffee. We're not going to explore this further in this article. However, for more information, feel free to read our article How Is Instant Coffee Made?
Roasting Level
Instant coffee will require you to consider your preferred roasting level in the same way freshly brewed coffee does. Instant coffee usually has light, medium, and dark options with the particular level marked on the packet. However, whenever you see French roast, Italian roast, or espresso roast, you can be confident they are dark roasts.
After sampling so many coffees, we found medium roasts with a similar boldness level as dark-roasted instant coffee. Similarly, light roasts are darker than you might expect in instant coffees.
Price
As a general rule, instant coffee is cheaper than either fresh coffee beans or the coffee you would buy in a coffee shop. Another cost-effective element of instant coffee is there's no need to buy any expensive equipment. However, instant coffee prices vary from brand to brand, ranging from very cheap packets to high-end boutique brands.
We recommend trying smaller single-serve samples before buying a jar of coffee. That's because even if an instant coffee is expensive, it doesn't mean it will suit your tastes. In fact, following our tests, we preferred some cheaper varieties to some of the more costly options.
Caffeine
For a lot of coffee lovers, the caffeine hit is the best part of a cup of coffee. We included some instant coffees with high caffeine content in our top eight list, such as Death Wish coffee. The caffeine levels differ depending on the brand. Some tell you how much caffeine the coffee contains on the packet, so we suggest looking out for this to make sure the coffee contains the amount of caffeine you like.
Final Thoughts
Although instant coffee is not the optimum choice for most coffee enthusiasts, it can be a good, convenient option when you cannot make freshly brewed coffee. Instant coffee is also a firm favorite with people who hike or camp, and for emergency caffeine kits.
While freshly ground beans make more satisfying coffee than instant coffee in every respect, it comes with a significant investment expense in coffee-making equipment. Not only that, but freshly ground coffee requires an often steep learning curve, with aspects including extraction time, ratio, and temperature to consider. For those reasons, many people prefer instant coffee.
Because we're aware of these issues, we put together this guide to make you familiar with the best instant coffee on the market. That way, you can enjoy an easy-to-make instant coffee that's of sufficiently high quality.
The good news is that with more advanced technology and many specialty roasters taking the time to produce instant coffee, some genuinely good quality options are available.
However, you need to recognize that taste varies between individuals, so what we may have loved might not be ideal for your taste buds. However, after sampling such a wide variety of instant coffees, we are confident that we are adept enough at detecting a high-quality instant coffee from one that's not so appealing.
Unfortunately, we were unable to cover all the brands of instant coffee in this article. However, we will monitor the instant coffee market as time goes on and add to the list accordingly.
Hopefully, this article has provided a thorough idea of which instant coffees might be best suited to your tastes.
So, what are you waiting for? You might just be surprised how enjoyable some instant coffees can be!