Do you find yourself waiting for your morning coffee for way too long?
Chances are, you've heard of Keurig—but there are so many versions, options, and special features on each one that it can be difficult to find the best Keurig coffee machine for your needs.
From the latest Keurig model, K-Supreme Plus SMART, to the original K-Classic Coffee Maker, we've rounded up the best Keurig coffee makers so you can find your perfect brew.
Whether you're looking for an at-home coffee maker or one for the office, Keurig has you covered.
Quick View Of Our Best Picks
Top 10 Best Keurig Coffee Makers in 2023
Despite their similarities, Keurigs are all different in some way, shape, or form. Read on to find your ideal Keurig coffee maker.
Latest Keurig K-Cup Coffee Machine
1. Keurig K-Supreme
Last update on 2023-05-31 / As an Amazon Associate, if you buy via the links, Brewcoffeehome earns a commission at no extra cost to you.
If you want the freshest technology in the single-serve coffee world, the Keurig K-Supreme is for you.
This coffee maker introduces MultiStream Technology. With this method, multiple streams of water deposit into the Keurig pod—so flavor and aroma are maximized and saturated.
MultiStream Technology can give any brew more flavor than the previous Keurig coffee brewers that use only one needle to puncture the K-cup pod.
A much-requested feature of the Keurig K-Supreme model is its iced option. Now, you have the choice to make your favorite iced drinks—it's like having your local coffee shop right at home!
The quiet brew technology also reduces the noise during the brewing process.
This new K-Supreme line comes in three separate models: the K-Supreme base model, the K-Supreme Plus, and the K-Supreme Plus Smart.
The K-Supreme Plus:
Last update on 2023-05-31 / As an Amazon Associate, if you buy via the links, Brewcoffeehome earns a commission at no extra cost to you.
Has temperature control
Strength control (three levels)
78 oz reservoir capacity
The K-Supreme Plus Smart:
Last update on 2023-05-31 / As an Amazon Associate, if you buy via the links, Brewcoffeehome earns a commission at no extra cost to you.
Has BrewID, which recognizes the K-Cup you use and brews it per the roaster's recommendation
The K-Supreme Plus Smart is one of the few models with a display screen
Works with Keurig App
If you're looking for temperature and strength control, the K-Supreme Plus and K-Supreme Plus Smart are your best bet. If you don't want those extra features, you would enjoy your morning cup made by the basic K-Supreme.
2. Keurig K-iced Coffee Maker (Just released in March 2023)
Last update on 2023-05-31 / As an Amazon Associate, if you buy via the links, Brewcoffeehome earns a commission at no extra cost to you.
The Keurig K-iced coffee maker is the latest model in Keurig's product line. It is very versatile and can make regular coffee and over-ice coffee. You can even make iced lattes by adding milk and syrup.
The K-iced is as compact as K-slim and K-mini, which will only take up a little space on your countertop.
It has an iced button and a strong button for 8, 10, or 12-ounce brews. The water reservoir at the back of the machine is removable for easy filling.
The standout feature of the Keurig K-iced coffee maker is its ability to brew over ice, allowing for a refreshing iced coffee experience. The over-ice function only brews a portion of the selected size to account for the ice that will be added.
The coffee maker is also very quiet and quick, allowing for multiple cups to be brewed in a row. The strong brew option produces a fuller-bodied cup of coffee that takes slightly longer to brew.
However, the new K-iced doesn't have the multistream function, so there's only one needle instead of five.
Overall, the Keurig K-iced coffee maker is an excellent choice for those who enjoy iced coffee and want a quick and easy way to make it at home.
All-Time Best-Seller
3. Keurig K-Elite 
Last update on 2023-05-31 / As an Amazon Associate, if you buy via the links, Brewcoffeehome earns a commission at no extra cost to you.
This Keurig pod coffee maker is one of the most versatile in the Keurig product lineup and is a hit among customers.
The K-Elite machine is versatile and programmable, giving you the best of both worlds. You don't have to sacrifice the latest technology to get a lower price. Surprisingly, the Keurig K-Elite shares several characteristics with the K-Supreme Plus models except for the MultiStream technology.
It also comes with temperature control and lets you brew over ice or select a strong brew flavor. K-Elite is one of the fastest Keurig brewers, it takes less than 1 minute to brew a cup of coffee.
Auto-on is a popular feature for busy families. Gone are the days of getting ready for the day and forgetting to make coffee—or cutting into valuable time waiting for the coffee maker.
The Keurig K-Elite is the brand's best-seller. It received thousands of positive reviews from coffee enthusiasts everywhere.
4. Keurig K-Classic Coffee Maker
Last update on 2023-05-31 / As an Amazon Associate, if you buy via the links, Brewcoffeehome earns a commission at no extra cost to you.
Want the original Keurig? The K-Classic is your new best friend.
This coffee maker is the machine that started it all—the K-Cup craze, accessible, in-home delicious coffee, and affordable options.
The classic Keurig has:
One minute or less brewing time
Programmable auto-off
3 cup sizes
Indicator lights
The Keurig K-Classic is perfect for you if you want something that is not too flashy but still makes good coffee.
But, if you're looking for something snazzier, you may want to upgrade to the K-Supreme or K-Elite to get all of the bells and whistles.
This machine also does not have strength and temperature control, and only offers 3 cup sizes. So if that's important to you, it might be worth skipping and splurging on the latest model.
Your next coffee maker doesn't have to be expensive. The Keurig K-Classic is more budget-friendly than the two machines listed above.
Compact Keurig Machines
5. Keurig K-Mini 
Last update on 2023-05-31 / As an Amazon Associate, if you buy via the links, Brewcoffeehome earns a commission at no extra cost to you.
Have you ever wanted a coffee maker to take on the go? This Keurig machine can do just that.
Advertised as their slimmest design, the Keurig K-Mini is under five inches across. Perfect for students, offices, and traveling!
You can take the K-Mini anywhere. As long as you have a power source, you can make your favorite drinks.
Other features of the Keurig K-Mini are:
One cup reservoir—you have to use fresh water every time
Auto-Off kicks in 90 seconds after your last cup
Cord storage means no messy wires or cluttered counters
Bright colors add life to any room
The K-Mini is a prominent option if you have very little counter space and need something compact—but still want a delicious cup of coffee.
Also of note is the K-Mini Plus, which has features like strength control, a removable water reservoir, and pod storage with purchase. Here is the side-by-side comparison of K mini vs K mini plus.
Last update on 2023-05-31 / As an Amazon Associate, if you buy via the links, Brewcoffeehome earns a commission at no extra cost to you.
6. Keurig K-Slim
Last update on 2023-05-31 / As an Amazon Associate, if you buy via the links, Brewcoffeehome earns a commission at no extra cost to you.
Sister to the K-Mini, the K-Slim is a slightly advanced (but still compact!) coffee maker. And the new model is also updated with the new multistream features.
The K-Slim maintains the under-five inches width but adds depth with a 46 oz reservoir—so no need to add fresh water with every use.
A few other differences between the two compact makers are:
K-Slim is large enough to accommodate travel mugs
K-Slim has a high-altitude setting
Reservoir is removable
K-Slim is ideal for minimal counter space as well but has a few more features than the K-Mini. If you drink coffee twice or more a day, you'll like the K-slim since the water reservoir capacity allows you to brew up to 4 cups.
Dual Function: Grounds and K-Cup
Not ready to let go of your coffee beans, or prefer grinding your own? Keurig has machines for that, too!
If you don't like the idea of buying pods, you can keep using your favorite ground coffee with dual-function machines.
7. Keurig K-Duo Plus
Last update on 2023-05-31 / As an Amazon Associate, if you buy via the links, Brewcoffeehome earns a commission at no extra cost to you.
Keurig gives you endless possibilities with this coffee maker. You can brew an entire carafe of coffee in the classic-style coffee pot or make a single-serve cup on the traditional Keurig side. Like the original model, the K-Duo Plus brews both ground coffee and K-Cup pods and comes with a thermal carafe. 
The design of the K-Duo Plus is sleek and slim—much more so than its counterpart.
Additional features are:
Stainless steel thermal carafe
Multi-position reservoir
K-Duo Plus comes with a gold mesh filter starter kit
Provides a strong option for a more flavorful brew
Pause and pour lets you pour a cup out of the carafe mid-brew
The K-Duo Plus and the K-Duo do almost the same thing—but the Plus model is better for smaller areas and those who need a large thermal carafe.
Latte and Cappuccino
8. Keurig K-Cafe 
Last update on 2023-05-31 / As an Amazon Associate, if you buy via the links, Brewcoffeehome earns a commission at no extra cost to you.
Do you consider yourself a borderline barista? The Keurig K-Cafe is for you!
There's nothing like a creamy latte or smooth cappuccino. This Keurig lets you make frothy drinks in your kitchen.
The Keurig K-Cafe comes with a dishwasher-safe milk frother, so no pesky cleaning after each use. You can use whole, skim, almond, or any milk of your choice.
Keurig does note that certain kinds of milk can affect the frothiness of your foam—lactose-free milk products, for instance, do not produce foam as well as regular or nut milk.
Of course, the K-Cafe can brew the classic Keurig pod cup of hot coffee, but there are some perks in addition to the frother:
Coffee shots for specialty drinks (espresso)
Cold setting for cold frothed milk
The strength setting for bolder brews
Whether you're an experienced barista or just getting started in the world of cappuccino making, the K-Cafe is a fun and delicious option. 
9. Keurig K-Café SMART (Newer model)
Last update on 2023-05-31 / As an Amazon Associate, if you buy via the links, Brewcoffeehome earns a commission at no extra cost to you.
The Keurig K Cafe Smart is a newer, more compact, and smarter version compared to the K-cafe introduced above.
With this machine, you can make signature K-cup coffee, iced coffee, lattes, and cappuccinos.
You can make signature K-cup coffee by selecting 6, 8, 10, or 12 ounces with different strength and temperature options. It can also brew over ice. In addition, the new K-cafe has the latest multistream tech, so the coffee it makes is more flavorful than the old version.
For milk-based drinks, you can have concentrated coffee that mimics the taste of an espresso shot, which is two or four ounces. Then you can combine it with your frothed milk to make a cappuccino or latte.
The built-in milk frother is versatile, with a capacity of 4 to six ounces. It can froth cold milk and heat milk with four milk texture settings. The water reservoir is elegant and has a circle handle that fits well.
Like the other 'Smart' Keurig, the new K-cafe is connected to the internet and can recognize the BrewID of the K-Cup and send recommended brew settings for the maximum flavor. You can also control the machine remotely and schedule a brew via the app.
It's a newer model with more features, so the price is higher than the previous K-cafe version. You can consider if those extra features and a more compact footprint are important for you.
For an Office or Large Families
10. Keurig K155 OfficePro Commercial Coffee Maker
Last update on 2023-05-31 / As an Amazon Associate, if you buy via the links, Brewcoffeehome earns a commission at no extra cost to you.
Are you searching for the best of the best? The Keurig K155 Coffee Maker might just be the one.
This high-tech but still easy-to-use coffee machine is loaded with features so everyone in your office or home can enjoy their preferred brew.
Some of the most elite features of this machine are:
Full-color LCD screen
Language options for English, Spanish, and French
Interactive touch screen
Adjustable brew temperature
The K155 machine is different from the other Keurig coffee makers on this list because it's a commercial-grade machine, meaning it's not intended to be used by just one person.
The materials used to make the K155 are UL certified and durable for constant use. It has a drainable hot water tank and can hold up to 90 oz of water.
Keurig states that this brewer is made for offices of 15 people or less—and to get a much bigger machine if your office has more employees.
What Is Keurig?
A Keurig machine is a single-serve coffee maker that uses Keurig K cups instead of traditional coffee grounds. Keurig machines range from slim and ergonomic to complex two-in-one coffee makers with the Keurig single-serve maker and a regular coffee pot attached.
Using a Keurig means no more messy filters, measuring, or grinding your coffee beans. It also means that your coffee-making process will be sustainable, as the pods are recyclable.
Keurig is the eighth biggest food and beverage company in the United States, a study in 2019 revealed that around 42% of American households own a single-serve coffee maker. [1]
So, what makes them so popular? Keurig coffee machines are:
Affordable
Easy to clean and operate
A wide range of K-cup pods available
Brew Coffee in less than a minute
Perfect for families as everyone can choose their favorite coffee
Common Features of Keurig Machines
Almost all Keurig machines have the same basic features and mechanisms.
The most-loved feature of the Keurig K-cup coffee maker? Brewing time. Most Keurig coffee makers can brew your cup of coffee in under 2 minutes.
K-Cup pods are another feature. You can only use K-Cups with your Keurig. However, they come in an abundance of flavors, options, and brands—so you're never limited. Even kids too young for coffee can use a Keurig, too, as hot cocoa, hot chocolate and tea are available in Keurig pods.
Each Keurig comes with a removable drip tray for easy cleaning and to fit travel mugs.
Auto-off is another feature of almost all Keurigs and one of the most useful. If the Keurig is dormant for a while (most Keurigs allow you to program how long), it turns off automatically to conserve energy.
How Does a Keurig Coffee Maker Work?
Using a Keurig is super easy and only takes a few minutes. Step-by-step instructions for the K-Classic brewer are below.
Fill the water reservoir
Turn the machine on—water will begin heating automatically
Place your mug on the drip tray, or remove the tray if you're using a travel mug
Lift handle and put in your K-Cup coffee pod
Lower handle, select cup size and start
Enjoy the freshly brewed cup of coffee in 1 minute or so.
Most Keurig K-cup coffee makers have similar instructions, although the K-Mini requires filling every time you use it. If the model has a water reservoir, you can fill it up and make cup after cup until it's empty.
What Coffee Does a Keurig Coffee Maker Brew?
All Keurig models use K-Cups, aside from the two duo models that have carafes. There are plenty of options that aren't coffee, too.
A Keurig is pretty much a drip coffee maker, just with a faster stream. Keurig coffee is weaker than coffee from a drip coffee maker, so if you prefer a bolder flavor, purchase a Keurig with customization options.
If you love espresso, you should try the Nespresso or espresso machine instead. Keurig brewers don't make espresso.
What Coffee Pods Do Keurig Coffee Makers Use?
Keurig Coffee makers brew coffee with K Cups. A K-cup coffee pod contains pre-measured coffee grounds, which are well sealed with a foil lid. It's a convenient and hassle-free way to brew a single cup of coffee at a time.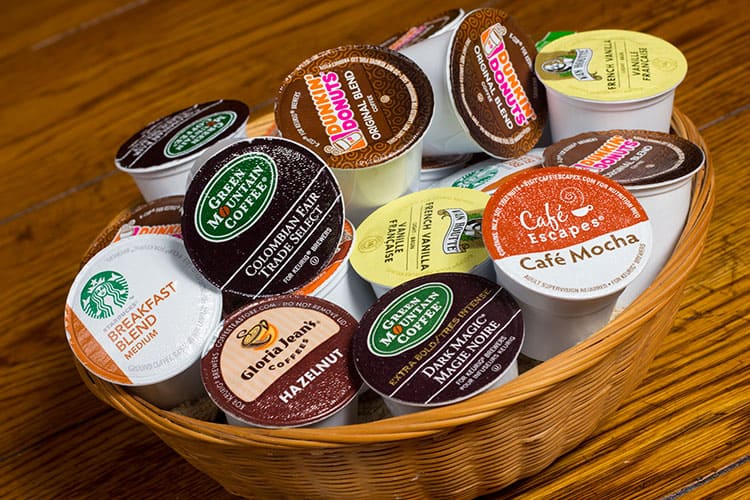 There are countless flavors of K-Cup coffee pods! From Breakfast Blends to Caramel Lattes, your favorite drink awaits.
When you think about popular coffee companies or brands, what comes to mind? Starbucks, Dunkin', illy, Lavazza, the Original Donut Shop? All of these major brands have K-Cup pods.
Most K-Cup pods come in packs of 12-96 and range in cost. The price of K-Cups is quite affordable, you can save money in the long run if you buy a cup of coffee every day.
You can also purchase a refillable K-Cup. These are mesh cups that you fill with coffee grounds and brew like a K-Cup pod. So, if you're obsessed with your own ground coffee, you can still enjoy it with your Keurig coffee maker.
Things to Consider When Choosing The Best Keurig Coffee Maker
If you're still contemplating which K-Cup coffee maker to buy, don't worry—read on to find out what specific things you should look for before you purchase your Keurig machine.
Water Tank Capacity
Think about how many people will be using the machine. If it's just you, and you expect to drink one cup of coffee a day, a smaller model like the K-Mini or K-Slim would make more sense.
If you have a large family or want to purchase a coffee maker for your office, though, you're going to want something with more water capacity. Having to refill the water reservoir constantly can get annoying and time-consuming.
Keurig water tank sizes range from 12 oz to 90 oz.
Cup Size
Travel mugs don't fit under all Keurig machines! If you use a travel mug often, make sure to find a Keurig machine that has enough space between the removed drip tray and the handle.
The K-Mini fits travel mugs up to 7 inches tall. Anything larger than that is going to be a tight fit.
You should also think about the size of brew you enjoy most often. Many Keurig machines make at least three sizes (6 oz, 8 oz, 10 oz), but some make cups as small as 4 oz. We explained the Keurig cup sizes in another buying guide.
Brew Speed
Need coffee fast, or are you okay with waiting for a few minutes? Be sure to double-check the Keurig machines you look at to make sure they meet the brew time you need.
Keurig machines with a <1 minute brew time are:
Keurig K-Elite
Keurig K-Classic
Keurig K-Select
Keep in mind that the brew time does not include the time it takes to heat the water in the reservoir. Also, brewing fast sometimes leads to watery coffee, the latest model K-Supreme brews coffee slightly slower but results in a more robust flavor. Regardless, you'll be waiting five minutes maximum for a cup of fresh coffee.
User Interface
If you're willing to pay a bit more, you can get a Keurig machine with a digital screen that has touch capabilities.
Most Keurigs, though, come with no screen and just have the following buttons:
Cup size selection
Strength customization buttons (if included on the model)
On/Off
Flashing lights to indicate an almost-empty reservoir or need of maintenance
Some Keurigs, like the K-Duo, K-Elite, K-Supreme Plus Smart, come with a digital clock on them so you can program when you would like your coffee to brew.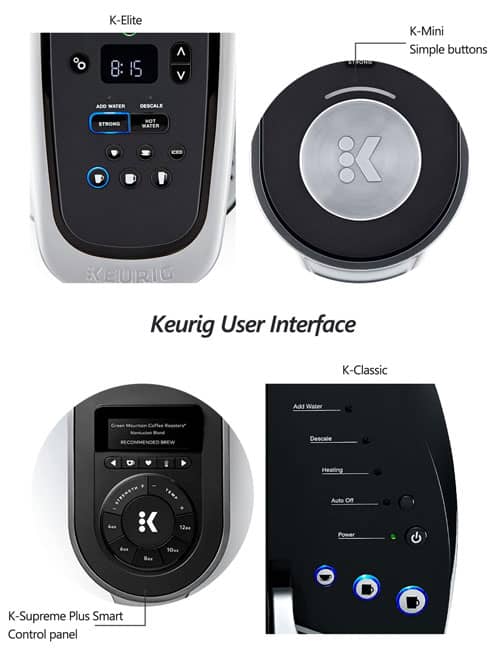 That said, if you have someone in your household or office who isn't tech-savvy, you may want to stick to the standard button-pushing method to avoid confusion—especially the touch screen models.
Brew Control
Picky about your coffee? You may want to get a Keurig with more brewing customization, such as strength or temperature levels.
The K-Mini or K-Slim models don't give you the option to customize your cup, but the K-Elite and the K-Supreme models do.
You should also consider the K-Supreme models if you prefer iced coffee or tea—the more basic models do not have the iced beverage option.
The temperature customization feature on some models allows you to regulate your brew from 187 degrees to 192 degrees Fahrenheit.
Other Features
Consider what you want out of a coffee maker. Do you want a simple, everyday brew? Or are you looking to expand your coffee-making expertise with lattes and cappuccinos?
If storage is an issue for you, select a Keurig with cord storage. That way, there is no concern about your machine taking up too much space or cluttering your counter.
Some other features to think about:
Movable water reservoir: Do you need to be able to move your Keurig with ease, or change the postion of the water tank for fitting your countertop?
Budget: How much are you willing to spend? Are you on a tight budget?
Purchasing a Keurig isn't cheap no matter what model you buy, but there are more inexpensive options in their product range.
Additionally, if you forget to put your coffee on a lot or you're often rushing in the morning, you might want to get a Keurig with programmable brewing times. That way, your coffee is ready whenever you need it.
Maintenance
Ponder how much time you're willing to spend cleaning your Keurig. All Keurigs require some maintenance, but some are more strenuous to clean than others—for instance, a much deeper reservoir means more calcium deposits to clean.
Needle maintenance is also crucial with all Keurigs, and it's not a challenging process. But if you want something you're never going to have to clean, you might not want a Keurig. Needle maintenance ensures that your coffee is free of old coffee grounds.
Sustainability
In the past, Keurig was criticized by climate activists because coffee pods are single-use plastics that end up in landfills.
However, in 2020, Keurig Dr. Pepper began to change their practices to be more environmentally friendly.
Keurig Dr. Pepper has a campaign called Drink Well, Do Good in which they have several goals and aspirations:
Convert all packaging to 100% recyclable materials by 2025
Achieve 20% virgin plastic reduction by 2025
Use 25% post-consumer materials for packaging by 2025
Keurig Dr. Pepper's most recent move was to change Snapple packaging to 100% recycled plastic, which resulted in a reduction of 47.5 million pounds of waste.
Climate change is another issue Keurig is fighting—they want 100% of their electricity from renewable sources by 2025. They have also reduced mileage in fleet routes, started using more climate-friendly fuels, and replacing older vehicles.
These efforts alone have reduced their greenhouse gas emissions by 23% and their carbon monoxide emissions by 83%.
Most K-Cup pods are recyclable in 2021, and that number is only going to increase.
Conclusion
So, what's the best Keurig coffee maker of 2023?
We think the best pick is the Keurig K-Supreme. We like the newer model equipped with the latest technology. We tested it and found the coffee taste better than the previous models. If you have more budget, Keurig K-Supreme Plus is also a great choice.
The K-Supreme is larger than the K-Mini, more powerful than the K-Classic, and less complex than the K-Duo, making it ideal for coffee lovers of any age.
As the latest and greatest Keurig model, the K-Supreme is bound to make your favorite brew taste even better.
References:
[1] Market share of single-cup coffee in the United States in 2021, by leading brands – Published by Jan Conway, Jul 14, 2021 – https://www.statista.com/statistics/315036/market-share-of-single-cup-coffee-in-the-us-by-leading-brand/