There are many options to consider if you're looking for an entry-level super-automatic machine. One of the most compelling is a relatively new release – DeLonghi Magnifica Evo.
There's no doubt that the company has a well-earned and established reputation, but does its latest foray into the entry-level market uphold its high standards?
We'll take an in-depth look at the product, including its build quality, value for money, ease of use, and coffee quality, to determine how well it stands up against competitors aimed at domestic brewing beginners. Let's get started.
What Is The Delonghi Magnifica Evo?
De'Longhi's Magnifica Evo is one of the newest entry-level super-automatic espresso machines on the market, having been released in 2022.
When De'Longhi releases a new machine, it's wise to sit up and take notice as it has a stellar reputation after being established in 1902 in Italy. In particular, Delonghi espresso machines are considered high-end products on the market. As well as its strong brand reputation, the company is also celebrated for the design of its innovative designs and high-quality products.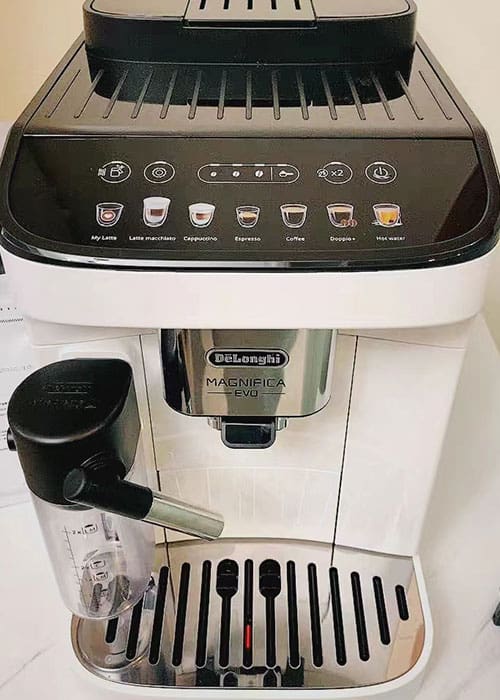 With the Magnifica Evo, not one but two new models are available – the ECAM29084SB with an automatic LatteCrema system and the more affordable ECAM29043SB, which has a manual steam wand. This article focuses on the former.
There is much to admire about the coffee and espresso machine, although it is not without its flaws. Let's take a look at its most significant advantages and drawbacks.
De'Longhi ECAM29084SB Magnifica Evo with LatteCrema Espresso Machine
Pros:
Compact

Innovative milk foam system

Ease of use, including intuitive one-touch drink options and customizable "My Latte" drink option

High-quality espresso and milk froth

Value for money
Cons:
Slightly disappointing plastic exterior

Inability to customize milk froth density

No display screen meaning it's not as intuitive as it could be
We earn a commission if you make a purchase, at no additional cost to you.
De'Longhi Magnifica Evo Review
Design And Build Quality
The machine is compact at just 14.2in x 9.5in x 17.4in. Meanwhile, it looks sleek and streamlined with its glossy casing. One downside is its plastic. However, that is not unusual for an entry-level machine with its relatively low price point.
Where the machine comes into its own is with the high-quality features it contains. There is a conical burr grinder with 13 adjustment sizes. Meanwhile, you can find a ground coffee bypass chute for easily adding coffee grounds for those who prefer to use pre-ground coffee.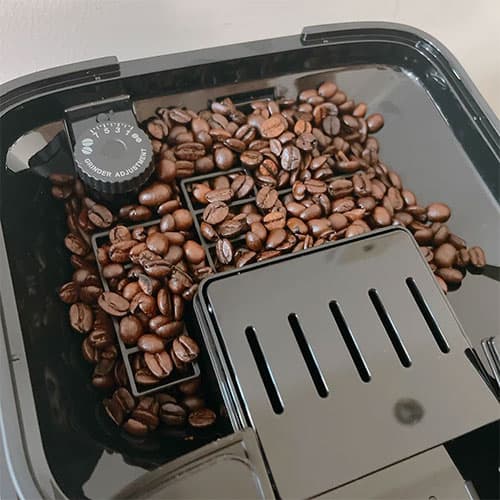 The machine also has an adjustable coffee spout, meaning you can move it closer to your mug to help preserve the all-important crema. In addition, there is a water reservoir with a generous 60.9fl. oz capacity, meaning you won't need to refill it too often. Finally, the machine is also equipped with an 8.8oz bean hopper.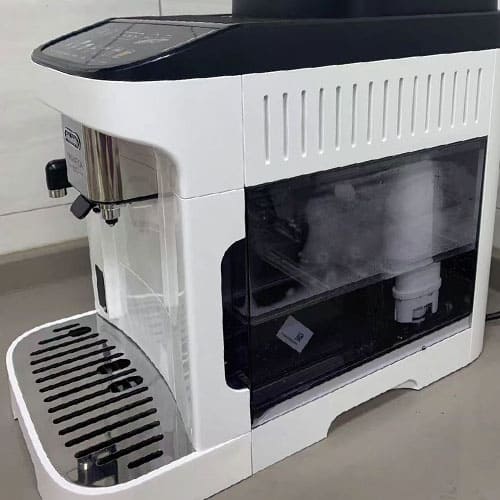 Overall, this bean-to-cup machine is robust, and considering how compact it is, it packs plenty of useful essentials for making beautiful espresso easily and consistently.
Drinks Options
Of course, the real proof of any espresso machine's worth is in the quality and variety of drinks it produces as you aim to recreate your favorite Italian espresso beverages from your local coffee shop in the comfort of your home.
The DeLonghi Magnifica Evo can dispense customized coffee drinks with one touch. Overall, there are seven preset recipes for rich espresso, regular black coffee (Americano), iced coffee (brew doppio), latte macchiato, cappuccino, latte, and hot water.
* In some markets, the 6th option can be over-ice, long or doppio+, we assume they do the same thing, brew a longer shot.
Meanwhile, the machine's My Latte button allows you to customize and save new recipes.
User Interface
While there isn't a display screen, the user interface is intuitive and easy to use.
There are seven colored icons and names of drink options, which you can select to choose the drink you require. Meanwhile, above those are some other options to make changes to your drink, such as strength.
One small issue is the slightly tricky nature of customizing your drink volume. To do this, you need to press and hold the espresso button to start programming the shot volume, and stop when it reaches your desired level – not particularly tricky, then, but neither is it as intuitive as using a display screen.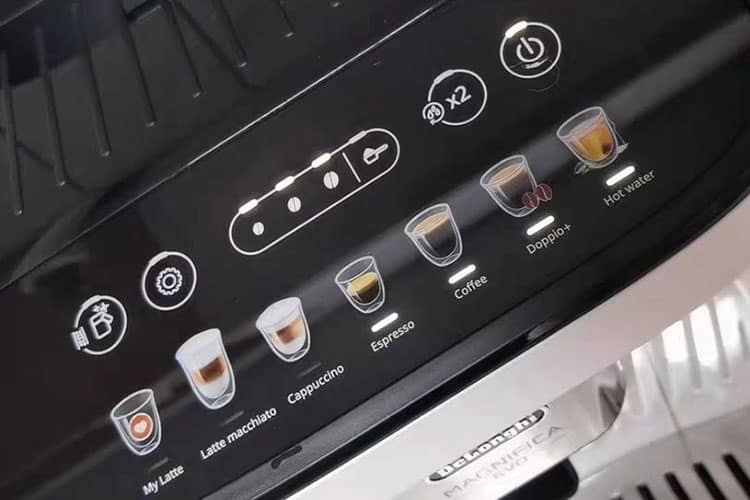 Coffee Drink Quality
If you're using freshly ground coffee, this fully automatic espresso machine brews only the freshest espresso-based drinks every time.
Meanwhile, the automatic milk carafe creates the perfect milk froth and selects the appropriate volume of milk to froth, depending on your drink recipe. You don't have to decide how much milk to use for each drink or learn how to froth milk.
So, if you are making latte macchiato, Delonghi Magnifica Evo will pour 3/4 cup of the hot milk into your tall glass, then pull a double espresso shot over it to provide a beautiful layer in the middle.
On the other hand, when it makes cappuccino, the milk froth is denser, while it will use just 1/2 cup of milk.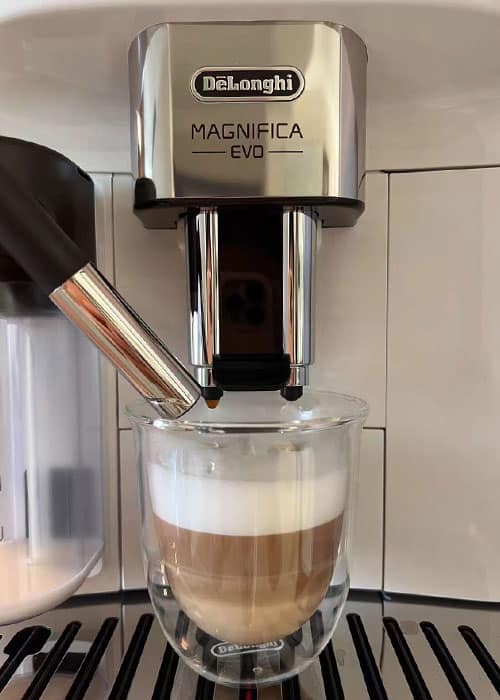 One issue is the customization using the My Latte button, which is not intuitive. That option will use all the milk in the container, meaning there's no option to customize the milk volume.
You can't adjust the coffee temperature, texture of your steamed milk – something you would expect in a higher-end espresso machine.
The User Experience
How To Make A Drink With The DeLonghi Magnifica Evo
Making a drink with DeLonghi Magnifica Evo is easy.
Ensure you have enough milk or your favorite milk alternatives in your milk container and place your cup beneath its spout.
Select a strength of coffee or the bypass doser, then select the drink you'd like to make by pressing the appropriate icon.
It will automatically craft espresso beverages. For hot water, attach the water spout and select the hot water icon.
To ensure you get the perfect drink, selecting the correct grind size for your coffee beans is important. However, adjusting it is also easy, with a dial in the bean hopper.
Cleaning Up The DeLonghi Magnifica Evo
The drip tray and water reservoir are removable and easy to rinse.
Meanwhile, another touch of a button sees the milk spout rinsed and ready for the next use. Just ensure a cup is placed beneath it, press the button on the left of the user interface, and it will do the rest.
Finally, every so often, you will need to descale the machine. Use the De'Longhi descaler to do this and allow around 45 minutes for it to complete the task.
Value For Money
The DeLonghi Magnifica Evo compares favorably to the price of rival entry-level super-automatic coffee machines. For example, it's a similar cost to the Philips 3200 and 5400 series machines.
Meanwhile, in the same range are two other De'Longhi efforts, the ESAM3300 and Magnifica S. However, compared to the Magnifica Evo, they are a little outdated in design and functionality.
For a bean-to-cup espresso machine, the machine offers plenty of value for money and boasts the latest design and technology. There is also a two-year warranty for peace of mind, meaning it's an excellent entry-level option.
Things To Consider Before Buying
While the DeLonghi Magnifica Evo has up-to-date design and technology, there are some drawbacks.
For example, the lack of a display screen means that, while it is easy to use, it's not as simple as some other machines.
There's also no scope for saving multiple user profiles. Yes, the My Latte option is useful, but it is limited if there's more than one person regularly using the machine.
On the My Latte feature, it ensures you can customize everything from brew strength to volume, you can't customize the density of the milk foam, which is a drawback.
Finally, you may be put off by the predominantly plastic housing, which is inferior to machines with stainless steel casing.
DeLonghi Magnifica Evo Alternatives
Philips 4300 Series
We earn a commission if you make a purchase, at no additional cost to you.
While the Philips EP4347/94 is more expensive than the Magnifica Evo, it's not by much. Also, there are several key areas where it surpasses the De'Longhi alternative, notably in its eight recipes, ability to store three user profiles – perfect for households with more than one coffee enthusiast, and large TFT display, which makes it more intuitive to program.
There are also more customization options, while its LatteGo milk system ensures comparable silky smooth foam.
Meanwhile, it has a similar design to the Magnifica Evo and is even more compact, making it a serious consideration for those with limited countertop space.
Gaggia Magenta Prestige
We earn a commission if you make a purchase, at no additional cost to you.
The Gaggia Magenta Prestige is another bean-to-cup machine with a predominantly plastic casing and compact size.
However, it packs even more recipes than the previous two machines – 12. There are also more customization options while honing your selection is straightforward thanks to its full-color LCD.
For a similar price to the Magnifica Evo and Philips 4300 Series, it's another that deserves strong consideration.
Final Thoughts
While there are several entry-level espresso machines on the market, the introduction of the DeLonghi Magnifico Evo is a welcome addition and is well worth considering.
While it lacks the customization and recipe selection of some rivals, it excels with its high-quality espresso, excellent milk foam and ability to produce gorgeous layers in your milk-based espresso drinks. The machine is also compact, making it ideal for anyone with limited countertop space and easy to clean and maintain.
There are some limitations, including the limited customization options.
Still, with a two-year warranty and solid brand reputation, there is more to recommend the machine than not – for anyone beginning their espresso brewing journey, it is an excellent option to consider.