De'Longhi is an Italian company with over a century of history and active in the coffee machine market since 1993. In the interim years, it has excelled in making high-quality products across almost every price category. These include both semi-automatic and super-automatic coffee machines.
The first of the company's super-automatic espresso machine range, the Magnifica series, launched in 2003. These are the best entry-level models at an affordable price range. The Dinamica line came next, with machines offering greater functionality. Delonghi Dinamica is a great option for coffee lovers in the market for a mid-range automatic coffee machine that produces beautiful coffee at the touch of a button.
This review focuses on the latest in De'Longhi's Dinamica range, the Dinamica Plus ECAM370.95. This coffee maker has all the hallmarks of a top-level DeLonghi machine, with some additional features.
The article also covers some of the other popular models in the Dinamica range to ascertain which is the best machine for you.
Also Read: Best Delonghi Coffee Machines Reviews
DeLonghi Dinamica Plus Review – ECAM370.95
Last update on 2023-03-26 / As an Amazon Associate, if you buy via the links, Brewcoffeehome earns a commission at no extra cost to you.
Pros
Sixteen one-touch coffee drink options
The touchscreen is intuitive and user-friendly
It offers the ultimate brewing personalization with three user profiles
Set and brew your coffee using a smartphone with the De'Longhi Coffee Link app
Uses the most up-to-date De'Longhi brewing technology and has an upgraded milk carafe
Cons
The most expensive in the Dinamica range
De'Longhi tends to use a lot of plastic on its machines, and the Dinamica Plus is no exception
Design And Build Quality
The DeLonghi Dinamica Plus is a new model, and it shows, with a contemporary and refined appearance.
At the front is a slick 3.5in TFT touchscreen that helps the Dinamica Plus stand out from other Dinamica models. The screen also has a crystal-clear display and excellent contrast. Many similarly priced automatic espresso machines have color screens, including the Gaggia Cadorna Prestige, Saeco Xelsis, and Jura ENA8, and this time, De'Longhi is following suit.
The addition of the touchscreen, more than anything, lends the Dinamica Plus an attractive, premium aesthetic that will offer a "wow" factor to any kitchen countertop.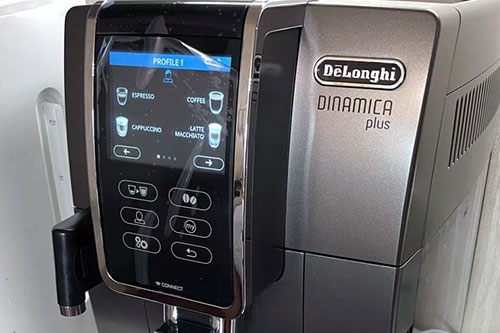 The machine has an integrated burr grinder on top, boasting 13 grind settings. This means you can make tweaks depending on your bean type and roasts. The top of the machine also has a bypass doser, meaning you can use a single scoop of pre-ground beans to make a coffee of your choice. This feature is particularly useful if you prefer a decaf coffee in the evening. However, it's a great option to have whenever you want to bypass coffee grinding and use pre-ground beans.
The front of the machine has adjustable coffee spouts, which offer the necessary clearance when using a taller cup, and help prevent the dreaded splashing of your precious drink when you're using a far smaller demitasse cup for espresso. There's also a hot water connection nozzle on the left, where you can connect either your hot water spout or a milk container.
De'Longhi was once something of an outlier as far as it had its water tanks positioned at the front of its machines. However, nowadays, many other manufacturers have the same. Furthermore, this design saves more vertical space, ensuring the machine fits well under a kitchen cabinet.
The machine has compact dimensions of 9in wide, 14in tall, and 16in deep. Meanwhile, the bean hopper has a 10.5oz capacity, while the water tank holds a generous 61fl oz. This is large enough that you won't need to refill it every couple of drinks, which is a relatively minor issue on the surface, but significantly enhances the overall user experience.
As with other mid-priced machines, there's not much stainless steel in the Dinamca Plus's build. Instead, there is a substantial amount of plastic. However, it has a solid feel, and the titanium color gives it a high-end appearance, so it's not a major issue.
Indeed, recently, Hollywood actor Brad Pitt starred in a De'Longhi commercial, and the Dinamica Plus looks amazing on the countertop, so the predominance of the plastic takes nothing away from the premium feel of the machine.
Drink Options
If you enjoy espresso and a range of specialty drinks, the DeLonghi Dimanica Plus is a great option as there are 16 beverage options. The machine brews great coffee, including single and double espresso shots and lungo. However, it is equally adept at a range of milk-based espresso beverages, including latte macchiato, cappuccino, espresso macchiato, flat white, and hot milk. Meanwhile, it has automatic milk frothing, meaning you can have your beverage at the touch of a button.
The Dinamica Plus can also make a pot of coffee, which is a rarity for an espresso machine, and otherwise limited to some Miele automatic machines and Jura espresso machines to the best of our knowledge.
This ability to make a large batch of coffee is extremely useful if you have guests staying. However, the coffee it brews is more akin to Americano rather than drip coffee, so your guests may detect a slightly different flavor to what they'd expect. After all, this is an espresso maker rather than an SCA-certified drip coffee maker, and Americano is an espresso-based drink.
Besides hot coffee, the Dinamica Plus is great for making full-bodied iced coffee, too. De'Longhi espresso machines have a unique Truebrew over ice feature. The machine spends longer grinding beans for a higher dosage. It also performs a longer pre-infusion and extraction, and uses the water at a lower temperature. All of these eschew a weak and watery iced coffee.
Finally, you can swap out the latte crema system for a hot water spout to dispense hot water for either Americano or tea.
Coffee Quality
As you'd expect from an automatic espresso machine, the DeLonghi Dinamica Plus brews beautiful espresso replete with rich and enticing crema. Of course, fresh coffee beans help as they always produce higher-quality flavors and aromas than pre-ground beans.
The Dinamica Plus uses 19 bars of pump pressure, which improves the 15 bars of the pressure of other models in the range. It's important to note that the higher pressure doesn't necessarily lead to better results. However, the machine's brew unit should create a better pairing of flavor and crema.
The DeLonghi Dinamica Plus also froths alternative milk beautifully, including oat and almond milk, significantly improving many other automatic espresso machines.
Overall, one of the most appealing elements of the machine is its ability to make milk-based espresso drinks. The coffees it makes taste and look like the ones you'd expect in a coffee shop.
Milk Frothing
One of the things that makes the DeLonghi Dinamica range so unique is its patented latte crema system.
The Dinamica Plus is a fully automatic milk frothing machine that doubles as a milk carafe that you can store in your fridge. It makes either microfoam for flat white and latte or creamy foam for cappuccino. However, it's not easy to use it for making latte art.
The latte crema system on Dinamica machines is fantastic, but the one on the Dinamica Plus is even better. Now, the system has a thermal carafe with double-walled insulation. This addition means you can leave it on your kitchen countertop for a longer period and keep the milk at a suitably cold temperature.
Cold milk temperature is crucial for milk foaming because warm milk reaches the optimum temperature too soon before creating the texture. Milk at too high a temperature is also susceptible to curdling and acidity. In other words, De'Longhi identified a problem and solved it, which is a great indicator that this is a company dedicated to making its customers' user experiences as good as they can be.
Programmability
Customization And User Profiles
Another excellent feature of the machine is its fantastic programmability. For example, you can completely customize the aroma (strength) and quantity of milk and coffee via the touchscreen.
To customize your drinks, tap on the "My Coffee" button on the touchscreen. From there, it takes you through the customization. It even allows you to customize your beverage while it's brewing, making it incredibly convenient for volumetric control. This means you can easily control the amount of milk and coffee you get for your particular cup.
There are three user profiles, and you can customize your drinks in each. So, if several coffee drinkers are in your home, each can set drinks to their specifications.
De'Longhi's Coffee Link App
You can also use the machine in conjunction with De'Longhi's Coffee Link app. This allows you to control the machine using your smartphone or tablet on an Android or iOS operating system, which is an excellent feature.
Some brands require you to buy an additional receiver to access the Wi-Fi connectivity, but not De'Longhi, whose machines are ready to connect when you unbox them.
Using the app is easy. For example, if you want to use it to brew a cappuccino, you select the cup size, then choose whether to brew the coffee first or froth the milk first. Meanwhile, you can customize the coffee quantity, coffee aroma, and temperature. You can also alter the milk quantity by time.
When you've set everything up, it will remain in the menu for the next time you use it. There's nothing you can't do via the app.
Once you select the "Prepare" button, you can see the brewing progress, but you don't need to do any more than wait until the coffee is ready. This is a time-saver because there's no need for you to wait beside the machine. You just need to position your cup correctly underneath the coffee spout, and the machine will do the rest.
Ease Of Use
The Dinamica Plus has a lengthy instruction manual, but don't let it worry you, as using the machine is very straightforward. Once you set up your preferences and get a general feel for the machine, you just need to add coffee beans and press a button. Compared to older models, De'Longhi does an excellent job in ensuring a more hassle-free user experience with the Dinamica Plus.
You can immediately see the coffee you brew the most regularly on the touchscreen, which is a thoughtful and intelligent update. You can also scroll sideways by pushing the arrow symbol to present more beverage options. The images on the display are clear, meaning choosing the correct drink option is easy. Meanwhile, the screen is neither overly sensitive nor lagging, so using it is anything but a frustrating experience.
With fewer than two button pushes, you can find your coffee selection, user profile, and system menu. Combined with the app, using the machine couldn't be easier.
Finally, the Dinamica Plus is quieter during grinding and milk frothing than many other grind and brew coffee makers, which is another significant advantage, particularly if you normally use the machine when others in your household are asleep.
Cleaning And Maintenance
Whenever the machine is turned on or off, it undergoes a rinse cycle automatically to ensure it is clean and ready for making coffee. Meanwhile, to clean the brew unit, you just remove it from the side once a month, and rinse it in warm water.
The latte crema system has a clean function too and is dishwasher safe. Move the dial to "Clean" and you can purge the frothing pipe. Then, you can store it in your fridge without any milk residue in the container.
If you use the Dinamica Plus every day, you'll need to empty the drip tray, rinse it, and remove the spent coffee grounds from the coffee grounds container. The Dinamica Plus also has a water filter. However, the machine will indicate when it's time for a new filter or if the machine needs descaling.
Value For Money
Given all the improvements on previous models, it's no surprise that the Dinamica Plus is the most expensive of all of them. The next section compares the line-up so you can determine whether it's worth paying more for the newer machine.
Meanwhile, rival manufacturers, including Saeco, Gaggia, Jura, and Philips, also make good machines for a similar price. So, if you're not wedded to the notion of a De'Longhi, there are impressive alternatives that will do an excellent job within your budget. We'll examine some of those a little later.
Nevertheless, the DeLonghi Dinamica Plus is one of the best mid-priced automatic espresso machines. Considering its brew performance and user-friendliness, it certainly offers value for money. If you want more options from more price ranges, check our list of the best-picked automatic espresso machines here.
Comparison Of The DeLonghi Dinamica Line-Up
The Dinamica Plus has all the elements you'd find in other Dinamica models, but it's still worth understanding their differences before deciding which one to buy. This section compares the most popular machines so you can identify their similarities and differences.
The model numbers seem confusing and complicated. However, they all begin with ECAM350 or ECAM370. Next comes a decimal point with a double-digit number. The higher that number, the better equipment and functionality you can expect. Finally, there's a letter at the end of each model number. We'll omit these are they only indicate the color.
In the Dinamica range, we'll focus on the following models:
Best Overall
Dinamica Plus
De'Longhi Dinamica Automatic Coffee & Espresso...
Adjustable Grinder With 13 Settings
Milk Frothing
Thermal LatteCrema milk carafe - Automatic
LatteCrema milk carafe - Automatic
Coffee Link App Compatibility
Best Overall
Adjustable Grinder With 13 Settings
Milk Frothing
Thermal LatteCrema milk carafe - Automatic
Coffee Link App Compatibility
Adjustable Grinder With 13 Settings
Milk Frothing
LatteCrema milk carafe - Automatic
Coffee Link App Compatibility
De'Longhi Dinamica Automatic Coffee & Espresso...
Adjustable Grinder With 13 Settings
Coffee Link App Compatibility
Last update on 2023-03-26 / As an Amazon Associate, if you buy via the links, Brewcoffeehome earns a commission at no extra cost to you.
Dinamica ECAM350.20
Dinamica ECAM350.25
Dinamica ECAM350.75
Dinamica ECAM370.95
Common Features Of Each DeLonghi Dinamica Machine
Bean-To-Cup Automatic Machine
Every DeLonghi Dinamica Machine has an adjustable 13-setting built-in grinder. This means in each, you can brew coffee with freshly ground beans.
Pre-Ground Coffee Funnel
Every Dinamica machine has a pre-ground coffee funnel allowing you to use ground coffee.
Iced Coffee Feature
Each model listed above has the Truebrew over ice feature for making delicious cold coffee.
Similar Dimensions
All the machines are a similar size. They have a compact footprint, so they won't need much countertop space.
Difference Between DeLonghi Dinamica Machines
Milk Frothing
The ECAM350.20 and ECAM350.25 have a manual steam wand, with the latter having an upgraded adjustable milk frother. The Panarello wand lets you steam milk for either latte or cappuccino.
The ECAM350.75 and ECAM370.95 use the LatteCrema milk carafe for fully automatic milk drinks preparation.
One-Touch Coffee Drink Options
The ECAM350.20 and ECAM350.25 brew espresso, lungo, drip-style coffee, and iced coffee.
The ECAM350.75 and ECAM370.95 have 16 coffee options, ranging from espresso to milk-based espresso beverages. However, only the latter can brew a full pot of coffee.
Control Panel (Display)
The ECAM350.20 and ECAM350.25 each have an icon display. Meanwhile, the ECAM350.75 has a text-based LCD with touch buttons. Finally, the new ECAM370.95 has a 3.5in touchscreen.
Heating System
The ECAM350.75 and ECAM370.95 have dual heating systems, so there's no waiting between brewing and steaming. However, the cheaper ECAM350.20 and ECAM350.25 take between 30 and 40 seconds to reach the optimum temperature for milk frothing.
Coffee Link App Compatibility
The Dinamica Plus ECAM370.95 is the only model that supports a Wi-Fi connection to the Coffee Link app.
Which DeLonghi Dinamica Machine Should I Purchase?
If you want a machine with the LatteCrema system to automatically create milk foam for your milk-based espresso drinks at the push of a button, the ECAM350.75 and ECAM370.95 are the best options.
The ECAM370.95 offers a clear, premium-looking, user-friendly touchscreen with Wi-Fi connectivity if you're happy to pay more. However, if those features aren't necessary, the ECAM350.75 is still an excellent choice.
The ECAM350.20 and ECAM350.25 are cheaper, and you'll need to froth the milk manually. However, of the two, the ECAM350.25 has an updated milk frother that allows you to adjust the milk froth. This is superior to the ECAM350.20.
DeLonghi Dinamica Plus Alternatives
Apart from the DeLonghi Dinamica Plus, there are a few options if you're looking for a machine with an automatic milk frother. Here are the best similarly priced automatic espresso machines with milk frothers.
Philips 4300 Fully Automatic Espresso Machine
Last update on 2023-03-26 / As an Amazon Associate, if you buy via the links, Brewcoffeehome earns a commission at no extra cost to you.
This Philips 4300 has eight preset coffee drink options. Meanwhile, the LatteGo system lets you create specialty drinks with one touch. Elsewhere, the TFT display lets you customize the coffee settings with ease. Overall, even though there are fewer preset options, this is an excellent machine that is less expensive than the Dinamica Plus ECAM370.95.
Gaggia Cadorna Prestige Super-Automatic Espresso Machine
Last update on 2023-03-26 / As an Amazon Associate, if you buy via the links, Brewcoffeehome earns a commission at no extra cost to you.
The Gaggia Cadorna Prestige is a one-touch automatic espresso machine with 14 pre-programmed drinks. There is also a full-color TFT display and an integrated milk carafe. Frankly, this is a great machine that brews beautiful coffee. You can find out more in our Gaggia Cadorna Prestige review.
Saeco Xelsis Super Automatic Espresso Machine
Last update on 2023-03-26 / As an Amazon Associate, if you buy via the links, Brewcoffeehome earns a commission at no extra cost to you.
Saeco Xelsis has a 3.5in touchscreen and makes up to 15 specialty coffee beverages. Many customization options include five coffee strength levels, three temperature levels, and up to 12 grind settings. Overall, it is a comparable machine to the Dinamica Plus. However, it is also more expensive.
Our Verdict
The Dinamica Plus compares favorably against any other mid-range super-automatic espresso machine, offering great functionality, ease of use, and a range of beautiful coffees at the touch of a button.
The machine is also compact enough that it won't take up too much space on your countertop, while it's sturdy enough to offer a premium aesthetic, even though much of the exterior uses plastic.
One of the nicest additions to the Dinamica Plus over other models in the range is the intuitive touchscreen, which adds significantly to the overall user experience.
Meanwhile, the Wi-Fi connectivity and ability to program the machine via the dedicated app on your smartphone or tablet is a masterstroke, leading to a truly hassle-free experience that you'd struggle to replicate with another machine in a similar price range.
Yes, the Dinamica Plus costs more than other machines in the Dinamica line-up, but if you're happy to pay the extra, you'll get a machine that's a pleasure to use and brews consistently beautiful coffee.
DeLonghi Dinamica FAQs
What accessories come with the DeLonghi Dinamica Plus?
As you unbox the De'Longhi Dinamica Plus, you will find a power cord, a hot water spout, a coffee scoop, a descaler, a milk container, and a cleaning brush. There are also instruction manuals and the water hardness test indicator paper. Additionally, there's a water filter that you plug into the water tank to ensure the water is properly filtered.
What are the terms of the warranty?
Every De'Longhi machine comes with a two-year warranty, extending by a year if you register the product. In other words, it offers ample peace of mind.
Where are the DeLonghi Dinamica espresso machines made?
The ECAM350.75SI and ECAM370.95TI are built in Italy. Meanwhile, the ECAM350.20 and ECAM350.25 are built in Romania.