DeLonghi manufactures some of the most reliable and quality small appliances that have helped them to climb ladders and be the favorite to many users. If you're here, the chances are that you're considering getting the best De'Longhi Espresso machine, or you heard an interesting review about them and are curious to confirm.
Whatever the case, we respond to your concerns through a comprehensive DeLonghi Espresso Machines review to help you decide.
About De'Longhi
De'Longhi is an award-winning Italian small appliances company headquartered in Treviso, Italy. It inherited its name from the founding family, the De'Longhi, in 1902, where it was mainly for manufacturing small industrial parts.
DeLonghi has grown and transformed over time, but its focus on providing customer value and reliability has never changed. Their line of Espresso Machines, with famous names like the Dedica and Magnifica, have never disappointed and continue to command considerable favor from coffee lovers worldwide.
De'Longhi Espresso Machines Product Line Overview
Semi-automatic Espresso Makers by DeLonghi
A manual Espresso DeLonghi machine is an excellent choice if you love the taste of personalized coffee flavors and find joy in being your barista at home. These machines allow you to fully control the brewing process and create tasty espressos drinks that will grip even the creepiest tastes of a coffee aficionado.
Even better, the machines come with detailed instructions and friendly user manuals to help you brew like a pro even on your first attempt. Some of the categories here include:
La Specialista Series – High-end semi-automatic machines by De'Longhi
ECP3220 and EC260 – for a budget-friendly coffee experience
Icona Series – for a stylish lifestyle
Dedica Series – the favorite for most beginners
Also Read: Top 8 Semi Automatic Coffee Machines
Fully Automatic Espresso Machines by DeLonghi
Business and tight schedules don't have to get in the way of your love for the aroma and smooth taste of a barista-quality espresso. Not when you can sort yourself with one of the best automatic DeLonghi Espresso Machines.
These DeLonghi pieces come fitted with an integrated burr grinder, which gives them the ability to grind and brew an exact amount of coffee beans simultaneously. Similarly, most of them have patented detachable milk frothing systems to better your experience. Here are some automatic coffee makers from DeLonghi.
Premium Series – PrimaDonna Soul, Maestosa, Eletta
Mid-Range Series – Dinamica with LatteCrema, Dinamica Plus
Entry Levels – Magnifica, including ECAM3300 and XS line
Also Read: Top 10 Super Automatic Coffee Machines
All-In-1 Dual Coffee Makers by DeLonghi
An all-in-1 DeLonghi Espresso Machine is an excellent choice if you want to enjoy espresso drinks but don't want to let go of the traditional drip coffee. Dual coffee makers allow you to brew your favorite drip coffee and an espresso, all in one machine.
Thus, they make it easy for you to make your drip quickly on a busy morning. If you get time over the weekend, their hands-on brewing process allows you to savor the personalized taste you desire, as you would with manual espresso machines.
COM530M and BOC430 are some of the best DeLonghi coffee machines that exhibit these features.
Also Read: Top 7 Two Way Coffee Makers
Nespresso Machines
Have you ever wondered why some Nespresso machines have a De'Longhi name scripted on them? Well, here's the deal.
While there are several Nespresso machines to pick on various stores, Nespresso exclusively specializes in coffee and not the machines. Thus, the machines you see branded as Nespresso are manufactured by other companies.
DeLonghi is one of such manufacturers. They specialize in manufacturing some of the best quality and reliable Nespresso coffee machines that impress users globally. Some of their top-ranking pieces in this category include Essenza, Pixie, Inissia, CitiZ, Lattissima in the Nespresso original line, and all the models in Vertuoline.
Also Read: Top 7 Nespresso Coffee Machines
7 Best De'Longhi Espresso Machines Reviews 2023
1. DeLonghi Dinamica ECAM3507SI – Best Overall
Super-automatic espresso machine
Programmable brewing options: 18
Control: LCD Interface
Grinder setting: 13
Milk Frothing: Integrated milk carafe, automatic
Dimensions: 16.9 x 9.3 x 13.7 inches
De'Longhi Dinamica ECAM3507SI offers up to 18 espresso and coffee recipes, with an automatic bean to cup switch to give you authentic barista quality beverages with a push of a button.
Like all the super-automatic machines, it also comes with a built-in burr grinder, which allows you to set it into 13 options to ensure the quality of your coffee, despite the beans you choose. There's a bypass doser on top so you can use coffee grounds directly. It's handy if you want to try different coffees or make a cup of decaf at night.
The Dinamica's beautiful, compact and contemporary designs include a user-friendly LCD to ease the process of selecting and brewing your favorite drink. Also, it comes with automatic and modifiable milk frothing from the LatteCrema system to ensure your cappuccinos and lattes get the perfect texture.
Dinamica ECAM3507SI is an ultimate choice if you're looking for fresh and tasty iced coffee or want to enjoy a silky-smooth espresso, latte, cappuccino, ristretto, flat white, or macchiato. By just pressing a button, you get to savor the taste that you desire.
2. De'Longhi La Specialista Espresso Machine – Best Semi-Automatic Machine
Semi-automatic machine
Built-in Grinder: Yes
Grind settings: Sensor grinder with 6 settings
Pressure: 15 bar
Dual heating, smart tamping, authentic Americano
Milk Frothing: Pannarello Wand, latte system
Dimensions: 14.48 x 15 x 17.5 inches
The De'Longhi La Specialista is the best option if you're looking for an opportunity to pull a shot like a professional barista. It has a dual heating system, an advanced cappuccino system, and a sensor grinder to ensure you get the best of your brews every time, even for espresso newbies.
The bean sensor, for instance, keeps you updated, ensuring that you never run a deficit. Also, its smart tamping station eliminates the need to remove the portal, leaving you with a mess-free brewing session. It's also friendly to beginners and gives you the evenly tamped coffee pucks shot after shot for the best extraction.
If you love milk-based drinks, you are in luck. The advanced manual frother has a switch that enables you to choose from a rich, frothy cappuccino or a flat latte. Many semi-automatic espresso machines at this price come with a single boiler, there's a transition time between brewing coffee and steaming milk. La Specialista has a double-heating system that allows you to froth milk without waiting. However, it can't brew and steam at the same time.
The machine also comes with a distinct hot water spout, making it the best choice for aficionado Americano brewers and preparing tea.
3. De'Longhi ESAM3300 Magnifica – Best Budget Super Automatic Machine
Super-automatic espresso machine
Programmable brewing options: 2
Control: Buttons
Grinder setting: 13
Milk Frothing: Pannarello Wand, manual
Dimensions: 11 x 15.3 x 14.4 inches
De'Longhi ESAM 300 has been on the market for more than 20 years. It's still one of the best-selling super-automatic coffee machines in many outlets. It's no coincidence that users refer to it as a perfect all-in-one coffee machine, as it delivers that and more.
The ESAM 300 Magnifica consists of all the standard features of a typical espresso machine and includes a few add-ons to make your experience better. The double-boiler system and rapid cappuccino system, for example, ensure that you don't wait a second before brewing your next drink.
Similarly, it comes with an integrated grinder with 13 grind settings and flexible brewing options to fit your taste preferences. Its large coffee bean container and water tank capacity allow brewing in different batches. You can brew single or double-shot espresso by simply pushing a button.
You might be worried about the price, given the numerous exciting features. Little unexpected for you, the ESAM 300 Magnifica is relatively budget-friendly compared to the machines of its caliber. Besides, it is a tried and true espresso machine that has been offering the best experience for more than two decades.
4. De'Longhi Dedica EC680M – Best Entry-Level Semi-Automatic Option
Semi-automatic machine
Built-in Grinder: No
Pressure: 15 bar
Milk Frothing: Pannarello Wand, manual
Heating: Thermoblock
Dimensions: 12.99 x 5.9 x 12.99 inches
Dedica EC680M is affordable, compact, and offers a fully manual option to let you practice your barista skills.
With a 40-seconds boot uptime and less than 2 minutes of brewing time, you can rest assured that your favorite drink will be ready the soonest you desire.
Again, space is never a concern with this compact espresso machine (it only needs about 6 inches of your countertop), making it an excellent add-on to a small kitchen. It also includes an easy-to-adjust, removable double-layered tier to makes your brewing experience thrilling with smaller or taller mugs and cups.
EC680M also has an option if you're thinking of turning yourself into the next professional barista. Since it's such a popular model, you can find mods and tutorials available everywhere on the internet.
The machine comes with three pressurized filter baskets, enabling you to make a single shot, double espresso shots, or using an ESE espresso pod. The manual milk frother included on the side also brews the best, creamy, and thick foam within seconds.
This stylish espresso maker comes in a few colors, including stainless steel, black and red.
5. Nespresso Lattissima Pro – Best and Most Versatile Nespresso Machine
Single Serve Coffee Maker
Coffee Pod – Originalline compatible capsules
Programmable brewing options: 6
Control: Touch screen
Espresso Pressure: 19 bar
Milk Frothing: Integrated milk carafe, automatic
Dimensions: 7.63 x 13.07 x 10.79 inches
Most Nespresso models only brew coffee and espresso. The Lattissima Pro from DeLonghi is an exception, which allows you to get a great espresso shot in no time, but also delicious milk-based coffee drinks.
It's easy to use but comes with advanced technology to offer the best of what other Nespresso models have and some additional great features. Suppose you're looking for a place to enjoy fresh, tasty macchiatos, lattes, espressos, get some hot water, and a few others. In that case, Nespresso Lattissima Pro is the ultimate answer you've been seeking. Its perfectly layered espresso beverages come with rich, dense, long-lasting foam from cup to cup.
Similarly, its patented espresso extraction has 19 bars of pressure, ensuring that you get the best flavor and the favorite temperature at every brew.
The machine is made out of stainless steel in the construction and has a touchscreen, making it a more premium Nespresso model in the lineup. It also has a large 43 oz removable water tank, which is larger than other Nespresso machines.
Lattissima Pro is compatible with Nespresso capsules for originalline machines so you have a wide range of options. It's more convenient than using coffee grounds or whole beans, suitable for those who just want to enjoy quick espresso shots without hassles.
6. De'Longhi BCO430BM All-in-One Coffee Machine – Best Dual Coffee Maker
Dual Coffee Maker
Built-in Grinder: No
Espresso Pressure: 15 bar
Milk Frothing: Pannarello Wand, manual
Drip Coffee: 10-cup glass carafe
Dimensions: 14.5 x 11 x 12.8 inches
What happens if you're in a family of espresso aficionados and drip coffee enthusiasts? The DeLonghi BCO430BM answers yes to all your calls.
It's a dual brewer, with a single side creating the best 15-bar espresso, latte, and cappuccino, while the other end is generating 10 cups of enchanting coffee.
It comes in a sleek design, with its loading system in front for easy access. That way, you don't have to keep turning the machine to reach the water and coffee reservoirs. Since you only need one machine instead of two, this dual coffee maker saves your countertop space.
Similarly, it comes with an advanced active carbon filter to ensure your water remains fresh and pure and your coffee tastes better.
7. De'Longhi ECP3420 Espresso and Cappuccino Machine – Best Budget Delonghi Machine
Semi-automatic machine
Built-in Grinder: No
Pressure: 15 bar
Milk Frothing: Pannarello Wand, manual
Heating: Stainless steel boiler
Dimensions: 9.5 x 7.3 x 12 inches
The DeLonghi ECP3420 is an entry-level and affordable model that provides more than what espresso machines in its level offer. It's a great fit for espresso beginners or coffee lovers who have a limited budget.
Even though the ECP3420 has a relatively lower price point, its espresso comes with a connoisseur-like flavor that captures the heart of many espresso lovers. It is equipped with a stainless steel boiler system for quick repeating. The froth and hot milk option enable you to tailor your milk foam for your favorite espresso beverage.
It's a very straightforward machine without bells and whistles and designed with beginners in mind. You'll find a pressurized portafilter that works great with pre-ground coffee. So even if you don't have a coffee grinder that can grind coffee fine enough for espresso, you can get away with it. It is also compatible with ESE espresso pods for your convenience.
Its second-tier drip tray offers more space for larger cups, and it comes with an appropriate space for storing filters.
Like DeLonghi Dedica 680M, space isn't an issue with the ECP3420. It comes with a compact look and a narrow frame to ensure it fits in even the tiniest spaces.
Factors to Consider When Choosing the Best DeLonghi Espresso Machine
1. Budget
DeLonghi espresso makers differ in prices. Thus, the ultimate machine that you get to take home depends a lot on your budget. While they can go as high as $2500, you can also land a DeLonghi espresso maker at just $100.
It's true that the higher the price, the more features the machine has. However, it doesn't mean that you can't get a great-tasting espresso at a lower price.
For example, ECP3420 offers impressive features but comes at a relatively low budget. Thus, the deal lies in considering the features you need and going for the best DeLonghi Espresso Machine that meets your needs and budget.
2. Semi or Super Automatic
Whether you need to buy a semi or fully automatic DeLonghi espresso machine depends on your schedules and preferences.
A semi-automatic espresso machine is a good choice if you want to be more involved in the brewing process. A manual machine requires a decent espresso grinder to dial in, and some practice to figure out the right steam pressure, ideal brewing temperature, and pressure. If everything's done right, you'll get an authentic espresso like the one you get from your favorite coffee shop. You can also try to make latte art with milk froth.
If you are not ready to learn the espresso brewing technique, opt for a super-automatic machine for maximum convenience and a better experience.
3. Nespresso Or Bean-to-cup Machine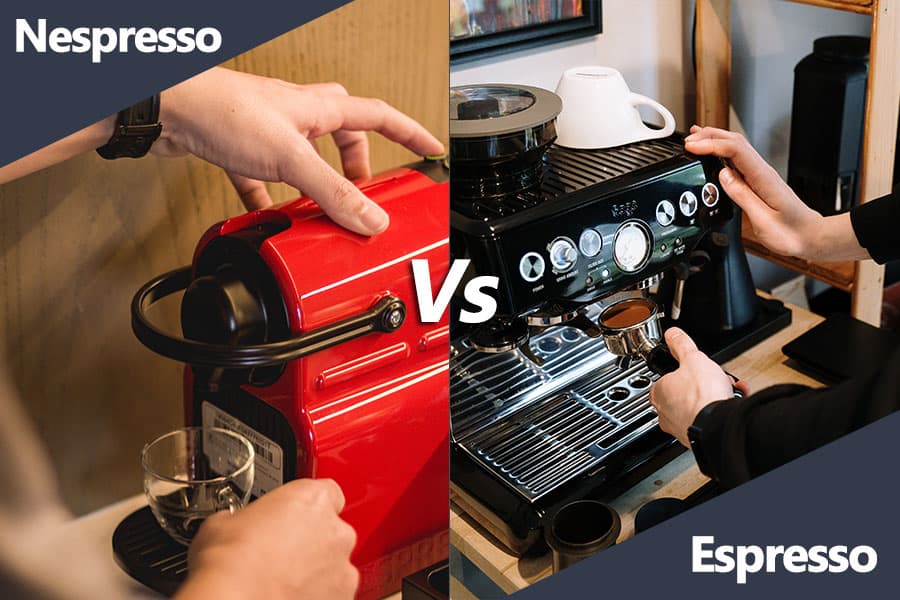 Nespresso coffee makers offer an exclusive experience for black coffee lovers and espresso aficionados. However, a capsule machine can't make high-quality espresso as those best espresso machines that use freshly ground coffee.
Also, only the Lattissima series by DeLonghi and the Creatista series by Breville can brew both milk drinks and espresso, most other Nespresso machines can only make single and double shots without milk options. You'll need to purchase an additional milk frother for specialty coffee drinks.
4. Drink Options
The kind of drink you intend to make with your automatic espresso machine determines what works best for you. Different models create various types of drinks. For example, DeLonghi Dinamica has 18 pre-programmed coffee recipes, while the Magnifica series have only 3 to 5 one-touch recipes.
Thus, reading DeLonghi espresso machine reviews will help you understand what to expect from your favorite pick.
Verdict
If you are looking for a fully automatic espresso machine, DeLonghi Dinamica ECAM3507SI is the best overall. It's not easy to find an alternative at this price range with so many drink options and such high-quality brew quality.
Last update on 2023-12-08 / As an Amazon Associate, if you buy via the links, Brewcoffeehome earns a commission at no extra cost to you.
If you want a semi-automatic machine, De'Longhi La Specialista is the best option. It has all the features that you need for brewing a perfect cup of coffee and offer additional assistance such as auto tamping, sensor grinder for beginner to start their espresso journey.
Last update on 2023-12-07 / As an Amazon Associate, if you buy via the links, Brewcoffeehome earns a commission at no extra cost to you.
Overall, De'Longhi excels in manufacturing a wide variety of coffee makers using the highest quality materials. Looking at most of their designs, it's easy to note that they're mindful of their customers with limited kitchen space.
Most of their machines come with narrow frames and deliver to all their promises. A peep through their customer reviews will show you that most previous buyers of their items are satisfied with the services.
If you're considering DeLonghi for your next or even first coffee maker, we can confidently say that it's a brand you can trust. Their warranty offer (up to 2 years on most machines plus one more year for registering your device) will keep you covered wholesomely.