SMEG is an Italian home appliance manufacturer renowned for its stylish 1950s-style retro designs and premium build quality. The company's domestic coffee machines continue that tradition, offering interesting and beautifully built drip coffee makers, coffee grinders, and semi-automatic espresso machines. Then, in 2021, the company launched two automatic bean-to-cup coffee machines – the BCC01 and BCC02.
If you want an espresso machine that makes beautiful coffee at the touch of a button, a fully automatic machine is your best option.
This is where the BCC01 and BCC02 come in. But are the coffee machines a case of style over substance, and what's the difference between the two models? This article will answer those questions, focusing predominantly on the slightly more expensive BCC02.
If you are interested in more options, check out our best automatic bean-to-cup coffee machines reviews here.
SMEG Bean To Cup Automatic Coffee Machine Models
There are two versions of SMEG's bean-to-cup coffee machine. The key difference is that the BCC01 doesn't offer steaming functionality, but the BCC02 does with a Panarello steam wand.
This means that choosing between the two should be straightforward. For example, if you only drink espresso and coffee, the BCC01 will suffice and is less expensive. However, if you want to brew espresso-based drinks, including cappuccino and latte, you'll need the BCC02. However, each coffee machine brews identical espresso, while their user interfaces are similar.
Last update on 2023-09-26 / As an Amazon Associate, if you buy via the links, Brewcoffeehome earns a commission at no extra cost to you.
Design And Build Quality
SMEG's kitchen appliances always look gorgeous, and its automatic bean-to-cup coffee machine is no exception. It has the trademark 1950s-style retro design of other SMEG appliances. Meanwhile, the design is also simple, lending the machine a pleasing juxtaposition of the past and the future.
Last update on 2023-09-27 / As an Amazon Associate, if you buy via the links, Brewcoffeehome earns a commission at no extra cost to you.
Of course, this also means that whether your kitchen has a contemporary appeal or vintage décor, the coffee machine will be harmonious and eye-catching. In our opinion, the machine looks more contemporary than vintage, but both aesthetics are evident in a beautiful overall design.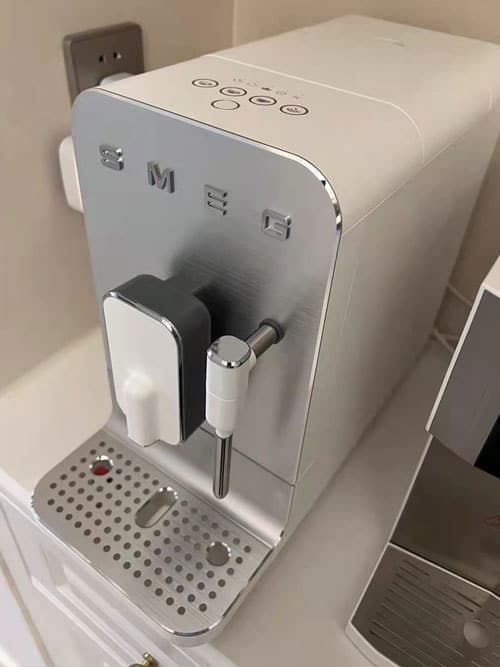 SMEG's ECF01 semi-automatic espresso machine and DCF02 drip coffee maker have shiny exteriors. However, the company has eschewed that look for a brushed aluminum front and matt plastic body with the BCC01 and BCC02. This is good because it's not susceptible to greasy finger marks in the way the other models are, and it retains its elegant aesthetic.
The front of the machine has a height-adjustable coffee spout in the center, with the steam wand on the right. Meanwhile, on top of the machine is its control panel.
The machine is just 7in wide, 13in tall, and 17in deep, making it one of the smallest bean-to-cup coffee machines around and perfect for anyone with limited countertop space.
Nevertheless, despite being so compact, the BCC02 still has a generously-sized hopper on top with a 150g bean capacity. Meanwhile, there is also a water tank with a 47fl-oz (1.4l) capacity.
One drawback of the machine is it lacks a bypass dosing funnel, so it adds a layer of hassle if you want to use different coffee beans. For example, if you prefer using decaf beans on an evening, you'll need to add these manually every time.
The adjustable coffee dispenser can move up or down depending on the cup size. Meanwhile, there is also a removable drip tray, so you can comfortably fit a travel mug beneath the coffee spout. Underneath the spout is a discreet light that comes on when the brewing starts, which is a nice touch and looks great.
Finally, the machine is available in four beautiful colors – white, red, black, and taupe.
The overall impression is of a machine whose aesthetic design is a primary selling point. And what a selling point it is, offering a standout look for any kitchen. However, away from its appearance, how does the BCC02 perform? Let's take a look.
Drink Options
Unlike some bean-to-cup machines, the SMEG BCC02 is not a machine with myriad one-touch drink recipes. However, it does offer some of the most popular drinks options.
The machine will brew drinks including espresso, light espresso, ristretto, light ristretto, black coffee, long coffee, and hot water, all at the touch of a button. Meanwhile, the hot water dispenser makes brewing Americano or tea easy.
Overall, the drinks options are similar to the Philips 3200 series or Jura ENA4.
If you prefer a latte, latte macchiato, or cappuccino, simply pull an espresso shot, then steam your milk with the milk frother to brew whichever espresso-based milk drink you require.
As we mentioned earlier, the BCC01 doesn't have a steam wand, so whereas the BCC02 has a "Steam" function in its secondary menu, this is an Americano recipe on the BCC01. We'll discuss the differences between the primary and secondary menus further on.
Grind And Brew Performance
Because it is a bean-to-cup coffee machine, the BCC02 has a built-in grinder with adjustable settings. That means you can alter the grind size either finer or coarser for a stronger or milder flavor. The finer grinder sizes are perfect for excellent espresso. This is a bonus, as you don't need to spend extra on a separate espresso grinder.
Meanwhile, the machine grinds far more quietly than many other similar espresso machines, so you can make coffee without disturbing others.
The coffee machine has 19 bars of pump pressure and a thermal block heating system, ensuring a beautiful espresso with a rich and enticing crema. Meanwhile, with the BCC02, you can easily create the swirl with the milk frother.
The machine's warm-up is rapid, so waiting to begin brewing isn't a frustrating, time-consuming experience. Another element we like is that once you turn the machine on, the machine automatically rinses the coffee spout, eradicating any odor or residue from the previous brew cycle.
Making espresso doesn't take long either. Indeed, the time between grinding to brewing into your cup is around 30 seconds, which is extremely impressive.
The coffee has an excellent flavor, too, although if you use the factory setting for either espresso or ristretto, it's a little light for our taste preference. However, that issue is easily solved as you can alter the coffee length or use a finer grind size for a more robust flavor.
Ease Of Use
On top of the machine are a line of four buttons and a separate menu button. When you press the menu button, the color of the buttons changes from white to orange.
When the white light illuminates, it indicates you are in the primary menu. In this menu, you can select ristretto, espresso, black coffee, and hot water.
However, if you press the menu button, it switches to the secondary menu. From here, you can select light ristretto, light espresso, long coffee, or steaming for milk-based espresso beverages. In summary, pressing the menu button takes you between the primary and secondary menus so you can easily select the beverage you require.
Above the row of buttons are some alarms icons that light up to indicate when to refill the water tank or beans container, empty the coffee puck container, or descale the machine.
Overall, the user interface is simple, making the BCC02 straightforward to use.
Programming
The SMEG BCC02 is programmable but with limitations. For example, you can customize the volume of water dispensed for every drink option. To do this, you press your desired drink button for three seconds, and the machine will begin brewing. Press the button again when you have the required volume of water, and it will stop and save the setting for the next brew. To restore the factory setting, press the menu button and power button simultaneously for three seconds.
However, the coffee length is the only brew parameter you can alter. For example, you can't change the brewing temperature. On the other hand, you can alter the water hardness and turn the acoustic signals on and off.
Programmability is limited compared to some other models with touchscreens. However, this is not always a disadvantage because often, the entire reason people purchase bean-to-cup coffee machines is the lack of hassle. On the other hand, using the machine can become more complex than you'd like if you have too many options.
In short, if you want a machine that takes decision-making almost completely out of your hands, the SMEG BCC02 is particularly user-friendly, so it's well worth considering.
Maintenance And Cleaning
As we stated earlier, the machine will alert you when it requires special attention or maintenance. Meanwhile, cleaning the machine is straightforward.
In most bean-to-cup machines, the drip tray and puck container come out together. However, the drip tray removes separately in the SMEG BCC02, making emptying the water easier.
On the subject of the puck container, it has a capacity for eight coffee pucks, and it'll just need emptying and rinsing when it's full. Meanwhile, removing the brewing unit is simple. It comes out at the side when you need to give it a deep clean.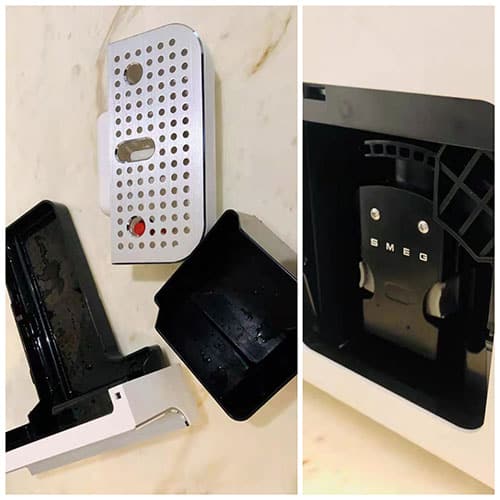 Descaling regularly is also recommended to keep the machine in the best condition for brewing great coffee.
The machine rinses the spout whenever you turn it on. However, you can run a manual cycle by pressing the hot water and menu buttons simultaneously for three seconds.
On the downside, the machine doesn't have a water filter, so you'll need to pour in fresh filtered water to ensure the best possible flavor.
Is SMEG Bean To Cup Coffee Machine Worth The Money?
The SMEG BCC02 bean to cup coffee machine is relatively expensive. This is not surprising because other SMEG coffee machines have higher costs than average, too. In other words, if you're willing to compromise on the aesthetic appeal, you'll find an alternative that has similar functionality and performance significantly cheaper.
That aesthetic design is something very special indeed, though, and you're unlikely to find anything else quite like it on the market. Also, if you have other SMEG appliances in your kitchen, this machine has a similarly impressive design, meaning it'll look great alongside your other SMEG products.
SMEG Automatic Coffee Machine Alternatives
Jura D6
Jura is one of the most well-regarded bean-to-cup coffee machine manufacturers, and its machines are known for their exceptional build quality and superior coffee. We reviewed and picked the best Jura machines here.
The D6 is slightly less expensive than the SMEG BCC02. The Jura D6 looks incredible, too, and has similar – or even better functions than the SMEG BCC02. It not only brew espresso but also offer automatic milk frothing so you can make cappuccinos with a touch of the button.
Last update on 2023-09-27 / As an Amazon Associate, if you buy via the links, Brewcoffeehome earns a commission at no extra cost to you.
Philips 3200
The Philips 3200 series fully automatic coffee machine is a good option for a smaller budget. Design-wise, it's not as impressive as the SMEG automatic coffee machine. However, it represents better value for money and has better programmability. For example, you can customize the coffee length, coffee strength, and brew temperature.
There are two versions of the Philips 3200. If you enjoy milk-based espresso drinks, including lattes, flat whites, latte macchiato, and cappuccinos at the touch of a button, the LatteGo model is an excellent option. However, if you usually drink black coffee and froth milk occasionally, the model version with the steam wand is less expensive.
Last update on 2023-09-27 / As an Amazon Associate, if you buy via the links, Brewcoffeehome earns a commission at no extra cost to you.
Our Verdict
If you're familiar with SMEG products, you'll know that aesthetic design is one of their main selling points. Indeed, if the company's latest appliances didn't have its hallmark 1950s-style retro look, we'd be disappointed.
Thankfully, the brand's entries into the fully automatic espresso machine market are no exception, with the BCC01 and BCC02 both offering simply gorgeous aesthetics that are sure to be a talking point in any kitchen.
Of course, having such a beautiful machine means you will pay more for it. Indeed, some alternatives are cheaper and offer at least the same level of performance and functionality.
Nevertheless, the SMEG BCC01 and BCC02 still brew high-quality coffee at the touch of a button, even if they don't offer quite as much functionality as other machines.
Therefore, if you want a machine that takes the hassle out of domestic brewing, either model is worth considering. Furthermore, if you want this with an aesthetic design unlike anything else you'll find in the automatic espresso machine market, look no further than SMEG.