Coffee enthusiasts like playing around with coffee grinders for a reason. They are essential for brewing delicious coffee. This is especially true for making espresso. Since not all the coffee grinders are designed for grinding espresso.
Espresso coffee grinders are generally more expensive than regular grinders for drip coffee. It's frustrating to spend big money but not get what you want.
We will show you what to consider when choosing the best coffee grinder for espresso.
And here is a list of the best coffee grinders for pulling better espresso at your home.
Last update on 2023-12-07 / As an Amazon Associate, if you buy via the links, Brewcoffeehome earns a commission at no extra cost to you.
Not All Coffee Grinders Are Suitable For Espresso
A coffee grinder grinds whole coffee beans to ground coffee so that you can extract the flavor. Each brewing method requires a proper grind size for the best extraction.
For example, drip coffee makers use medium grinds while French press and cold brew coffee use a coarser grind. Turkish coffee doesn't filter the grounds while serving, so it requires extra-fine coffee grounds. Espresso extracts coffee in a short time; thus, you'll need a fine grind setting.
So first thing first, your grinder should be able to grind fine enough for espresso. Not all the burr grinders can make it.
Second, you need more control over the grind size for dialing in your coffee recipes. Because the espresso brewing happens in such a short time, a slightly coarser or finer grind size can make a huge difference, resulting in a sour or bitter espresso. So the best grinder for espresso also needs to provide the flexibility and possibility of fine-tuning your fine grind for the perfect espresso shot.
So you get the idea that a coffee grinder for espresso can really up the game. But how to choose? Here are some tips.
Things To Consider Before Choosing The Best Espresso Grinder
Conical Burr Or Flat Burrs?
First, blade grinders lack grind consistency and control, so they are not ideal for espresso. Burr grinders are better in all aspects.
You have to choose between flat burr or conical burr grinders if you opt for a burr coffee grinder. It's a bit technical to compare these two burrs types. Both have pros and cons. we have a specific article comparing conical burr vs. flat burr if you are interested in more details.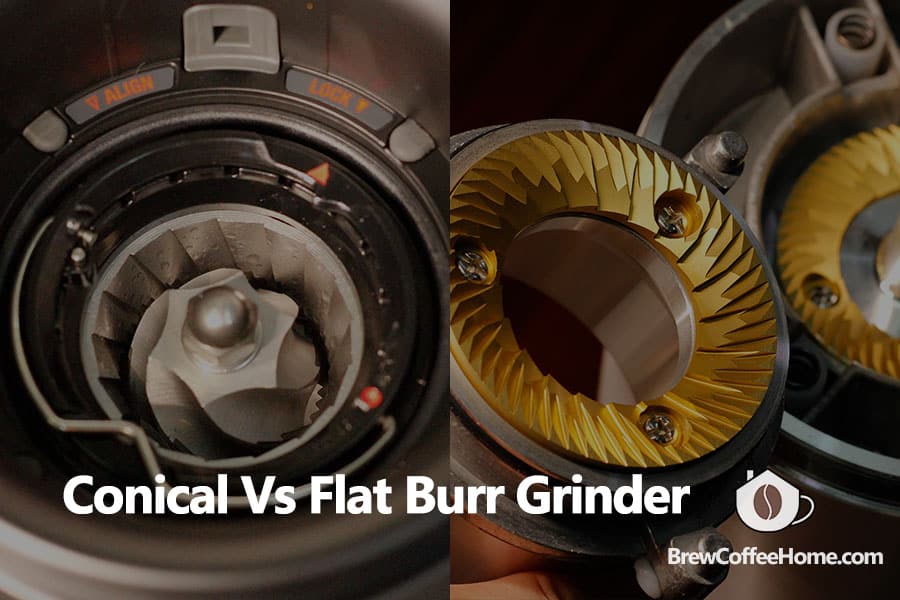 Here is a summary of them.
Conical burr grinders are generally quieter but slower than flat burr grinders. They are cheaper in price and have lower grind retention.
Flat burr grinders are louder but quicker since they are spinning at much higher RPM. So they are very common in commercial grinders. But in recent years, flat burrs are also common in higher-end espresso grinders for the home brewing scene.
Electric Or Manual coffee grinder?
If you are looking for a coffee grinder for espresso, electric grinders are much more efficient.
Manual coffee grinders are very popular for specialty coffee lovers, and they can provide excellent grind consistency, portability, and affordability. However, grinding coffee for espresso takes too much manual effort. An entry-level hand grinder with ceramic burrs or smaller steel burrs will take forever to grind fine enough for espresso. Indeed they might be able to grind fine coffee grounds, but they lack efficiency and control.
However, a higher-end manual coffee bean grinder with a specially designed burr set can do the job as well as the pricer electric grinders. You can have hundreds of grind settings, and can grind espresso size within a minute. So we will also include them in the list.
Stepped Or Stepless Grinder?
Grind settings are important for pulling espresso shots. After tamping the coffee grounds in your portafilter, you need proper resistance when the pressurized water gets through the coffee puck.
A stepped coffee grinder has a fixed range of grind settings. When you adjust a step or click, it changes a certain distance of the burrs. So in real practice, you may find a step finer causes clogging, but a step coarser causes waterfall. You just can't find the sweet spot in between.
With a stepless grinder, you don't have this problem. You can make the smallest adjustment to your coffee recipes, and perfect your shot and flavor profile as you like.
If you are serious about espresso and have the budget, a stepless grinder for espresso is great. Stepped grinders are usually more affordable.
Grind Retention
The best espresso coffee grinder for a cafe may not be suitable for a home barista because of the grind retention. You don't want to waste your favorite coffee beans over time.
At home, we usually drink one or two shots of espresso at a time. So you want to have 18 grams of coffee beans in and get 18 grams of coffee grounds out.
That's not the whole story of grind retention. Even if you get 18 grams out, it may contain the stale grounds of the last batch. So every time you change the grind size, it's recommended to purge out the leftover grounds of the last grind settings. You don't want to mix two grind sizes in one shot. For beginners, this process can be quite wasteful when you are dialing in for your shot.
The best coffee grinder for espresso is able to produce low retention for each batch.
What's Your Espresso Machine?
Last but not least, your espresso coffee grinder should pair with your espresso machine.
Some entry-level espresso machines only come with a pressurized filter basket, which is much more forgiving for grind size. In this case, a budget coffee grinder or even preground coffee can work.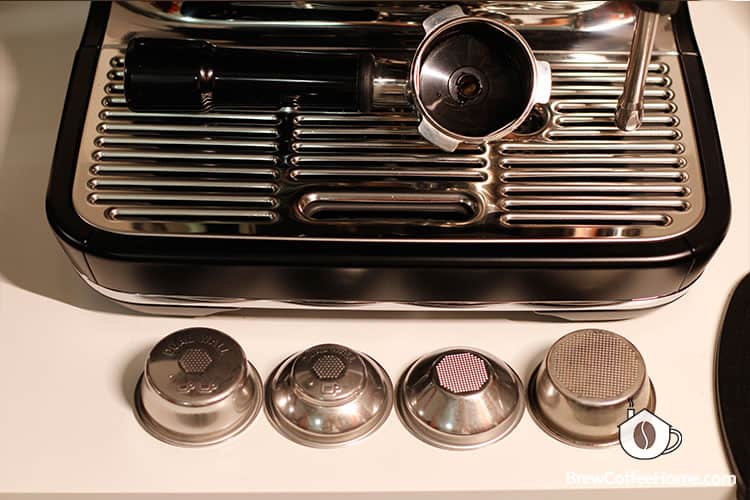 If you have a mid-range or high-end espresso machine, you want to get the most out of it. You should consider investing in a decent espresso coffee grinder.
7 Best Coffee Grinders For Espresso
Now you have a general idea of what to look for when choosing the best coffee grinder for espresso. Here are our top picks for narrowing down your list.
1. Breville Smart Grinder Pro
Burr Type: 40mm Conical Burr
Adjustment: Stepped grinder
Grind settings: 60
Electric grinder
Auto Dosing: Grind by time
Breville Smart grinder pro is the best value home coffee grinder that can grind for espresso and all brewing methods.
It's a conical burr grinder. The 40mm stainless steel conical burrs ensure consistent grind size. This burr set is also used in the popular Barista Express or Barista Pro espresso maker. It can definitely produce perfectly ground coffee for a decent espresso shot.
Smart Grinder Pro offers 60 grind settings, meaning it's a stepped grinder. You have more than enough for grinding for all methods. However, it lacks the unlimited adjustment for dialing in, which is a common disadvantage of all stepped grinders.
The Smart Grinder Pro has an LCD display, which allows you to adjust the grinding time in 0.2-second increments. You can also program the dosage for your shots so that you'll get the same exact amount of ground coffee every single time.
It's a great grinder for people that are getting into espresso for the first time, and also want to make great coffee with other methods.
Pros
Affordable price
LCD display with dosing by time feature
Suitable for all brewing methods
Cons
Stepped grinder with limitation in a minor adjustment
2. Rancilio Rocky Grinder
Burr Type: 50mm Flat Burr
Adjustment: Stepped grinder
Grind settings: 55
Electric grinder
Auto Dosing: No
Rancilio Rocky is another entry-level espresso grinder. The grinder is well-built with a sturdy stainless steel exterior and aluminum front panel. It looks great alongside the Rancilio Silvia, which is one of the most popular semi-automatic espresso machines for serious espresso lovers. Actually, many people bought this combo for their home espresso setup.
It is equipped with a high-speed 50mm flat burrs, which is a prosumer level grinder with commercial-grade quality.
Rancilio Rocky is a stepped grinder with 55 grind settings, covering all brew methods. However, as a stepped grinder, the espresso range is between 5 and 10, offering less adjustment compared to other stepless espresso grinders.
The bean hopper holds 8 oz of coffee beans. You need to turn the hopper to adjust the grind size. Using the grinder is straightforward, but it's fully manual. Check our Rancilio Rocky Grinder review.
Pros
One of the most affordable flat burr grinders
Built-to-last quality
50mm flat burrs with high efficiency
Cons
Lack of programmability and other features
The grind retention is slightly higher than others. The grounds mainly accumulate in the chute
3. DF64 Espresso Grinder
Burr Type: 64mm Flat Burr
Adjustment: Stepless
Grind settings: Infinite
Electric grinder
Auto Dosing: No
DF64 has attracted lots of discussions among espresso enthusiasts in recent years. This flat burr grinder is considered the main alternative to the popular Niche Zero.
It's popular for many reasons. First, it's equipped with large 64mm flat burrs, hence the name. Titanium and SSP burrs are available for upgrade. This makes it stand out from the competition.
Second, it's a stepless grinder, meaning you have unlimited possibilities for perfecting your shots. You can make minor adjustments if the taste of your espresso is off or experiment with new recipes as you like. However, it's an espresso focus grinder, so the grind consistency for other brew methods is not as good as those conical burr grinders.
Finally, it's a single-dose espresso grinder with very low retention. This is a great bonus for home brewing.
The price is super affordable considering its burr quality and overall performance. Check our hands-on review of the DF64 grinder.
Pros
Great quality 64mm flat burrs
Very attractive price for what it offers
Low ground retention
Unlimited grind settings
Cons
Newcomer in the market, the brand is not well established yet
4. 1Zpresso J-Max
Burr Type: 48mm Conical Burr
Adjustment: Stepped grinder
Grind settings: 200+
Manual grinder
Capacity: 35g
1Zpresso offers a range of premium manual grinders for specialty coffee lovers. Their grinders are super well built and deliver a grind quality that is above the average. We tried and reviewed lots of 1Zpresso coffee grinders before.
The J-Max is the flagship product in their manual grinder line, which is specially designed for espresso.
Even though it's a hand grinder, J-Max offers 8.8 microns (0.0088mm) adjustment for each step with over 200 clicks of grind settings. This offers more room for dialing in than many other electric espresso grinders, and allows you to fine-tune your grind size for a perfect shot of espresso.
The innovative external grind adjustment makes it extremely easy to use. It's the fastest grinder we have ever tested. It takes less than 50 seconds to grind 18 grams of coffee into a fine espresso grind, which is even faster than some electric grinders.
Like other 1Zpresso grinders, J-Max has a premium look and many thoughtful designs. This is the only manual coffee grinder for espresso that we recommend on this list.
Pros
8.8 microns adjustment with over 200 grind settings
Fast grinding as a hand grinder
Portable
More affordable compared to an electric espresso grinder, but it's premium compared to other manual grinders
Cons
Require manual effort to grind for espresso
Each time you can grind for a double-shot only
5. Eureka Mignon Specialita
Burr Type: 55mm Flat Burr
Adjustment: Stepless
Grind settings: Infinite
Electric grinder
Auto Dosing: Grind by time
Eureka has been manufacturing coffee grinders for over 100 years. Eureka Mignon Specialita is a dedicated espresso grinder for serious espresso fans.
The aesthetic design is high end, and it is built with top-notch materials. You have a hi-res LED touch screen to program the grinding time with intervals of 0.1 seconds. So you can get a very precise dosage every time.
Eureka Mignon is a stepless grinder. You can simply twist the adjustment knob on the top to adjust the grind size. You can get fine Turkish coffee grinds all the way to coarse cold brew grind sizes with excellent consistency.
Mignon Specialita has 55mm flat burrs and a powerful motor. But it is the quietest flat burr electric grinder available, thanks to Eureka's silent technology and premium build quality.
It's not a cheap grinder, though, costing more than many other home espresso grinders. It's suitable for those serious espresso lovers with a budget. Check out the Mignon Specialita review here.
Pros
Elegant aesthetic design
Precise grind by time feature
Intuitive LED touch screen
Premium build quality and burr quality
Cons
More expensive
The adjustment knob is small, and needs a few full rotations to change grind size for different brew methods
6. Baratza Sette 270Wi
Burr Type: 40mm Conical Burr
Adjustment: Stepped + Stepless
Grind settings: 30+ micro setting and infinite minor setting
Electric grinder
Auto Dosing: Grind by weight
Baratza is a reliable name for coffee grinders. The Sette is their mid-range grinder designed for espresso.
The design of the Baratza Sette looks modern with an elegant '7' shape. In Italian, Sette means Seven. This looks not only good but also practical. The grounds fall directly into the portafilter with less retention.
The Sette 270 and Sette 270wi are equipped with 40mm conical burrs. It's special since the outer burr spin while the inner burr turns, resulting in a faster grinding speed.
You have 30 clicks of macro grind settings and stepless micro settings. This stepped, and stepless combination is not very common but very easy to replicate your grind size.
You have a backlit control panel that allows you to program the grinding. With 270Wi, you can grind by weight. In comparison, with the 270, you can grind by time. This is the main difference between these two models. If you have a lower budget, Baratza Sette 30 is more affordable than the 270 and 270Wi, but you have only 30 micro grind settings, which will suffice but lack the control. We shared a Baratza Sette 270 review and compared those models in detail.
Pros
Innovative burr design and grind adjustment
Low retention
270Wi offers the grind by weight feature
Cons
Quite noisy while grinding
Use lots of plastic parts in the exterior
7. Ceado E5P Doserless Espresso Grinder
Burr Type: 64mm Flat Burr
Adjustment: Stepless
Grind settings: Infinite
Electric grinder
Auto Dosing: No, On-demand
Ceado E5P is equipped with large 64mm flat burrs and stepless grind adjustment. It allows you to get the most out of your espresso machines with the perfect espresso grinds.
E5P is an on-demand grinder. You can push the portafilter in to start grinding and release to stop. It also has a Steady lock system that keeps constant distance between the burrs, ensuring the grind consistency shots after shots.
With all these commercial-grade designs and quality, no wonder this Ceado E5P took the market by storm. It's not only suitable for home use but also for the small cafe scene.
Pros
Smooth stepless grind adjustment for minor adjustment
Commercial-grade 64mm flat burrs
Push and grind operation
Cons
The most compact Ceado grinder but still has a larger footprint
No dosing presets based on time or weight grinding
The Verdict
If you are an espresso drinker, investing in a decent espresso coffee grinder can definitely up your coffee game. Depending on your budget, each grinder listed above will work great for your espresso brewing at home.
For entry-level at an affordable price, the Breville Smart Grinder Pro is a good choice.
DF64 offers great value as a mid-range espresso grinder. If you have the budget, Eureka Mignon Specialita is a reliable coffee grinder for espresso.
Don't mind grinding manually? The 1Zpresso J-Max won't let you down, and you can save hundreds of dollars by choosing a manual grinder.
Hope you can find the perfect grinder for your espresso journey.