If you travel frequently and still want freshly ground coffee, the 1Zpresso Q2 manual grinder is well worth considering. It even fits in your AeroPress, too!
The manual hand grinder market is crowded, so what makes the 1Zpresso stand out? Primarily, it's the fact that this grinder offers excellent quality and great portability.
We have tested the 1Zpresso Q2 manual grinder extensively, and in this hands-on review, we'll detail every aspect of the device so that you can decide whether it's a suitable option.
1Zpresso Q2 Review
1Zpresso Q2 Coffee Grinder Summary
No products found.
Pros
A lightweight, compact manual grinder that fits into an AeroPress
Excellent grind quality for manual brewing
Fantastic build quality using sturdy materials
High-quality 38mm conical burr set
Wonderful grinding and user experience
Cons
Limited capacity
The price is higher than the average
Mainly for filtered coffee. Grinding for espresso takes too long
Design And Build Quality
The Q2 is the most lightweight, compact, and portable model produced by 1Zpresso, but don't be deceived by its small size – its aluminum alloy build is decidedly robust. The device is an upgrade of the Q1 (or Mini Q). However, you can tell immediately that this is a far more high-quality build than lesser grinders built from stainless steel and plastic. It's one of our best-picked hand grinders, check the full list here.
The inspiration for the 1Zpresso Q2 comes partially from the brand's larger J Series models. In keeping with those machines, it has an ergonomically curved handle lever and wooden crank knob, lending it a pleasing aesthetic.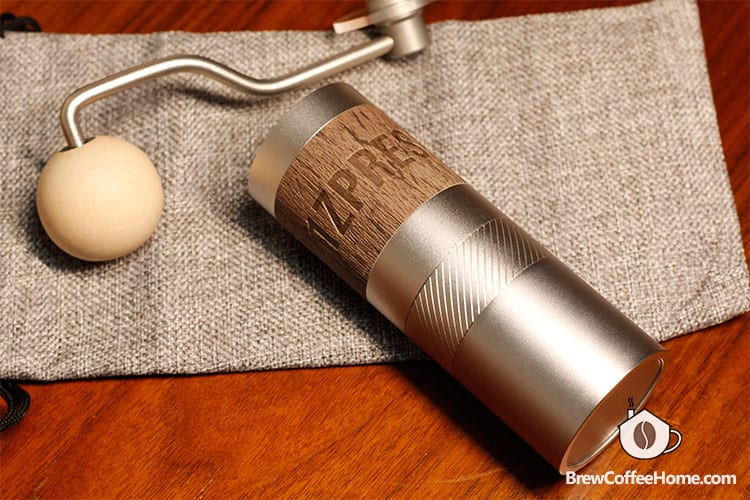 Meanwhile, there is a high-quality leather anti-slip grip around the body's center with the 1Zpresso logo on it. This grip is available in several colors, including Indian Red, Golden Yellow, Tiffany Blue, and Emerald Green. However, we opted for Burlywood, which resembles genuine wood.
The machine's catcher cup and hopper capacity is 20g. Thanks to its well-machined threads, the catcher cup is easy to screw on and off, which contributes to a general feeling of satisfaction that using this grinder engenders.
The company has an extensive range of hand grinders, and we've already tested the 1Zpresso K-Plus and JX Pro, each of which impressed us. However, whichever 1Zpresso grinder you choose, the finish will be high-quality, and the Q2 is no exception.
Portability
The Q2's body fits snugly into an AeroPress chamber, making it easy to transport the two. Indeed, this is one of the machine's most attractive features. But why? Well, the AeroPress has a solid reputation as a versatile travel coffee maker. Therefore, being able to bring it and a premium hand grinder as a one-piece is incredibly convenient.
The grinder weighs just 409g, which is considerably lighter than you'd expect from a machine predominantly made from sturdy steel and aluminum. Indeed, the wooden handle and plastic lid top are the only parts made from other materials.
The Q2 is 5.4in (13.8cm) tall with a diameter of 1.8in (4.6cm). Meanwhile, you can remove the handle, saving even more precious space in your luggage.
Finally, the Q2 also has a nice-looking fabric travel bag and a brush. The bag has ample space, too, meaning it can hold a small bag of coffee beans or a brewer.
Burr Quality
The Q2 has 38mm conical steel burrs, which are sharper than the ceramic burrs you'll find in lower-quality manual coffee grinders. Thanks to them, it makes light work of grinding for any coffee beans, including oily espresso beans or dense light roasted beans.
The Q2 has a pentagonal burr by default. However, there's also a heptagonal burr design, which is even quicker and more efficient. One issue, though, is that it's not always available.
The cylindrical body has a support bracket that secures the drive shaft. Meanwhile, the outer burrs screw into the bracket. This is a different design to many cheaper travel grinders, and it means that there is less wobbling during grinding. Importantly, this means the particle size is more uniform.
In keeping with most other 1Zpresso manual grinders, the Q2 also offers smoother grinding thanks to its dual-bearing shaft.
Grind Settings And Adjustment
The Q2 grinder is suitable for most brewing methods, and it's perfect for the AeroPress.
If you remove the catcher cup, you can reach the grind adjustment wheel. The Q2 is a stepped grinder boasting 30 adjustments per wheel rotation, equating to three clicks per number.
If you turn the knob clockwise until it meets resistance, this is the zero point. However, the zero point isn't restricted to one number. Indeed, it will alter if you take the grinder apart to clean it. In other words, the numbers don't determine the precise grind size. Instead, they indicate a starting point and aid the process of recording your settings.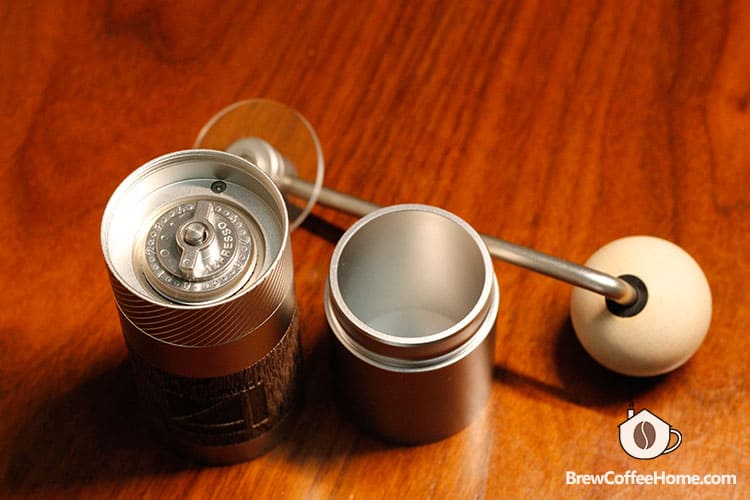 Confused? Here's an example to help you. If you are searching for setting 21, that's two complete rotations and one number, or 63 clicks (remember, there are three clicks per number and 30 per rotation).
It's tricky to count the clicks, but the number marks help you remember the rotations you made. Therefore, it should be straightforward to reproduce a previous setting if you've used a different brewing method in the meantime.
Handily, there is also a QR card that you can scan to download a grind settings chart. For reference, here are the settings we choose for each brewing method.
Espresso: number 6-10 (18-30 clicks)
Moka pot: number 13 (39 clicks – one rotation and number 3)
AeroPress: number 15 (45 clicks)
Pour-Over: numbers 18-22 (54-66 clicks)
French Press Coffee: number 24 (72 clicks)
Cold Brew: number 28 (84 clicks)
Use these settings as a guide, then adjust finer or coarser according to your preferences.
Grind Quality (Grind Consistency)
The grind quality the Q2 produces surprised us. It grinds beautifully consistent coffee grounds for manual brewers like AeroPress and pour-overs. Meanwhile, this consistency works well with any drip machine.
There will be smaller particles with coarser grinds necessary in brewing methods like cold brew and French press. However, overall, the consistency is impressive.
For the finest grind, we selected seven clicks from the zero point. It led to extremely fine grounds. However, the grind adjustment per click is 24 microns, which is acceptable while tweaking the size for espresso but doesn't have the room for maneuver of the larger JX Pro, which alters only 12.5 microns per click.
It's worth keeping in mind that the Q2 is not designed with espresso in mind. So, the dialing in is an issue, but so is the efficiency. We'll examine that in the next section.
Grinding Speed
If you prefer speed, there's a good chance you'll look for an electric grinder, and with good reason, as electric burrs are faster than manual burrs. However, the Q2 holds up well against them. It offers smooth grinding, considering its size. This is because of the steel burrs, long ergonomic handle, wooden knob, and dual-bearing shaft.
Grinding 20g of light roast beans takes 45 seconds at a medium setting (number 19). Meanwhile, grinding the same amount of beans takes less than 30 seconds at medium-coarse settings (numbers 24-28). In other words, it's quick and easy to get freshly ground beans using the Q2, without the need for an electricity source.
However, grinding for espresso grinds is a different matter. Indeed, it takes nearly two minutes to grind just one gram of coffee. To grind for an entire espresso shot would take 30 minutes, which simply isn't practical In contrast, the JX pro, which uses 48mm burrs, grinds 18g of beans to an espresso grind in just one minute. However, the JX Pro is more expensive, so if you mainly use manual brewing methods while making coffee, the Q2 is ideal.
Ease Of Use
Using your 1Zpresso Q2 is a satisfying experience. The body's diameter is small enough to offer comfortable gripping, while the body's faux wooden design helps prevent slippage.
The grind catcher fits perfectly into the beans hopper, so weighing your beans in the catch cup before transferring them into the grinder is straightforward and mess-free. Also, because the build is steel, the grounds easily fall out, and it's incredibly easy to clean.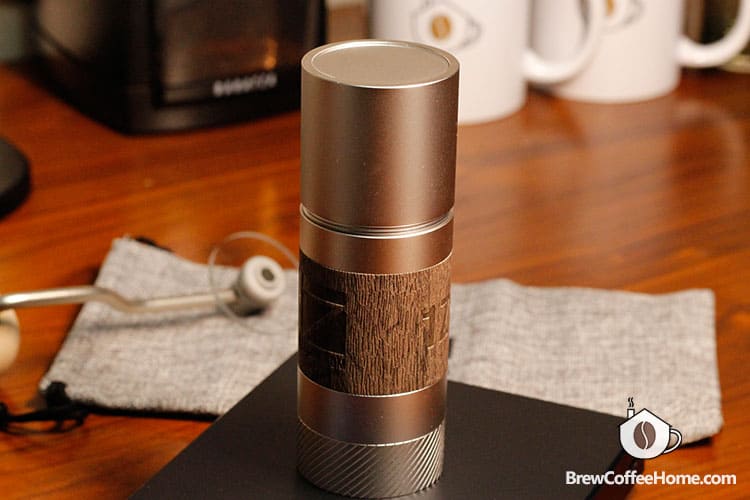 Cleaning And Maintenance
By regularly cleaning your Q2, you will maintain the grinder's performance. Thankfully, it's very easy to disassemble the machine to clean it.
To do so, unscrew the adjustment nut from the base. This will make the inner burr and spring come off. Then you can remove the outer burr and shaft from the top. At this point, you can easily and thoroughly clean the grinder with the brush provided with the machine.
Once the grinder is clean, you can reassemble using the procedure in reverse.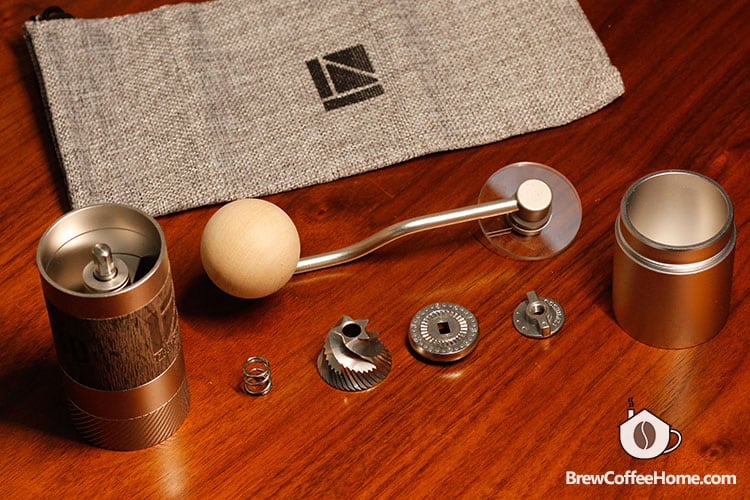 1Zpresso Q2 Alternatives
Timemore Nano
Timemore and 1Zpresso are two of the most innovative and exciting hand grinder brands of recent years. Timemore's Nano is the most compact of its products.
Like the 1Zpresso Q2, the Nano also fits neatly into the AeroPress, and has dimensions of 4.3in (10.9cm) tall and 1.7in (4.3cm) in diameter.
Meanwhile, it is even more lightweight than the Q2, at only 360g. Like the Q2, the Timemore Nano has an aluminum build with 38mm steel burrs. We are particularly impressed with the Nano's foldable handle. Overall, the Q2 and the Nano enjoy a similar build quality. For more information, read our Timemore Nano review here.
Porlex Mini
The Porlex Mini is another travel grinder that is worth considering. However, it uses ceramic burrs rather than the more efficient stainless steel burrs. Nevertheless, one advantage of ceramic burrs is that they reduce heat and grind without losing flavor.
Like the 1Zpresso Q2 and the Timemore Nano, the Porlex Mini fits in an AeroPress. However, it is slightly smaller than its competitors. Overall, the Q2 is a better quality grinder than the Porlex Mini. For example, it offers more uniform grinds and has a better build quality, sturdier handle.
Despite this, the Porlex Mini is not without its advantages, including a more attractive price tag. Even accounting for its limitations, it is a decent hand grinder. Check out our Porlex Mini review, which goes into far greater detail on its pros and cons.
Final Verdict
The 1Zpresso Q2 manual grinder is an impressive device that is far more effective than its size and weight suggest. In our opinion, it's the benchmark for a fantastic travel grinder. If you are a frequent traveler as well as a coffee snob, 1Zpresso Q2 is a great investment.
The machine isn't cheap, but it still offers exceptional value for money. That's because it stands alone as a compact grinder that offers fantastic build quality and consistent grind. Indeed, that grind quality surpasses that of many electric grinders.
The small capacity is its biggest drawback. However, it's such a pleasure to use that making a few more rounds won't bother you. Finally, it fits beautifully in an AeroPress, making it ideal for taking with you on the move.