After testing almost every 1Zpresso manual coffee grinder on the market, it would be remiss of me to ignore its latest flagship model, the 1Zpresso Ultra.
But does it fulfill its potential as the ultimate hand grinder for any brew method, and how does it differ from the K-Ultra and other K-series models? This hands-on review will answer those questions and provide all the information you need to determine if it's the best grinder for you.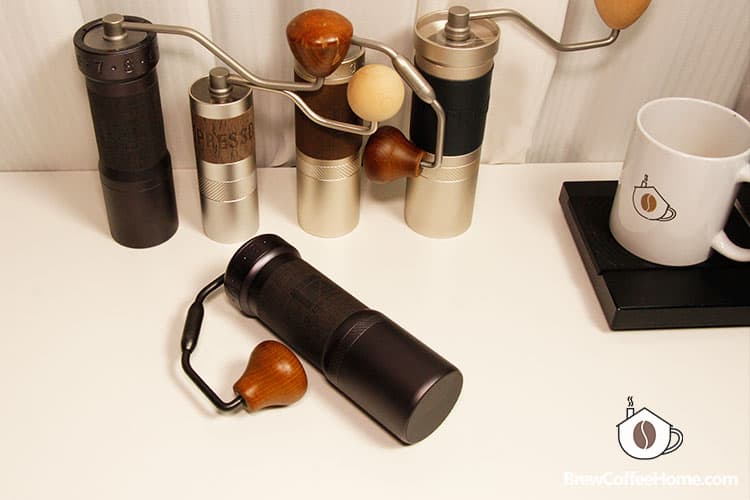 1Zpresso K Ultra Manual Coffee Grinder Review
1Zpresso K-Ultra Manual Coffee Grinder
Pros:
Premium design and build quality

Consistent grind quality for filter coffee

20 microns per step, providing a wide window for dialing in espresso

48mm burr, fast grinding speed (45s for 18g espresso grind, less than 30s for filter grind size)

Foldable handle

Easy to disassemble and calibrate
Cons:
The most expensive model in the K-Series
We earn a commission if you make a purchase, at no additional cost to you.
Design And Build Quality
The 1Zpresso K-Ultra is the top of the K-series range, and the grinder inherits the design qualities of the older models.
Compared to its predecessors, it has a more rounded design. I particularly enjoy the curved top, although all tastes are subjective. So, others may prefer the angular, more slim K-Max or K-Plus. I also noticed the K-Ultra has a little more presence than the K-Max, and is a little larger. However, surprisingly, it is actually 12g lighter.
Another difference is the handle. The K-Ultra has a convenient foldable crank handle, meaning you can push and fold it up when it's not being used. It's a nice addition for anyone with limited space, and it offers more balance on the table, as I sometimes knock over the K-Max because of its long handle.
There is a premium aluminum alloy body with a stylish iron-grey finish. Meanwhile, the diameter is perfectly proportioned, making it easy to hold. A magnetic catch cup holds around 35g of coffee beans, while it's easy to attach and detach, and tightens enough so it won't fall off, even when grinding at speed.
A cylindrical case protects the premium manual grinder well. There's also an anti-slip rubber band, a cleaning blower and a useful cleaning brush.
Overall, the packaging and accessories are identical to the K-Max, which I've unboxed previously.
Here is our K-Ultra unboxing video, so you can see more details:
The New K-Burr Design
The K-Ultra's stainless steel conical burr set bears similarities with the one used in the other K-series grinders. However, I found that the geometrical design is more aggressive than the one used in K-Max.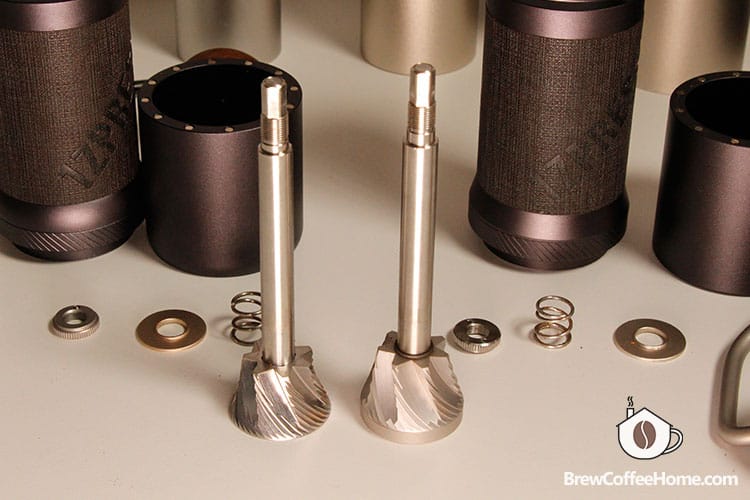 It comes with a 48 mm heptagonal burr exclusive to the K-series grinders. Meanwhile, it is designed for a range of brewing methods and efficiency.
Many manual coffee grinders are suitable for espresso but will take several minutes to grind finely enough. In contrast, the K-Ultra only takes less than a minute to grind for espresso and just 30 seconds for filter coffee on a medium setting. Now, that's impressive.
Another intriguing aspect of the design is there is no base, making cleaning the remaining grounds even easier.
Microns Per Click
Grind adjustments determine how finely the grinder can grind, which is particularly important for brewing espresso.
From the microns per click design, I could see right away that 1Zpresso's intention with this grinder is for it to cover all types of brewing methods. So, whether you're brewing filter coffee or espresso – or anything in between – there is a grind size to suit the task.
The JX-Pro and X-Pro offer 12.5 microns per step if you usually grind for espresso. Meanwhile, the J-Max offers even more possibilities thanks to its 8 microns per step.
The K-series mainly focuses on filter coffee, but still offers 22 microns per step, which is more than sufficient for espresso brewing, in my experience. However, the K-Ultra offers 20 microns per step.
Nevertheless, you may notice little – or any – difference in the final cup if you usually grind for drip coffee or pour over. Still, offering more grind settings for espresso is undoubtedly an advantage and necessary to fulfil its ambition as an all-purpose hand grinder.
I had no difficulty dialing in for espresso with the K-Ultra. In comparison, the Commandante C40 offers 30 microns per click with its default system, while you can reduce the burr movement to 15 microns for espresso with the Red Clix add-on. In other words, the K-Ultra compares favorably enough with its main competitor.
Grind Adjustment Mechanism
It's worth remembering that more grind settings are not always an advantage for user-friendliness. After all, replicating the grind size back and forth isn't easy if you have hundreds of options.
Thanks to the K-Ultra's external adjustment ring and clear markings, that's no longer a concern.
The ring has 10 numbers and 10 clicks between two numbers. To explain, if I want to grind on a medium 7.7 setting for pour-over, I turn the ring and align the white dot to the number seven and count seven clicks, which is both easy and quick. On the other hand, if I want to write for espresso at 2.5, I can use the same method with no guesswork.
As I've mentioned in previous 1Zpresso grinder reviews, once you've used this mechanism, you will never want to return to the internal system.
I can turn the ring for 1.5 for a full rotation of 150 clicks. However, in my daily coffee routine, I rarely use grind settings beyond 10, even for cold brew. In other words, there are more than enough settings cover all my preferred brewing methods.
1Zpresso K Ultra Grind Settings
1Zpresso provides a detailed grind setting chart on its official website, which is very helpful for first-time users.
Here are my grind settings for your reference:
Turkish coffee: Number 2 to 3.5 (20 to 35 clicks)
Espresso: Number 3 to 4.5 (30 to 45 clicks)
AeroPress and moka pot: Number 5 to 6 (50 to 60 clicks)
Pour-Over and drip: Number 7-8 (70-80 clicks)
Siphon: Number 8 to 9 (80 to 90 clicks)
French Press and cold brew: 9-10 (90 to 100 clicks)
A cool fact of the K-Ultra is that it offers more grind settings than many considerably more expensive electric grinders on the market, as well as most other hand grinders.
Grind Quality
I've had plenty of experience using 1Zpresso's grinders, and they've never failed to offer excellent grind consistency in the fine to medium range.
I have no issues creating consistent grounds for a great cup of French press or pour-over coffee that benefits from excellent clarity, sweetness and a good overall balance.
It's easy to see why 1Zpresso has proved so popular and gained such a stellar reputation among coffee fans in a relatively short timeframe.
Meanwhile, with espresso, the K-Ultra grinds finely enough, thanks to those 20 microns per step.
Check the following video we made, and you'll see the grind consistency and espresso grinds of the 1Zpresso K Ultra.
Is The 1Zpresso K-Ultra Suitable For You?
The 1Zpresso K-Ultra is a high-quality grinder that offers excellent value for money considering its supreme build quality and user-friendly design.
However, if you mainly brew espresso, you may find the J-Max and X-Pro S better suited to your needs as they offer smaller microns per step.
Meanwhile, you'll also have a wider window to adjust your espresso shot.
The K-Max is a more budget-friendly option if you're not worried about the extra two microns per step and foldable handle. Still, even with those factors taken into account, I'd take the K-Ultra over the others if I had to choose just one hand grinder.
1Zpresso K-Ultra vs K-Max vs K-Plus
The K-Ultra is the most expensive of the K-series grinders, with the K-Plus $30 cheaper, and the K-Max $50 cheaper.
The K-Ultra has 20 microns per click, while the others have 22 microns per click.
All three grinders have a magnetic catch cup, but the K-Plus has a blind shaker for easily transferring the grounds to your portafilter (the K-Pro, meanwhile, uses a screw-on catch cup)
The K-Ultra is more cylindrical in design, while the K-Max and K-Plus are more angular.
The K-Ultra features the new foldable handle, while the K-Max and K-Plus use the regular long handle.
The burr set on K Ultra looks more aggressive, but overall they are almost identical, except for one noticeable difference – the burr doesn't have a base at the bottom in the art K-Ultra.
How To Clean And Calibrate The K-Ultra
Like all the other 1Zpresso grinders, taking the K-Ultra apart for a deep clean is easy.
My favorite part is the calibration. After disassembling the grinder, aligning the dot to zero at the zero point is extremely simple. All I need to do is turn the dot to the zero mark, push the burr set up and fasten the knob to the top of the central shaft to lock the burr in place.
Because of that straightforward disassembling and calibration, I find I'm inclined to clean the K-Ultra deep more often than other manual grinders.
Final Thoughts
I've yet to be let down by a 1Zpresso grinder, and it's safe to say that, with the K-Ultra, the brand has done it again.
Unlike other grinders in its range, the K-Ultra is designed for grinding for all brewing methods. Naturally, that would often lead to skepticism on my part. However, knowing how good 1Zpresso products have been in the past, I was confident it would be up to the task. That confidence was not misplaced.
Not only can the K-Ultra grind for almost any brewing method, but it also has a beautiful, high-end design, is easy to use and offers tremendous value for money considering its many qualities.
Overall, if you're looking for a manual grinder that's a great all-rounder, look no further than the 1Zpresso K-Ultra.