Eureka Mignon Specialita is proving to be one of the more popular espresso grinders in recent years. It is enjoying particularly strong appeal among serious espresso fans.
This review will go into detail about this exceptional espresso grinder for home use, and, by the end, we hope you'll have a better idea as to whether it's a good fit for your needs.
Eureka Mignon Specialita Review
Eureka Mignon Specialita Summary
Eureka Mignon Specialita is a dedicated espresso grinder for home espresso lovers. With the premium build quality, 55 mm flat burrs, low retention, and outstanding grind quality, it can bring your espresso quality to a higher level.
About The Company
Eureka is a company based in Italy that celebrated its centenary in 2020. Reassuringly, it has been manufacturing coffee grinders throughout its existence.
Build Quality And Design
Eureka Mignon Specialita is a dedicated espresso grinder. The aesthetic design is high-end and leaves you in no doubt it's a premium domestic grinder using top-notch materials.
The grinder is built specifically for domestic use, meaning it's compact enough that it will fit nicely on most countertops. The hopper is very short too and has a capacity of 10 oz of beans. The hopper is in the shape of a square and looks great with the neat stainless steel body. Directly beneath the hopper is some rubber that minimizes the noise and vibration.
There is a gorgeous hi-res, white-on-black LED touchscreen to add an even more contemporary feel. Overall, this will look great alongside any high-end espresso machine in your kitchen.
The coffee grinder is handcrafted in the Italian city of Florence, and its build is reassuringly sturdy. It weighs 12lbs (around 5.6kg), which is heavy. However, when you hold it, you are left with no doubt that this is a solid product. This grinder's details are on point.
Burr And Motor Quality
The Eureka Mignon Specialita espresso grinder has 55mm flat burrs made from hardened steel with a powerful 1350 RPM motor to handle the grinding. It can grind around 18g of beans in approximately 9 or 10 seconds.
The grinder uses the ACE system, which minimizes clumping through coffee outflow regulation and prevents static in the grounds, which helps with the consistency.
While burrs are smaller than the single-dosing DF64 grinder and many commercial grinders, the 55mm hardened steel flat burrs are ample to get a consistent grind size at home and produce shots you'd expect in a coffee shop.
Ease Of Use
Time-Based Dosing
The Eureka Mignon Specialita grinds on the basis of time, so when you have found the optimal time, you can guarantee the precise dosage of grounds you require. In addition, with the touchscreen, you can select either a single or double shot, then use the +' or – for a greater or lesser grinding time with intervals of 0.1 seconds. In other words, this is really precise.
There is also a button directly underneath the chute that allows for manual dosing. This function is excellent if you plan to grind into a portafilter.
You can stop when it gets full, then ensure even distribution by shaking down the coffee bed. Once you've done that, press the button again and it will start grinding for as long as it is preset, after which time it will automatically stop.
It's extremely easy to use. For example, if you pour a packet of beans into the hopper, it will grind the exact amount of beans you need consistently.
Single Dosing
The Eureka Mignon Specialita can be used as a single-dose grinder because of its low retention, which is perfect for home brewing. The hopper is not ideal for keeping all your coffee beans as it's transparent and not airtight. These factors mean that the light and air that the beans are exposed to will make them go stale more quickly and begin to oxidize.
It's not realistic to use a whole bag of coffee in a couple of days, so we recommend that rather than keep your beans in the hopper, you weigh the precise amount of beans you need for an espresso shot, place them in the hopper, and grind.
Removable Portafilter Holder
The portafilter holder is detachable, which is helpful if you don't want to grind straight into the portafilter. When you're grinding for pour-over or French press, you can place a ground bin underneath. The holder's height can be adjusted too, which is a good option to have.
Grind Size And Quality
The Eureka Mignon Specialita benefits from infinite stepless grind adjustment. This means that while it is a specialist espresso grinder, it will work for any method of brewing. So, whether you want espresso, French press, or any other type of coffee, this will do the job. The device offers the ability to iterate in micrometric adjustments by twisting the adjustment knob. Turn it clockwise and it produces finely ground coffee. For coarser coffee, turn it counterclockwise.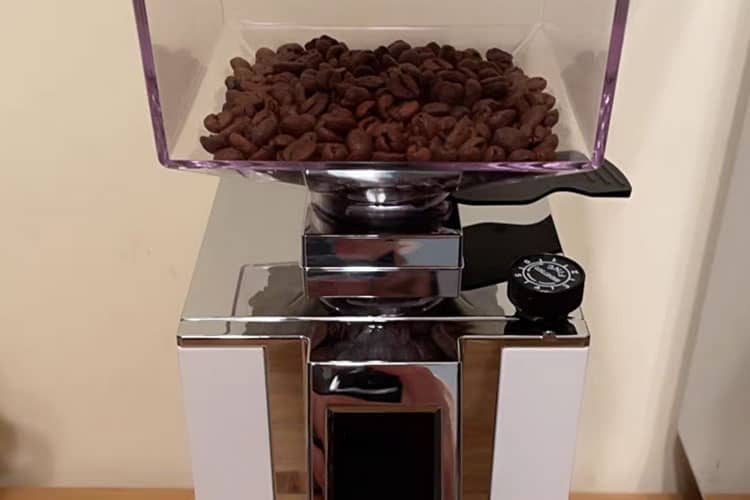 Although the machine is perfectly capable of grinding for any brewing method, we still think it excels at grinding for espresso. So, let's examine the fine grounds for espresso brewing. The grounds are fluffy and light, and there's no clumping. Crucially, they are also consistent. The premium-quality flat burrs make it straightforward to pull a perfect shot with fantastic clarity. Overall, this is an improvement on most grinders for home use.
The machine can also grind consistently enough for pour over. However, the more coarse the grind, the less consistency you will find, which is in keeping with most grinders. There are also a greater number of fine particles than many other conical burr grinders.
If you are most concerned with grinding for espresso, it's vital to keep the adjustment wheel at the same setting once you've found the sweet spot. You don't want to have tweak again once you've found the perfect grind settings. For this reason, we suggest using it exclusively for espresso if you can.
The Eureka Mignon Brew Pro is a device worth considering if you'd rather grind for filter coffee because it's built for coarser grounds. However, if you prefer to make specialty coffee, consider a hand grinder as that will make things simpler for home brewing.
Noise
The Mignon Specialita is quiet grinder. This quietness gives it a big advantage over many other domestic grinders. In our opinion, it is the quietest flat burr electric grinder available.
This is because of the company's Silent Technology, which uses a sound-insulated case and anti-vibration solution. When you're grinding, it will do so at an average of 40 dB, while the loudest if will reach will be around 73 dB. This means that whatever time you plan on using it, it should be quiet enough to leave people undisturbed.
Grind Retention
Older espresso grinders are not built for domestic use because they hold many grinds even after you've finished grinding. However, since the Niche Zero came along with its emphasis on low retention, many other home grinders now concentrate on low retention too.
Most domestic brewers only make a couple of espresso shots a day. If your grinder holds onto several grams of coffee grounds each time you use it, they'll need removing before grinding again. After all, not doing so would be to brew "fresh coffee" with some percentage of stale grounds.
Not only that but each time you alter your brewing method or beans, dialing in again will lead to some coffee waste. Therefore, low retention grinders save money over the long run thanks to the lack of wasted coffee, and they offer a less messy experience with less hassle.
The Mignon Specialita's low retention impresses us. We ran the grinder out of beans, took off the top lid, emptied the remaining grounds into a cup, and weighed them to gauge the retention. Only approximately 1.3 grams of grounds were still in the burrs. This is a far more impressive result than many other grinders.
Cleaning And Maintenance
As is the case with any burr grinder, the Mignon Specialita will need cleaning around every months or two so it retains the grind quality and dose precision. This device is fairly easy to maintain. Before you begin cleaning, make sure it is unplugged.
Then, remove the hopper and remove the coffee oil by rinsing it with soap. Make sure you thoroughly dry it afterward.
Once you remove the lid, getting to the burr holder is easy. Use a vacuum cleaner or a brush to clean the internal parts and the blades. Once the lid and upper burr holder are re-attached, install the hopper.
Value For Money
The Specialita is the premium device of all the Eureka Mignon grinders. It also compares to the higher-end grinders of rival companies.
If you can tolerate the smaller 50mm burr and don't mind not having a touchscreen, we recommend the Mignon Silenzio, which is not as expensive.
However, the Mignon Specialita compares well against the even more expensive Eureka Atom series and will not let you down as you grind for beautiful espresso.
Drawbacks
The grind setting knob on the Mignon Specialita is too small, and you'll need to turn it several times (a minimum of seven or eight, according to our tests) to adjust from French press to espresso. This is a little inconvenient. Also, there aren't enough numbers on the wheel, so it's not as easy to dial in or find the perfect grind setting for each brewing method. These are minor complaints, though, and there is nothing else to criticize.
Comparison of Eureka Mignon Grinder Models
The Specialita is far from the only grinder in the Eureka Mignon series. However, they appear similar, which can cause confusion. Let's take a look at the options.
Filtro, Crono, and Silenzio are Mignon grinders for those on a budget. They each have 50mm flat burrs, but they lack additional features, including the touchscreen. The Filtro is entirely manual, while the latter two have a dosing dial at the foot of the grinders on the right-hand side.
Filtro and Crono are meant for filter and drip coffee. Rather than a portafilter holder, they have a grounds bin, which indicates they are for brew coffee rather than espresso. The Silenzio is for espresso.
Perfetto is in the medium price range. It has a touchscreen and a precision time-based dosing feature, similar to the higher-end grinders. Meanwhile, the burrs are the same as those on the cheaper models – 50mm. It also has a basic grind timer.
Brew Pro is a lot like the Specialita, but is more geared toward filter coffee. It has 55mm burrs that are built for brew coffee.
Specialita is a premium grinder and the main subject of this article. It has 55mm flat burrs and a touchscreen, as we detailed earlier.
Ora Mignon XL is the latest (and highest-end) in the range, released in 2020 to mark the company's centenary. It bridges the gap between the Mignon and Atom grinders in both technology and cost. This device has 65mm burrs, but in other areas, it is similar to the other Mignon grinders. However, the retention is, impressively, only 0.2 grams in this grinder.
On the whole, the devices are fairly similar. However, if the model has a plastic grind chamber, it is meant for brew coffee, while if it has a portafilter fork, it is meant for espresso. Other differences are whether it has a touchscreen and the burr size.
| Model | Burr Size | Touch Screen | Optimized for |
| --- | --- | --- | --- |
| Filtro, Crono | 50 mm | No | Brew Coffee |
| Silenzio | 50 mm | No | Espresso |
| Perfetto | 50 mm | Yes | Espresso |
| Brew Pro | 55 mm | Yes | Brew Coffee |
| Specialita | 55 mm | Yes | Espresso |
| Ora Mignon XL | 65 mm | Yes | Espresso |
Are There Any Alternatives By Other Companies?
If the Eureka Mignon Specialita is not for you, there are several premium-range espresso grinders manufactured by other brands that are worth looking at. We also listed all our recommended burr coffee grinders in this buying guide, check here>>
The DF64
This single-dose espresso grinder has made a big impression among coffee lovers, mainly because of its low retention, 64mm flat burrs, and affordable price. You can read our review of the DF64 for more information.
The Niche Zero
The Niche Zero has proved an extremely popular espresso grinder in the last few years. It has a 64mm conical burr set and is great for grinding beans for either espresso or drip coffee, making it a solid all-rounder. It also has a beautiful design that looks great in most kitchens. It's in the same price bracket as the Mignon Specialita, but it can be hard to track down as it's often out of stock. For more, see our in-depth look at the Niche Zero.
Our Verdict – The Best Espresso Grinder Under $1000
The Eureka Mignon Specialita is a premium-quality espresso grinder for home use. It is a wonderful option for coffee lovers looking for consistent grounds to get the best out of high-end espresso machines. It is sturdily and beautifully built, has low retention and quiet grinding – and most importantly – produces an excellent grind quality.
Yes, there are alternatives, both in the Eureka Mignon models, and by other companies, but if you love espresso and have the budget for a high-end domestic grinder, this device is well worth taking a look at.