It can be frustrating pulling the perfect espresso shot at home. However, in most cases, the reason for this isn't the espresso machine but the coffee grinder. It is easy to overlook, but a good grinder is vital for making great espresso.
This coffee grinder buying guide will concentrate on the Rancilio Rocky grinder. It was launched over two decades ago, which, similarly to the Rancilio Silvia espresso machine, suggests it's reliable and efficient. In addition, the company is still making and updating the device, which is another indicator that the grinder works well.
Many coffee experts rate the Rancilio Rocky coffee grinder highly, but this article will go into detail as to why and examine the drawbacks. Let's get started.
If you are looking for a good grinder for home brewing, check out our complete burr grinder buying guide.
Rancilio Rocky Coffee Grinder Review
Rancilio Rocky Summary
Overview:
Grind settings: 55 settings, step grind adjustment
Burr sets: 50mm, steel flat
Motor 1725 RPM
Build Design And Quality
The Rancilio Rocky is an entry-level espresso grinder that will fit in well alongside just about any espresso machine. The exterior is predominantly stainless steel with an aluminum front panel that's darker. The chute is tint-blue and has an 8oz bean hopper at the top that is aesthetically pleasing and functional – it stops the ultraviolet lights from making the whole bean coffee go stale.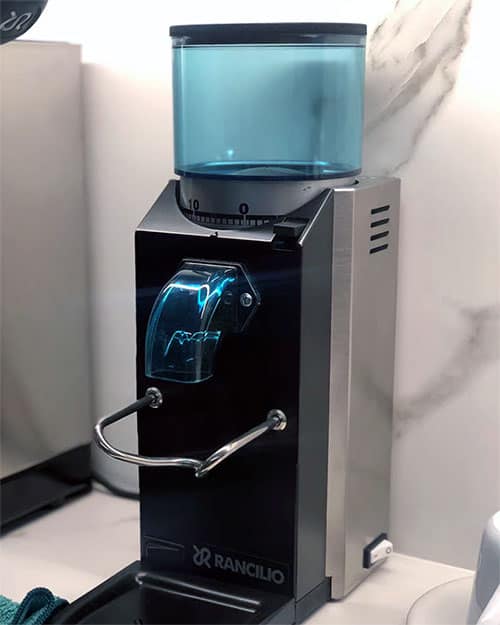 The Rancilio Silvia espresso maker looks great alongside the Rocky grinder and is an entry-level device too. Because of this, they are sometimes sold as a pair, and they are both popular devices with espresso lovers.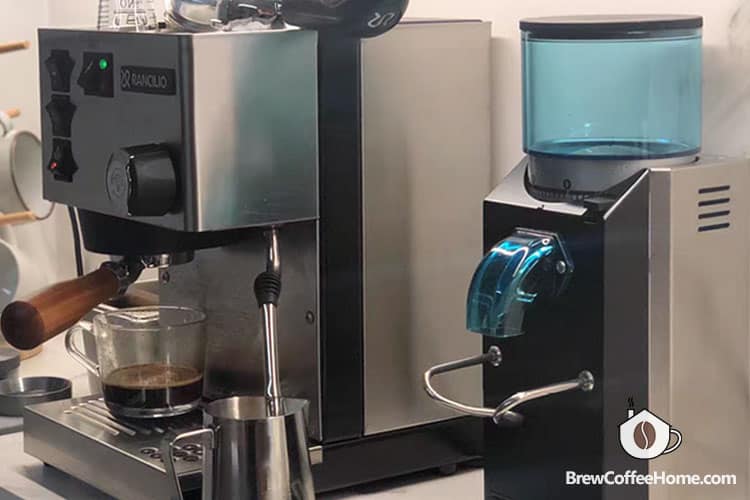 The grinder is very well built, with a reassuring sturdiness that has longevity in mind. The only plastic parts are the hopper and lid on the top and the chute. In other words, if you purchase the Rancilio Rocky, this will be one grinder you can rely on for years. Many espresso lovers have done just that and report that it still works perfectly.
Rocky has a height of approximately 14 inches, meaning it will tuck into most kitchen cabinets when you're not using it and won't take up much counter space when you are.
There are two models of the grinder available, the Rocky SS (Doser) and the Rocky SD (Doserless). The two are identical except for how they dose. The interior, build quality, and design is the same. We'll go into greater detail on the two models a little later.
Burr And Motor Quality
Rancilio Rocky's motor is a 166-watt direct-drive that offers plenty of power yet is quiet. It has 1725 RPM, meaning it's fast and can grind around one gram per second.
The flat burrs are made of steel and 50mm and are meant for espresso, they can grind for commercial loads too.
There is also a high-temperature overload switch, which can alleviate any damage should a stone get caught in the burrs.
As a good burr grinder for home baristas, the flat burrs and motor do a great job and they are a good starting point.
Grind Settings And Quality
With the use of a stepped grinder adjustment, the Rocky grinder has 55 grind settings. This is an impressive number that allows for grind sizes from the finest, suitable for Turkish coffee, to the coarse sizes needed for the cold brew or French press coffee. Adjusting the setting is a simple case of pressing the release lever down and turning the bean hopper.
It is worth remembering that the Rancilio Rocky is meant for grinding espresso. However, you can use grind settings of 30 to 40 for brewing methods needing coarser grinds, such as drip coffee or pour over, and you can go coarser still for French press. One issue with this is that there may be more coffee residue than you'd like, as flat burrs usually generate more coffee dust and fine powder in French press.
There is no stepless grind adjustment, so you can't make very small tweaks for espresso. Often, if you go just one setting higher or lower, it can lead to a difference of a few seconds while pulling a shot. Therefore, you might have to tweak the dose to get it just right. That's common in most coffee grinders at entry-level.
Overall, the Rocky is an excellent grinder for espresso offering great grind consistency. Also, most people will be able to tweak extractions for fantastic espresso. A good espresso grind setting is between 5 and 10.
Another thing is that you may find some coffee grounds in the device when you open the box. That's not because it is second-hand, but that it has been factory tested by the manufacturer.
Ease Of Use
To use the Rancilio Rocky, pour in the coffee beans, choose your grind size, and push the grinding button. The Rocky doserless coffee grinder lets you grind directly into your portafilter.
The grinder won't grind automatically, and it doesn't do so by weight or time, either. In other words, it's completely manual, meaning you'll need to keep the grind button pressed down throughout the grinding process.
If you want to alter the grinder settings, you'll have to push the tap situated on the top at the right-hand side and twist the hopper. For fine grinds, you have to turn the hopper clockwise and counterclockwise for coarse grinds. It is suggested that you change the grind setting while the grinder is running, but this can be difficult as you'll need to turn the hopper, push the tap and hold down the grind button simultaneously.
Nevertheless, using the grinder is straightforward, but it's fully manual and no-frills, meaning if you can't automate the process in any way.
Grind Retention
These days, retention is an important feature of domestic espresso burr grinders. In our testing, we had an average retention of around half a gram. Those retained ground coffee normally accumulate at the top of the chute.
You can get a better result by rocking the chute and tapping the grounds from it. We also found that, now and again, a few beans might get stuck in the hopper's three screw holes.
Overall, while not as low as the D64 or Niche Zero, the retention is small enough to be acceptable.
Cleaning And Maintenance
The grinder doesn't need much work to keep it maintained and in good working order. It's also fairly straightforward to take apart when cleaning.
However, if you only grind coffee occasionally – less than a pound per week – you won't need to give it a deep clean. Just make sure you clean the chute.
You will need a brush and a screwdriver. Remove the two screws that attach the chute as some coffee grounds will collect there. There is also a small silicone gasket that ensures no coffee ends up down the body of the machine. However, there will also be some grounds between the front of the chute and the burrs. You can clean out the grinds that accumulate there with the brush.
Once you've been using the coffee grinder for a year or two, it's a good idea to remove the screws attaching the hopper so you can reach the grinding burrs. Carefully unscrew the top burr and then use a brush and a vacuum cleaner to clean the grinder.
Value For Money
The Rocky Rancilio is an entry-level espresso grinder and priced is in the mid-range. However, it is also a good option for people looking for a prosumer-level grinder that isn't far off commercial-grade quality. This is reflected in the price, so before you purchase one, you have to be sure you're going to justify the cost by regularly grinding for espresso.
When you compare the price with cheaper domestic coffee grinders, it seems quite expensive. Also, bigger burrs usually command a high price, but the grinder offers value for money. For example, sometimes, the burr set of a commercial espresso grinder is more expensive than a grinder.
Elements such as the high build quality, burr sets, motor, and performance mean that this is worth the money even at a relatively high price point.
Because of the quality of the build, you won't need to upgrade the device until you want to step up your espresso-making game, as the grinder itself is unlikely to let you down.
Drawbacks
The grinder's metal portafilter holder might not be the right size for your espresso maker's portafilter. The 58mm portafilter from the Silvia can be placed at an angle, but even then, it could fall. Therefore, it is advisable to hold the portafilter while dosing out not to cause a mess.
The hopper has a finger guard to stop your fingers from getting into the burrs. However, if the beans you're using are oily or large, you might have to take the finger guard out so that all the beans can smoothly flow through the grinder.
What's The Difference Between The Rancilio Rocky SD And SS?
Rancilio Rocky Espresso Coffee Grinder
Rancilio HSD-ROC-SS Rocky Espresso Coffee Grinder...
Rancilio Rocky Espresso Coffee Grinder
Rancilio HSD-ROC-SS Rocky Espresso Coffee Grinder...
Last update on 2023-09-27 / As an Amazon Associate, if you buy via the links, Brewcoffeehome earns a commission at no extra cost to you.
As we mentioned earlier, there are two models of the Rancilio Rocky, a Doser, and a Doserless model. The only difference is how they dispense the grounds.
The Doser grinds the coffee into a staging area. There's a small pie-shaped wheel with a capacity of approximately 7g of coffee. Therefore, when you are about to dispense the grounds, it grinds into a staging area. You then pull a lever for around 7g of grounds.
The Doserless grinder grinds straight to the portafilter. It's better for brewing at home because most people only pull a small number of shots at a time. In addition, this helps to keep the coffee fresh as you only grind what you intend to consume.
Alternatives
Cheaper Options
The Breville Smart Grinder Pro has more features than the Rancilio Rocky and is cheaper. It has a digital display and more scope for dosing. The 40mm conical burrs of the Smart Grinder Pro are better for coarser grinds while still being suitable for espresso grinds. However, the Rancilio Rocky is still the better option of the two for espresso grinds.
Better Burr Sets At A Similar Price
The DF 64 is a single-dose espresso grinder that's new to the market and is similar to the Rocky. However, it has stepped grind settings with excellent, commercial-level 64mm flat burrs, making it particularly eye-catching for a burr grinder in this price bracket. However, the Rocky has a long, trusted history working for it, while the company is well-established. Neither is the case with the DF 64. Check our DF64 grinder review for more details.
Better Quality Home Espresso Grinder
The Eureka Mignon Specialita has an LCD touchscreen offering timed dosing and better-quality 55mm flat burrs. The Italy-based company has been around for 100 years, and the whole range of its Mignon series is worth considering for those serious about grinding but who have a larger budget. Read our Eureka Mignon Specialita review here.
Our Verdict
The Rancilio Rocky has proved itself among domestic coffee brewers over two decades for a number of reasons. However, it does have its drawbacks – not least the fact your espresso machine's portafilter may not fit in the grinder's portafilter holder – and it lacks many features that could automate the grinding process.
However, it's an extremely reliable device that will perform well for years. Not only that, but it's compact enough so that it won't take up much counter space, easy to use, and it's powerful enough to grind quickly and consistently. It also will grind for far more than espresso, making it a versatile option. Overall, it's a premium choice for beginners that won't let you down and will offer fantastic espresso grinds from the comfort of your home.
You could do far worse than choose the Rancilio Rocky. But, for many home baristas, it's a wonderful addition to their coffee-brewing toolkit that you won't need to replace unless you're seriously stepping up your espresso-making game.
FAQ
Where Can I Purchase A Refurbished Rancilio Rocky Grinder?
If you use a trusted dealer, you will be able to get hold of a Rancilio Rocky at a cheaper price. That's because they sell either demo models or those devices that were sent back to the seller within the terms of the return policy. However, before they go back on sale, they are tested and cleaned so that, most of the time, they look and perform identically to a brand new model. However, you need to be careful to purchase from a reliable and trustworthy reseller. Check out our guide for buying refurbished coffee machines.
One option is 1st In Coffee, who also has refurbished espresso machines on sale for hundreds of dollars less than brand new models. They also have free shipping within the USA and a one-year warranty. However, you'll need to get the timing right, as refurbished models are sometimes out of stock. Check the price of the refurbished Rancilio Rocky on 1st in Coffee.