If you're serious about brewing fantastic coffee, a high-quality coffee grinder is a vital piece of equipment because it will ensure that the coffee you make will have the desired freshness.
We get our hands on the Niche Zero grinder in this coffee grinder review and tested it thoroughly.
The Niche Zero coffee grinder began life in 2017 as part of an Indiegogo crowdfunding campaign. The machine was the brainchild of Martin Nicholson. It is a shining example of a product that – as a result of a successful crowdfunding campaign – went from completely unknown to gaining significant popularity in only three years.
But what is the Niche Zero coffee grinder? In short, it's a single-dose coffee grinder for the home use, which boasts commercial-level quality. It's also listed in our top-rated coffee grinders reviews.
Niche Zero Coffee Grinder Review
What We Like
Virtually non-existent grind retention
63mm Conical burrs made from hardened steel
Extremely user-friendly, especially the 58mm grind chamber
Very quiet coffee grinder
Very compact and aesthetically pleasing design
Produces a grind of high quality and has a lot of grind settings that cover every conceivable brewing method
Things Can Be Improved
It's not that easy to find as it's regularly out of stock
More expensive than other coffee grinders
Lacks an auto-stop function
Relatively small capacity
Overall appearance
Aesthetic Design
One look at this coffee grinder will leave you impressed, as it has a modern and incredibly stylish appearance, regardless of which of the two colors it is. This review uses the midnight black Niche Zero grinder. However, there is also a pure white version, and both black and white are equally elegant.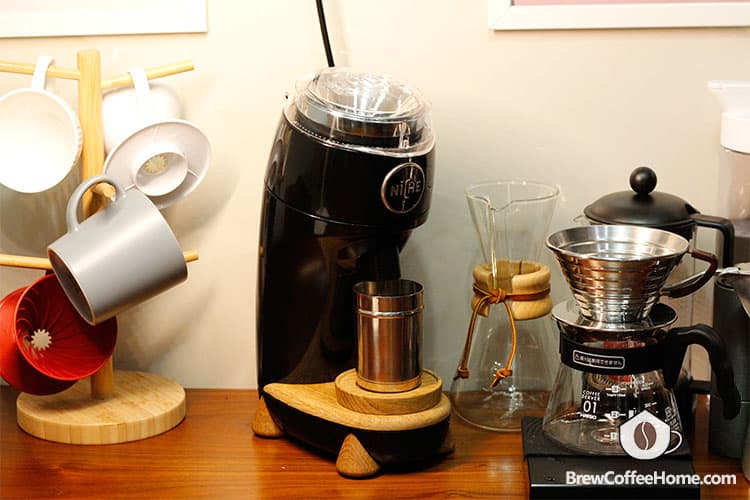 The material used for the body of the grinder is aluminum with a paint finish that is powder-coated. This means that even with coffee oils coming into contact with it regularly, they won't stain it, and it will still look as good as new.
Even more appealing is the contrasting base of wood. That combination of aluminum metal and genuine oak wood lends a premium aesthetic to the Niche Zero grinder.
Throughout the Niche Zero coffee grinder, there is excellent build quality. Indeed, even the plastic lid that sits on top is both solid and thick with a magnetic latch, which adds to the air of overall high quality.
Minimalist Design
Another aspect of the design you're likely to find appealing is its minimalism, which, even with a less-is-more look, still retains all the crucial elements needed for a single dose espresso grinder. This also speaks to the Niche Zero's ease of use. With an on-off switch on the side and a grind dial at the top, there's nothing here to leave you daunted – no gimmicks or complex display screens.
A Compact Coffee Grinder
The Niche Zero grinder is an appealingly compact product, with a dimension of only 12.2 x 8.3 x 4.8 inches (311 x 211 x 122 mm), meaning even for those with smaller kitchens. It can be placed neatly away in a kitchen cabinet without taking up too much precious space. Having said that, though, why would you even want to hide such a handsome coffee grinder?
Overall, the Niche Zero grinder is a fancy product that you'd love to have in your life, and you'll be happy to see it sitting on the kitchen counter or somewhere at your home every day.
Zero Retention? Nearly!
Among the more prominent selling points of the Niche Zero grinder on the official website is "no grind retained," It's not hard to see why they are promoting the feature so prominently. The promise of zero grind retention gets to grips with an issue that has hindered many espresso coffee grinders. Attempting to solve the retention issue is a wise move on the part of the makers.
Image credit: nichecoffee.co.uk
Why Is 'No Retained Grind' Important?
But what exactly does zero retention mean? It's not just a case of adding 18 grams of coffee beans to the grinder and expecting the same amount of coffee grounds in return. That 18 grams of the coffee grounds that it produces will include any stale grinds that went unused in the grind before. This means that the grind's consistency can be affected, which can have a detrimental effect on the end product's quality.
If you're trying to find the perfect setting for an exquisite shot of espresso, usually with an espresso grinder, altering the grind size is relatively wasteful. A lot of espresso grinders don't push out all the coffee perfectly. There'll usually be some extra ground coffee leftover from a previous grind setting. Because of this, an experienced barista will need to purge out some coffee when making a change.
However, doing this can be annoying as it takes time and means a reasonable amount of coffee goes to waste. This is where the zero retention comes to the fore, as it means you can alter the setting without the need to throw away excess coffee.
While the Niche Zero is undoubtedly a grinder focused on making espressos, whatever coffee style of brew you're making, it's best to avoid the flavor of stale coffee reaching your cup.
How Does Niche Zero Solve This?
So, how does the Niche Zero grinder minimize this problem? The combination of the premium materials used in the Niche Zero's burr grinder and its slow speed leads to a reduction in static and fewer clinging grounds. There's also a highly polished sweep arm beneath the conical burr set that forces the grounds into the tilted tube. This is another example of Niche Zero's designer having a sound understanding of common coffee grinder problems and addressing them in its design.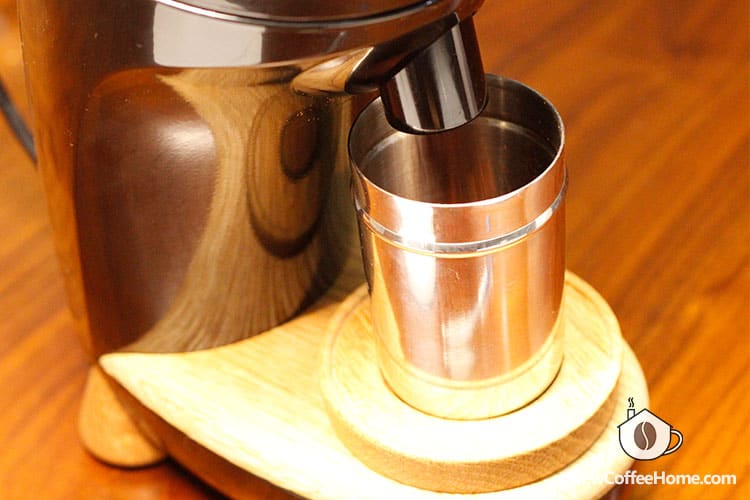 The Niche Zero grinder was put through its paces substantially to test for its retention, and – impressively – only a small amount of coffee was ever left in it.
Ease Of Use
The Niche Zero grinder's workflow is exceptionally straightforward. First, weigh the coffee beans. Then, place them in the funnel, select a grind size and use the switch on the side of the grinder to turn it on.
Simplicity is a really good thing. The fewer steps needed to grind your coffee, the less that can go wrong. This also helps improve its longevity as well as the experience for the user. Even a beginner won't even need to consult the manual to get started, making it a real pleasure to use.
Another significant advantage of the Niche Zero grinder is its dosing cup (grounds chamber). It has a diameter of only 58mm, meaning moving the grounds from the dosing cup to a portafilter is straightforward. All that's required is to simply place the portafilter over the cup and turn it over. No mess, no fuss.
This is in contrast to some other grinders on the market, where transferring the grounds is a more fiddly and messy process, either when tipping the grounds from the dosing cup or dosing straight into the portafilter.
The Niche Zero grinder is also very easy to look after and clean. It is very easy to unscrew the top bean funnel to get to the burrs. There is also a screwdriver and cleaning brush in the box coming with the grinder, giving you all the necessary equipment you need to do a good job.
Quality Of The Burr And Motor
Top Italian burr maker Mazzer produced the hardened steel 63mm conical burrs of the Niche Zero grinder. Burrs of this quality are more akin to the type you'd typically find in commercial burr grinders. Conical burrs of this nature will last far longer than standard steel burrs, and they won't wear out for everyday use in many years.
The Niche Zero grinder also has a permanent magnet DC motor, which is both efficient and compact. The motor uses a gearbox to slow the speed down to around 330 RPM. This relatively slow speed is tailor-made for single dosing and helps prevent popcorning.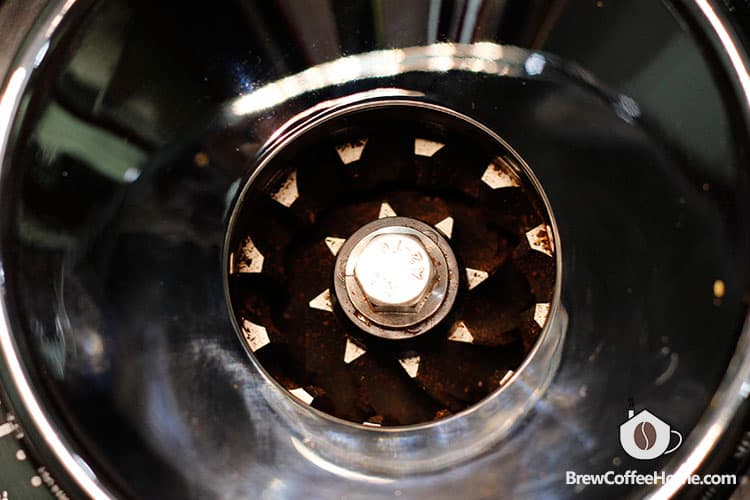 There isn't a hopper on the Niche Zero grinder, so the reduction of popcorning won't happen by the presence of coffee beans pressing down on top. In the first generation Niche Zero coffee grinder (which we've used for this review), that is an issue. However, later versions have an NFC (Niche Flow Control) disc that does an excellent job of reducing the popcorning, making for more consistent grounds.
Another advantage of the low RPM is the quieter noise, adding to Niche Zero's appeal as a product designed for home use. You probably heard of the noise from a commercial espresso grinder in a coffee shop, you don't want to hear that at home.
Let's go into greater detail on the Niche Zero's grinding speed:
Fine espresso grind: 1.5g per second
Medium pour-over grind: 1.8g per second
Coarse French press grind: 2.1g per second
Grind Settings
The Niche Zero grinder gives the user complete control over the size of the grind thanks to the endless step-less grind adjustment control. Because the Niche Zero coffee grinder barely retains any grounds, you're able to alter the grind setting as necessary without purging your precious coffee.
It's a simple case of turning the grind to the setting of your choice, even allowing for very minor adjustments. There are 50 indicators of grind size, which equates to every size from espresso to French press – and even beyond! Indeed, even though the dial is only marked as far as 50, you can go well past this for even coarser grinds. Not sure which grind size you should use? Check out our ultimate Coffee Grind Size Chart, and you'll know everything.
There is also a way to calibrate the settings to ensure that what you see on the grind dial is set. So, next to the 50 grind size indicator, you will see a small dot. If you move the setting back to fine (so it won't turn any further), you can adjust the bottom ring (with the dial sizes). When you bring it into line with the calibrate dot, everything is calibrated correctly.
Grind Quality And Consistency
As we mentioned earlier, the Niche Zero grinder uses the kind of 63mm conical burrs you'd more typically find in high-quality commercial burr grinders. Because of this, you'll be more than happy with the superior grind quality.
Independent testing confirms a dose consistency with a variation of less than +/- 0.2g of grind. This was tested with a range of coffees and roast levels.

Nichecoffee.co.uk/faqs/
With fine grinds, you can brew an extremely tasty espresso with the Niche Zero coffee grinder, with no indication of channeling.
This is the grind size #20, you can find-tune the grind size easily.
Capacity
The manufacture of the Niche Zero grinder has single dosing in mind. It differs from other grinders in that there is no hopper, so you can't keep the coffee beans. This means that whenever you'd like to make another brew, you'll need to weigh out some more coffee beans.
In any case, this is what we recommend doing to ensure the freshness of coffee beans. Rather than keep them in a hopper, opt for an airtight container or bag.
Despite this being good practice, it may be inconvenient for some people, particularly if you would prefer to grind more beans in one go. However, the 50g coffee beans capacity means that it'll be big enough for most people.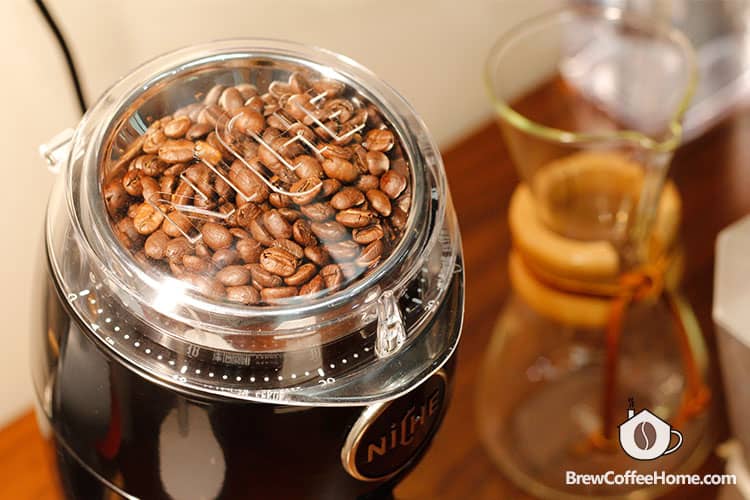 Durability
The hardened steel burr is so hard-wearing it won't lose its sharpness for many years. Even if something goes wrong with the Niche Zero, unlike other coffee grinders, it won't need to be posted back to the manufacturer for repair because you can easily take it apart. The separate parts can just be removed and replaced with a minimum of hassle.
Value For Money
Given all the benefits of the Niche Zero coffee grinder, it shouldn't be a surprise to learn that it is significantly more expensive than many other consumer grinders for home use.
It costs around £499 (approx. 682 USD), but for that price point, you'll get an espresso coffee grinder that compares favorable with top-of-the-range commercial grinders, with the same-quality conical burrs and capable of producing a similar grind quality. If you're still not convinced it represents value for money, look again at its beautiful design and consider the zero retention feature. There's no doubt it's worth the price.
If you are looking for a more affordable coffee grinder that can also grind for espresso, French press, and anything in between, check out Breville Smart Grinder Pro. It costs less but does a decent job for beginners.
Drawbacks
Despite its significant number of benefits, there are a few things that might be seen as less-than-ideal for Niche Zero users.
As we've already discussed, the Niche Zero grinder doesn't have a hopper for storing the coffee beans. This limits the amount you can add at one time to 50g. So, if you're brewing for four or more people, there'll be several rounds of weighing and grinding required.
Another issue we found was in the limited numbers of the grind dial. For example, we settled on a number between 40 and 46 for a coarseness suitable for V60 pour-over. However, this isn't far from the last of the numbers available for coarse grinds. As a result, if you need a medium-coarse grind (for drip coffee) or higher (for French press), you'll have to go past the limit of 50. While you can do this, it means finding the same setting the next time you need it will involve guesswork.
To grind coarser for cold brew coffee, you'll need to rotate the hopper anti-clockwise much beyond the #50 mark.
Another small issue that holds the Niche Zero grinder back is the lack of an auto-stop function, which is always more convenient. You can find this feature in many coffee grinders at this price point.
Aside from these relatively small issues, we couldn't find more drawbacks. However, that does mean there are a few areas where improvement is possible.
Conclusion – Niche Zero Is An Excellent Home Grinder
We like this Niche Zero coffee grinder, a lot. It is an extremely efficient single dose grinder that offers plenty of control and accuracy so that you can brew espresso and many other coffee types.
We particularly love the zero retention function. OK, it may not be completely zero, but it's so small as to make the removing and wasting grounds unnecessary whenever you change the grind setting. It's very straightforward to move between different brew styles without the need to purge, too.
The cost of the Niche Zero grinder may put some people off. However, despite being relatively expensive, we firmly believe it offers good value for money.
Indeed, for the price you pay, it's hard to find another coffee grinder offering a similar user experience, versatility, and – most crucially – beautiful espresso end product.
The Niche Zero coffee grinder has a robust and solid build quality and is also easy and intuitive to use, looks great, simple to clean and maintain, and quiet. Combined, these qualities make it a fantastic option for brewing at home.
FAQs About Niche Zero
What is the NFC Disc found in later models of the Niche Zero?
One of the main ways the Niche Zero coffee grinder has been enhanced since the first generation is the Niche Flow Control Disc (or NFC Disc). This is a small, transparent disc manufactured from food-safe polycarbonate that you can place in the bean funnel.
When you do this, it stops the coffee beans from jumping in the funnel before reaching the conical burr. It helps funnel the beans into the burrs at a steady speed making for better consistency of the grind. It also helps make the grinding process quicker.
How do you calibrate a Niche Zero grinder?
Calibrating the Niche Zero coffee grinder is a simple process. Begin by moving the bean funnel in a clockwise direction until it is tight.
Make sure that the calibration mark (situated on the top right of the grinder and marked "Calibrate") lines up with the dot (which you will find on the side of the funnel).
If you can't get the two to align, you will have to twist the smaller collar to make smaller movements until the dot is calibrated. When the two match, your Niche Zero is calibrated.
Now, move the funnel in a counter-clockwise direction until it reaches the desired grind adjustment setting (which will depend on the type of coffee you'd like to brew).
What countries does Niche Zero coffee grinder ship to?
The Niche Zero grinder ships to six territories – namely, the USA, Europe, the United Kingdom, Switzerland, Norway, and Australia.