Making coffee at home can be casual, or serious. You can grab a handful of beans and throw them into a burr grinder, or add a few scoops of coffee grounds and pour whatever amount of water to make a cup of coffee. While some people may carefully weigh the coffee beans and pour the exact volume of water to meet your perfect brew ratio. It's up to you to choose your brew style.
However, it's no doubt that by having a scale, you can make consistent coffee without any guesswork. Also, it's easier for you to make adjustments to flow rate and ratio to find your perfect coffee flavor.
We are going to introduce Timemore Black Mirror, a budget-friendly and modern digital coffee scale, and see why it is worth your consideration.
On-hands Review of Timemore Black Mirror Basic Coffee Scale
Timemore Black Mirror (B22 version) Summary
Pros:
Accurate coffee scale with auto-timer
Stunning minimalist design, a great looking product
More budget-friendly compared to other similar products
Cons:
It only displays in metric unit
*The New Plus version is also available now. Check out what's news >>
Who made this?
Timemore is a Chinese company launched in 2012 by several coffee and design enthusiasts. With the philosophy of 'professional + aesthetics' in mind, Timemore has designed a few great coffee products that are both practical and good-looking. Now they are gaining a good reputation among specialty coffee lovers, particularly for their design.
Timemore offers a wide range of coffee products, including coffee grinders, pour-over kettles, coffee drippers, and coffee scales. We particularly like their manual coffee grinder. Here is our detailed Timemore Chesnut C2 grinder review and Timemore Fish Pour-Over Kettle Review.
From their award-winning hand grinders to this Black Mirror coffee scale we are reviewing, we can see Timemore is very serious about details and dedicated to building their brand with great-designed products.
Unboxing the Timemore Black Mirror
The model we are reviewing is B22 version, the second generation of Timemore Black Mirror basic coffee scale. That's what's inside the box.
Timemore Black Mirror Single Sensor Scale
A USB to USB-C charging cable
Silicon heat-resistant pad
User manual
It comes with a 1-year warranty.
Aesthetic Design
Timemore Black Mirror looks beautiful, futuristic, yet simple.
A typical kitchen scale has a chassis and a weighing pan on top, while the Timemore Black mirror basic coffee scale uses the inverted design. The good thing is, the whole surface is the weighing pan, and if you accidentally spill the water on it, the water will run off the edge without damaging the electronics inside. A similar design can be found in the more expensive Acaia Pearl and Lunar coffee scale.
With a black chassis on top in a matte finish, you won't leave any fingerprints on it. Timemore uses the minimalist design to the extreme, doesn't leave anything when it is off, no buttons or indicators. It just like a black square box, or 'black mirror' as its name sitting quietly on the countertop.
When you touch the area at the bottom-right corner of the surface, it will turn on immediately. You will see the on/off button on the right, the timer button on the left, the time and weigh readouts in the middle, along with the battery indicator. The blue light of the backlit led display is bright and clear enough to read. Everything is straightforward.
Timemore Black Mirror basic coffee scale also comes with a silicone heat pad that fits nicely on top, which can resist -4°F to 212°F (-20 °C – 100 °C). The heat-resistant pad is handy as a non-slip mat. You can rinse it with water easily.
There used to be a white logo in the middle of the first generation, which doesn't look good. In this B22 version, they changed the logo into the dark. We think it looks much better and more harmonious. However, most of the time, it's covered by the heat pad, so you don't even notice it.
Overall, the Black Mirror looks like a tech gadget more than a scale. It can definitely fit most of your kitchen appliances and coffee makers. The simplicity doesn't feel empty. Instead, it's satisfying and high-tech.
Size and measure range
Timemore Black Mirror has a suitable footprint. It's 6 x 5.2 x 1 inch, weighing 1.14 pounds. That's big enough for most pour-over brewers or coffee carafes, such as the 6-cup size Chemex, while also being able to fit on the drip tray of many espresso machines due to its slimmer design.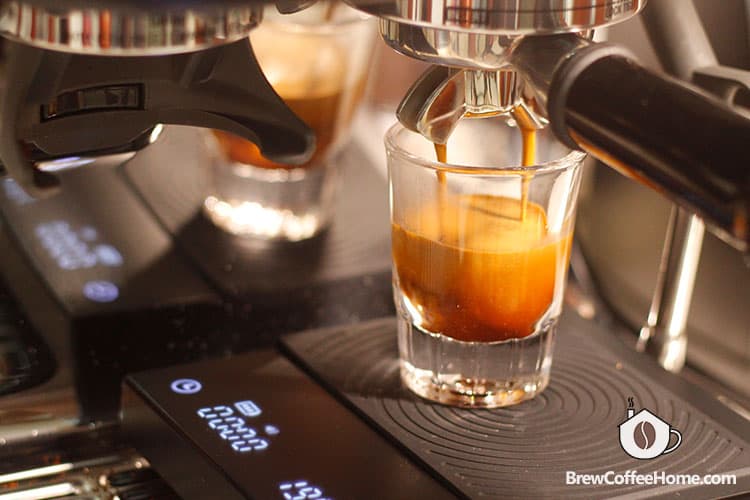 The Timemore Black Mirror Scale has a load capacity from 0.5 grams to 2 kilograms with a resolution of a 0.1 grams increment. It fits your needs for different brewing methods, from pour-over coffee to espresso, and regular usage as a kitchen scale.
Features That Make Your Life Easier
Reliable data
It's not rocket science to build an accurate scale, but we did a test and compared the data with other kitchen scales. It's reliable, and you don't need to doubt the weight data it shows us.
Built-in timer
Black Mirror has all the features as a scale, with a built-in timer. That's is super handy for coffee making. You don't need to take your cellphone and set the timer application anymore.
Auto Start
What's more, the Timemore Black mirror basic coffee scale will sense the weight and start the timer automatically when pouring begins.
That's quite enough and convenient for pour-over brewing methods. However, when you use it to weigh the espresso on an espresso machine, it can start timing automatically when it begins to flow, but it won't auto-stop. That means you still have to manually stop it when the shot is done to get the time and yields. And it won't retain the data until the time is over 40 seconds, which is longer than a standard espresso shot.
The more advanced and expensive Acaia Lunar offers more functions like auto-tare, auto-start, and auto-stop. However, it's almost five times more expensive than Timemore Black Mirror.
Auto-Off
When the timer is off, it will shut down automatically after 3 minutes. When the timer is on, but there's no change of weight, it will also auto-off in 15 minutes.
WaterProof
The surface is waterproof so it won't be a problem if you pour the water on it accidentally. However, don't get the water into the charging port.
Fast response time
That's almost no latency while using this scale. It boots up instantly after pressing the power button. And there are only a few milliseconds lag time when weighing, which can be ignored.
It's not a smart coffee scale. This is the basic version, so you can't connect to the App via Bluetooth for data collection. Timemore also offers the 'Smart' version which has more smart features.
Ease of use
The Timemore Black Mirror scale is super easy to use. Simply press the power button on the bottom-right corner to turn it on. Short press to tare the scale and long press to turn the power off.
On the left is the timer button. Short press it, the timer will begin instantly, tap it again it will pause. If you press it for 1 second, the timer will reset. Press the timer button multiple times, and you can turn the auto-timer on or off.
If you don't like to hear the 'Beep,' you can press the timer for 5 seconds to turn it off.
That's everything you need to know to use the Timemore Black Mirror coffee scale.
Battery Life and Charging
Black Mirror is equipped with a 1600mAh Lithium-Ion rechargeable battery. It charges via the USB to USB-C cable, which is faster than Micro-USB. USB-C cable charger is more common nowadays.
When the battery indication bar is empty, you'll know you need to recharge the scale. It takes less than 2 hours to charge the battery fully and gives you 7 hours of on-time. Each pour-over process takes about 2-4 minutes, meaning the battery life can last for a few weeks.
Value for price
It's not cheap as an ordinary scale, and you can buy a kitchen scale with less money and a free timer app on your cell phone to get what this product offers. Convenience and aesthetic design are the extra money for.
However, Black Mirror is the best value compared with other options, such as coffee scales from Felicita, Acaia, Brewista. While at the same price level, Hario V60 Drip Coffee Scale does the job well for the pour over but looks less elegant and modern.
Timemore Black Mirror B22 is one of our top-rated coffee scales, check full list here.
Updated In Sep 2021:
Timemore released a plus version of their Black Mirror coffee scale in June 2021.
It's an upgrade and has all of the same great features as the previous version, but you can find some changes from the exterior elements.
First, it has a physical on/off switch on the side. So it prevents you from accidentally turning it on or off due to the sensitive touch buttons on the surface in the previous version.
Second, now the upgraded version also has engraved markings on the time and power buttons on the surface. As a result, it's more straightforward to use.
The company also claims the structure and hardware are improved for better weight accuracy and responsiveness.
We like the minimalistic design of the previous Timemore Black Mirror, but the updated version indeed has better user-friendliness. You can choose based on your preference.
Last update on 2023-09-27 / As an Amazon Associate, if you buy via the links, Brewcoffeehome earns a commission at no extra cost to you.
If you are looking for a compact but functional espresso scale, check out the Timemore Black Mirror Nano.
Last update on 2023-09-27 / As an Amazon Associate, if you buy via the links, Brewcoffeehome earns a commission at no extra cost to you.
Drawbacks
It only shows the metric weight units; you can't find the unit conversion button to change the grams to ounces on the Timemore black mirror.
It shouldn't be a big problem when it comes to making coffee since the metric system is more commonly used in the coffee world. However, if you are not familiar with the grams, it won't be a handy scale for the normal kitchen usage scene.
Except for this, we have no complaints about this coffee scale.
The Verdict – Great Deal For Most Coffee Lovers
At this price point, Timemore Black Mirror is a good deal for such an appealing, practical coffee scale with almost all the features for your daily coffee brewing. It can definitely make your brewing easier. There are other higher-end smart coffee scales with iOS or Android app support and more features, but if those extra features are not you are looking for, this is the one for you. We would recommend it to everyone.