At some point, you're likely to brew coffee that's not as strong as you wanted it to be. So, what do you do? Our guess is that the following day you might overcompensate, adding too much coffee and making it too strong.
Coffee scales often seem like a luxury. After all, what can a coffee scale offer that a regular kitchen scale can't? The answer is several critical things that can represent the difference between making average coffee or the perfect cup.
Making an ideal cup of coffee requires perfectly measuring the coffee and water you require to get the best ratio of the two. This is particularly important if you're a pour over coffee brewer.
If you brew coffee and rely on either your judgment or use a scoop to measure your ground coffee, it might be time to consider investing in a decent coffee scale.
This review will take an in-depth look at the Hario V60 Drip Coffee Scale, a popular and well-regarded device for precisely measuring the coffee you need, regardless of the brew type.
Review Of The Hario V60 Drip Coffee Scale
Hario Coffee Scale Summary
Aesthetic Design
The V60 drip scale bears all the other Hario products' design hallmarks, with a sleek, simple look. On the right is the power/tare button, while the timer button sits on the left. In the middle is an LED display for showing the timer and readout. This minimalist approach means there's nothing gimmicky about the product – it looks simple to operate, and it is.
The LED display is a no-frills affair and doesn't have a backlight. This isn't likely to be a problem for most people – unless you plan to brew in darkness. However, it's a shame a backlight's missing, as many other coffee scales at comparable prices do have them.
The main section of the scale is manufactured from hard-wearing ABS resin. It's also water-resistant, so if there are any spillages while you're brewing, it shouldn't be an issue. However, it isn't waterproof, so more prolonged exposure to liquid could be a problem, particularly if it finds its way into the interior.
There are finishes in either white or black, which lends the scale a sleek and elegant appearance akin to other Hario products. However, the white version appears to be harder to get hold of than the black version and isn't available on Amazon at the time of writing.
There is also a metal version of the Hario scale with a weighing pan manufactured from stainless steel. This model also has an LED backlight and a rechargeable battery that will last for around 80 hours.
Size
The Hario V60 drip scale is small and lightweight, making it perfect for taking with you on your travels. Measurements-wise, it is 4.7″ W x 7.5″ L x 1.2″ H. Meanwhile, the weighing pan is approximately 5.5″ x 4.7″.
With these dimensions, it'll only take up a small area of counter space. Another nice touch is a hole situated at the rear of the coffee scale so you can hang it up for storage. At the same time, though, it still accommodates coffee makers regardless of size. For example, you can put a Chemex on top without any problems.
The Hario scale is also slim enough to fit in the drip tray of many espresso machines. So you can have an accurate measurement of your espresso.
If you are a fan of Hario, this Japanese company offers everything you need for making great pour over coffee. This coffee scale works perfectly with Hario drip station as well.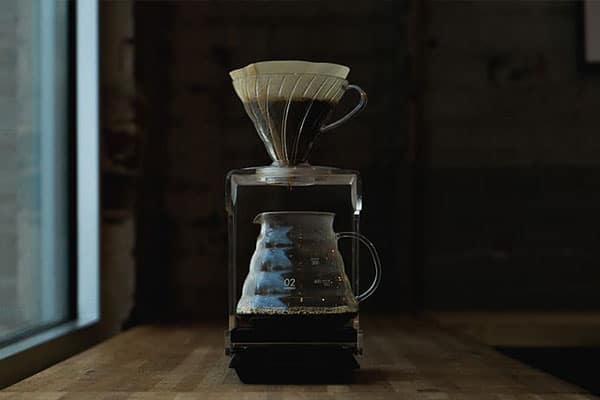 Measure Range
The V60 drip scale has a measuring capacity of 2,000g.
Features That Make Coffee Brewing Easier
Precision
The Hario V60 drip scale can measure in increments of 0.1g, but that's not quite the whole story.
The Hario Drip Scale measures in increments of 0.1g, beginning at 2g right through to 200g. However, between 200g and 500g, it will measure every 0.5g. Finally, from 500g to the 2,000g capacity, it measures in increments of 1g. This is a somewhat confusing quirk of the device as, in our opinion, it offers no tangible benefit. However, we assume it's configured this way because of the relatively small display area. Regardless, though, it is unlikely to be a hindrance to your coffee-brewing requirements.
Of course, the whole point of having a coffee scale is to improve your brew's consistency. Therefore having a reliable and accurate scale is essential. Rest assured that this device is designed with consistency and precision in mind, even for the perfectionist coffee brewers.
Built-In Timer
The V60 part of this coffee scale's name gives the game away about this device's target user – pour over coffee brewers.
If you are a Hario V60 user, you'll be familiar with the large drip hole found at the back of that machine. Hario is aware that remaining in control of the water flow is crucial in brewing perfect pour over.
It shouldn't be a surprise, then, that this Hario scale comes with a built-in timer. This function lets you bloom your grounds for between 30 and 45 seconds before you pour. You can accurately control the volume of water you use in every pouring phase while brewing your coffee on top of the scale. This will ensure the correct extraction.
You can also use the scale for other brewing methods that benefit from accurate pouring control too.
Auto Off Feature
Some coffee scales require rechargeable batteries, but the Hario V60 scale only needs 2 AAA batteries. There's the battery compartment on the bottom. This is handy for taking with you on your travels. Also, the machine will switch off automatically after five minutes without use, which helps preserve the life of the batteries.
If you would prefer a scale with a rechargeable battery, there is a version of the V60 coffee scale that has that too.
Calibration
Calibration of the Hario scale is relatively straightforward, but there are a few steps involved. Press the on/off button five times. On the fifth press, hold it for three seconds. That puts the machine into calibration mode. It will prompt you to place calibration weights of 200g, 500g, and 2kg on the scale to complete the process while calibrating.
For visual instruction on how to calibrate the scale correctly, here is a helpful tutorial:
Ordinarily, there's no need to calibrate this Hario scale. However, if, for some reason, it's not accurate, the option to calibrate is always available.
Ease Of Use
The Hario V60 drip scale is one of the easiest and most straightforward to operate on the market. Once you take it out of the box, it's ready to use immediately without any extra assembly.
The Hario scale only gives readings using the metric system. However, this shouldn't be a huge problem, as the majority of coffee recipes use metric. This means you shouldn't have to change many measurements manually.
However, this is still a limitation, as you will not be able to convert from grams to ounces. It can also cause issues if you want to use the scale for non-coffee-related recipes.
In keeping with Hario products' minimalist ethos, the scale only has two touch-sensitive buttons – one on each side. The first button is for turning the machine on and off, while the other is for starting and stopping the timer. Meanwhile, the digital display sits between the two, where you can easily see it.
Place your server and coffee brewer on the weighing pan and tare the coffee scale. Then add a precise amount of coffee grounds, and tare again. Then you should begin the timer and start pouring the water for perfect coffee.
Value For Money
The Hario V60 drip scale is a mid-priced product, and given its functionality, offers good value for money.
This Hario scale was one of the first coffee scales and was launched in 2012. Back then, it was probably the best available. However, there are now many more products on the market, and some of them offer even more functions, including auto-tare, auto-start, and faster response time.
Meanwhile, some of the newer machines have a more up-to-date, sleek appearance. You can read our pick of the best coffee scales for some excellent options.
On the other hand, Hario V60 drip scale has longevity on its side and has been highly rated by home brewers and professionals alike since it first came on the market. This coffee scale is a precise, easy to use, and consistent and reliable product. Indeed, many coffee lovers have used the device for several years without experiencing any issues.
Any Alternative?
Timemore Black Mirror
With a similar budget, you can also check out the Timemore Black Mirror. We've been using that for a year, it's very reliable. Hario V60 scale has been around for years, probably the look is not as appealing as the newer products. We particularly like the backlight on Black Mirror, which is not available on Hario V60. Check out our detailed hands-on review of the Black Mirror scale for more details.
Our Verdict – Hario Scale Is Still A Reliable Option
The Hario V60 Drip Scale is a high-quality coffee scale that enjoys a good reputation and is known for helping you brew consistent pour over coffee. Coffee accessories like this are definitely helpful for your coffee brewing.
With a built-in timer, accurate measurements, a relatively long history, and the trusted Hario brand name, this coffee scale represents an excellent investment considering its mid-range price.
While it's true that there are models on the market offering greater features, as well as more sleek, modern designs, the Hario V60 Drip Scale still has a lot going for it even after several years since its launch. It is reliable, easy to use, portable, and compact, making it one of the best coffee-scale options on the market and at a reasonably affordable price.