For the people who find themselves craving high-quality coffee shop drinks but don't want to make the effort to drink and pick it up, having a high-quality automatic coffee maker at home can be all you need.
The Miele brand is primed for beginners to the specialty coffee drink world. Having all of the features available in one touch on a personalized screen makes it highly simplistic and allows you to create high-quality drinks with ease. As one of the best automatic coffee machines, the Miele CM 7750 will give you the taste you crave and the ease of use you need.
Keep reading to know all the details about this newer premium Miele coffee machine, such as how its three-been hopper works, what type of drinks it allows you to prepare, performance, drink quality, and much more.
Also Read: Miele Coffee Maker Reviews And Comparison
Miele CM 7750 Coffee Machine Review
Miele CM7750 CoffeeSelect Superautomatic Espresso Machine
Pros:
Three bean containers let you choose different coffee beans without hassles
10 user profiles, convenient for multiple users
AutoDescale and milk pipework cleaning
More than 20 tea and coffee specialities with flexible programmability
Cons:
The touch screen is smaller compared to other machines at this price
Larger footprint requires more space on your countertop
Design And Build Quality
Although the Miele CM 7750 is a bit larger than other competitor brands and will take up a significant amount of space on your countertop, the obsidian black machine is very sleek and can blend in well with other appliances.
The CM7750 countertop coffee system has a digital touch screen on the front, which is intuitive to use. However, the screen is smaller than other competitors at this price range, and text and icons display is less elegant and premium than those with high-res photos.
One of the most favored perks is the three-bean hopper included in the design. Having several hoppers allows you to store coffee beans for various drinks without switching out the different kinds. Having this ability will enable you to save time when brewing and avoid cross-contamination with the other beans types.
If you are a household with multiple users of the machine, you can have the necessary beans in each hopper that pertain to everyone's drink of choice. Therefore, if you use a specific bean for your espresso, but another prefers decaf coffee, you can have two hoppers filled with those beans already. If another person prefers a drip coffee option, you have the ability to include that as well. What's more, if you open the door on the side, you can unlock and pull out a spoon, which allows you to brew coffee with your ground coffee.
This multiple coffee bean hoppers design is not common in super-automatic coffee machines. We only saw this in Jura GIGA X7 and GIGA 6, which have two bean hoppers, and they cost more than the Miele CM7.
The central spout with CupSensor detects the cup size and adjusts the height automatically. This smart design prevents splashes when using a smaller cup for espresso and keeps the best coffee crema and temperature.
Drink Options
The Miele CM 7750 CoffeeSelect can brew and create more drink varieties than most other machines on the market, including some of the lower-level Miele models. The Miele CM 7750 produces all the popular drinks that you see at your favorite coffee shop, including café latte, latte macchiato, cappuccino, flat white, café au lait, and even various tea blends.
If you have a tea lover at home, making tea with the machine is extremely easy. You can find black tea, herbal tea, fruit tea, and green tea option, which brews the selected tea in the correct way rather than just heating water.
There are over 20 different tea and coffee specialities that you can make with the Miele CM 7750. It can also create creamy hot milk froth or hot milk for you if you like to make hot chocolate or craft your favorite beverages. If you have guests, choose the coffee pot or tea pot option for a larger batch each time.
Overall, having the CM7750 on your countertop is like owning a small coffee shop or tea bar.
Brew Performance
You will immediately notice with the Miele CM 7750 that each cup of coffee comes out fresh. Due to the inclusion of the slanted conical grinder that is part of the internal makeup, the hardware gets rid of bean residue in the ground coffee chute between each brew, making it so that the different bean types don't become mingled in with one another. You can enjoy freshly ground coffee each time.
The brewing chamber expands as the coffee grounds eject from the grinder. Once there, water mixes into the proper level and temperature before pouring into your ready and waiting mug.
It's a fully hands-off coffee brewing. The well-designed internal components do everything for you in a professional and correct way.
Don't forget the OneTouch For Two, which is available in all the new Miele countertop models. You can choose single or double sizes for all the preset specialty coffees. Making two large cups of Latte macchiato within a minute is really impressive.
Coffee Drink Quality
The best part of the Miele CM 7750 is the consistency in which it produces the same exact taste cup after cup. While many automatic brewing machines require elaborate tweaking and continuous setting changes to produce the desired quality, the Miele CM 7750 has a set of simple buttons that allow you to make your own flavor profile, and that's it. You can expect rich and flavorful espresso or coffee drinks made by a high-end espresso machine using a portafilter.
The included milk frother turns out perfect creamy milk froth for your lattes, mochas, cappuccinos, and everything in between. What you will never get is burned or scalded milk. The temperature varies by the specific drink you create but is heated precisely by the high-quality internal components.
Ease of Use
One of the first things you'll notice about the Miele CM 7750 is how simplified they have made its features. Not only is everything touch screen automated, but you can create up to ten separate profiles that store each person's drink preferences. Therefore, if you make one for yourself, you can list what beverages you want to immediately show up when you select your name.
For everything else, just follow the prompts on the screen and choose what you want. For instance, if you desire a latte macchiato, you will go to the touch screen and scroll through the drinks to find that one you want to make. From there, you will be able to choose any add-ons that pop up.
If an extra espresso shot is what you're feeling, you can choose that. After everything is decided, you press the start button, and the Miele begins the brewing process. Within one minute, your coffee speciality will be ready for you!
Maintenance
While other machines have extensive cleaning protocols, the Miele CM 7750 is on the opposite end of the spectrum. It's the only countertop coffee machine in Miele's countertop coffee lines that provides the AutoDescale feature.
If you prefer descaling manually, like the other features available, you simply go to the maintenance and cleaning option via the touch screen, and the machine will guide you through the process. The brew unit is also accessible and removable from the side, and you can rinse it regularly to keep the best performance.
It is equipped with a 74 fl. oz (2.2 L) water reservoir, which is removable from the side. The large drip tray can hold 27 fl. oz (0.8L) of water so you don't have to empty it very often.
What is unique with automatic coffee makers is that the separate milk canister requires its own cleaning process. However, this is a non-issue with the Miele CM 7750 as it is looped into the automatic features installed on the machine. It automatically rinses the milk pipework with hot water after milk frothing.
Aside from your regular easy cleaning, both of the machine's internal components and the milk frother, the system's descaling is also conducted using the same methods. Within the options area, you will have the choice of several different regimens. Depending on what is needed, you will select the full clean, descaling, or milk cleaning.
Other Great Features
Programmability
There are plenty of options when it comes to programming your machine. To start, there are three containers for different kinds of coffee (say, regular, decaf, and a flavored variety). However, you can change the naming of the containers so your system knows if Type A and Type B are the same.
Further, you can set up different profiles with saved drinks, and program which bean container is allocated to those drinks, so everyone gets their favorite each time without needing to manually adjust the machine.
Lastly, you can set your drink parameters. This includes setting drinks to pre-brew, adjusting the kind of beans used and how fine the grind is, choosing the amount of coffee and the temperature of the drink. You can also change the portion size of your drinks (even while the drink is being made in "expert" mode).
Smart Coffee Maker With Miele@Home Support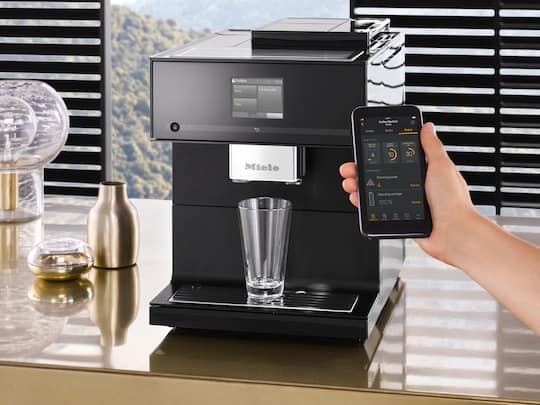 Miele@home is an app you can use to connect to your coffee machine (or any other Miele appliances you have around the house!). Want to have your coffee ready for you as soon as you get up? You can get your machine brewing while you're still in bed from the convenience of your phone.
Want to make sure you turned the machine off before you left for work? You can check on the status of your coffee maker from your phone or tablet as well!
Value For Money
Although the Miele CM 7750 is an expensive machine, it is Miele's latest and most premium countertop coffee machine. While it offers everything provided by other Miele countertop coffee machines, it has additional features that you don't often see in espresso machines. If you have multiple coffee drinkers at your home, the CM 7750 is worth considering. Thanks to the three beans containers, OneTouch for Two, and 10 user profiles, it can definitely satisfy everyone.
The three-bean hopper design is unique to this maker and is one that you can't find in any others on the market. Furthermore, Miele has been a well-established brand offering luxury home appliances for more than 120 years.
Miele CM 7750 Alternatives and Comparison
The Miele CM 7750 is top of the line, but it may not be the exact model you're looking for in searching for an automatic machine. Therefore, we have compiled a few alternatives for comparison.
Miele CM 7750 Vs. 6360
While there is a clear price difference between the 7750 and the much cheaper 6360, you will find that they have a few similarities in their most popular features. Both machines have Wi-Fi connectivity, as well as the added milk frother. However, the 6360 only has one bean hopper compartment, while the 7750 has three.
Other key differences come in that the touch screen display on the 7750 has more information, such as time and programming options, while the control panel in 6360 has a smaller screen controlled by touch-sensitive buttons. The latest CupSensor, AutoDescale features are also missing in the more affordable CM6360.
Miele CM 7750 Vs. Jura Z10
Jura is another top competitor in the automatic coffee machine market. What is unique about the Jura Z10 specifically is that it supports the J.O.E. app, which is highly similar to the Miele@home feature, letting you customize and control the machine as well as receive support.
The Jura Z10 has 32 drink options but only one bean hopper. It's equipped with the latest Jura P.E.P tech and P.R.G. grinder, ensuring quality espresso. What's more, Z10 has a unique cold brew extraction for high-quality drinks.
Although Jura Z10 comes in at a lower price than the Miele CM 7750, the Jura has a larger and more intuitive touchscreen display with more flexible customization. Check out Jura Z10 review for more details.
Verdict
The Miele CM 7750 is a top-of-the-line machine that is exceptionally user-friendly and consistently extracts near-perfect espresso and coffee drinks. The compatibility with Alexa voice commands and its simplified touch screen makes it easy to operate and maintain.
If you are looking for great-tasting drinks without a lot of effort, the Miele CM 7750 is a great option. While the cost comes in higher than others on the market, the features and materials are unrivaled.