If you haven't tried making espresso at home yet, what's holding you back? Possibly the higher price of a good espresso machine? The barista skills? Or how about the size of the machine?
If those factors have put you off domestic espresso brewing, the Solis Barista Perfetta espresso machine is relatively affordable, compact, and lets you pull authentic espresso. Machines with each quality are rare, though, while those on the market often lack many excellent features because of the compact size.
Solis is a Swiss company formed 110 years ago and claims this machine is the ultimate compact home espresso machine. But is it?
Thanks to Seattle Coffee Gear, we have a chance to try the machine out, allowing us to present this hands-on review of the machine to determine whether it is as good as it appears. So let's take a look.
Solis Barista Perfetta Review
Design And Build Quality
When you take the Solis Barista Perfetta out of the box, you'll immediately notice it is really compact. In fact, it's only slightly larger than our Niche Zero grinder – a machine known for its small size. To offer some perspective, if you place them side-by-side, they still take up less room than a standard espresso machine. Therefore, this is an attractive option for anyone with limited kitchen countertop space.
The machine is available in black, stainless steel, or white – we tested the black one. The machine is solid and sturdy, weighing 5.7 kg. Meanwhile, the matte black finish is stylish.
Four buttons on the front control the machine, and they allow you to program it, pull either one or two cups of espresso, or activate steaming. A dial lets you turn on the steam wand on the right. The overall build quality and tactile feel of the machine are reminiscent of Breville, whose espresso machines often have similar layouts. For example, the Bambino or Barista Express.
In the center, beneath the buttons, is a pressure gauge. Many cheap espresso makers also have a manometer, but, most of the time, they don't really serve a practical use if the machine uses a pressurized portafilter. This isn't the case with Barista Perfetta. Instead, the pressure gauge is extremely handy for dialing in to perfect your espresso shots. This alone tells us plenty about Solis' confidence in the coffee machine to appeal to novices and expert domestic brewers alike.
There is a 54mm group head, which is the same size as many similarly compact home espresso machines. Because of this, there are plenty of compatible accessories on the market, including grounds distributors, tampers, and bottomless portafilters.
There's a 3.5 inches clearance between the group head and the drip tray, you can easily fit in a scale and a larger cup. It also has a 1.7L removable water reservoir, the capacity is huge considering how compact this machine is.
What's In The Box?
The Solis Barista Perfetta (Check Price) has some impressive accessories that are all practical and high-quality. For example, while many entry-level machines come with tampers, they're not always built with solid metal.
There are also pressurized and non-pressurized filter baskets for single and double shots. With a pressurized filter basket, you can make good coffee with rich crema, even using preground coffee. However, you can really step up your game with a good grinder that allows you to grind and adjust the fine espresso size if you use the non-pressurized basket. Also, there's a filter basket specifically for the ESE coffee pod.
The branded double-spouted portafilter also looks beautiful and is well built.
Other accessories include a water filter cartridge, a measuring spoon, and a 350ml stainless steel milk jug. All these accessories mean you don't need to buy anything separately, which is a rarity for a machine in this price category.
Brewing Performance
We know the machine's build is good and compact, and it's affordable, but can it pull perfect espresso shots? In a word, yes! Solis Barista Perfetta has many excellent features generally reserved for more expensive espresso machines.
Quick Heat-Up Time
The Solis Barista Perfetta has thermoblock heating elements, and it only takes around 40-50 seconds to heat the water in the boiler to the optimal brewing temperature. This is excellent for a home espresso machine and means you can brew and enjoy espresso into your busy morning routine.
Auto Pre-Infusion
Many higher-end machines have pre-infusion, and the Solis Barista Perfetta Plus has it, too. Before pressure is applied to the coffee puck, it adds a small amount of water at lower pressure and pauses for a few seconds. This ensures a more even extraction and minimizes the chance of channeling.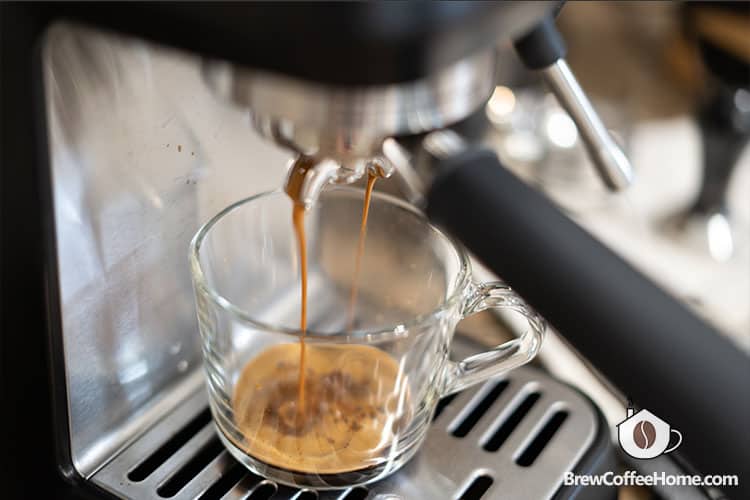 Adjustable Temperature
Once you've perfected your grind size, you can pull excellent espresso with the Solis Barista Perfetta. That's not all, you can also alter the brewing temperatures.
To do so, push the one-cup button and display the current temperature setting. Then you can change the desired brewing temperature. For example, One-cup is low, the two-cup button is medium, and the steam button gives a high brew temperature. You can adjust the temperature settings based on factors including the coffee roast levels and taste preference. Once again, this is a rarity in an entry-level machine.
Manometer
You'll need perfectly ground coffee, the optimal temperature, and a stable brewing pressure, preferably 9 bars to pull the perfect shot. This is where the manometer comes in, which displays the brewing pressure while the machine is brewing. This isn't something you'll need when brewing pre-ground coffee, but it's a fantastic addition when using freshly ground coffee with a non-pressurized basket.
If the pressure is significantly lower than 9 bars, try to grind the espresso beans finer, distribute grounds more evenly or apply more tamp pressure. However, if there are considerably more than 9 bars of pressure, use a coarser grind size. The manometer will help you intuitively alter the extraction pressure and grind size for a better espresso shot.
Milk Steaming Performance
The Solis Barista Perfetta is excellent at pulling espresso, but what about milk-steaming for milk-based espresso beverages?
Reassuringly, the machine has a professional steam wand with one hole in the tip. Also, while the steam pressure is not as high as some premium professional machines, it's strong enough to steam a cup. Overall, it can steam velvety milk foam for latte art with a little practice.
Here are a few tips to perfect your milk steaming.
Always start with cold milk. This will ensure you have the time to steam and texture your milk before it gets too hot (149F or 65C is ideal).
Position the tip around the two or three o'clock position and place the steam tip just beneath the milk's surface.
As you begin steaming, move the tip nearer the surface to introduce some air. This will cause a hissing sound and create a vortex. Lower the tip a little when the milk rises to the desired level and keep the vortex until the pitcher becomes too hot to touch. Then stop steaming.
Using a damp cloth, wipe the steam wand and push out the water. Now you can pour latte art.
Many entry-level machines have a Panarello steam wand, which, while beginner-friendly, is limited in its ability to texture the milk. Therefore, Panarello wands are good for making foamy milk for cappuccino, but not microfoam for latte art.
There is also a hot water function on the steam wand, which is slow but good for brewing Americano.
Other Excellent Features On The Solis Barista Perfetta
3-Way Solenoid Valve
At the end of the extraction, the valve releases pressure from the group head and sucks water from the basket to the drip tray. This leaves a dry coffee puck that's easy to knock out, meaning there'll be no mess, even if you remove the portafilter immediately after brewing. It also means you can prepare another shot without much cleaning.
3-way solenoid valves are in other machines, including the Gaggia Classic Pro and Rancilio Silvia, and other more high-end semi-automatic machines, so the Solis Barista Perfetta is in good company. Once again, a feature of this type is unusual in other small entry-level machines.
Auto Cool Flushes
Once you've steamed milk with a single boiler or thermoblock heating machine, the water temperature will be too hot to brew coffee. That means you'll need to run a cool flush. However, with the Solis Barista Perfetta, all the hassle is removed with its automatic flushing of hot water and refilling with fresh cold water following steaming. You can also speed up the cooling manually by turning on the steam until the lights stop flashing.
Programmability
As well as adjusting the temperature, the Solis Barista Perfetta also allows you to program the volume of single or double shots. Just press and hold the one-cup or two-cup button, and the machine will save the preset volume.
With the program button, you can save energy by presetting the standby time and auto-shutdown.
Cleaning And Maintenance
The Solis Barista Perfetta's drip tray is larger than those typically found in compact espresso machines. Meanwhile, the 3-way solenoid valve also makes cleaning easier. There's also a water filter that minimizes the build-up of limescale. When you need to descale, the steam button will flash red, and both coffee buttons will illuminate white. To assist with descaling, refer to the user manual, as it's very detailed and easy to follow.
Overall, the machine should run well for years with a small amount of maintenance. Meanwhile, it also comes with a one-year warranty.
Value For Money
While the Solis Barista Perfetta is an entry-level automatic espresso machine, it's not cheap. Indeed, the price is closer to mid-range espresso machines like the Barista Express and Gaggia Classic Pro. Nevertheless, the performance is very good indeed.
Compared with other smaller machines on the market, including the De'Longhi Dedica and Breville Bambino Plus, the Solis offers far more features and a higher build quality, but it will cost you more.
Despite the extra cost, it's well worth considering as your first espresso machine for everyday use, and it's even better if you have limited kitchen counter space.
Solis Barista Perfetta vs Breville Bambino Plus vs De'Longhi Dedica
Breville Bambino Plus BES500
The Bambino Plus is the Solis Barista Perfetta's main rival and costs the same. Like the Solis, it has a stainless steel build and a 54mm portafilter.
However, it lacks the non-pressurized baskets and a hot water function. If you enjoy milk-based espresso drinks, the machine has an auto-frothing steam wand with a temperature sensor, making it more beginner-friendly. So, you can select your desired milk temperature and texture, but not the brew temperature. Also, the warm-up time of the machine is an impressive three seconds. Check out our Bambino Plus Vs Bambino comparison for more details.
De'Longhi Dedica Deluxe EC685
Another popular entry-level espresso machine, the De'Longhi Dedica, is slightly slimmer than the Solis Barista Perfetta and Breville Bambino Plus but has only a 51mm portafilter. It also has a smaller water tank. Other elements absent are an unpressurized filter basket, manometer, temperature settings, and solenoid valve.
There also isn't the range of quality accessories offered by the Solis. Another disadvantage is its Panarello wand, meaning it's fine for frothy cappuccino but not microfoam for latte art. If you prefer a machine with a professional steam wand, another option is the EC885 Dedica Arte, but it's more expensive.
However, the De'Longhi Dedica is cheaper than the Solis Perfetta and Breville Bambino Plus, so it's worth looking at for anyone on a tighter budget who's in the market for a compact machine. Here is our Delonghi Dedica review.
Our Verdict
The Solis Barista Perfetta may be compact, but it packs many hugely impressive features in a small package, including the 54mm portafilter, manometer, 3-way solenoid valve, and auto-pre-infusion.
In fact, even though the Solis is an entry-level machine, its sheer range of capabilities is far more in keeping with a full size semi-automatic espresso machine.
Not only that but the machine is built like a high-end machine, too, with stainless steel predominant, making it reliable and durable.
The list of advantages goes on, with fantastic accessories, user-friendliness, the option of using a non-pressurized basket, and the ease of cleaning and maintenance.
With a machine this impressive, it isn't easy to nitpick, and perhaps the only legitimate way to do so is with the price, which is closer to a mid-range machine than an entry-level machine.
Nevertheless, if your budget can stretch to it, this is a fantastic machine for anyone beginning their domestic espresso-making journey. Most importantly of all? With practice, you'll be able to pull shots every bit as delectable as ones produced by far more expensive machines.