In recent years, nitro cold brew coffee has grown in popularity as an alternative to iced Americano thanks to its creamy texture and gorgeous cascading foam.
However, it is relatively expensive to buy in a coffee shop, and also not widely available. Meanwhile, making it at home requires a machine to diffuse gas into the iced coffee, ideally using N2 cartridges.
But what if there was a way to produce a coffee drink close to nitro cold brew using just espresso, ice, water and a steam wand? The Aerocano promises just that. But does it have the same creamy taste and gorgeous visual appeal? Let's find out.
Check the following video to see how I make the Aerocano at home.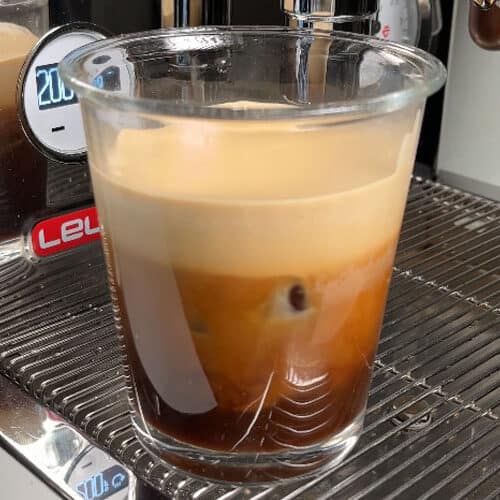 Aerocano Recipe – How To Make Steamed Iced Americano
This recipe will show you how to make Aerocano, an espresso drink with cascading foam and creamy texture like a nitro cold brew.
Equipment
Espresso machine with steam wand

Milk pitcher

tall glass
Ingredients
2

shots

espresso

130

grams

ice cubes

100

ml

cold water

optional
Instructions
Grind whole coffee beans for espresso, tamp coffee grounds, and then pull a shot of espresso to yield around 60ml

Pour the espresso shot into a milk pitcher with 100ml of water and 130g of ice, adjusting the amount of water and ice to your preference.

Steam the liquid with the steam wand, place the tip right below the surfice to incorporate air to create foam without heating the liquid too quickly.

Pour the Aerocano into a glass, and enjoy the refreshing, creamy drink with a distinctive cascading foam effect.
Notes
For the recipe, you have the option to use either a single shot or a double shot. If you desire a more intense coffee flavor, you may add ice cubes without any additional water.
Nutrition
Serving:
6
fl. oz
Calories:
1
kcal
Who Invented Aerocano?
The drink came to prominence on the social media platform Reddit from a user called Rockboxatx, who posted a short video of the 'Steamed Iced Americano' in the popular Espresso sub-reddit [1].
The post soon garnered plenty of attention, with Redditors trying it for themselves and posting their own videos and images of the drink online. Now, it's gone even more mainstream thanks to its gorgeous visual appeal and alternative to iced Americano or nitro cold brew. The name was later abbreviated to Aerocano.
How To Make Aerocano At Home – Aerocano Recipe
Aerocano is simple to make at home. Let's examine exactly how to do that for the best results.
Equipment: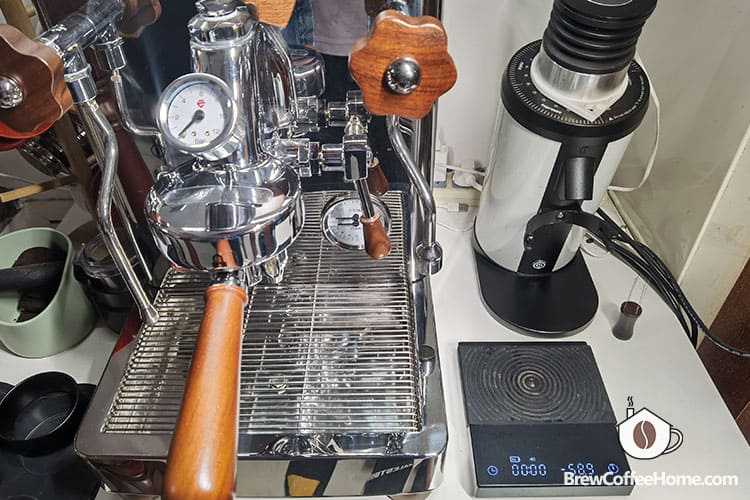 Espresso machine – while you can use other equipment including Moka pot or AeroPress, a dedicated machine will likely produce the most satisfying and consistent results.
Steam wand – For guaranteed cascading foam, the steam wand is undoubtedly the best option. However, if you don't have steam wand, we offer some alternatives further on.
Milk pitcher – you'll need a milk pitcher to create the necessary vortex for steaming the liquid, and pouring correctly into the glass.
Glass – as well as its creamy texture, the other key facet of the Aerocano is the visual appeal, so a glass is essential to fully enjoy this unique drink.
Ingredients:
Espresso shot (40ml)
Ice (around 130g)
Water (around 100ml)
Instructions:
Step one: Grind some whole coffee beans for espresso, tamp the coffee grounds and pull a shot of espresso in the usual way according to your machine, aiming for a yield of around 40ml.
Step two: Fill a milk pitcher with around 100ml of water and 130g of ice and pour the espresso shot in. You can adjust the amount of ice and water you add depending on your preference.
Step three: Purge your steam wand and begin steaming as you would milk. Remember, the aim is not to heat the liquid – you're only trying to incorporate air to create the foam.
Step four: Once the drink develops a satisfactory foam, carefully pour the liquid into your glass, and enjoy the distinctive cascading foam effect. Then enjoy the creamy and refreshing Aerocano.
Alternative Ways To Make Aerocano
If you don't have a steam wand, there are some alternative methods to create the desired foam effect. While none of them will be as effective in my test, here are the best three to consider.
Nanofoamer
The Subminimal Nanofoamer is typically used for creating microfoam for latte art. Because it specializes in creating bubbles that are incredibly small, it is a good option for producing the all-important foam necessary for Aerocano.
Add the water, ice and espresso into your milk pitcher as described earlier, then begin foaming with the Nanofoamer. Start by lowering the impeller just beneath the surface of the liquid before aerating it for 10-15 seconds. Then, move it slightly lower and towards the side of the jug and churn for a few more seconds.
The espresso drink will have a satisfactorily foamy head, but may not have the cascading bubbles effect so beloved of the drink made with a steam wand. Nevertheless, the texture should be creamy enough to differentiate it from an iced Americano.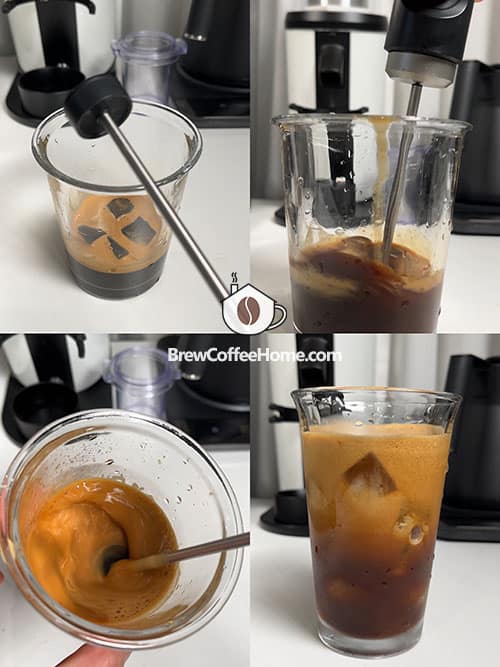 Cocktail Shaker
The cocktail shaker method has one advantage over the Nanofoamer – it's a lot easier. Simply add your water and espresso shot to the shaker, seal it and shake vigourously for between 15 and 20 seconds. Then carefully pour the drink into your glass and enjoy. This is similar to making Starbucks iced shaken espresso or espresso martinis.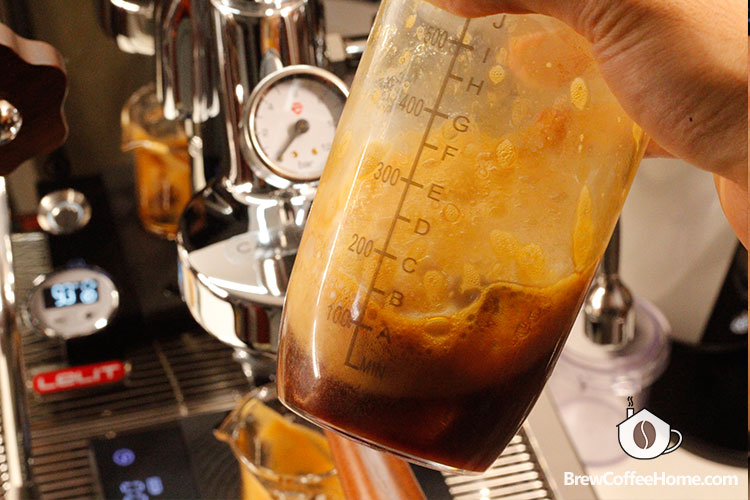 While there will be a head, if anything, it'll be slightly thinner than the one produced by the Nanofoamer, while the texture may also lack the distinctive creaminess of using a steam wand. Nevertheless, it is still a good option if it's the only device you have to hand.
French Press
The French press method is almost as straightforward as using the cocktail shaker. Add an espresso shot and a little water and begin plunging vigourously until foamy.
In a glass, add some ice cubes and more water, then pour over the liquid from the French press.
You can even try this method with instant coffee instead of an espresso shot if you don't have an espresso machine. While it won't be a genuine Aerocano, it'll still make for a refreshing spring or summer drink.
Aerocano vs Iced Americano
The Aerocano bears striking similarities with an iced Americano, but there are some key differences.
Although the ingredients of the two drinks are the same, iced Americanos typically have more water. The Aerocano is more intense as it has melted ice cubes and some – but not as much – water as an iced Americano.
That's not all, though. Another key difference is preparation as Aerocano is steamed, which gives it that distinctive cascading foam that makes it much closer to nitro cold brew than iced Americano.
Final Thoughts
If you're a fan of iced Americano or would love to try nitro cold brew don't have the equipment you need, the Aerocano is a fantastic alternative that you can easily make at home.
After all, you don't need lots of expensive equipment aside from an espresso machine, it has very few ingredients and is quick and simple to make.
Nevertheless, the result is both delicious and aesthetically pleasing, making it a perfect beverage to impress guests or just enjoy yourself.
Having tried Aerocano, we can easily see why it's become so popular in a short and highly recommend you try it too.
References:
[1] Steamed Iced Americano – https://www.reddit.com/r/espresso/comments/st8tan/steamed_iced_americano/