As the summer heats rise, having an iced coffee drink in your hand can help make the beating sun more bearable. A shaken espresso Starbucks drink is a great way to knock the sweat down, but they can be a bit pricy.
Instead, why not make your own? Knowing the ingredients and recipe for the Starbucks shaken espresso drinks can help you do just that! If you've been thinking about making your own iced shaken espresso, read on to learn more!
This video shows you how I make the Iced shaken espresso with a few simple steps.
What Is Shaken Espresso?
Shaken espresso is far from a new invention; the beverage originates from a traditional Italian drink called a Shakerato.
Typically, a shaken espresso at Starbucks contains one or two shots of espresso, sugar or syrup, and ice, shaken up in a cocktail shaker. Shaking your espresso helps to lower the acidity, smoothen the flavor, and mellow the beverage with a creamier mouthfeel. If you find espresso too strong, shaking it can help considerably!
Quick Starbucks Iced Shaken Espresso Recipe
Iced Shaken Espresso Recipe
This recipe shows you how to make shaken espresso at home.
Equipment
1 Espresso Machine

Or Nespresso machine, Moka Pot, AeroPress or any other brewer that makes strong brewed coffee.

1 Cocktail shaker

Or a mason jar
Ingredients
3

shots

espresso

Or about 2-3 oz of strongly brewed coffee

1/2

cup

ice cubes

3

pumps

syrup

Caramel, vanilla or brown sugar syrup

1/2

cup

milk

2% milk, whole milk, almond milk, oat milk, coconut milk etc.
Instructions
Brew tripple shots of espresso or any strong coffee in about 3 oz using your preferred method.

Add iced cubes into the shaker.

Pour freshly brewed espresso over the ice cubes.

Add your favorite syrup into the shakers.

Close the lid of the shaker and shake well.

Pour the mixture from the shaker to the serving glass.

Add your preferred milk then any chosen garnishes.
Notes
Basic iced shaken espresso at Starbucks uses 2% milk and classic syrup. You can change the syrup and milk to make different Starbucks shaken espresso drinks. 
Iced Toasted Vanilla Oat Milk Shaken Espresso: Oat milk, toasted vanilla syrup;
Iced Brown Sugar Oat Milk Shaken Espresso: Oat milk, brown sugar syrup, and topped with cinnamon powder;
Iced Chocolate Almond Milk Shaken Espresso: Almond milk, chocolate malt powder. 
You can create variations according to your taste preference. The brewing method is the same! Enjoy!
Nutrition
Serving:
16
fl.oz
Calories:
100
kcal
Fat:
2
g
Sugar:
14
g
How to Make Starbucks Shaken Espresso At Home? – Detailed Instructions
Ingredients
Like a shakerato, shaken espresso contains a few simple ingredients. Widely customizable, you can add nearly anything you want.
Espresso
Espresso is a must. The ice will melt during shaking, so two or three shots go a long way! If you don't have the supplies to make espresso, strongly brew your dark roast coffee beans with a Moka pot or Aeropress as a substitute.
Syrups
Syrups are also essential. Grainy sugar can struggle to melt in cold beverages, so shaking it with grain sugar can give you an unwanted texture. Flavored syrups can also help you customize the drink. You can try vanilla, chocolate, hazelnut, or brown sugar syrup for this drink.
Milk
Your milk is also a personal choice for flavor. If you're lactose intolerant or vegan, alternative milk is extremely popular for this use.
Hazelnut syrup and oat milk, for example, will make a deliciously autumnal drink. Vanilla syrup and whole milk can help your beverage feel almost like a dessert. There are dozens of combinations, so try out your ingredients to see what works for you!
Equipment
Here is the equipment you need to make your own shaken espresso at home!
First, you need a way to brew espresso. If you don't have an espresso machine, consider a Moka pot. These stove-top coffee makers work quickly and are low-maintenance, making them perfect for the job. A Nespresso machine also makes similar espresso drinks with a touch of a button. Otherwise, use strongly-brewed coffee or cold brew concentrate. If you don't bother making espresso, simply use instant coffee with 2 to 3 oz of water to replace a double-shot espresso.
You also need a shaking vessel. A cocktail shaker is ideal for this task. If not, you can simply use a mason jar or glass jar, secure the lid, and shake gently.
Brewing Instructions
Making your own shaken espresso is surprisingly easy! Follow these quick steps to make your perfect espresso.
1. Prepare Espresso or Coffee
The first step is to prepare your espresso. Use a Moka pot, espresso maker, or any other method you prefer. If you don't have an espresso maker, strongly brew your favorite coffee blend instead.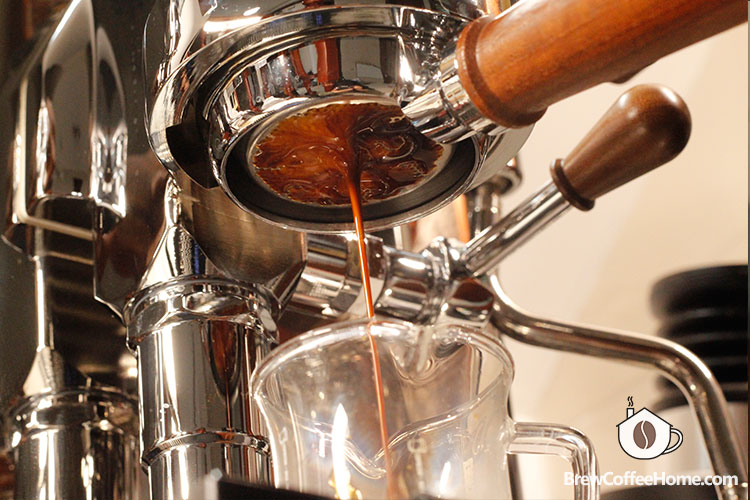 2. Add Ice
While pulling your espresso shot, add ice cubes to the shaker. Don't worry about adding too much! It's better to have too much ice than to not have enough. Fill half of your serving glass is good to go.
3. Pour Espresso Over Ice
Pour your hot espresso over the ice instead of adding ice to your espresso. Doing so will help your espresso cool down faster as it spreads out instead of staying in one place.
4. Add Chosen Syrups
If you want to add syrups to your espresso, add them now. Syrups are better for mixing and can enter your drink at any time. If you're using sugar, add the sugar now and stir it until dissolved to avoid a grainy texture. You can use vanilla extract or brown sugar to make your homemade syrup.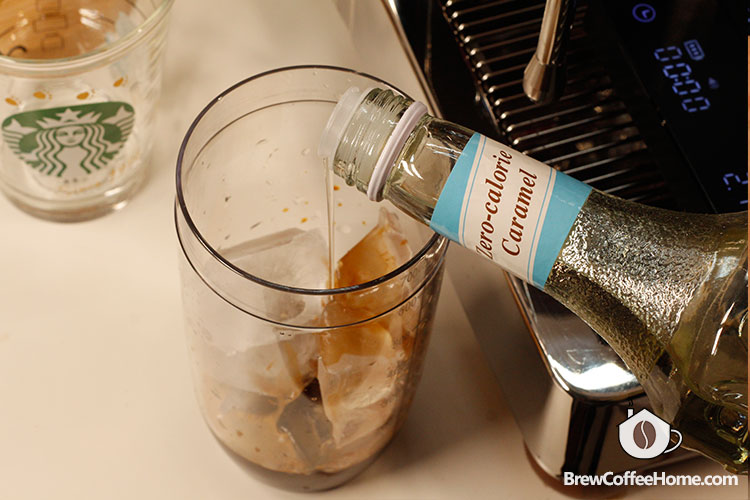 5. Shake Well
With your ice, syrup, and espresso in your shaker or mason jar, you can shake to your heart's content. Make sure the lid is secure and sealed before shaking to avoid having your drink go everywhere.
You don't need to shake vigorously for too long. Give it ten to twenty good shakes, or count to fifteen while you shake. As the ice melts, your espresso's flavor and acidity will mellow out during the shaking process.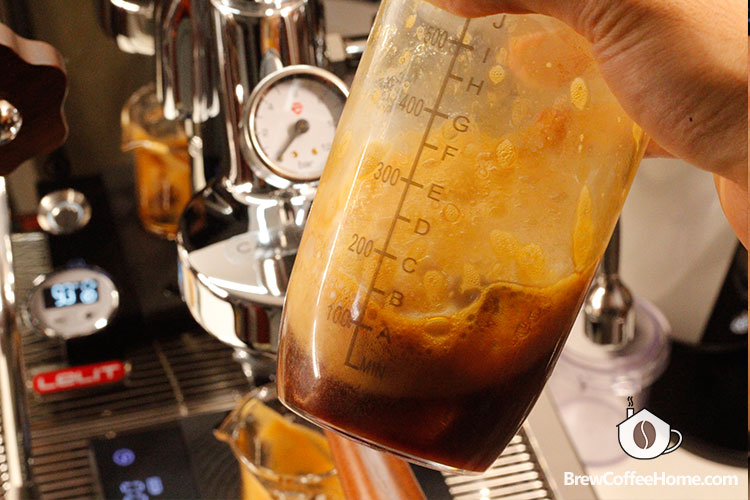 6. Add Milk
Once your drink is shaken, pour it into your tall glass. From there, add any milk that you would like to add. If you don't want milk in your shaken espresso, you can skip to step seven!
7. Garnish as Preferred
With your drink complete, you can add any garnish you would like. Nutmeg, cinnamon powder, and salt are all great toppings for a shaken espresso.
You also can use a cold foam, if you've prepared one. A cold foam will sit on top of your glass easily or mix in well if you'd prefer! Not sure how to make it? Check out the Vanilla Sweet Cream Cold Foam Recipe.
Starbucks Shaken Espresso Drinks
What drinks can you find at Starbucks that your homemade iced shaken espresso can compare to? Here are the four most common iced espresso drinks at Starbucks.
Iced Shaken Espresso
First is a simple iced shaken espresso drink. This recipe uses 2% milk, three shots of espresso, and four pumps of classic syrup.
Iced Toasted Vanilla Oat Milk Shaken Espresso
Second is the iced toasted vanilla oat milk shaken espresso. Here, the Starbucks version uses oat milk, three shots of blonde espresso, and four pumps of toasted vanilla syrup.
Iced Brown Sugar Oat Milk Shaken Espresso
For something with a more autumnal flavor profile, the iced brown sugar oatmilk shaken espresso excels. This beverage uses oat milk, three shots of espresso, four pumps of brown sugar simple syrup, and topped with cinnamon powder.
Iced Chocolate Almond Milk Shaken Espresso
Finally, the iced chocolate almond milk shaken espresso is great as a sweet, dessert-like beverage. The recipe is almond milk, chocolate malt powder, and three shots of espresso.
Shaking Up
No matter what your preferred iced shaken espresso recipe, this drink is perfect to put some kick in your step in any weather. Play around with the ingredients until you have your ideal beverage!
For more great recipes, be sure to check out the rest of our informative blog.