When the Timemore C2 was launched, its impact was almost immediate, and it went on to revolutionize the manual coffee grinder market.
That's because, before its arrival, most manual grinders in the price bracket were constructed predominantly of plastic. Meanwhile, they featured ceramic conical burrs. What made the C2 stand out were its robust aluminum body and steel burrs, and the latter offered much better grind quality at an affordable price.
The Timemore C2 has been on the market for several years and remains a popular choice for domestic brewers looking for a high-quality hand grinder that doesn't break the bank.
Nevertheless, Timemore recently unveiled its Chestnut C3 and C3 ESP, and I was keen to see how they measured up against their iconic predecessor. I've tested the C2 and C3 grinders and will compare them side-by-side in this article. So, is it worth upgrading if you already have the C2? Let's find out.
Check our detailed hands-on reviews here:
I made a short video comparing the Timemore C2 and C3 Esp side by side.
Timemore C2 vs C3 Hand Grinders Comparison
| Differences | Timemore C2 | Timemore C3 | Timemore C3s | Timemore C3 Esp |
| --- | --- | --- | --- | --- |
| Burr set | Regular 38mm | 38mm S2C | 38mm S2C | 38mm S2C |
| Internal support | Plastic | Plastic | Aluminum Alloy | Aluminum Alloy |
| Crank knob & lid | Plastic | Plastic | Aluminum Alloy | Aluminum Alloy |
| Adjustment per click | 83 microns | 83 microns | 83 microns | 23 microns |
| Anti-slip base | No | No | Yes | Yes |
| Grind settings | 20+ | 20+ | 20+ | 60+ |
| Suitable for | Filter coffee | Filter coffee | Filter coffee | Espresso & Filter coffee |
Design Comparison
At first glance, the C2 and C3 are hard to tell apart. That's because both Timemore grinders have a textured surface, ensuring a firm grip during grinding sessions. Meanwhile, each has an aluminum body. However, the Timemore C3 is dark grey, which is a tad deeper than the color of the C2. Meanwhile, the C3S variant has even more colors to choose from, such as the green one I tested.
The 'Pro' versions of the C3S and C3 ESP benefit from foldable cranks – a feature absent in the original C2. That changed with a 2022 update when the company gave the C2 a makeover. As part of that, it was given a foldable crank and a fresh anti-slip texture. Meanwhile, the revamped C2 is priced similarly to the C3 Pro.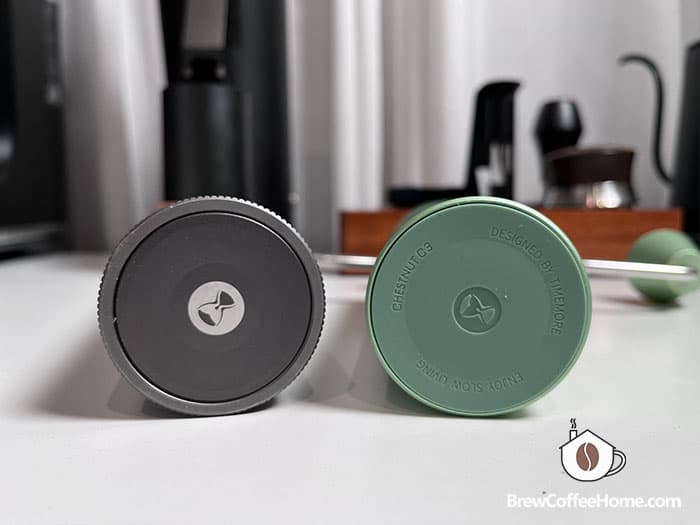 In terms of capacity, the C2 and C3 hold 25 grams of coffee beans, which is just right for the perfect cup. The 'Max' version of C2 and C3 increases the capacity to 30 grams. Other than that, everything is the same.
Meanwhile, the dimensions of both models are similar. They each have a 52mm diameter, making the coffee grinder easy to hold for any hand size. However, while the C2 weighs 460 grams, the C3 is slightly heavier, at 530 grams.
All the grinders come with a travel bag and a brush, and even though the grinders are not as small as the Timemore Nano or 1Zpresso Q2, they are still easy to carry with you.
Build Quality Comparison
Unsurprisingly given its budget-friendly price, the C2 incorporates several plastic elements, including its lid, knob, and internal structure. That also explains why it is not as heavy as the C3.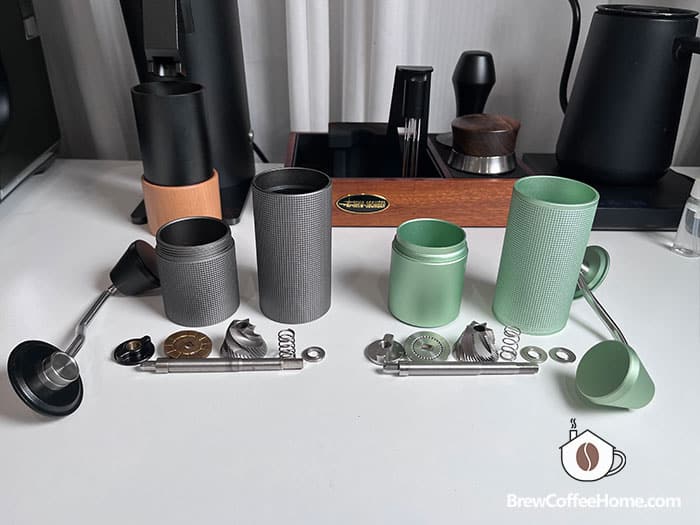 The improved build quality of the C3 affects both performance and durability, as the more stable internal structure guarantees a more consistent grind, while the aluminum alloy is, of course, significantly more hard-wearing than plastic.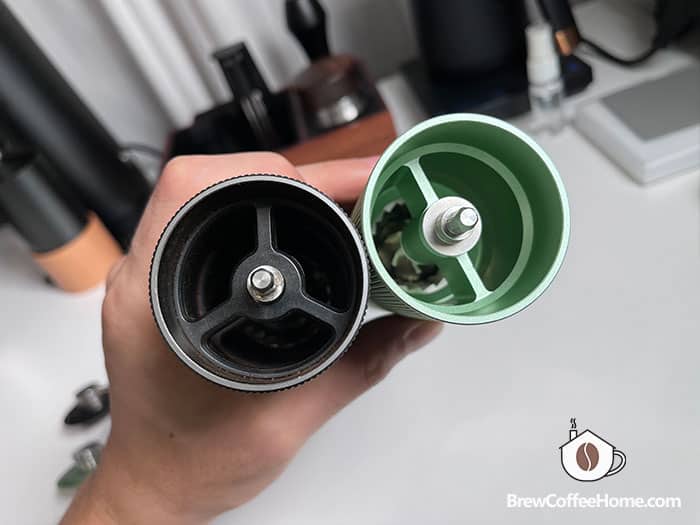 Elsewhere, the dual bearings flanking the central axle are a standout feature for both grinders and promise a seamless grinding experience.
My original Timemore C2 grinder has a plastic dial. However, Timemore's 2022 update replaced that with a metal one, and that's also on the C3. Each click feels precise and robust, which is impressive.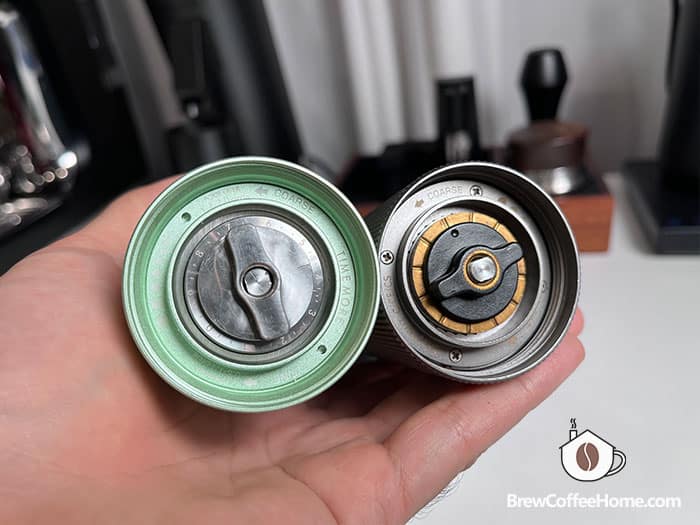 Over the years, I've ground plenty of beans using the C2 and never felt any instability. Given the C3's aluminum construction, I was even more confident in its longevity, and so far, that hasn't been misplaced.
Overall, both these Timemore grinders are reassuringly sturdy, and I've had no concerns over potential breakages.
Burr Set Comparison
Both grinders have 38 mm steel burrs. However, the C3 series introduces Timemore's "spike to cut" technology, which has a different geometry.
If you look closely at the C3's inner cone burr, you'll notice vertical lines etched across its upper section. This design isn't on the C2's conical burr, but what does it do? The C3's burrs crush the coffee beans on the cutting surface before grinding them.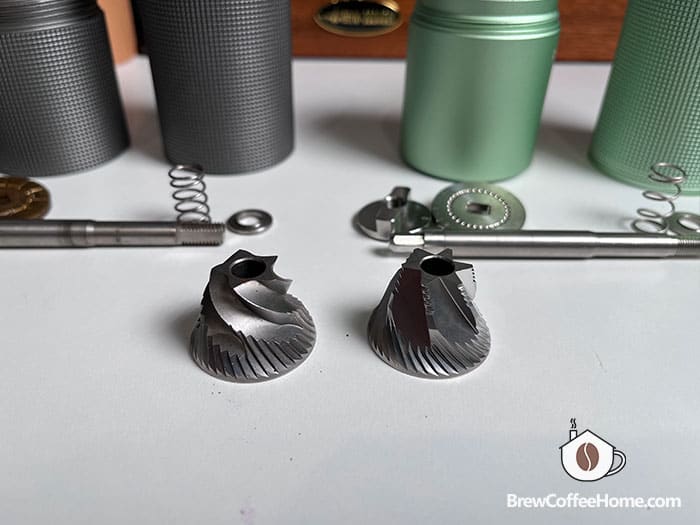 In theory, the pre-crushing process ensures a more consistent grind, as beans are broken into smaller fragments before reaching the main grinding blades.
Overall, the burr quality of the C2 and C3 are similar. Each uses precise CNC cutting burrs with hardness of HRC 55-58, meaning they are durable and will stay sharp for the long term. My Timemore C2 certainly backs up this claim. I've been using it regularly for three years, and it's still as efficient as the day I lifted it out of the box.
Grind Settings
Changing the grind settings of the C3 is the same process as the C2, as they each use an internal adjustment dial beneath the burr set.
With over 20 click settings, you can achieve a range of grinds, from the fine grinds ideal for espresso and moka pot, to coarser grinds necessary for drip coffee, pour-over, or even French press and cold brew.
One user-friendly addition I like on the C3 is the inclusion of recommended grind sizes on the dial. This is a thoughtful touch as it makes it simpler for users to find and adjust their grind depending on their preferred brewing method.
However, the relatively large adjustment increments per step mean that while you can achieve a fine grind for espresso, you won't have as much control as you would with a grinder that utilizes finer step adjustments.
Timemore has recognized this issue and introduced the Chestnut C3 ESP, which, as its name suggests, is designed for espresso enthusiasts. The grinder boasts a 23-micron adjustment range and an expanded set of grind settings, offering espresso lovers even more precision.
Grind Consistency Test
As I mentioned earlier, the Timemore C2 remains hugely popular, and it largely earns its reputation thanks to its excellent grind consistency and affordable price.
From my experience, the C2 delivers impressively consistent grinds, particularly in the medium grind range for those who prefer filter coffee. True, you still get a larger percentage of fines compared to premium grinders, but it's in an acceptable range and won't drastically affect the finished beverage. Even with that limitation, it's a significant improvement compared to grinders with ceramic burrs, such as the Hario Skerton or Porlex we've tested before.
The Timemore Chestnut C3 is even better, and offers more grind consistency thanks to its new burr design, guaranteeing higher uniformity for a pour-over grind size.
Flavor Test
I detected a significant difference in flavor profile in pour-over coffee using grounds from the C2 and C3. However, that's not to say it's an improvement, as taste is subjective. For some single-origin specialty coffee, the C2 produces a more balanced cup with a fuller body than the C3, while the newer C3 is best suited to lighter and more floral beans to yield a cleaner cup.
However, both grinders tempered the acidity and intricate flavors of the coffee, especially compared to premium grinders like the Chestnut X and Comandante C40, which I've also tested.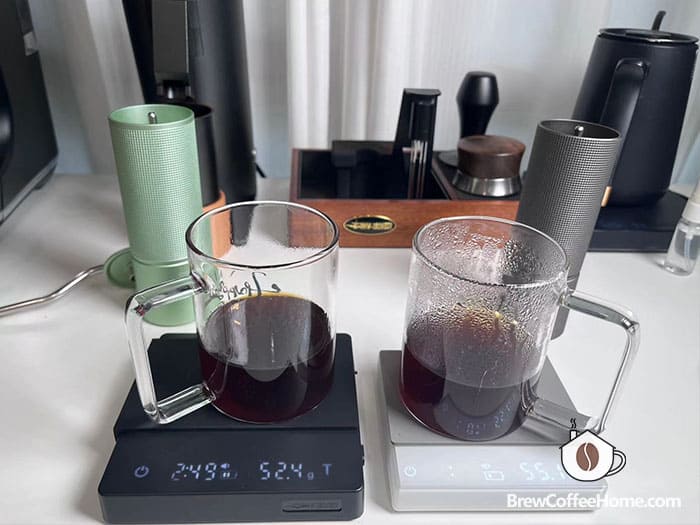 While I love the Timemore C2, it is not designed for espresso grinding as it takes too long to grind that fine. But does the C3 solve the issue? Unfortunately not – the C3S grinds faster in a finer range but not fast enough, hence why espresso lovers should consider the C3 ESP. I can pull excellent espresso shots with the fine coffee grounds produced by that grinder.
Grinding Speed Comparison
I put the C3 and C2 against each other to test their respective speeds. I weighed 10 grams of coffee beans and set both grinders to the pour-over setting.
The C3 ground the beans in 31 seconds, while the C2 took 24 seconds. However, the C3 outpaces the C2 with finer grinds. This faster speed in the C3 is down to the innovative S2C burr design, which enhances its efficiency for finer grinds, making it a more capable grinder in this comparison.
Overall, having used both grinders, the grinding experience with each is strikingly similar. Both offer a seamless experience, but grinding coffee beans with the C3 is smoother and easier, especially when grinding denser light roast beans.
Value for Money
If you're in the market for an entry-level grinder, the C2 remains the best choice. It's a model that has stood the test of time and still earns accolades from coffee enthusiasts, and with good reason.
The Timemore C3, while boasting enhanced build quality, comes in more expensive. This could be due to higher manufacturing costs as it has undoubtedly better build quality. Still, it's not easy to find a great alternative under $100.
If you spend more money for a more serious upgrade, you could consider other models like the 1Zpresso grinder or the KinGrinder's premium grinder, the K6, which both offer larger burr sets, plenty of grind settings, and convenient external adjustments.
Overall, I would say that if you already have the C2, an upgrade to the C3 might not be worth it. However, if you're in the market for a manual espresso grinder that won't break the bank, the C3 ESP model emerges as a stellar choice. After all, finding an espresso grinder in this price bracket that offers nuanced adjustments and swift grinding is difficult.
Final Thought
The Timemore C2, with its well-earned reputation for consistency and affordability, has set a high standard, and the C3 series is a worthy enough update. Nevertheless, its value is questionable when compared to the C2.
Yes, the C3's grind consistency and flavor clarity are commendable, especially in the espresso range with the C3 ESP. However, for existing C2 users, I'm not convinced it's worth upgrading considering the cost.
Nevertheless, the C3 is far from a bad place to start for those new to the grinding scene. Meanwhile, if you're in the market for an espresso grinder, the C3 ESP is well worth further investigation.