If you're on the lookout for a premium hand grinder, the Timemore Chestnut X is one to consider.
With this product, the company is reaching for the higher end of the market. This ambition is evident in the burrs, which are reinvented via Timemore's patented S2C (spike to cut) conical design. Meanwhile, there is a dual adjustment dial and an impressive 120 grind sizes.
These are the standout features, but this review will take an in-depth look at everything the grinder has to offer. After all, if you're looking for a premium hand grinder, you'll have plenty of options. Let's see if the Timemore Chestnut X really is one of the best manual hand grinders.
Timemore Chestnut X Grinder Review
Build Quality And Design
The first thing you'll notice about the Timemore Chestnut X is its full steel and aluminum build. It's fairly heavy, too, while it feels reassuringly solid. The machine weighs around 760 grams – which is one of the heavier hand grinders. However, when you're holding it, you'll be in no doubt that this is a premium, high-quality piece of equipment.
Most hand grinders have three parts – the body, the grounds bin, and the handle – and the Timemore Chestnut X is no different. So, let's examine those parts in greater detail.
The Body
The CNC-cut aluminum unibody's shape is slightly square (rather than circular) to ensure a firmer grip. The body is cut from one piece of aluminum alloy with an accuracy error beneath 0.03mm. Meanwhile, the shaft spins beautifully thanks to the two bearings for silky-smooth grinding.
The Handle
The handle is thoughtfully designed. It's foldable, while attached is a rubber damper that protects the exterior finish. It also works as a knock tool for removing residual grinds clinging to the burrs or walls down to the chamber. The foldable handle first appeared in the Timemore Nano Grinder, which we reviewed recently. Meanwhile, one of the things we love about the Chestnut C grinder is there are no plastic parts. This includes the top knob on the handle, which is made of metal.
The Grounds Bin
The grounds bin is safe and sturdy, so it's unlikely to break even if you drop it. Meanwhile, its capacity is 30 to 35 grams. Attaching and removing the ground coffee catcher is straightforward too, with half a turn enough to lock it into place. Meanwhile, even though the grinder's body isn't circular, it lines up beautifully with the grounds bin, further accentuating the excellent build quality of the machine.
Appearance
The Timemore Chestnut X is available in two colors, black and a limited edition safari green. Meanwhile, the latter has an optional leather case, which is both beautiful and elegant.
As we mentioned earlier, Timemore aimed for a high-end product with this grinder, and they achieved it with aplomb. It's a beautiful machine, but it works well too, as we'll explain.
Burr Design And Quality
One of the standout designs of the amazing grinder is its 42mm S2C (spike to cut) conical burrs. A significant difference with these burrs from standard burrs is the addition of large spikes towards the top of the blade. So, before the bottom blades get to work grinding, the large spikes break the bean into sizeable chunks.
No products found.
Another advantage of this design is it ensure the bean's silver skin (fiber inside the whole bean) isn't ground directly. Therefore, you can remove them more easily by sieving. Doing this makes the coffee less bitter and leads to a cleaner, even tastier beverage.
Overall, this innovative design ensures an exceptional grind distribution, with a zero retention grinding process. In other words, hardly any coffee is wasted, which is never a bad thing with a new grinder or when dialing in a new drink.
The high-hardness 440 stainless steel burr set is extremely wear-resistant, too, with a hardness of 58.5 to 60 HRC on the Rockwell hardness scale.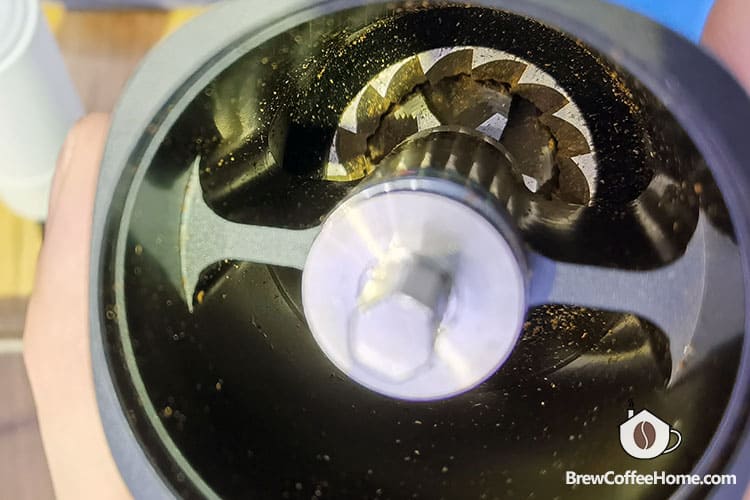 Grind Adjustment And Dial-In
One intriguing aspect of the grinder is its dialing mechanism. If you need to adjust the grind size, remove the bottom chamber, turn the grinder over, and there are adjusting dials (note that's plural)!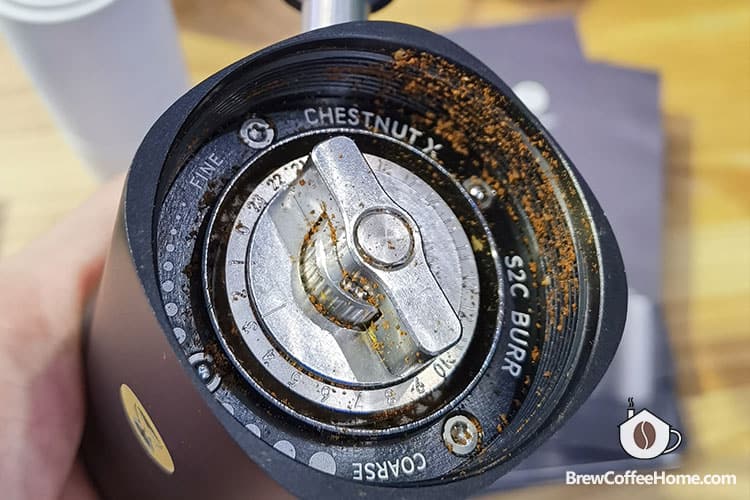 This is where the engineering is particularly impressive. The macro adjustment dial has 24 adjustments, while the smaller dial offers five extra micro-adjustments, leading to a total of 120 grind settings. This would be an impressive number for a stepped grinder, let alone a hand grinder.
This number of settings offers plenty of scope for dialing in for larger steps for pour-over brewing, while you can also achieve a fine grind for espresso. Then, you can get even more incremental and fine-tune with the micro-adjust dial. It reminds us of the Comandante C40 grinder with Red Clix axle that similarly allows for finer steps for espresso.
Most hand grinders require you to set it to zero before counting the clicks as you turn to find the correct grind size. However, the Chestnut X is simpler, with the 24 absolute grind adjustment settings clearly marked.
Here are the ranges for different brewing methods:
Espresso: 6-12 clicks
Pour-Over: 15-24 clicks
French Press: 24 clicks
As with any new grinder, the dial-in process requires a process of trial and error, but we found the ranges listed above virtually perfect. So, if you use those as starting points, it shouldn't take long to find the range you need.
Grind Quality
There is a significant difference between espresso and filter coffee, and finding a hand grinder that can grind for both consistently is a rarity. Partly because of this, premium hand grinders often cost more than regular grinders.
The Chestnut X makes grinding for pour-over or espresso simple. It results in flavorsome, crisp, and clear coffee and beautiful shots that look and taste great.
With extraction, both the pour-over and espresso shots met the specialty standard of 18 to 19 percent consistently without much hassle. The smaller micro-adjustment dial means there's even more scope for higher extractions with this grinder. In other words, it maximizes the flavor from the grounds it produces.
Value For Money
Considering its build quality and effectiveness, it's hardly surprising that the grinder is not cheap. In fact, it is a similar price to the Comandante C40 and Kinu M47. However, if you're a serious coffee drinker who uses premium coffee beans and has sensitive taste buds, it's worth the cost.
It is more expensive than some manual grinders and even some mid-priced electric grinders. However, because hand grinders don't rely on electric parts, much of the cost is in the better quality burrs.
If you make coffee for yourself rather than others, the capacity won't be an issue, and if you don't mind a little work, it's well worth considering. So, for the same price as an electric grinder, the Chestnut X ultimately offers better results.
Drawbacks
Aside from the relatively high price tag, one of the Chestnut X's main drawbacks is its small capacity compared to its rivals (30 grams rather than 40 or 50 grams). Another slight issue is its weight – it's quite heavy, so it may not be for you if you need a lightweight coffee grinder. In general, though, this is a machine where significant drawbacks are hard to find.
Alternatives
Comandante C40
When it comes to the higher end of the hand grinder scale, it's inevitable to compare with the Comandante C40. Like the Chestnut X, the C40 is equally adept at grinding for brewing coffee or espresso, offering excellent grind consistency. Meanwhile, the C40 also has an impressive build quality. The two grinders perform similarly well and are both excellently built. However, the Chestnut X's absolute dial with markings clinches it for us, as the C40 requires you to find the zero point and count the clicks.
1Zpresso K-Plus
Last update on 2023-09-27 / As an Amazon Associate, if you buy via the links, Brewcoffeehome earns a commission at no extra cost to you.
The 1Zpresso K-Plus has 48mm stainless steel burrs, meaning it grinds for anything from French Press to espresso beautifully. There is an external grind adjustment, and finding your desired grind size is fairly straightforward. Meanwhile, the K-Plus has an excellent build quality. The machine has a magnetic grounds bin, making it easier than screwing the cup on and off. Finally, it is larger than the Chestnut X, so it may appeal more to people who regularly make coffee for several people at a time. Check out our hands-on review of the 1Zpresso K-Plus.
Our Verdict
The Timemore team set out to produce a hand grinder that could compete at the premium end of the market. With the entirely new conical burr set design, high-quality materials, and overall feel of a premium quality product, it's safe to say it achieved it with the Chestnut X. Indeed, it more than holds its own against the Comandante C40 and similar high-quality competitors.
We've experimented with numerous other Timemore coffee grinders, including the Chestnut C2 and the portable Chestnut Nano, and we're always impressed. However, if anything, the Chestnut X takes things to the next level – it's Timemore's attempt to make the best grinder they can.
Frankly, the Chestnut X is a fantastic product that positively demands the consideration of anyone looking for a high-end hand grinder.
Yes, the capacity is relatively small, while it's quite heavy. However, if those two drawbacks aren't a deal-breaker for you, this is one premium hand grinder you simply can't overlook.