Owning both a drip machine and an espresso maker is a luxury, but it has its disadvantages. For example, two machines take up more counter space, meaning anyone with a smaller kitchen may have to choose one over the other. However, if you are a fan of both types of coffee, what if there was one machine that combined the two brewing methods?
The Ninja Espresso & Coffee Barista System offers just that, but does it compromise on quality and functionality to achieve it?
This review will take an in-depth look at the machine to determine whether it is worth considering if you enjoy both brewing methods.
What Sets The Ninja Espresso Coffee Barista System Apart From Others?
Brew Drip Coffee & Nespresso!
Ninja CFN601 Espresso & Coffee Barista System
If you're a fan of drip coffee and espresso-based coffeehouse drinks, the Ninja Espresso Coffee Barista system promises to offer the best of both worlds, combining the two in one machine.
We earn a commission if you make a purchase, at no additional cost to you.
The Ninja Espresso & Coffee Barista System is a combination of a drip coffee maker and a Nespresso machine with a milk frother. That appears to be a unique combination as we have not found alternatives on the market yet.
Specifically, it allows you to brew single-serve espresso drinks with Nespresso capsules and froth your milk to create coffeehouse drinks, including latte and cappuccino. However, its versatility goes significantly beyond that, as it is also compatible with coffee grounds for brewing drip coffee. In addition, like any other Ninja coffee bar machine, you can brew hot or iced coffee.
Ninja Espresso & Coffee Barista System – CFN601 Review
Design And Build Quality
The Ninja Espresso & Coffee Barista System has a pleasing aesthetic, with a black finish and stainless steel adornments. Meanwhile, it feels satisfyingly robust at almost 14 lbs but is slim enough to suit most kitchen sizes. The machine is separated into two parts. The right-hand side uses Nespresso OriginalLine pods, whereas the left-hand side is for brewing drip coffee.
There is an adjustable cup tray on the espresso side, and you can also remove the tray and place it in one of four notches higher, depending on your cup size – perfect whether you're pulling an espresso shot or making a tall drink in your travel mug. Pull the tray out, you have a used capsule storage bin that holds up to 20 capsules.
The drip coffee side also benefits from a foldable tray fitting different mug sizes.
On the side of the machine are a fold-away milk frother and a coffee scoop. You can remove the frother by rotating it and reattaching it as desired. At the back is a compact removable water reservoir with an easy-to-grip handle for removing and reattaching.
The user interface is also slick, stylish, and intuitive, with buttons on either side to choose the type of drip you require or espresso. You can also delay the brew, keep the coffee warm, or put it into cleaning mode. The drip machine also has a very convenient drip-stop function where you can slide a lever to pause the brewing process to get a coffee while the brew is still in progress.
Overall the Ninja Espresso & Coffee Barista System is a slick machine that suggests ease of use, practicality, and convenience.
Brew Options
As we mentioned, the Ninja Espresso & Coffee Barista System allows you to brew traditional drip-style coffee on the left. Flip the lid on the top, revealing a brew basket, while the shower screen is on top. You can then choose between classic rich and ice brew at the touch of a button, and the machine will offer you the optimal brew size options for you to choose between. At that point, you can begin brewing.
On the right-hand side is where you can brew espresso capsules. You can only brew single shots as it is a single-serve coffee machine. However, doing so is easy and convenient. Open the lid and place the Nespresso capsule, select between lungo, espresso, or over ice and press the start button.
If you choose the brew over ice option, it will brew a more concentrated espresso shot. However, it is important to note that the machine can only use OriginalLine Nespresso capsules and is not compatible with K-cups of VertuoLine pods.
Also Read: Nespresso Original line vs Vertuo line
Brew Sizes
You can brew a single espresso shot or double lungo shot on the espresso side (Espresso 1.35 oz, Lungo 3.5 oz).
There is a range of sizes for the drip side of the Ninja Espresso & Coffee Barista System depending on whether you're using classic rich or over-ice options.
You can brew as little as 7 ounces for a small cup of rich coffee or as much as 55 ounces for a full carafe. There are also several brew sizes in between, including travel sizes (between 12 and 18 ounces), cups (8-10 ounces), and extra-large cups (10 to 12 ounces). You can also brew 1/2 carafes, 1/4 carafes and 3/4 carafes.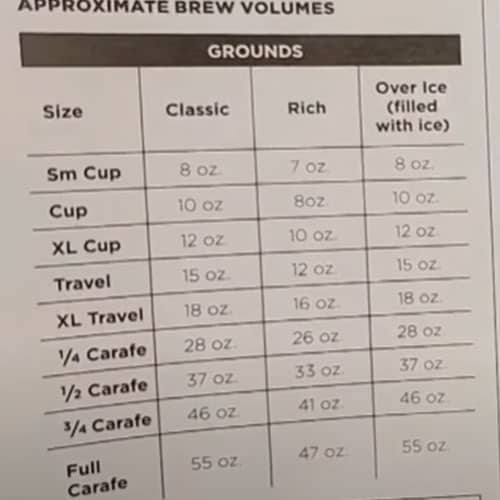 Ease Of Use
The Ninja Espresso & Coffee Barista System is designed for convenient brewing. There is an intuitive interface making the machine easy to use even for beginners. Meanwhile, a bar around the center dial indicates the progress of the brewing. The smart scoop on the side allows you to measure the correct ratio even without a coffee scale, greatly improving the consistency of the drinks. It also only takes around eight minutes to brew a full carafe of coffee.
Elsewhere, the pouring spout of the carafe is well-designed, meaning you shouldn't spill when pouring coffee. Both the drip side and espresso side have easy-to-use cleaning and descaling functions. You can also replace the drip tray with the cleaning platform provided and move the coffee carafe below the espresso spout.
To Brew An Espresso Shot With the Ninja Espresso & Coffee Barista System
Lift the lid on top of the espresso side, and drop a Nespresso original line capsule in.
Press the capsule button to select the brew sizes, including espresso, lungo, and over ice.
Place a cup under the spout.
Press the center dial to start brewing.
Lift the handle to drop the capsule into the used capsule storage bin for easy recycling.
To Brew Coffee With the Ninja Espresso & Coffee Barista System
Fold up a #4 paper filter, which is in the paper filter kit, and place it into the brew basket.
Use the Ninja smart scoop that comes with the machine to measure the ground coffee you need. It has clear measurements on the spoon for your reference. Add grounds into the filter.
Make sure the water tank is full if you are going to make a 12-cup carafe of coffee
Close the lid and choose the coffee style (classic, rich, or over ice) and choose the brew sizes.
Press the center dial to start brewing, and make sure the drip stopper is off.
Coffee Quality
One of the bugbears many have with drip machines is watery coffee. Pleasingly, the Ninja Espresso & Coffee Barista System is an exception.
We reviewed the best Ninja Coffee Bar Coffee Makers before and found that they are SCA-verified, meaning they brew coffee correctly. Additionally, the water that emerges from the brew head is between 195 F and 200 F, which is the optimal temperature according to the SCA.
There is a pre-infusion before brewing. Brewing also pauses several times throughout, mimicking the pour-over brewing style – another nice touch. Finally, your brewed coffee will be around 178 F (80 C), which is anything but lukewarm – again, a far better outcome than many drip coffee machines.
If the coffee is not strong enough, you can switch to espresso mode and brew flavourful espresso over the brewed coffee to brew a red eye coffee for an extra caffeine boost.
You can use your favorite espresso capsule, and the ultra-flavorful espresso it produces will have a silky smooth crema. With the proper brewing pressure, you will have an authentic espresso flavor. In addition, you can brew an espresso coffeehouse drink at home with the built-in milk frother.
Overall, the Ninja Espresso & Coffee Barista System provides excellent coffee and is impressively consistent.
Fold-away Frother
To use the milk frother, pull it out from its secure position on the side of the machine, place the head of the frother inside your glass of warm milk, press the button on top and begin to froth. As it froths, you will need to adjust the position of the glass to ensure the head remains beneath the surface of the milk as the milk expands. Meanwhile, tilting the glass is also recommended.
The milk froth is dense enough to create espresso-based cappuccinos, or any espresso-based coffeehouse drink.
To clean the milk frother, simply twist it counter-clockwise to release it from its attachment on the machine and rinse it under the tap.
Other Convenient Features
Warming Plate
The warming plate on the drip side is automatic. After brewing, it will remain on for two hours by default. However, you can adjust this. The machine will not turn on the warming plate when brewing over ice.
Delay Brew
On the drip coffee side only, you can also preset the machine to brew coffee at a certain time. The time can be adjusted by twisting the knob in the center of the machine to set it. You can choose the size you want to brew and whether you want classic rich or over ice.
Value For Money
Considering you can get high-quality espresso and drip coffee with the Ninja Espresso & Coffee Barista System, it offers excellent value for money.
After all, you can get excellent coffeehouse-style drinks with high-quality milk froth. There is also an excellent brand reputation and decent customer service.
Overall, the machine offers two high-quality coffee machines for around half the cost of buying them separately, representing excellent value for money.
Comparison With Other Options – Ninja Espresso Coffee Barista System CFN601 vs. Ninja DualBrew CFP301
The Ninja Espresso & Coffee Barista System CFN601 is newer than the Dual Brew CFP301. Each is almost identical in brew settings and coffee quality when brewing with coffee grounds. However, the DualBrew is slightly slimmer. Meanwhile, both have a high-end aesthetic and have a fold-away frother.
The main difference is the brew options. The CFN601 brews coffee with grounds and Nespresso OriginalLine capsules, while the DualBrew CFP301 brews with grounds and K-cups. The DualBrew also has multi-position water dispenser, which is unavailable in the Ninja Barista system.
If you like both espresso and coffee, select the Barista system. However, if you only drink drip-style coffee and K-cup coffee, choose the DualBrew CFP301. Here is a comparison between Nespresso and Keurig K-cup if you don't know the difference between them.
The Ninja Espresso & Coffee Barista System is slightly more expensive than DualBrew.
Brew Drip Coffee & Nespresso
12/07/2023 10:26 pm GMT
Our Verdict
Sometimes, when you see a machine that offers more than one primary use, it can lead to suspicions that it may compromise on quality to achieve its stated aims.
However, in almost every way, the Ninja Espresso & Coffee Barista System achieves its ambition of producing excellent drip and espresso in one handy machine. As well as excellent coffee quality, both types of coffee are easy to brew, while cleaning and maintaining the machine is straightforward.
Not only that, but it offers excellent value for money with no significant downsides. Overall, this is an excellent machine to consider if you're a lover of drip coffee, espresso, and espresso-based milk drinks.