Sometimes, a regular cup of coffee just doesn't give you the boost of energy you need for the day. As a result, coffee add-ins of varying strengths and flavors have become more popular over the years. Some of these combinations have earned unique names–one of them being "Red Eye Coffee."
What is Red Eye Coffee?
Red eye coffee is a normal drip coffee with a single shot of espresso on top. Some people will make this strong brew with the espresso first and then pour the coffee on top, but the espresso comes last in most cases.
It gets its name from the high energy boost you get from the espresso. Many associate this drink with people who are sleep-deprived and need caffeine to stay awake, hence the "red eye."
While adding espresso to coffee has been a practice for well over a century, calling it the "red eye" is a bit more recent. Its origins are uncertain, but it may have initially sprung up in the 90s.
Some people may use "red eye coffee" as a catch-all term for any drip coffee with espresso on top. However, in most cases, it only refers to drinks with a single shot of espresso.
Red Eye vs. Black Eye vs. Dead Eye Coffee
If you've heard of red eye coffee drink, you might have also heard of black eye and dead eye coffee. These are two similar yet different variations of the espresso-drip coffee combo.
A black eye coffee includes two shots of espresso. Its high caffeine content makes it even more energizing than a red eye. The black eye coffee gets its name from the black ring that the extra espresso leaves on the inside of your mug.
With three espresso shots, the dead eye coffee (also known as "green eye coffee") is a step higher than black eye coffee. Save this for days when red eye and black eye just aren't enough.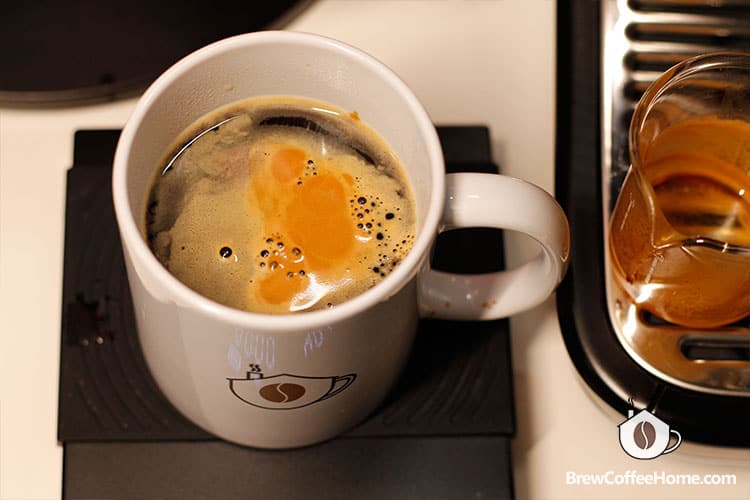 What Does Red Eye Coffee Taste Like?
Red eye coffee has a strong, unique taste that many people find quite pleasant. The flavors of the drip coffee and the espresso mingle in a balanced, rounded way. The flavors in a red eye coffee can be intense, so those who prefer mild coffee may not enjoy the robust taste.
Some people compare the taste of red eye coffee to an Americano. So if you enjoy Americano coffee but need something with a stronger energy boost, you may want to give it a try.
If you combine one shot of espresso with the coffee brewed with pour-over or a french press, the complexity and original characteristics of your coffee still remain. You'll get a strong cup of flavorful drink.
However, the flavor of black eye and dead eye coffee would be too strong for most coffee drinkers. The triple amount of crema also adds more bitterness to the cup.
Nicknames of Red Eye Coffee
While red eye coffee is the most common name for this energy-boosting drink, it has a few other monikers in various cafes throughout the United States.
Many people will refer to the red eye coffee as a "Canadiano," referencing the "Americano" drink that has a similar taste. Because of the boost of energy you get from the red eye, some people will also refer to it as the "hammerhead."
In Alaska, you may hear people calling it "sludge cup." People in Portland, Oregon often refer to it as the "Stink Eye," and in Kansas, the "oil spill." Throughout the Pacific Northwest of the United States, some people will refer to it as a "shot in the dark."
Even with all of these nicknames, though, most cafe baristas will know what you mean when you request a red eye drink, as it's the most widely recognized name for it.
How Much Caffeine in Red Eye Coffee
With a single shot of espresso, you can expect this drink to have high caffeine content.
A single Grande coffee from Starbucks contains between 260 and 360 mg of coffee. When you add the espresso shot to make a red eye, it'll add 75 mg to your drink. A double shot (black eye) adds 150 mg, and a triple shot (dead eye or green eye) adds 225 mg.
Red Eye Coffee: 335 to 435 mg of caffeine
Black Eye Coffee: 410 to 510 mg of caffeine
Dead Eye Coffee: 485 to 585 mg of caffeine
The FDA recommends no more than 400 mg of caffeine per day. Too much caffeine can result in nausea, heightened heart rate, anxiety, and insomnia. In extreme cases (exceeding 1200 mg of caffeine in a short period), it can even result in seizures.
While adding espresso shots to your brewed coffee can be a great way to wake yourself up, you should try to drink it in moderation.
How to Make Red Eye Coffee at Home
You don't need to go to the coffee shop to get a cup of red eye coffee. Making it on your own is easy, and all you need is an espresso machine and a coffee maker. The ingredients are just espresso shots and brewed coffee.
Here's the process step by step:
Brew one 8 ounce cup of your preferred coffee and brewing method.
Using the espresso machine, pull a shot of espresso.
Pour the espresso on top of your cup of freshly brewed coffee.
If you have double shots of espresso added to the brewed coffee, you have the black eye coffee. Add one more shot, you got the dead eye. It's pretty simple, so if you'd like to try them for yourself, consider making them from scratch.
How to Order Starbucks Red Eye
Don't have the expensive espresso machine at home? Good news–ordering one at Starbucks or other coffee shops is pretty easy. You can enjoy the energy boost of a red eye coffee even when you're on the go.
There is a good chance your barista will know how to make a red eye, as well as a black eye and a dead eye (called "green eye" at Starbucks).
But if they aren't familiar with the red eye coffee, you don't have to miss out on your extra caffeine boost – you can simply order a standard coffee with a shot of espresso on top. You can also order via the Starbucks app by adding extra espresso shots in customizations.
Also Read: The most caffeinated drinks at Starbucks
Final Thoughts
Red eye coffee gained popularity over the years. A cup of coffee with a shot of espresso is a simple yet delicious way to get a boost of energy.
Those who need an even bigger caffeine boost can find it in the similar drinks known as black eye and dead eye/green eye–just be wary of your caffeine consumption, as the amounts in these drinks can add up quickly.
Whether you make it from scratch or request it from your favorite cafe, coffee lovers all around are sure to enjoy its rounded, Americano-adjacent flavor. 
Red Eye Coffee Recipe
Red eye coffee is simply brewed coffee with a shot of espresso poured on top, you can easily make one at home. This recipe will show you how.
Equipment
Espresso Machine

Coffee Brewer
Ingredients
8

fl. oz

brewed coffee

Can be made with a drip coffee maker or any coffee brewer.

1

shot

espresso

2 shots for black eye and 3 shorts for dead eye coffee
Instructions
Brew an 8 oz cup of black coffee.

Pull a shot of espresso using your espresso machine.

Pour the espresso over the brewed coffee.

Enjoy the strong red eye coffee!
Notes
Add 2 shots of espresso for black eye coffee;
Add 3 shots of espresso for dead eye coffee (Or green eye coffee). 
Nutrition