There are many options for home espresso machines that produce coffee shop-quality beverages, but they usually come with a premium cost. But what if you want that level of quality at an affordable price?
The HiBrew H10A offers exactly that. It is a semiautomatic machine that produces authentic espresso shots with advanced customizable settings but for only around $400.
I've tested the machine for some time and can highly recommend it. The following short video shows me demonstrating making a latte with the machine and creating latte art. It's helpful as it gives a general idea of the workflow and performance of the coffee machine.
In this review, I will share my personal experience with the HiBrew H10A and explain exactly why it's well worth your consideration.
HiBREW H10A Semi-automatic Espresso Machine
Feel free to benefit from our 20% Discount Code:
BCH20%OFF-H10A
Pros:
High-quality accessories - Solid 58mm portafilter, non-pressurized baskets, solid metal tamper with wooden handle, milk jug

Auto Pre-infusion

Adjustable pre-infusion time, brew and steam temperature, shot volume

Auto temperature surfing (Auto cool down)

Great value for money
Cons:
The drip tray is small

The group head requires frequent cleaning
We earn a commission if you make a purchase, at no additional cost to you.
Design And Build Quality
The HiBrew H10A is compact and will appeal to anyone with limited countertop space. Indeed, it measures just 9in x 11in x 13in, making it easy to store away when not in use. Meanwhile, the water reservoir is a generous 1.8l and is removable.
The machine may be relatively small, but its materials are high quality. It has noticeably less plastic than many alternatives in the same price range. For example, the entire external case is made from stainless steel, with only the drip tray and water reservoir made of plastic.
The machine looks good, too, and has a well-organized control panel. One small issue is the lack of color options.
However, with a nice balance between durability and affordability, considering its choice of materials, it makes for an excellent entry-level espresso machine.
High-Quality Accessories
Like the machine itself, the accessories are also high quality. You normally will not find accessories of either the type or quality in an entry-level machine. To give you an idea, take a look at my unboxing video here.
Let's take a look at what's in the box.
1. 58mm non-pressurized filter basket
I've tested and researched many inexpensive espresso machines, and most have a pressurized filter basket. Pressurized baskets produce better crema but sacrifice the overall quality of the espresso. With a non-pressurized basket, you can pull authentic shots as long as you have a decent grinder.
2. Solid 58 mm portafilter
Finding a commercial-size portafilter in a budget espresso machine is a rarity, but that's what we have here. In comparison, 51mm or 53mm is more common. The portafilter weighs 535g and feels as substantial as the Lelit Bianca's.
3. 58 mm tamper with an elegant wooden handle
Machines in this price range typically have a plastic tamper. However, the one with the HiBrew is better than the one with the Breville Barista Pro, which costs twice as much.
4. A sturdy stainless steel milk jug for producing latte art
It's quite incredible how much value the HiBrew H10A provides, considering its affordable price point. There's also no need to purchase any extra accessories, as the ones that come with the machine are all you need to get started.
That's not all, though. The machine also has features typically only available in considerably more expensive machines.
Advanced Features Of The HiBrew H10A – Seldom Available In An Entry-Level Machine
Believe it or not, when it comes to features and performance, the HiBREW H10A semi-automatic espresso machine is unbeatable in this price range!
Pre-Infusion
Pre-infusion involves adding a small amount of water at low pressure for a few seconds to saturate the coffee puck before applying nine bars of pressure. The process helps reduce channeling and improve extraction.
Again, this is normally reserved for more expensive machines, and not many allow you to customize the pre-infusion time, but you can with the HiBrew.
Adjustable Brew Temperature
The machine allows you to adjust the brew temperature from 90°C to 95°C. Generally, you need to lower the temperature of darker roasts and use a higher temperature for lighter roasts.
That's an issue with many smaller machines, which struggle to produce espresso at the optimal temperature, let alone adjust it in 1°C increments.
Espresso Cold Brew
You can even brew cold brew espresso at 25°C. I was skeptical about its ability to do this and pulled a few shots. However, my doubts were misplaced, as the shots came out well.
They were smooth with lower acidity. However, they lack the complexity of hot brew since cold water lowers the extraction rate.
Regardless, it is useful to have this feature for cold drinks, including iced Americano or for making Affogato.
Adjustable Steam Temperature
The steam temperature is adjustable to temperatures between 125°C and 150°C. The higher the temperature, the stronger the steam pressure. Again, it is not adjustable in many machines in the same price range.
Auto Cool Down (Temperature Surfing)
This is one of the machine's most impressive and useful features.
As I explained in my review of the Gaggia Classic Pro, temperature surfing is necessary for most single-boiler or thermoblock machines.
After steaming milk, water in the pipe boiler is typically too hot to brew another shot straight after. That means you need to either wait until the temperature drops to the correct brewing temperature or purge steam to reduce it. Without PID, you have to guess whether the temperature will be correct.
The HiBrew has an auto cool down feature. So, once you steam, it displays "HOT" on the screen, denoting that the temperature is too hot for espresso. At this point, turn the steam knob to the maximum setting and place a pitcher beneath it. Steam and hot water are released automatically, and water from the reservoir enters the plate to cool the machine down.
Once the temperature is at the correct preset brewing temperature, you can pull another shot. The whole process only takes around 10 seconds.
Adjustable Shot Volume
You can customize the shot volume for either single or double shots. While this is standard for most machines, thanks to the display, it's far easier to find the correct volume without counting how many times you push the buttons.
Shot Timer
The display becomes a shot timer once you start brewing. The shot timer is useful for monitoring your extraction without needing a smart espresso scale or smartphone.
Performance And Drink Quality
Espresso Quality
I pulled a dozen espresso shots with the HiBrew H10A and can say with some confidence that they were consistently well-extracted. Meanwhile, the crema of the shots is rich and dense and identical to the texture produced by more expensive machines with non-pressurized baskets.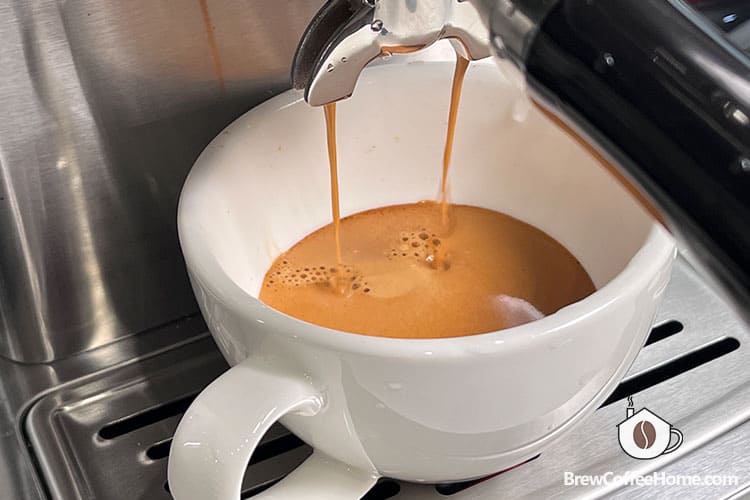 The pressure is high enough, too, and even though it is marketed as 19 bars of pressure, you only need above nine bars for proper extraction.
The brew temperature is accurate, and I have never experienced a lukewarm shot from the HiBrew. Another bonus is the automatic pre-infusion.
Overall, the shot quality is comparable to mid-range espresso machines, including those by Gaggia and Breville.
Steaming Quality
Regarding streaming, there is a learning curve in finding the correct position for the steam wand to create the necessary vortex. However, it is made easier because the wand can rotate freely. It will create microfoam for latte art once you find the best position.
The steam power is ample for incorporating air into the milk while steaming milk takes around 50 seconds to 60°C.
With the micro-foam it makes, I can pull beautiful latte art after practicing.
Ease Of Use
The control panel is simple and clear, with buttons for power, single and double shots, and steam. There's also a pressure gauge in the middle so you can easily see the brewing pressure and adjust the grind where necessary.
Additionally, there's a small monitor in the top right-hand corner. It displays the values when adjusting settings and becomes a short time when brewing.
To change the factory settings, you'll need to simultaneously press specific buttons to enter the desired setting. I have also made a video showing how to enter each setting.
Drawbacks
In terms of drawbacks, there aren't many.
One is that the drip tray, while removable, is quite small. This means it needs cleaning every two to three shots. Also isn't particularly deep, so the water can splash onto my countertop when I purge the group ahead after pulling up a shot.
Another downside is the shower screen and group are difficult to clean. Leftover grounds easily get stuck there, so they need cleaning with a brush regularly.
The Verdict – Best Value For Money
This entry-level coffee machine is an excellent investment for coffee enthusiasts on a budget who want to retain excellent espresso quality.
It offers many advanced and customizable features, usually reserved for considerably more expensive coffee makers. The accessories are also solid and of high quality. They are also varied enough to ensure you save money, as you will not need to buy them separately.
Overall, the shot quality is also better than many coffee machines at this price point. While there are many alternatives, including the Breville Barista Express and Gaggia Classic Pro, the money you'll save with the HiBrew H10A means you can put the extra funds towards a high-quality espresso grinder should you need to. That will allow you to make high-quality espresso at home.
Overall, I highly recommend the HiBrew H10A coffee machine.