For many people, coffee is part of their morning ritual, but coffee shops can strain finances.
With the best espresso machines suitable for your need, you can also have the rich flavors of espresso and craft other espresso-based drinks at home.
The world of espresso machines can be tricky. Indeed, mid-range or expensive espresso machines offer more features and stability in espresso brewing. However, they also require the correct technique to pull a perfect shot of espresso.
For most coffee lovers who are new to espresso brewing, cheap espresso machines will also suffice.
Here's a guide to help you find the best cheap espresso machine that makes good quality espresso without spending a lot of money.
The 8 Best Budget Espresso Machines
First is a thorough look at some of the best inexpensive espresso machines, including an honest review of their shortcomings.
1. Mr. Coffee Espresso and Cappuccino Machine
The best value espresso machine on the list is the Mr. Coffee espresso and cappuccino machine, which has many great features that make it convenient for beginners and enthusiasts.
Like many budget espresso machines, it's semi-automatic and comes with a few handy presets for making drinks.
It has an automatic milk frother that can froth milk and pour it directly into your drink. The milk reservoir detaches, and you can put it in the fridge. This convenient feature is often available in more expensive espresso machines. The drawback is that you don't have much control over the milk's thickness and texture.
You can remove the water and milk reservoir for easy cleaning and filling in large quantities.
However, the mechanism that feeds the milk through the machine does need regular cleaning. This process can be a bit troublesome, as it does require some disassembly.
Finally, while the machine can create ideal pressure for espresso, the tamper accessories may not pack the coffee grinds as tightly as needed. You might consider buying an extra metal tamper because the plastic version included can't handle the necessary weight.
Check our full review of the Mr.Coffee Cafe Barista.
2. De'Longhi Stilosa Manual Espresso Machine
The De'Longhi Stilosa is the entry-level model in Delonghi's espresso machines lineup. This espresso maker also comes with an attached milk wand for frothing milk.
The machine operates on a boiler and pumps to reach optimum pressure for espressos. Unlike other automatic coffee makers that offer single or double-shot buttons, you'll be responsible for how long the pull of the espresso shot is, so you can't walk away from this machine while it prepares a cup.
Some may dislike this, but it can be a great way to customize your drinks and get a feel for controlling espresso shots.
It's important to know that you can pull the shot for too long, resulting in watery or thin espresso. You'll want to spend time properly grinding the coffee beans, packing the grounds tight, and pulling the shots for the best quality.
Still, the machine can make delightful espresso with the proper time and extra accessories. For an inexpensive espresso machine, you may be impressed by the rich flavor it can produce.
Plus, the steam wand allows you to froth milk for cappuccino and other milk-based espresso drinks. It's the best bargain espresso machine provided by Delonghi.
3. Gevi Espresso Machine 15 bar
Gevi espresso machine is another semi-automatic espresso machine with a few fun features. This compact machine can fit into tight spaces but can still brew double-shot espresso at once.
It has precise temperature control by allowing you to watch the thermometer during coffee brewing and milk frothing. You can create rich espresso shots at home and delicate foamed milk with this cheap espresso machine.
It also comes with an attached steam milk wand to foam your milk-based coffee drinks.
You have an impressively large water tank, but you have to be careful not to overfill it.
Plus, you can purchase an additional filter, and the machine can adapt to hold Nespresso pods. This feature can make it easier if you're not interested in coffee grinding or tamping.
4. De'Longhi EC685
De'Longhi EC685BK is a slim model that can fit any space. This popular espresso maker has a quick heat time, producing quality espresso shots fast.
The machine can accommodate larger cups, and it's a simple model to clean. It has a detachable water tank and adjustable milk frother.
Frothing milk can be easy with the wand attachment that steams at varying levels for different textures of drink. This wand does get very hot, so always use caution when handling it.
You'll also have to purchase a stainless steel pitcher to steam your milk, as it doesn't come with a vessel for this.
It can also help to consider buying a different portafilter. This model comes with a pressurized portafilter, which is friendly for beginners. However, a non-pressurized basket brew better espresso. Many mod tutorials are available online, and you can upgrade this budget espresso machine to a higher level.
Alternatively, this is one of the best cheap espresso machines that can take E.S.E coffee pods. You can skip the hassles of manually loading the filter with premade pods.
Overall, the best espresso machine that's handy in small areas to create a variety of espresso drinks. It's a very popular entry-level machine and cost slightly more expensive than other options on the list. Previously we reviewed the EC685. Here is the Delonghi Dedica Review.
5. Chefman 6-in-1 Espresso Machine, Powerful 20-Bar Pump
Now the Chefman 6-in-1 espresso machine is one of the best affordable espresso machines with many automatic features.
It has easy presets for single or double espressos, cappuccinos, or lattes. The built-in milk frother is automatic, and you just need to push a button to start brewing and steaming milk. It holds an impressive amount of water and milk in separate reservoirs.
Depending on the preset drink you choose, the machine automatically creates more or less foam than you'd like. You don't really have control over the texture. Still, the frother is ideal for beginners and can create large quantities at once. You can remove the milk container to refrigerate it when not in use.
As for the espresso, it does create a rich brew. It's a great budget espresso maker at an affordable price that you can start and walk away from to complete your other morning tasks.
However, if you share your house, you may have issues with the machine's noise. It can be loud when frothing, so test it after the early morning.
Not only are many of the parts removable, but the basket and drip tray are dishwasher-safe.
It's a good machine for those looking to enjoy an easy brew and clean-up.
6. Nespresso Vertuo Next
Next is the Nespresso Vertuo Next, an affordable espresso machine designed to be easy to use. It only has a single button because it uses Nespresso pods instead of finely ground coffee beans.
The Nespresso pods have barcodes that the coffee machine reads to adjust sizing and pressure. You only need to find the pods you enjoy and place them in the espresso maker.
It can be a freeing process and is simple for a morning routine. Unfortunately, there are no milk-related attachments for creating other espresso drinks.
Still, you can make a variety of espresso and coffees. The pods are recyclable aluminum for convenience.
While the Nespresso is slim and simple, some might find this a hassle. For some, crafting the perfect espresso shot is a fun part of the homebrew experience.
Additionally, the machine only has a single button and light. It can be confusing to understand when maintenance is necessary, and initiating the cleaning process can be difficult.
Finally, your sizing is limited to what the pods can handle. The Vertuo machines only use Nespresso pods and are not compatible with the original pods, so don't buy the wrong capsules.
But if you're searching for an easy way to achieve the flavor of espressos at home, it doesn't get simpler than this machine.
7. Nespresso Pixie
Apart from the newer Vertuo line, Nespresso's original line machines should be on your radar. The Nespresso Pixie has all the ingenuity and simplicity as other automatic Nespresso machines but with more power.
Unfortunately, like most Nespresso options, this machine doesn't have any milk-frothing capabilities. You'll have to search for a separate milk frother if you want to create foamy milk.
But the Nespresso Pixie is a slim model that can still deliver impressive pressure. The machine only works with Nespresso's original pods.
You only have to select the mug size you prefer, and the espresso maker will handle the rest. Some people may find issues fitting cups under the nozzle, but the tray is adjustable.
It's a machine you can set to make your drink without paying too much attention. The fine-ground coffee within the pods makes rich espresso shots with decent crema.
Although the machine is slim for counters, the water tank capacity can be troublesome. It can hold up to 24 oz of water at once, which some people who brew often may find small.
This espresso maker is straightforward and delivers a high-quality espresso shot for beginners.
8. HiBREW 5-in-1 Pod Coffee Maker
Finally, the HiBREW 5-in-1 espresso machine is a versatile option that you can operate with pods or filters. It can handle espresso pods from various companies, or you can fill it with your coffee grounds. If you are in the mood for a drip-style coffee, you can brew a Keurig pod instead.
The best cheapest espresso machine has a simple coffee holder adapter to change which style of drink you'd like. However, it doesn't come with a milk frother.
Brewing espresso does tend to make the machine loud. Creating the pressure for espresso can be a noisy process.
The clearance between the spout and the removable drip tray is small, and you can only fit up to an eight-ounce cup. Plus, the water reservoir can hold just 20 oz.
Still, it's a good home espresso machine that makes for an ideal all-in-one for beginners to espresso. Check our hands-on review of the HIBrew Coffee Maker if you are interested in more details.
Can An Affordable Espresso Machine Make Good Espresso Drinks?
Yes, a cheap home espresso machine can also make great coffee. You can even pour latte art if you master the frothing skill. Here is a short video we made to show you the possibilities of an affordable machine.
As you can see in the video, using pre-ground coffee is not ideal since you don't have any control over the grind size. Although the pressurized basket can also produce 'crema', you will have much better results using freshly ground espresso beans in proper grind size. Also, a professional-style steam wand allows you to get microform for latte art.
There are a few more things to consider when buying a budget espresso machine.
What Should You Look For in a Cheap Espresso Machine?
Creating a rich espresso can be a complicated process, and it can seem overwhelming if you're a beginner. You may wonder what these terms mean and what you should pay attention to when selecting the best budget espresso machine.
Here's a quick guide to help you get your bearings in the espresso world.
Machine Type
First is the machine type. Usually, cheap espresso machines will be pod-based, semi-automatic, or manual.
Pod-based machines are the easiest to use, as you can usually insert the pod, start it, and walk away. Nespresso machines are the most popular, and you can also try Nescafe Dolce Gusto, Lavazza and illy.
Semi-automatic espresso makers require you to grind the espresso beans, tamp the grounds and lock the portafilter to the group head before you brew espresso. You also need to control pulling the espresso shot or deciding when and how much water goes through the coffee.
Coffee Grinder
Coffee grinders are rarely a part of inexpensive espresso machines but are a crucial accessory.
Espresso requires finely ground coffee to create its rich flavor and crema. Ideally, you need a grinder that is designed for espresso. However, a decent espresso grinder may cost more than a budget coffee maker.
Luckily most budget machines come with pressurized filter baskets that work with pre-ground coffee. So you can also make a good shot without a grinder. If you prefer freshly ground coffee and don't want to invest in a costly espresso grinder, opt for an espresso machine with grinder.
Steam Wand Type
Next is the milk frothing accessories or steam wand type. Some cheap espresso makers have no milk frothers, so they can't create espresso drinks like lattes.
Usually, most affordable espresso machines only have a Panarello steam wand to froth milk. Unlike professional espresso makers, the Panarello uses a combination of steam and air to create foamy steamed milk.
This combination can't create the same microfoam you might find in latte art, but it provides a lovely extra creaminess to milk.
Filter Basket and Portafilter
Finally, the filter and portafilter can be crucial to consider. Typically, inexpensive espresso machines come with small 51mm portafilters.
The portafilters are where you pack in the coffee grinds and can be a crucial part of the process. Correctly tamping the grinds down with enough pressure to help create the ideal crema, which impacts flavor.
Pressurized portafilters help add pressure to the system, making it easier for beginners. Plus, the machine doesn't have to create as much water pressure. If you are not familiar with the difference between them, check out this article: Pressurized portafilter Vs Non-pressurized portafilter.
Affordable Espresso Machines Buying Guide
Now that you're a bit more familiar with the parts of the espresso makers, here's a quick guide to other considerations to help you find the best budget espresso machine.
Budget
Espresso is a complicated process, so some cheap espresso machines aren't worth it.
Usually, you can't find a good espresso maker under $100. A good espresso machine delivers the optimal pressure and temperature to extract the flavor of the grounds. The low-quality machine won't create quality espresso shots, and it's not worth it for glorified coffee.
The best budget espresso machines are in the $100 to $200 range, and you can expect the nearly professional quality to begin at around $400. However, if you are looking for a higher-end machine, don't forget to add the budget for an espresso grinder. Grind size is essential for a good shot of espresso.
Bars of Pressure
Next are the bars of pressure. This measurement indicates the pressure level of the water going through the coffee.
You only need nine bars of pressure, so more isn't necessarily better. It's more important to consider whether the machine has a reliable electric pump or a less powerful steam system.
Ease of Use
Some people may prefer handcrafting their espresso, while others might enjoy machines they can set and forget.
Pod machines are ideal for beginners or people with hectic mornings who don't want any hassle. Semi-automatic and manual espresso makers will require some skills in grinding, tamping, and pulling shots.
Milk Frother Type
The milk frother available on best value espresso machines can vary. Some options are automatic, where the machine will froth it for you and dispense it into your drink. Automatic options typically come with a milk reservoir.
For other espresso makers, you may have to manually froth the milk, which can take extra time or effort.
Don't Buy
Don't bother buying espresso makers that rely on steam from a small boiler to create pressure. These systems typically can't make the necessary level of pressure. A maximum of 3 to 5 bars of pressure is not enough for proper espresso extraction. Your under-extracted shot of espresso will taste sour and watery without crema.
Usually, these are machines under $100, which can have small boilers and create bad-tasting shots.
Consider Manual Espresso Maker
Fully manual espresso makers could be ideal if you're committed to espresso drinks and don't mind missing the milk-frothing attachments.
These options can take some extra time to learn and require a hands-on brewing experience, but they can be high-quality at affordable prices.
Many portable espresso makers make the same quality as the best espresso machines, such as Flair's products or Piccopresso.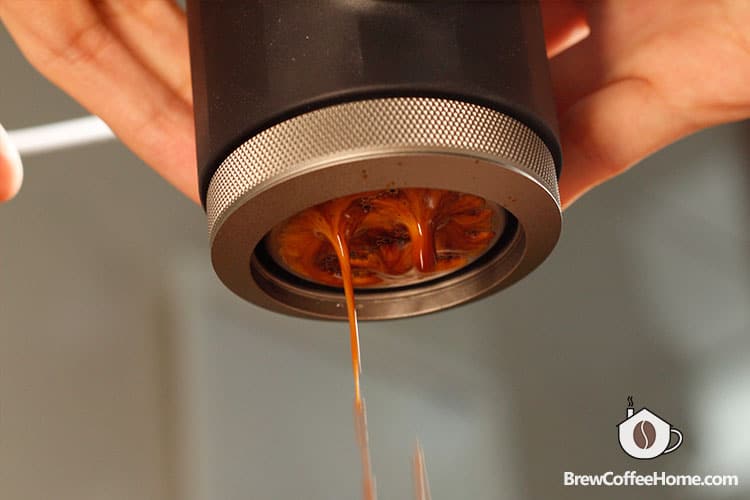 The Verdict – Which Is the Best Affordable Espresso Machine?
Finally, take a last look at the overall best-budget espresso machines.
De'Longhi Stilosa Manual Espresso Machine
The De'Longhi Stilosa manual espresso machine is perfect for people looking for an option for around $100. It creates a rich espresso shot and is a rare manual with an attached milk frother.
Mr. Coffee Espresso and Cappuccino Machine
The Mr. Coffee espresso and cappuccino machine is ideal for beginners who want a semi-automatic experience. It lets you customize the coffee grinds but takes out the guesswork for pulling shots, and frothing milk is automatic.
Nespresso Pixie
Finally, the Nespresso Pixie is a slim model that can pack a powerful punch in pods. It only takes a few minutes to use, and you can enjoy an espresso at home with almost no work.