As a coffee blogger and espresso lover, I've been fortunate enough to test and review many coffee grinders over the years. Of course, some grinders share many similarities, but every so often, one reaches me that stands out for its innovation, functionality and value. One such product is the HiBrew G5.
In recent weeks, I've been using this espresso grinder regularly and have brewed dozens of espresso shots with it. In the process, I've got to grips with its full range of features and capabilities.
In this hands-on review, I will detail my experience with the HiBrew G5 espresso grinder in the hope that it will offer you the insight you need to determine whether it's a good purchase for you. Let's get started. 
HiBREW G5 Coffee Grinder
Our exclusive 20%OFF coupon code is BCH20%OFF-G5
Pros:
Stepless grind adjustment

Low retention

Quiet

Adjustable grind speed (Switch by pressing the start button)

Affordable espresso grinder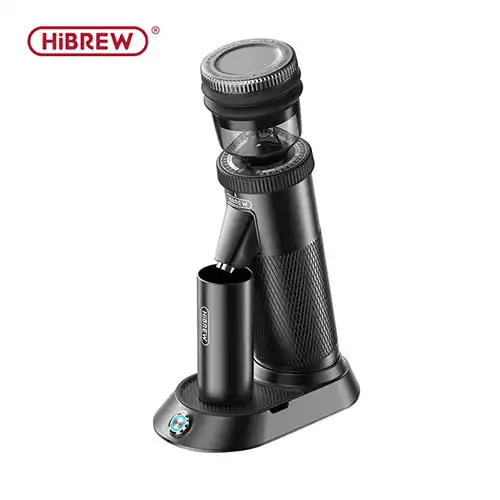 We earn a commission if you make a purchase, at no additional cost to you.
Disclosure: The grinder was sent by HiBrew for early testing, so I didn't pay for it with my own money. However, I'll share with you my honest review and personal experience. The HiBrew grinder is now available on Kickstarter. Check out their Kickstarter page for more buying details.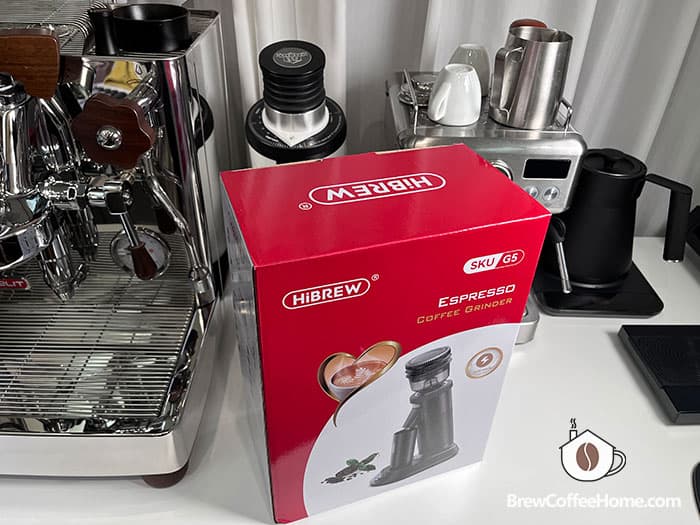 Design And Build Quality
Both the design and build quality of the HiBrew G5 are outstanding and harmoniously blend stunning aesthetics with functionality.
The grinder is compact, making it ideal for those with limited countertop space. Meanwhile, it also has a minimalist, elegant appearance that would look at home with any kitchen decor, from modern to rustic.
Here is an unboxing video I made for the HiBrew G5 so you can get a clearer picture of its design and build characteristics.
The grinder's body is aluminum, while the bean hopper and grind size adjustment dial are plastic.
On the subject of the bean hopper, it is small. However, it is a single-dose espresso grinder, so it is to be expected.
Meanwhile, the bellows on top of the machine are typical of single-dose grinders. It is an ingenious feature to minimize grinds retention. That means there is almost no wastage of your beans in the grinding process, and there won't be any leftover grounds from the previous batch. That will also improve the overall quality of the finished beverage.
Another thoughtful design quality is the magnetic catch cup, which provides stability – something often missing in other grinders. That means there is less chance of the cup tipping up during the grinding process, saving you from potential messes or loss of grounds.
Overall, the design and build quality of the HiBrew G5 are both excellent, particularly considering it costs only around $200.
Burr Design
One of the most important aspects of any grinder is its burr design, which, more than anything, determines the consistency and quality of the grind.
The HiBrew G5 has a 40mm conical burr, guaranteeing precision and consistency. Not only that, the design is optimized for espresso, so there will be more fines in the medium to coarse range.
The burrs are also made from durable, high-quality steel, though they will retain their sharpness over time and produce a consistent, efficient grind.
While the burrs won't grind as quickly as alternatives that have a 64mm burr set, it's far from slow and will only take around 30 seconds to grind 18g of coffee beans on an espresso setting.
The grinder is not loud either, making it perfect for domestic brewing, particularly if you like to grind beans early in the morning while others are asleep.
Grind Adjustment
The grinder has a stepless grind adjustment mechanism, which you generally find in professional-level espresso grinders.
The design eliminates preset steps, offering infinite adjustments between the finest and coarsest settings. That is an important function, particularly for espresso lovers who want to get their beverages just right, as it enables you to make incremental tweaks to dial in the perfect grind size.
The HiBrew G5 grinder uses a dial ring for grind adjustment, which is intuitive and precise. In addition, there are 36 numbers marked with the appropriate brewing methods on the ring. This takes the guesswork out of experimenting with different grind sizes and helps you easily identify the perfect grind setting for your brewing method and tastes.
Grind Settings
While the grinder only has those 36 settings on the grind adjustment dial, you can go beyond a single rotation to achieve coarser grinds.
That is a distinct advantage for anyone who enjoys brewing methods that require a particularly coarse grind, including cold brew and French press.
However, it's worth keeping in mind that once you go beyond 1.5 rotations, the grinder enters a protection mode and will not grind. You'll know you've entered this mode as the power button will blink.
Overall, the machine offers a broad range of coffee brewing preferences, from fine grinds ideal for espresso to course grinds for French press and cold brew, with everything in between.
Despite this, the HiBrew G5 grinder is better suited to the finer grinds required for espresso.
Grind Retention
Grind retention concerns the amount of grounds left in the grinder once the process is complete. High grind retention ensures more wasted grounds, which, as well as some of your beans going unused, means the freshness and flavor of subsequent brews will be affected, especially when switching between different types of beans.
The HiBrew G5 is excellent at countering that issue thanks to its innovative design features that help reduce grind retention to the minimum possible level. Let's take a closer look at what they entail.
One is the bellows at the top of the HiBrew G5 grinder. They help force out any remaining grinds from the burrs and grinding chamber after grinding.
Additionally, the simple internal structure of the HiBrew G5, with three blocks below the burr, helps to sweep the grinds into the grind chute.
The grinder's design also includes a 15° grinding angle. That precise angle ensures a smoother powder output. The catch cup in the box is also tall enough and very close to the chute to minimize powder scattering.
In my testing, the grinder consistently releases espresso grinds with the same weight as the beans I initially put in. That means waste is reduced, and each batch of coffee is as fresh as possible, as there are only minimal leftover grinds from older batches.
Grind Quality
I've consistently found the grinds for espresso to be satisfyingly fluffy. Meanwhile, I have no issues dialing in for espresso. I can even use a bottomless portafilter to pull espresso shots, which is usually known for needing the precise grind size for the best espresso.
Take a look at a short video I made showing the espresso shot made from the machine's grinds.
The flow rate will be stable and consistent as long as the espresso is dialed in and prepared correctly. I can also achieve the necessary flow rate and change the grind size incrementally for a more appealing shot. As a result, the espresso shots it produces are very balanced and syrupy.
For pour-over, I found the largest grind setting of 36 is still too fine for my tastes. Thankfully, there's an easy fix. I simply go beyond 36 to rectify the issue for a coarser grind.
Even though it is an espresso grinder at heart, and I usually use the machine for that purpose, it is more than capable of brewing for other methods. The only small issue is it leaves more fines in those other brewing methods than other grinders better suited to espresso.
Cleaning And Maintenance
Another big selling point of the HiBrew G5 is its hassle-free cleaning experience.
The bean hopper on the HiBrew G5 is designed for straightforward removal to offer easy access to the burrs. I can use a small vacuum cleaner to remove all the leftover grounds without any hassle, too. A cleaning brush is also stored under the silicon pad – another helpful touch.
Once the burrs are clean, the grinder is mercifully easy to recalibrate.
Value For Money
After experiencing the HiBrew G5, I can confidently say that it offers excellent value.
Indeed, it is one of the most affordable stepless grinders you will find anywhere. Furthermore, it doesn't compromise on quality, producing excellent grinds suitable for espresso brewing.
The HiBrew G5 is an excellent companion to the HiBrew H10A semi-automatic espresso machine, which I have reviewed previously. Combined, you will only pay around $400, which is exceptional value for money.
The quality of espresso the pairing can produce is superb, and I doubt you will find a more affordable combination that can achieve the same level of espresso quality elsewhere.
Final Thoughts
The HiBrew G5 is an exceptionally impressive coffee grinder that excels in several areas. For example, it has a thoughtful, easy-to-use and compact design, offers excellent grind quality, is easy to clean and all for exceptional value for money.
With all those qualities taken together, it is a standout choice for coffee novices and connoisseurs alike, particularly if your focus is espresso brewing.
Even if you're not, it has more than enough to cater to your needs too. Therefore, whether you're a dedicated espresso lover or like experimenting with various brewing methods, the HiBrew G5 will surely offer the versatility and superior performance levels to satisfy your needs.
Overall, the HiBrew G5 is a grinder that offers a great deal considering its price point, and I have no hesitation in giving it my approval.