For anyone serious about enjoying perfect pour over coffee, a gooseneck kettle is essential, as it will offer excellent precision and control. For several years, our go-to option has been the Hario Buono. This model is excellent at its job. However, now that we have begun using an electric kettle that not only heats the water to a temperature of our choosing but holds it at that temperature, our stovetop kettle days are behind us.
Electric kettles are considerably more pricey than stovetop kettles. However, they can make a big difference when it comes to brewing great pour over consistently.
One of the options we have reviewed and enjoy using is the Brewista Artisan. However, in this article, we will examine its main rival. The Fellow Stagg EKG is a high-end electric kettle highly rated by specialty coffee enthusiasts in particular.
Our review will detail all its features so you can make an informed decision as to whether it represents good value for money. We will finish with a comparison of the Fellow Stagg EKG and the Brewista Artisan to give you a solid impression of which one is best for you.
Fellow Stagg EKG Electric Kettle Hands-on Review
A Quick Summary
Pros:
Contemporary design that looks great in the kitchen.
Rapid and quiet heating.
Simple to set the required water temperature thanks to the digital temperature control.
Cons:
Expensive – it costs more than many beginner-level coffee makers and grinders.
There's a gap at the base of the kettle that, as well as seeming unnecessary, is difficult to clean.
Who Is Fellow?
Fellow is a San Francisco-based company that began life as a Kickstarter project in 2013. Three years after launching its initial campaign came the release of the Fellow Stagg EKG, a minimalist and beautifully designed electric kettle. So impressive is the design that in 2018 it won a Red Dot Design Award. Meanwhile, the company's Ode Brew Grinder is also revered by coffee aficionados.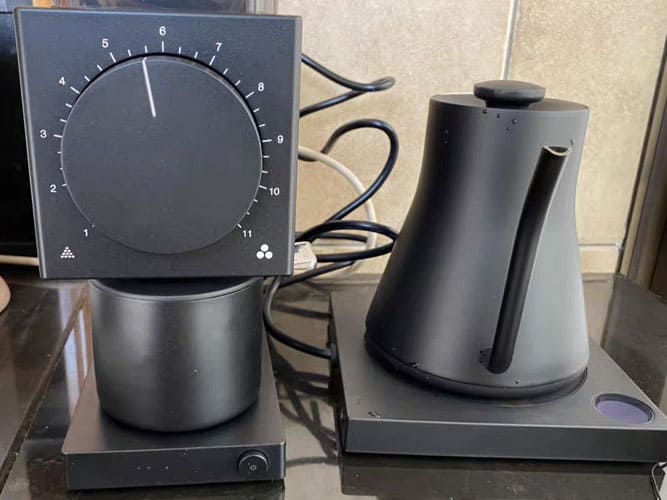 We love the design of Fellow's devices too, and think the company knows just what coffee lovers are on the lookout for when it comes to aesthetics. Let's go into greater detail.
Aesthetic Design And Build Quality
The Fellow Stagg EKG is available in seven colors – matte black, polished steel, polished copper, matte white, matte black and maple, matte black and walnut, and warm pink and maple.
Each features a sleek and minimalist design with gorgeous curves in keeping with a traditional gooseneck. The exterior is also elegant and satisfyingly uncluttered, while the handsome handle is perfect for steady, precision pouring. There is also a small, square, minimalist base that perfectly complements the simple yet contemporary aesthetic of the kettle.
In short, this kettle oozes class and will look beautiful in any kitchen.
We tested the matte black finish kettle, which looks great alongside other kitchen appliances. Meanwhile, the maple and walnut-finished options relate to the handle and are similar to options available with the Brewista Artisan.
On the inside, the Stagg EKG is made from high-quality 304 stainless steel. The handle is made from BPA-free plastic.
The capacity of the kettle is 900ml (30oz). This measurement equates to between one and three cups of pour over at a time. The weight of the kettle is approximately 737 grams, which makes it easy to pour using only one hand, while the handle has an ergonomic shape for consistent and steady circular pouring.
How To Use The Fellow Stagg EKG Kettle
On the electric base, one dial button handles everything. On the left, there's also a hi-res LCD that displays the timer, actual temperature, and target temperature.
The back of the base has two toggles. These allow you to start the hold temperature feature or alternate the temperature unit between Fahrenheit and Celsius.
To adjust the water temperature, it's a simple matter of turning the dial. Meanwhile, there is plenty of room to add water, and removing and replacing the lid is easy.
In general, the kettle is simple to operate and understand. In fact, you probably won't even need to refer to the instruction manual to get started. There is also a one-year warranty with the kettle, which is good to have given it is an expensive device.
What Do you Get From Such An Expensive Kettle?
As we've already explained, the Fellow Stagg EKG has a beautiful design and is easy to operate. However, it also contains some features that make brewing coffee easier and improve the finished product quality. Let's look at them.
Variable Temperature Control
The variable temperature control means you can opt for a range between 135°F and 212°F (57°C and 100°C). Between these ranges, you will be able to find the best temperature for the recipe you're using and hold it there with a simple turn of the dial.
The feature makes for far less hassle and time-saving because there's no need to boil the water, wait until the temperature drops, then check the temperature with a thermometer.
Even if you're not concerned about attaining the exact water temperature, the feature will help make a better coffee because boiling water burns the coffee. In contrast, tepid water will lead to under-extraction. With the Fellow Stagg EKG, you can forget all about these issues and let it take care of them.
Rapid Heating Time
Regardless of the number of things a kettle can do, its main function is to heat water. We poured 500ml of water into the Fellow Stagg EKG and set the temperature to 203°F (95°C). The kettle heated the water to that temperature (from an initial temperature of 80°F (27°C) ) in two minutes, 20 seconds.
During that period, you have time to prepare your pour over filter and dripper and grind some beans. By the time you have done those things, the water will be ready to pour, and at the precise temperature you desire.
Because the Fellow Stagg EKG comes with a 1200w quick heating element, it's a little faster to heat water than the Brewista Artisan.
Quiet Or Noisy?
If you generally brew coffee in a room with lots going on, you might not even notice the sound your electric kettle makes. However, that's not always the case, particularly at times of the day where others might be sleeping nearby. To test the noise levels, we used a cellphone app.
It recorded a high of 60dB and an average of 44dB. On the other hand, the Brewista Artisan is not quite as quiet, with a peak of 62dB and an average of 55dB. While both kettles are among the quieter ones on the market, those few decibels might make a difference depending on when – and where – you brew coffee.
Maintain Your Desired Temperature
More often than not, you can make pour over coffee in two to three minutes. Once you've brewed the coffee, the temperature will have fallen by a few degrees by the time you pour, affecting the brewing consistency.
However, our testing demonstrated that the Fellow Stagg EKG retains the temperature for several minutes. For example, it would lose about 1C of heat after a minute and 3C after three minutes, which is excellent. That means you shouldn't have any concerns about pouring water that's cooled too much as you complete the brewing process.
Built-in Timer
Once the water is at the temperature you need it to be, you can switch on the kettle's stopwatch, which is ideal for timing the pour over process.
Temperature Holding Mode
If you need more time before brewing your coffee, or if you want to brew a second one a few minutes later, the Fellow Stagg EKG has you covered. That's because it has a "Hold" feature that can keep your water at the temperature you desire for an hour. So, with that feature activated, just begin pouring any time within that hour, and you'll have perfectly heated water.
Pouring Experience
The pouring aspect of pour over coffee cannot be underestimated, which is where a sophisticated gooseneck kettle offers huge rewards.
The Fellow Stagg EKG's gooseneck spout has a narrow diameter to ensure excellent drip accuracy. It means there's no need to concern yourself with pouring too quickly or drip return. Our experience with the kettle led to excellent slow pours.
It pours more slowly than the Hario Bueno. It will take time to fill your French press. Also, if you use the kettle for other things, you will need to be patient. However, it is perfect for all drip coffee brewing methods, including Hario V60, Chemex, and Kalita Wave.
That precision pour spout is designed for highly accurate pouring alongside the handle which leads to a very natural pouring experience. The spout alone gives the smallest of pours a feeling of having more control.
The handle's design means the thumb naturally presses on top of it, making it easier to hold the handle and gradually and consistently pour the water on the grounds. Pouring half a liter gives a great flow and offers total command of the agitation process of brewing.
When taking all the advantages of the kettle into account, it's hardly surprising that it's one of the favored kettles among baristas worldwide.
Value For Money?
Of course, features as impressive as these come at a cost, and the's no denying that the Fellow Stagg EKG has a high price tag. In fact, it costs as much as a decent grinder or several dozen packets of high-quality coffee beans.
So, if you love coffee but have a limited budget and are in the market for a kettle only to improve performance, it probably isn't the one for you. That's because other options can heat your water and enhance your pouring technique without spending as much money. We reviewed and picked the top stovetop and electric gooseneck kettles in this roundup, you can check it out.
There is also an EKG+ model, which is Bluetooth-enabled for use with the Acaia Brewbar app. This function lets you record data for a range of coffee recipes. While this might be good for some coffee enthusiasts, it's not for us, as we want a no-frills kettle without more hassle.
Fellow Stagg EKG Vs. Brewista Artisan Kettle
We have previously looked at the Brewista Artisan, and it is a great kettle for those with similar spending power. Here is our comparison of the two:
| Comparison | Fellow Stagg EKG | Brewista Artisan Kettle |
| --- | --- | --- |
| Heating Element Power | 1200 Watt | 1000 Watt |
| Heating Time | 2:23 | 2:56 |
| Warm Keeping | Drops 37°F (3°C) in 3 Mins | Drops 39°F (4°C) in 3 Mins |
| Temperature Range | 135°F – 212°F (57°C – 100°C) | 104°F – 212°F (40°C- 100°C) |
| Capacity | 600ml, 900ml | 600ml, 1000ml |
| Weight (Base is not included) | 737 Grams | 623 Grams |
| Noise | Average 44 dBs, Peak 60 dBs | Average 55 dBs, Peak 62 dBs |
| Price | Approximately the same | Approximately the same |
Each of the kettles looks incredible in its own way, while they share similar functionality. For example, each can hold the water temperature for an hour, alternate between Fahrenheit and Celsius, and each is equipped with a timer. They are priced at a similar level too. However, there are some disadvantages with each kettle.
The lid of the Brewista Artisan attaches too tightly, meaning you need more effort than you would like to remove and reattach it. By comparison, the EKG's lid fits beautifully. We also love the EKG's handle, which makes for a comfortable yet firm grip. On the other hand, the Brewista Artisan's spot can get closer to the grounds, offering greater control over the pouring.
Our Verdict
The Fellow Stagg EKG provides all you could need from an electric, variable temperature kettle. It's beautiful with it, too. Indeed, in terms of aesthetics, we've not seen a more appealing one. There's little wonder that you'll often see one of these kettles whenever you put in a search for "coffee" on Instagram – it is that beautiful.
However, the cost is such that it is a good option only for those who value looks on a similar level to performance, and that's because there are other kettles out there that can offer the latter, but which are cheaper. However, for those who have the money to spend, this particular electric gooseneck kettle will look incredible as a highlight of any kitchen. Making coffee with this perfect kettle is just enjoyable.