If you're an espresso-brewing novice and in the market for a semi-automatic machine at a reasonable price, the Casabrews CM5418 is one option.
I've tested the espresso machine thoroughly to determine if it's worth considering. Let's take a look at the results.
CASABREWS CM5418 Espresso Machine
Pros:
Compact footprint

Powerful steam, capable for latte art

Good espresso quality

Durable stainless steel build quality

Affordable price
Cons:
Small portafilter

Steam wand is not long enough for larger milk pitcher
We earn a commission if you make a purchase, at no additional cost to you.
Design And Build Quality
The first thing that struck me was its small footprint. It's only about five inches wide, meaning that, even if you're living in a property with a small kitchen, you're likely to find room for it. Indeed, placing it beside the Breville Barista Pro, I noted it only occupied one-third of the space.
The Casabrews CM5418 has a cup warmer on top with room for two cups, while the front is relatively standard. For example, there is a steam wand, while the group head is in the middle. At the top are four buttons to control the machine, and there's a pressure gauge, which is helpful for beginners to find the correct grind size.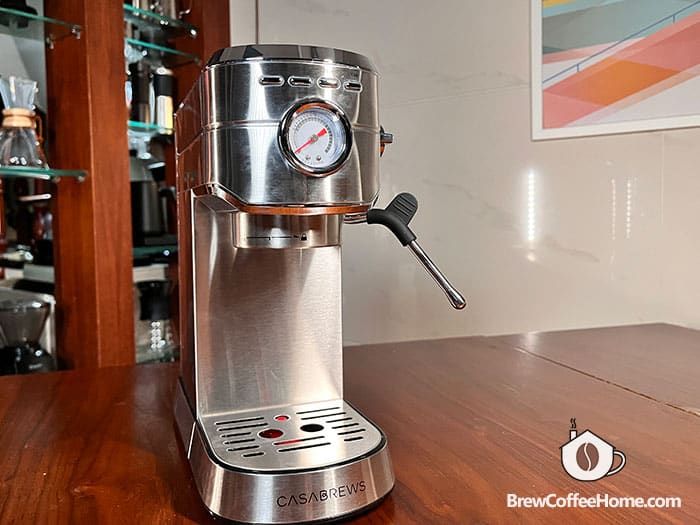 The machine has an impressive build quality of predominantly stainless steel. Only the drip tray, buttons and steam knob are made of plastic. While it's not as heavy as larger coffee machines, it is also not as light as other inexpensive espresso machines made with plastic.
Portafilter And Filter Basket
Considering the low price, it didn't surprise me to find a 51mm pressurized portafilter, which doesn't perform as well as a larger non-pressurized basket. On the plus side, it's more beginner-friendly and forgiving to grind sizes, so it makes sense that it's the choice for an entry-level machine of this nature.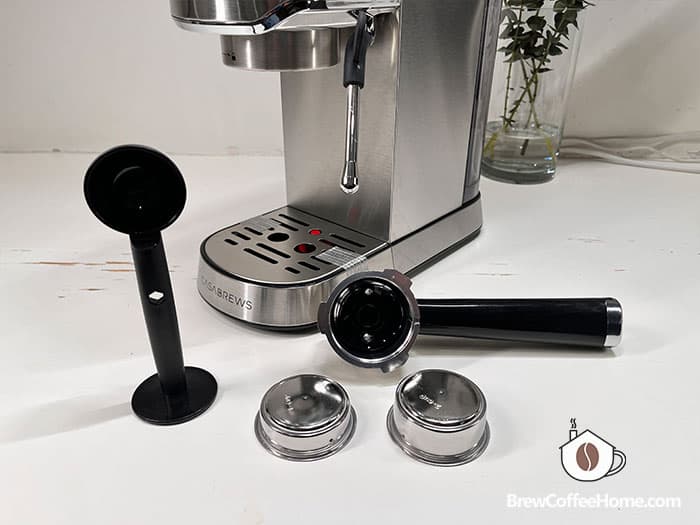 In my testing, I only used the double-shot basket, which holds around 15g of ground coffee. However, there is also a single-shot basket, but it holds such a small amount of grounds that it's hard to dial in espresso.
I was surprised how easy it was to lock the portafilter into the group head – a bugbear with many other lighter, compact espresso machines, which necessitate holding the machine with one hand while locking the portafilter in with the other. In contrast, the Casabrews allowed me to lock the portafilter using one hand.
Steam Wand
If you're planning to make milk-based espresso drinks and perfect latte art, a professional steam wand is essential. Many entry-level espresso machines have a Panarello, which is basically a milk frother that only creates foam with large bubbles, limiting your options. However, the Casabrews CM5418 has a commercial-style one-hole steam wand, which is a significant advantage. The steam wand is also easy to move to find the best angle for creating a vortex when steaming for latte art.
I did find one issue – the wand is too short for a large pitcher. That means it couldn't reach the milk surface to create a whirlpool or incorporate air. It's not a deal-breaker, but it just means you should choose a smaller milk pitcher to use with the machine.
Ease Of Use
A big advantage of the machine is its straightforward espresso workflow and functionality, meaning there isn't a steep learning curve and you can begin making coffee immediately.
The control panel has four buttons – the power button, one cup option, two cup option, and the steam button. It also has a factory preset volume for single and double espresso shots. Meanwhile, you can customize the cup size. When it's time to steam, press the steam button and wait a while, then simply twist the steam knob on the side to begin the process.
I really love the removable drip tray, which is easy to take apart and clean. There's also a clever red knob that will tell you when you need to empty it, so it shouldn't overflow.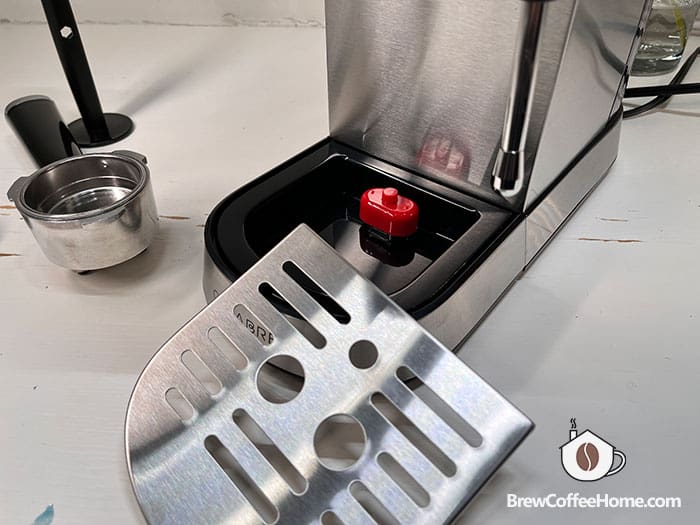 At the back, filling the water tank is straightforward. Simply flip the lid and fill to the 'max' mark. As I mentioned earlier, it'll hold 34oz, which is a good volume that will last several days – or even up to a week – if you're only making coffee once or twice a day.
One of the best features is how quickly it heats up. In my experience, many other domestic machines take anywhere from one minute to several. Not so with the Casabrews, which heats in less than a minute.
The lights will flash at that point and you're ready to brew. That means if you're in a hurry or like to brew multiple cups in a row, this coffee maker is a fantastic option.
Espresso Quality
While it's a case of so far, so good, can the coffee machine brew great espresso? Well, yes, but I recommend implementing the following tips.
Use freshly ground beans for the best flavor.
Test and adjust the grind size until you're happy with the flow rate.
Use the double shot baskets
Here is a short video showing you espresso quality of the CASABREWS espresso machine.
First Attempt
When I used pre-ground coffee, the flow rate was too quick, but the grounds were too coarse, too, even though they were labeled as espresso grounds.
Thanks to the pressurized basket, I still got a satisfying crema, but the espresso was too watery for my tastes.
The Second Attempt
This time, I ground my own espresso beans with the 1Zpresso JX Pro and used a finer grind size. Then I distributed the grounds with a WDT tool and tamped them down evenly.
That produced a much more syrupy espresso with a great flow rate and rich crema.
You can also pull shots with your own settings according to your personal taste preferences, rather than relying on the preset. Start brewing and it's up to you to stop the shot. If you prefer a more intense shot, pull it a little shorter.
Overall, with the correct grind size and fresh grounds, this espresso maker can pull excellent shots on a par with more expensive semi-automatic espresso machines.
Milk Steaming Quality
Once you've mastered the shot-pulling technique, it's time to practice latte art. Thankfully, the steam wand equipped in Casabrews is capable for creating amazing milk foam art.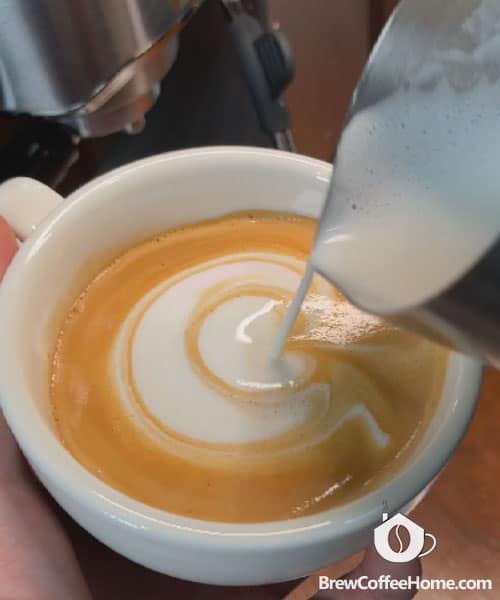 One button controls turning the steam wand on and off. There are a few levels, but I always used the max steam during testing. The power is strong enough to create a beautiful milk texture that was buttery, creamy and consistent – a pleasant surprise.
On my first attempt, I created a simple latte art tulip. Latte art requires a lot of practice, but you can do it with this coffee machine if you have the ability.
The Verdict
Overall, I was hugely impressed with this Casabrews CM5418 and it is extremely suitable for novice domestic baristas.
While there are a couple of drawbacks, such as the small size of the steam wand and pressurized basket, neither is insurmountable, particularly considering the value for money and excellent espresso-based coffees it creates. It's an excellent option for beginners. Hope this Casabrews espresso machine review helps you make the right decision.