Breville and De'Longhi are two of the most iconic coffee machine manufacturers in the world. Each company produces machines that are both trusted and loved for their build quality, design and performance.
However, this poses a problem for anyone trying to choose between the two. Nevertheless, depending on factors including your barista skills and budget, there are good reasons why you might choose one company over another.
This article will examine the fundamental differences between the espresso machines manufactured by the two companies so that you will have a clear idea of which brand is the best to opt for based on your personal preferences and circumstances. Let's get started.
About Breville
Breville was founded in Australia by Harry Norville and Bill O'Brien in 1932. The name is an amalgamation of each entrepreneur's surname. However, while the brand is famous today for its high-quality kitchen appliances, it began by making radios and, in the Second World War, mine detectors.
Finally, in 2001, after Housewares International Limited (later named the Breville Group Limited) acquired the company, it began producing kitchen appliances, including espresso machines.
Nowadays, the company trades in 70 countries worldwide and enjoys a strong reputation in the coffee world.
About De'Longhi
De'Longhi has been around for even longer than Breville. It was established in 1902 in Italy as a small industrial parts manufacturing workshop. It, too, began life away from kitchen appliances, instead concentrating on portable heaters and air conditioners.
The company also has an excellent reputation in the espresso machine market, with its designs receiving particular acclaim.
DeLonghi's Arista series espresso machines is one of its most well-known lines, but it makes a wide range of espresso machines, including entry-level, midrange and high-end, leaving plenty of options for baristas of all skill levels.
Breville vs. De'Longhi – Coffee Machines Product Line Comparison
Semi-Automatic Espresso Machines
All but one of Breville's espresso machines are semi-automatic. This means that you need some expertise in the brewing process. Meanwhile, its products have concentrated on the mid-range market in recent years.
Its focus has certainly paid off, with the Breville Barista Express being the most popular Breville espresso machine on the market. There are also more advanced options if you'd like to take your espresso-brewing capabilities to another level, such as their double boiler espresso machines, which you can consider depending on your needs and budget.
On the other hand, De'Longhi has a series of budget-friendly options, including the compact entry-level espresso machine De'Longhi Dedica and mid-range machines, including La Specialista.
That means that if you have an open mind about the kind of machine you would like when taking into consideration your skill level and budget, De'Longhi has a wider variety of machines to choose from.
Fully Automatic Espresso Machines
Breville only has one fully automatic espresso machine – the Oracle Touch. The machine has auto-dosing, tamping and milk frothing. However, even then, you will still need to have some input into the brewing process beyond pushing a button. For example, you will need to lock the portafilter manually and prepare the milk to make your drink.
In contrast, De'Longhi has a range of fully automatic machines, including the entry-level Magnifico series, the mid-priced Dinamica series, and the high-end Eletta series. This means that De'Longhi has far more options for people with little to no experience making espresso.
De'Longhi also offers more machines across a wider budget range, from the low hundreds of dollars to several thousand.
Nespresso Machines
Both Breville and De'Longhi produce machines for Nespresso, including the OriginalLine and the newer VertuoLine series. The internal components of Nespresso machines manufactured by each brand are identical. However, there are several differences in their appearances.
Each brand makes popular Nespresso models, including Essenza Mini, CitiZ, Vertuo Plus and Vertuo Next. In addition, however, each has its own Nespresso models that are exclusive to the brand and featuring distinct designs.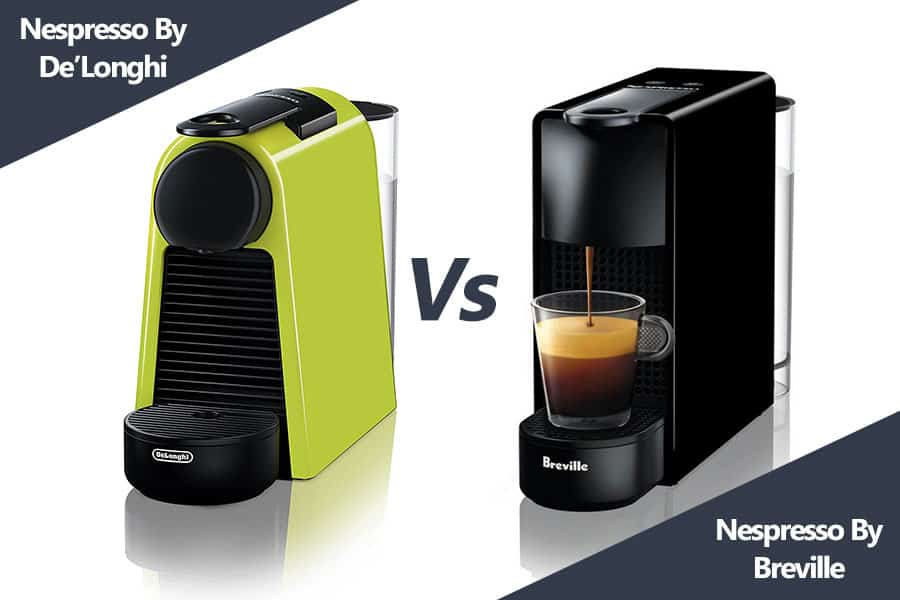 De'Longhi manufactures the Lattissima line, while Creatista is Breville's proprietary line. Meanwhile, each can make milk-based drinks using a steam wand.
Therefore, whether you decide to opt for a Breville Nespresso machine or a De'Longhi alternative, it will likely depend predominantly on aesthetics and your preferred user experience of the two brands.
We compared the differences between Nespresso machines made by Breville and Delonghi, check it out for more details.
Espresso Machines With Built-In Grinders
Most of the popular Breville and DeLonghi machines have built-in, conical burr grinders meaning once you have purchased a machine, you will not need to worry about the additional cost of a high-quality grinder. So if you are looking for espresso machines with a grinder, they are good options.
Exceptions to this include Breville's Dual Boiler, Infuser, and Bambino espresso machines, which don't have grinders. Therefore, to get the best out of those machines, you will require a separate grinder capable of grinding for espresso – a factor well worth keeping in mind when planning your budget for an espresso machine.
Breville vs De'Longhi – Build Quality
Breville's Build Quality
All Breville espresso machines have a brushed stainless steel casing. Meanwhile, they both look and feel sturdy and are very durable. They are known to have only a limited number of plastic parts.
Not only that, but many of Breville's products come with a one to two-year manufacturer warranty for additional peace of mind. However, you can also purchase a longer warranty should you require it.
Where are Breville Espresso Machines Made?
Breville's products are designed in Australia and manufactured in China.
De'Longhi's Build Quality
De'Longhi's mid-range espresso machines, including La Specialista, are sturdy.
However, the company's range of entry-level espresso machines use more plastic parts. While this is not ideal, most of its models have been on the market for several years, meaning they are trusted in the coffee community.
Like Breville, most of its products offer a one to two-year warranty.
Where Are De'Longhi Espresso Machines Made?
Following the acquisition of British manufacturer Kenwood in 2001, the company imports most of its products from China. However, most of the design and engineering work takes place in its native Italy.
Breville vs De'Longhi – Design
Breville Machines Design
Breville machines usually have a similar design from product to product and offer a similar layout and appearance. This is good news if you are a particular fan of the brand because as you move from machine to machine, they each offer a similar user experience. Nevertheless, some machines have several color options. Overall, all the company's machines have a premium feel, regardless of which model you choose.
De'Longhi Machines Design
Unlike Breville, DeLonghi coffee machines have different designs and build qualities. So, higher-end models, including La Specialista, have a premium design with plenty of features. Meanwhile, the Dedica is known for its compact design, while lower-end machines are far simpler. In general, De'Longhi machines are both modern and high-end.
Breville vs De'Longhi – Performance
Every Breville machine is built with optimal coffee extraction in mind, including the correct espresso bar capabilities, digital temperature control, and the right amount of freshly ground coffee. Not only that, but they also come with a professional steam wand that makes them suitable for latte art. Brevilles are perfect for skilled baristas who want to hone their domestic brewing prowess.
Most entry-level De'Longhi machines have a smaller 51 mm pressurized filter basket and milk frother to offer excellent espresso quality and dense steamed milk. That makes them a good option if you are in the market for a cappuccino maker. Mid-range machines usually come with an adjustable milk frother for frothing milk for latte or cappuccino. Meanwhile, higher-end semi-automatic espresso machines come with a professional-style steam wand and unpressurized filter baskets. These are perfect for anyone as they cater to domestic brewers with different skill levels.
De'Longhi automatic machines are generally better than the average alternative, while higher-end models have an advanced latte system and myriad drink options.
Breville vs De'Longhi – Price Range
De'Longhi has the more budget-friendly machines of the two brands, often costing lower than $200. Indeed, the cheapest DeLonghi espresso machine, the Stilosa, is around $100. In contrast, the Bambino machine, the cheapest Breville machine, is around three times more costly.
Most popular Breville machines are in the $500 to $1,000 price range. These include the Breville Barista Express, Barista Pro, Bambino Plus, and the newer Express Impress. More premium machines, including the Oracle and Oracle Touch, are significantly more expensive at around $3,000.
The most expensive De'Longhi semi-automatic espresso machine is the La Specialista, which is a similar price to Breville's mid-range machines.
De'Longhi's super-automatic espresso machines are far more budget-friendly than rival brands, including Jura and Gaggia. Also, when compared only to Breville, the De'Longhi range is generally more budget-friendly and includes a wider range of options for people on different budgets.
Final Thoughts – Which Brand Is Better?
Whether you opt for a Breville espresso machine or a De'Longhi machine, you will not go far wrong regarding build quality, performance and design. However, your decision will likely depend largely on your spending power and skill level. If you're in the market for a super-automatic or entry-level machine, your best option is De'Longhi, as there are more options.
Alternatively, if you already possess some barista skills and are looking for a semi-automatic espresso machine that will last for many years, Breville is undoubtedly your best choice.
Whichever espresso machine you choose, one thing is certain – both brands offer premium-quality machines you can trust.