Cold brew is so smooth and refreshing, and a nitro cold brew just takes your coffee to a new level. The good news is, making nitro coffee at home is relatively easy at home with a proper nitro cold brew maker.
So let's explore how a nitro coffee brewer works and how to pick the right one.
Nitro Cold Brew Coffee Explained
In simple terms, you can infuse cold-brewed coffee with nitrogen gas to make the nitro cold brew coffee at home. You dispense the cold brew out of a tap that looks like the one on stout beer dispensing systems. However, unlike beer which uses CO2 (carbon dioxide), nitrogen gas produces a uniquely sweet flavor and a smooth texture. [1]
Making nitro cold brew coffee itself is an easy process, but making cold brew is more time-consuming. You need to grind fresh coffee beans into coarse ground coffee, then steep them in cold water for 18 hours. Filter out the coffee, leaving you with cold brew coffee. Depending on the coffee to water ratio, you can make cold brew concentrate or ready-to-drink coffee.
Also Read: Nitro cold brew Caffeine Content
Cold-brewed coffee balances a strong ratio with a natural sweetness—the extraction at cold temperatures pulls different flavors from the coffee grounds. And a bonus is that studies show cold brew has the same health benefits as hot coffee. [2]
A nitro brew coffee machine makes dispensing your cold brew simple and fun. Once the nitro coffee is made, it is one of the fastest and easiest ways to enjoy coffee. Especially if speed is a factor during your morning routine, you can have your morning brew and be at the door (and get your caffeine fix) in no time. You have a frothy iced coffee that looks like Guinness beer.
If you want to explore more, check out this article: What Is Nitro Cold Brew Coffee?
How Does A Nitro Cold Brew Coffee Maker Work
Last update on 2023-09-27 / As an Amazon Associate, if you buy via the links, Brewcoffeehome earns a commission at no extra cost to you.
While a Starbucks or other large coffee shop might have a giant kegerator with huge nitrogen tanks, most home nitro coffee brewers use small gas cartridges to infuse smaller amounts of cold brew. Depending on the model, you can expect the cold brew tanks at home to range between 50 and 128 ounces.
However, the nitro coffee brewer will not make the coffee for you. You still have to make regular cold brew coffee, but it will be your tap system that dispenses the foamy deliciousness. And if you do not feel like making your own cold brew, you can also buy delicious cold brew coffee from the grocery store and fill up the carafe with that.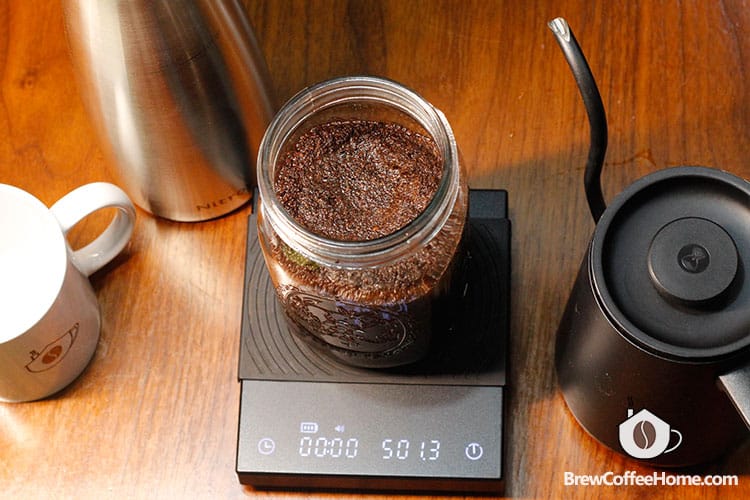 Once you evenly shake and mix the nitrogen gas into the beverage, it is as easy as serving it in a glass.
And once you buy a nitro cold brew machine, you no longer need to rely on Starbucks to get your fix. With a home machine, you can infuse your cold brew with nitrogen, making it taste great and increasing its shelf life. [3]
The Best Nitro Cold Brew Coffee Maker: What To Consider
Before getting into the specific details about some of the top cold brew coffee makers that work at home, it is worth learning the basic features you should consider. A nitro coffee brewer is a relatively simple device, so luckily, there is not much of a learning curve.
Dispenser or Nitro Keg?
The primary consideration with buying a nitro coffee maker is whether you will be going with a dispenser or a keg.
Nitro Coffee Dispenser
Just like a whipped cream dispenser infuses the cream with nitrous oxide to give it texture, a nitro cold brew dispenser infuses the liquid with nitrogen to give it a creamy texture.
The main downside with a dispenser is the capacity—they usually have a capacity of 16-32 ounces.
Nitro Coffee Keg System
But a nitro coffee keg system can range from 32 ounces to 128 ounces. These setups will more closely resemble a beer tap. If you have ever enjoyed the creamy texture of a Guinness beer, you understand the appeal of having this setup at home.
Besides the more even infusion of nitrogen (and hence a more consistent flavor), the keg system's main benefit is that you can make more coffee at once. A mini-keg is good if you make a few cups per batch. If you buy a 128-ounce system, you can make more nitro cold brew in one batch for the entire household.
How To Choose a Gas Cartridge for Nitro Cold Brew
When it comes to gas cartridges for your nitro cold brews, you have two main choices: nitrogen or nitrous oxide.
Some models only work with nitrous oxide, while others work with both. But since the price and resulting cold brew are different, it is worth understanding their differences.
Pure Nitrogen gas (N2)
Pure nitrogen gas (N2) is the more expensive option, but for a reason: the flavor is better. It's essential to make the perfect nitro cold brew. Additionally, pure nitrogen has smaller bubbles that produce a more consistently smooth texture. N2 is what most coffee shops use with their kegerators. But the cartridges for home use usually come in 2-gram sizes and can be more expensive than the N2O.
Nitrous Oxide (N2O)
Nitrous oxide (N2O), on the other hand, has larger bubbles that produce more of a foamy texture rather than the velvety smooth texture of N2. Abbreviated N2O, nitrous oxide usually comes in 8-gram cartridges and is much easier to acquire. People use the same nitrous oxide cartridges in whipped cream dispensers.
Lastly, unlike the flavorless N2, N2O gives the cold brew the perception of a sweeter taste [4], even when you do not add any sweetener.
The Best Nitro Cold Brew Coffee Makers
Now that you have a basic understanding of the different types of nitro cold brew makers, let's explore some of the best options and their features.
1. GrowlerWerks uKeg Nitro Cold Brew Coffee Maker
The first product up for review is the GrowlerWerks Ukeg. This brewer is of the keg variety, and it holds 50 ounces in total. That's a few 8-oz cups of coffee per batch.
The double-walled vacuum insulated brewing chamber is made from food-grade stainless steel and can keep your cold brew coffee fresh (and cold). And it has a sweet handle so that you can easily enjoy your cold coffee outdoors.
The brewer can create micro-bubble and keep the coffee fresh thanks to its regulator cap, which automatically maintains the correct pressure for weeks at a time. The pressure gauge is also customizable so that you can find the perfect pressure to match your texture preference.
What makes it unique is that it comes with two filter bags, which allows you to make the cold brew right in the nitro coffee machine. This is more convenient compared to other nitro coffee makers that require you to prepare the coffee first.
Depending on where you order this nitro cold brew maker from, it may or may not come with two nitro gas chargers—you should be prepared to order those cartridges separately, something you will eventually have to do as you use the product.
Either way, you should know that this brewer works with 16-gram gas nitro chargers, and it only works with nitrous oxide.
To summarize, some of the key features include:
Customizable pressure gauge
Double filtration system
Automatic pressure regulation
Turbulating tap for optimal texture
Overall, this nitro cold brew kit is great for capacity compared with smaller dispenser models. And it's suitable for those who love nitro cold brew but want to simplify the brewing process.
2. Royal Brew Nitro Cold Brew Coffee Maker Home Keg Kit System
At 64 ounces, the Royal Brew Nitro Cold Brew system is even bigger than the previous model. A cold brew keg of this size is enough to last a household a week. And the stainless steel keg has a chrome finish that will look beautiful in your kitchen. A larger 128-ounce version is also available, but it's taller so make sure your fridge has enough room to store it.
And compared to the GrowlerWerks brewer, which had the downside of only working with N2O, this brewer works with N2 as well.
However, the cartridges are not included with this nitro brew machine, but it is compatible with almost any type of 8-gram nitrous oxide cartridge or any 2-gram pure nitrogen cartridge. You can even use two nitrogen capsules at once to get the thickest textures that mimic a stout beer.
To help with getting the perfect creamy texture to the pour, there is a dual-action pouring system with a stout creamer faucet that will get you the frothy texture of a Guinness beer on tap.
Lastly, and something any beer lover knows, there is a tap plug to close up the faucet when not in use. It prevents leaking and keeps the spout as clean as possible. Check out our Royal Brew Nitro coffee keg review here for more details.
Some of this brewer's most important features include:
Stout creamer faucet
Tap plug
Cleaning brushes
Supports N2O and N2
3. Hatfields London NitroPress Portable Handheld Nitro Dispenser
This NitroPress is the first example of the dispenser type of home nitro cold brew makers. As you read about earlier, the downside of these handheld dispensers is size. You can only make up to 32 ounces of coffee at a time. But the upside is its portability—you can even travel with this brewer to have your own nitro cold brew on the go.
The Nitropress nitro coffee maker works with either N2 or N2O, which gives you more flexibility in the flavor and texture you can produce.
While N2 is more expensive and produces a creamier texture, many people prefer N2O because it is more affordable and imparts a slightly sweet flavor to the coffee. Whatever your preference is, it is nice to have the option of switching between these forms of nitrogen.
And speaking of texture, this NitroPress is not just a bigger whipped cream dispenser. They designed it with cold brew coffee in mind. The nozzle on this brewer has a design that mimics the spout of a beer tap. This tap-faucet-like opening aerates the foam as you pour it out, which creates an even and integrated texture.
Here is our NitroPress review and some recipes.
Other great features of this brewer include:
Great design and durable materials
Super portable
Compatible with CO2 cartridges for other uses
4. iSi Nitro Whip 1 Quart Dispenser
As the name suggests, the iSi Nitro Coffee Dispenser is another at-home Nitro brew coffee maker of the dispenser variety. This product is in a similar price range to the previous NitroPress, with the main difference being the appearance and the cartridges it uses.
This iSi dispenser has brown accents on the diffuser tip and the cartridge holder, which gives it a more crafty appearance. The brown accents are also made of a non-slip silicone grip which is a nice feature considering you have to shake these dispensers to properly integrate the nitrogen gas.
One downside worth noting, however, is that this dispenser is only compatible with iSi brand nitrogen chargers. It is not a huge deal, but it does take some flexibility away from you.
To summarize, the iSi Nitro Whip features:
Stainless steel body
Brown accents of grippy silicone
Diffuser tip
5. Nitro Cold Brew Coffee Kit by Nitroknox
Compared with some of the expensive keg models and the pricy Hatfields NitroPress, you can consider this Nitroknox Nitro Cold Brew Coffee Kit to be your budget-friendly option.
It is a basic dispenser type of nitro coffee maker, and it is designed to work with N2 cartridges—the company believes cold brew tastes best with pure nitrogen.
And you can believe that they genuinely believe in N2 infusion because unlike many of the other models you read about in this article, the Nitroknox coffee kit comes with ten nitrogen chargers. However, it can be used with N2O and CO2 as well.
All in all, they designed this product to be beginner-friendly by coming as a complete kit. Besides the cold brew coffee itself (which, again you can buy from a store), you will have everything you need when it arrives.
The main perks of this brewer include:
Super affordable
10 nitrogen cartridges included
Easy to use
Aluminum body with a matte black color
So What Is the Best Nitro Coffee Brewer for Home Use?
As you can tell by this point, it is hard to state the best nitro coffee brewer without separating them into their respective categories—dispensers and kegs.
On the keg side of the lineup, the Royal Brew Nitro Cold Brew Coffee Maker Keg wins out as the best overall brewer for home use. Its 64-ounce capacity gives you plenty of servings, and the stout creamer faucet gives the foam an amazing texture.
Last update on 2023-09-27 / As an Amazon Associate, if you buy via the links, Brewcoffeehome earns a commission at no extra cost to you.
And on the dispenser side of the debate, the Hatfields London NitroPress comes out in front. This dispenser is compatible with N2 and N2O, giving you flexibility in texture. And unlike a standard whipped cream dispenser, the nozzle design mimics a beer faucet to give you the same texture that a keg system would—pretty impressive for such a small and portable product.
Last update on 2023-09-26 / As an Amazon Associate, if you buy via the links, Brewcoffeehome earns a commission at no extra cost to you.
Whichever coffee maker is piquing your interest, hopefully, you have at least learned a lot about the fascinating and delicious world of nitro cold brew coffee at home!
References:
[1] Nitro Cold Brew: The Science Behind Coffee's Biggest Trend – https://wusfnews.wusf.usf.edu/2019-07-08/nitro-cold-brew-the-science-behind-coffees-biggest-trend
[2] Cold brew coffee as healthy as the hot kind – https://www.hsph.harvard.edu/news/hsph-in-the-news/cold-brew-coffee-as-healthy-as-the-hot-kind/
[3] An Investigation of the Shelf Life of Cold Brew Coffee and the Influence of Extraction Temperature Using Chemical Microbial and Sensory Analysis – https://tigerprints.clemson.edu/cgi/viewcontent.cgi?article=3906&context=all_theses
[4] UNDERSTANDING NITROUS OXIDE – https://wmsmile.com/understanding-nitrous-oxide/