Coffee lovers know they need their caffeine fix, even on the road. And sure, you could stop at the nearest coffee shop for a cup of joe. But, that gets expensive and wastes your precious time on your journey. What's worse, coffee shops are not always available in the wild.
If you want great coffee, as in full-bodied, richly flavored espresso with the perfect crema on top, you're better off doing it yourself. That's why finding the best portable espresso maker is a must. With the right device, you can have great espresso, no matter where your travels take you.
Last update on 2023-09-27 / As an Amazon Associate, if you buy via the links, Brewcoffeehome earns a commission at no extra cost to you.
How To Choose The Best Portable Espresso Maker
When choosing the best espresso maker for travel, it's crucial to consider a few things. You need it to be portable, but how portable is a matter of personal circumstance. It's also essential to consider whether your machine uses pods or ground coffee, whether it's manual or electric, and whether you want a pressurized or unpressurized filter basket.
Portability
When it comes to travel espresso makers, portability might be the most important factor. You need a machine that's low weight and takes up minimal space. It should fit in your backpack or overnight bag and have dimensions small enough to fit on a camper's countertop.
Some handheld espresso makers even come with a case or carrying bag, making travel easy and sleek. Plus, a proper case helps to keep your espresso maker safe.
Of course, how portable you need your espresso maker to be will depend on the type of travel you're doing.
For example, suppose you're commuting to work and have access to your car battery. In that case, the espresso maker you choose might be different than if you're seeking a machine for backpacking trips where electricity is non-existent.
Nespresso Pods Or Ground Coffee?
Most portable espresso machines work with either Nespresso pods or your choice of ground coffees; which one you choose is dependent, again, on the type of travel you're doing.
Nespresso capsules or pods are easy to pack and simple to use. You don't have to worry about loose grounds exploding inside your suitcase, and they deliver consistent shots without measuring anything.
Plus, they're easy to clean up. With Nespresso pods, you don't have to worry about cleaning filter baskets; just remove and dispose of the pod.
That said, if you want top-notch, full-bodied flavor, then freshly ground coffee beans are the best way to go. It takes a bit more effort, but with a manual burr grinder and a little practice, you can create an exceptional shot on the go.
Of course, pre-ground coffee is an option too. But, be careful. Finely ground espresso beans go stale fast. And, packing pre-ground beans can quickly turn into a mess!
Manual Or Electric Portable Models?
Portable espresso makers are available in both manual and electric models, which each have their pros and cons. Manual machines don't require power which is convenient for camping or backpacking. They also tend to give you more control over the brewing process.
However, manual machines will require boiling water, and they take more work to operate than their electric counterparts. If you have access to a power source, an electric option is far more convenient.
Pressurized Or Unpressurized Filter Baskets?
More often than not, portable espresso makers come with a pressurized basket. Pressurized baskets have an internal screen that filters the coffee into a holding area with a small hole at its base.
Pressurized filter basket of Staresso
Non-pressurized filter basket of Cafflano Kompresso
The design means that water is in contact with coffee grounds for a more extended period of time. Because of this, the grind size of coffee you use is less important, and you can get away with a subpar grinder without sacrificing the quality of your shot.
On top of that, when espresso is forced through the small spout at the base of a pressurized basket, it undergoes aeration, which creates a thicker crema.
That said, though, unpressurized baskets are capable of creating better-tasting coffee if you know how to use them. Assuming you have a high-quality grind and a little bit of skill, an unpressurized filter basket will produce a better shot than a pressurized one without fail.
Can It Make Delicious Espresso?
According to the Specialty Coffee Association, great espresso meets the following specifications:
Temperature: 195 ℉ – 205 ℉
Pressure: 9-10 Bars
Grounds: 7-9 grams at a grind that keeps your brew time between twenty and thirty seconds
A portable espresso maker can't always meet all of these targets. For example, the temperature can be a problem, and many devices require you to preheat components before brewing. Pressure can be an issue, too, when compared to countertop machines.
So, when you choose a portable espresso maker, you're often sacrificing a little bit of quality. Espresso shots from portable machines will be adequate, but they're unlikely to be the best shots you've ever tasted.
Espresso made by Staresso Portable Coffee Maker
However, there are always exceptions. When we tested it, the Flair Neo, included in this review, brewed better-tasting espresso than many automatic machines. But, of course, it's also one of the least portable options on the list, weighing in at five pounds and measuring 14 inches tall.
Best Portable Espresso Makers in 2023 – Best Travel Espresso Maker
Now that you know what to consider let's zoom in on the best machines, starting with the best overall option, the Nanopresso by Wacaco.
1.Wacaco Nanopresso Portable Espresso Maker – Best Overall
Sleek and compact, this pill-shaped espresso maker easily fits in a suitcase or backpack. At only 6.14 inches long and .74 lbs in weight, and comes with a protective case, it's easy to carry from the trail to the campsite or anywhere else.
This mini machine features up to 18 bars of pressure which is more than most home machines, and its upgraded design is completely detachable and easy to clean. It's also relatively easy to use, though the machine isn't freestanding. That means you have to aim for your cup while operating it.
With a pressurized head, the Wacaco Nanopresso ensures consistent shots, even if you're a beginner brewer. However, if you need to use Nespresso capsules, you'll need an extra capsule adapter.
The Nanopresso holds up to 2.7 fluid ounces at a time, which isn't much. However, you can add on Wacaco's Nanopresso Barista Kit, which increases the brewing capacity and allows you to brew double espresso shots and a single before cleaning baskets and parts.
Wacaco's Nanopresso Barista Kit: B078GM6FFH
Pros
Very compact design
Has a protective case, more durable
Up to 18 bars of pressure
Cons
Small capacity, unless you purchase an accessory kit
Not freestanding
Extra capsule adapter is needed for Nespresso pods
2.Wacaco Minipresso – Best Value
The Nanopresso listed above is the upgraded version of the Wacaco Minipresso, and it comes at a cost. The Wacaco Minipresso costs a little less but sacrifices little when it comes to quality. The slim, black, streamlined design on this machine makes it easy to use and stylish to carry.
At only 6.89 inches tall and .8 lbs in weight, it's barely bigger than the Nanopresso. Unfortunately, though, its capacity is a little less at only 2.35 fluid ounces.
This portable coffee maker requires a little force, but it can produce a consistent 8 bars of pressure when you use it properly. When you are buying Mnipresso, there are two versions: GR and NS. GR means grounds, this version can only use coffee grounds, while the NS is compatible with Nespresso capsules.
The Wacaco Minipresso will produce a high-quality shot thanks to its design, which was inspired by the company's founder, Hugo Cailleton. Mr. Cailleton was inspired to come up with the simple mechanism while sipping a disappointing hotel espresso shot. He thought there must be a better way to provide high-quality coffee to travelers, and he was right!
With the Wacaco Minipresso, there's minimal space between the water tank and the coffee chamber. That lack of space minimizes any temperature drop and leads to a better shot, no matter where your travels take you.
Pros
High-quality shot thanks to the design
Affordable
Stylish appearance
Cons
Requires a little bit of manual press
Slightly harder to clean
You need to decide GR or NS version when buying
3.Staresso Portable Espresso Machine SP-200 – Easiest To Use
Staresso is a newcomer, and their portable espresso machine doesn't disappoint. Both of the Wacaco models above require a little bit of hand force and good aim to work, but the Staresso features a freestanding design that works like a bicycle pump. It's very easy to use, stands at 8.26 inches tall, and weighs only one pound.
Featuring a 3.75-ounce capacity and up to 20 bars of pressure. With such high pressure, this simple device is capable of creating creamy espresso shot with even cold water, either grounds or pods, whichever you prefer.
It's also easy to clean as the machine features modular parts. It breaks down quickly, so you can rinse it out in the sink without a problem.
The Staresso portable espresso maker has a pressurized basket which is convenient for on-the-go use when you might not have the best grinder available to you. But, of course, it isn't the best when you have high-end espresso grounds to work with. It also works with coffee pods.
What it's missing is a seal between the hot water chamber and lid, which means that if you accidentally knocked this over while in use, boiling water would be everywhere. It's a minor design flaw and unlikely to matter to most, but good to be aware of. Read our hands-on review of Staresso for more details.
Pros
Up to 20 bars of pressure
Support using cold water for cold brew espresso
Freestanding, easy-to-use design
Modular parts are easy to clean
Works with both coffee grounds and capsules
Cons
No seal between hot water chamber and lid
Pressurized basket means less control over results
4.Cafflano Kompresso (Hand Carry Coffee Maker) – Lightest Option
The Cafflano Kompresso may not have the sleekest design, but it's very intuitive to use. Just by looking at it, you can tell exactly what each part is meant to do. At a mere 16.7 inches tall, it features a 2.4 oz capacity and weighs in at under half a pound (.4 lbs, to be exact). This machine is perfect for those who don't want any extra weight on their travels. Kompresso is one of the lightest portable espresso makers on the market.
Of course, small size and simple design do allow for one drawback. It takes a lot of force to use this machine. Luckily, its freestanding design allows you to put all your weight into the plunger. You'll be able to generate a consistent 9 bars of pressure if you're willing to put your back into it.
This compact espresso maker only allows for coffee grounds, but that's because Cafflano is all about sustainability, which pods work directly against. And it uses a naked filter basket, meaning if you have the right grind sizes and espresso skills, you can get a very authentic espresso.
You also may want to invest in a separate tamper as the one Cafflano provides isn't a perfect fit for the basket. But, otherwise, this device is very capable when it comes to producing high-quality shots of espresso. We tested this previously, check out our Cafflano Kompresso review.
Pros
Very small and light for travel
Naked filter basket for advanced users to make actual espresso
Eco-friendly and sustainable design
Generates up to 9 bars of pressure
Cons
Tamper doesn't fit filter basket
Takes significant effort to use
5.Flair Espresso Maker – NEO – Best Tasting
Flair espresso machines feature a unique design made up of a grounded base and a long lever that looks great on a countertop but isn't quite as portable as other options on this list. The machine comes apart for easier transportation and cleaning, but it weighs 5 lbs and stands a full 14″ tall. You can also buy a case for better portability.
That said, it makes the best tasting espresso we've ever tasted from a manual machine.
The Flair uses a pressurized basket that guarantees good espresso regardless of what grounds you use. It's this novice-friendly approach that makes the NEO one of our top picks. In fact, Flair as a company is all about making exceptional quality espresso approachable, whether you're a beginner or a seasoned pro. And, they have a full range of manual espresso machines. We reviewed NEO and compared other models in this Flair espresso makers review.
In truth, Flair Signature Espresso Maker and the Flair Pro 2 are both better at-home machines that produce even better espresso quality, but they're slightly less portable because of their weight. If you want a manual machine for daily use, though, or plan to place your portable device in a camper or RV, the higher-level Flair products are a great choice.
Pros
Capable of producing perfect espresso
Beginner-friendly
Brew espresso consistently
Cons
Heavy compared to other machines
Awkward shape for travel
6.CONQUECO Portable Espresso Maker Travel Coffee Maker – Best Electric Option
So far, the portable espresso machines on this list have all been manual options, which are ideal for many types of travel but take a little work to use. The Conqueco is different from other espresso makers because it features electric and battery-powered capabilities. So, you can take it on the trail, to the campsite, or on your commute with ease.
The Conqueco is sleek and freestanding and just under 10″ tall. It fits in most cup holders and weighs just under two pounds. Its capacity is on the small side at only 2.3 ounces, but as a personal machine, it works well.
At the touch of a button, you can put the Conqueco to work; no hand or physical force is required. It will generate up to 15 bars of pressure for a delicious cup of espresso. The same button can auto wash the machine, making clean-up hassle-free.
The Conqueco only takes pods, allowing for consistently good espresso. The machine can charge quickly using your car battery or a standard outlet. And, it can heat water, allowing you to use a water bottle or whatever else you have on hand, rather than needing a fire or stove.
However, if you're using cool water, the charge will only last for three uses. You can use it more if the water is pre-warmed.
The Conqueco comes from a heated apparel brand that specializes in heated jackets, vests, and fleece. So, they're not espresso experts, per se, but they are masters at staying warm. And nothing warms you up on a blustery day like a shot of fresh-brewed espresso.
Pros
One button operation for use and cleaning
Can use hot or cold water
Fits in cup holders
Cons
Only uses pods
Charge will not last long if using cool water
How About Moka Pot and AeroPress?
If you're considering a portable espresso machine, you've probably run into the Moka Pot and the AeroPress, neither of which are on this list. That's because the Moka Pot and Aeropress make concentrated coffee, not authentic espresso. However, they each have their place, so we thought they warranted a brief explanation.
AeroPress Go And AeroPress
The Aeropress consists of a plastic chamber and a plunger which creates an air-tight seal. At the base of the chamber is a filter cup for the filter and coffee grounds. All you have to do is insert your coffee and add hot water. As you press the plunger down, you force the water through the coffee grounds, creating a concentrated brew. You can dilute it with water to make the brewed coffee taste like drip coffee or Americano.
The technique does use a little bit of pressure, but it's less than 1 bar, far less than you would use to make espresso. And, there's no real crema, like you get with a true portable espresso maker.
However, the Aeropress is one of the most popular travel coffee makers on the market. It may not make real espresso, but it can brew strong coffee!
Stovetop Espresso Makers (Moka Pots)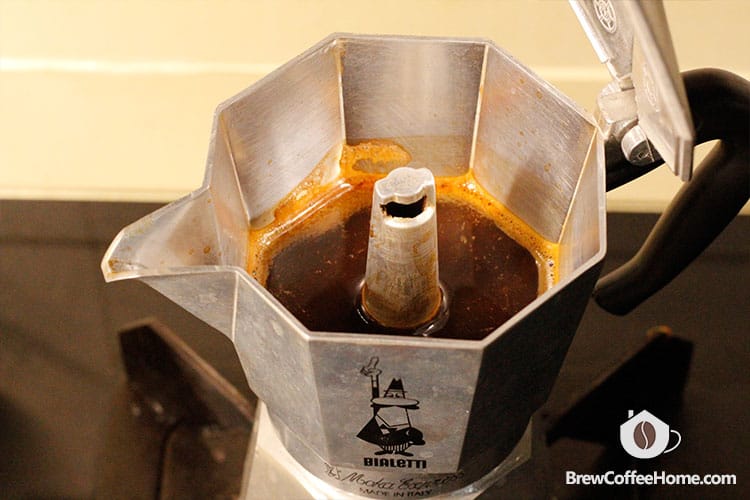 Moka Pot is technically a stovetop espresso maker, but the quality is nothing like what you'd get from the other models on this list. That's because the stovetop espresso maker works differently.
Moka pots rely on steam pressure, somewhere between 1 and 2 bars, to generate intense espresso-style drinks. A water chamber sits at the bottom of the pot, which you place on a stove. As the heat from the stove build-ups, the water turns to steam, creating pressure in the chamber that drives the water up a central spout. The spout connects to a second chamber full of coffee grounds.
The result of this brewing method is similar to espresso, but the pressure is lacking, so it's not quite the same. Plus, you'll need a stove or gas burner to make it work, which isn't always feasible while traveling. However, it's a good option for your camping trip.
So, if a Moka Pot sounds like your ideal machine, check out the Bialetti Moka Express. It's our favorite when it comes to stovetop espresso options. You can check out our favorite Moka Pots list for more options.
The Verdict
When it comes to portable espresso makers, our top pick is the Wacaco Nanopresso. Its sleek design is easy to pack and easy to use. Plus, it allows for versatility. You can use the pressurized head or nix it completely.
That said, any of the espresso makers on this list are good picks for the traveling espresso coffee lover. Whether you're hiking, driving, or flying, there's no reason not to have delicious coffee and good quality espresso.