If you're heading on a trip, making the most of your packing space is vital – thankfully, there is often a portable alternative to standard coffee equipment, and coffee grinders are no different. However, while saving space is important, it's not ideal if a smaller grinder leads to poorer performance.
This review examines the Timemore Nano manual coffee grinder. It's a tiny grinder that delivers perfect grinds for most manual brewing methods.
Timemore Nano Manual Coffee Grinder Review
Last update on 2023-09-27 / As an Amazon Associate, if you buy via the links, Brewcoffeehome earns a commission at no extra cost to you.
Design And Build Quality
As the "Nano" in the name implies, the grinder is remarkably compact. It has a height of just five inches and a two-inch diameter. Meanwhile, it weighs only 0.8 pounds (360 grams).
Need even more space? In that case, you can collapse the crank handle to reduce the diameter further. Pull the middle section of the handle, and the spring within it allows you to fold the handle. When it's time to grind, pop the handle, and it will automatically lock back into place.
The walnut pommel not only looks great, but it is removable. Meanwhile, it contains a magnet, so it can neatly and easily attach to the crank. Finally, the pommel has a bumper on the backside to avoid scratching when it collapses against the body.
These small but significant elements of the design tell us it is very well thought out, considering space limitations and minimizing the chance of damage in transit.
There is a diamond pattern on the grinder's main body, which is easy to grip while you're grinding. Additionally, the central shaft has dual bearings on either side, leading to an extremely smooth grinding motion.
The grinder's materials are sturdy and durable. The body is aluminum cut from a single sheet of metal. Meanwhile, internal parts, including the shaft, bearings, and adjustment dial, are stainless steel. In short, this is an outstandingly built machine.
Capacity
Because the grinder has a compact size, the capacity is small too. Depending on the density and size of your coffee beans, you can add around 15 to 18 grams. We tested the capacity of the grinds catch, and its upper limit is 18 grams.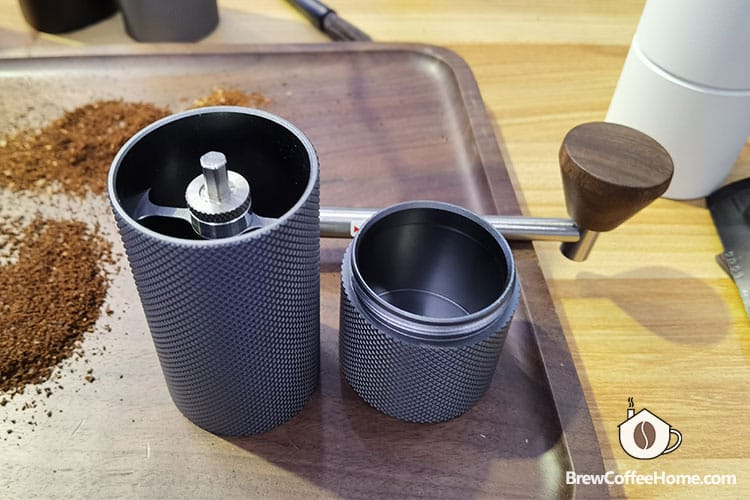 Burr Quality
Of course, the primary element of a hand grinder is its burr set, and the Timemore Nano grinder has 38mm conical stainless steel burrs.
The burr set is sharp, with 5-axis high-precision CNC cutting and 55-58 hardness. For the layperson, this means you're guaranteed uniform cutting. The sharp stainless steel burrs are excellent for any manual brewing method. However, because of the fineness of the grounds, you'll need to allow more time to grind for espresso.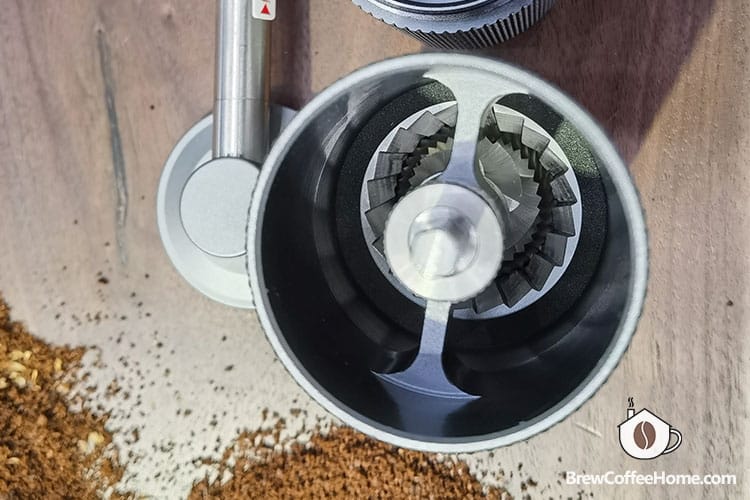 With certain suppliers, you can get around this issue with the option of the stainless steel burrs coated in titanium. Stainless steel burrs perform excellently on mid-range grind sizes, whereas titanium-coated burrs cut much sharper, making them more effective at fine grinds. Therefore, if you usually grind for espresso, you should consider titanium-coated burrs.
If you try to use the regular stainless steel burrs for espresso grinding, it will take significantly longer than using titanium-coated burrs. But how much faster are the titanium-coated burrs? We tested both, finding it took 10 minutes to grind 18 grams for espresso with the standard stainless steel burrs and just two and a half minutes with the titanium-coated alternative.
You'll need to weigh up what type of brewing method you'll most need the hand grinder for. If it's manual brewing like French press, pour-over, Moka pot, or AeroPress, the standard stainless steel burr set will be enough.
Grind Settings
The Timemore Nano grinder has a stepped adjustment wheel at the base, so you can't make stepless adjustments. Instead, you can adjust click by click to a total of 36 clicks.
If you're adjusting the grind size, you'll need to attach the lid and hold it with your thumb because the axle must be stable to turn the adjusting dial. Then, turn the dial on the bottom clockwise to the stopping point. This marks the zero point where the burrs touch. Finally, begin turning the dial counter-clockwise, counting the clicks until you reach the grind size you need for your brewing method.
Here are the grind settings we recommend with the Timemore Chestnut Nano for different brewing methods:
Espresso: 7 to 12 clicks
AeroPress: 13 to 18 clicks (for the official recipe – there are many more that will require different settings)
Pour-over: 15 to 24 clicks
French press or cold brew: 24 clicks and over
We suggest you start with eight clicks for espresso. It wasn't easy to get the coffee powder into the grounds bin when we tried to go finer. Also, if you go too fine, too often, you could damage the burrs. For V60 pour-over, 18 clicks is a good setting to begin with.
Grind Quality
We have tested the grinder using grind sizes ranging from fine enough for espresso to coarse enough for French press or cold brew. In the mid-range, the grind quality is impressively consistent. With the uniform sizes in this range, you can brew exceptional pour-over with the Hario V60, Chemex, or Kalita Wave. Meanwhile, the grinder goes fine enough for Moka pot. With espresso, there isn't much scope for dialing in. However, you will get an excellent shot with the grounds using a pressurized portafilter.
The bottom line is that just because the grinder is small, it doesn't mean it compromises on grind quality. Indeed, the consistent grind exceeds that of most entry-level manual and electric grinders.
Accessories
The Timemore Chestnut Nano grinder has two excellent accessories. The first is a nice-looking brush for removing coffee remnants – a welcome addition, as many manual grinders don't come with a brush.
There is also a canvas travel bag that houses the grinder beautifully. This means you can simply put the bag in your luggage when you're traveling.
Drawbacks
Not surprisingly, one of the biggest drawbacks of the grinder is its small 15-18 grams capacity, which equates to one cup per batch. Therefore, if you're grinding more, you will have to do it in separate batches. While inconvenient, though, this shouldn't be a major issue, as portable hand-grinders necessarily must have smaller capacities than regular grinders.
Another slight issue is the black walnut pommel, which, as we mentioned earlier, uses a magnet to attach to the handle. As a result, if you are grinding vigorously, the handle may come off in your hand. However, if you're maintaining a steady, even speed, it should be fine.
Value For Money
Considering its build and performance, it shouldn't come as a surprise that the Timemore Chestnut Nano grinder is not cheap. Indeed, it costs more than some electric burr grinders. However, it is well worth the money, offering fantastic portability and grind quality. Overall, it's a great solution for people wanting high-quality coffee on the move. If you are looking for a budget grinder from Timemore, consider the entry-level Chestnut C2, which is also a great grinder with great value. We reviewed Timemore C2 grinder before.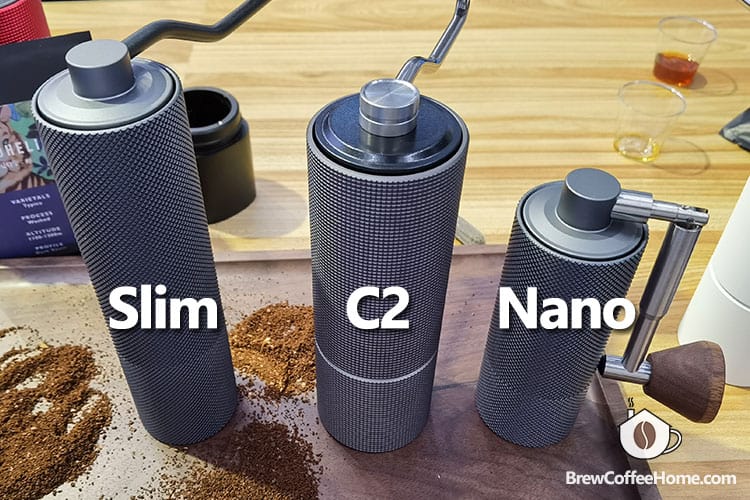 Timemore Nano vs Nano Plus
The Timemore Chestnut Nano and Nano Plus have identical bodies, parts, and packaging. However, their burr sets are different.
The original Nano has a stainless steel burr set with the option of titanium-coated burrs. However, the Nano Plus uses an E&B (espresso and brewing) burr set, which has teeth on the breaker of the blade. This means it can grind both regular and espresso grinds efficiently.
Indeed, because of the enhanced design of the blades, the Nano Plus will grind 18 grams of espresso grounds at an eight-click setting in less than a minute – a significant improvement.
Alternatives
Porlex Mini Hand Grinder
Last update on 2023-09-27 / As an Amazon Associate, if you buy via the links, Brewcoffeehome earns a commission at no extra cost to you.
The Porlex Mini has a ceramic burr set with 16 grind settings. It doesn't compare to the Timemore Nano grinder in either build or grind quality. However, it is cheaper and doesn't weigh as much, making it a popular option for coffee lovers to take on their travels. Check our Porlex mini review here.
1Zpresso Q2
No products found.
The 1Zpresso Q2 is Timemore Nano grinder's biggest rival. Like the Nano, it has a 38mm stainless burr set. However, it has 60 grind settings instead of 38. The 1Zpresso Q2 also has an aluminum body and is compact enough to fit in an AeroPress. It's another high-quality grinder that is well worth considering if you want a portable grinder that's beautifully built and grinds consistently.
Also, check our best-picked hand grinders here.
Our Verdict
The Timemore Nano manual coffee grinder may be small, but don't be deceived – this grinder offers a grind consistency akin to many standard-sized grinders, particularly if you concentrate on manual brewing methods such as French press and pour-over.
This hand grinder is not cheap. However, considering its excellent performance, sturdy build, and thoughtful and attractive design, it is a great option if you want high-quality coffee on your travels and have the budget for it.
The one big drawback is the Chestnut Nano's small capacity. However, if you are a lone traveler, this won't be an issue, while even if you're grinding for several cups of coffee, the smaller capacity in a portable hand grinder is to be expected.
Overall, we highly recommend the Timemore Nano coffee grinder. After all, just because you're traveling, there's no reason to compromise on your coffee if you don't need to, and this is one pocket-sized piece of coffee equipment that packs a seriously impressive punch.