Are you in the market for a hand grinder that can outperform many electric espresso grinders but for a smaller financial outlay? Does such a product even exist? Also, do you need to grind beans for a range of brewing methods, from espresso to French press? Well, the 1Zpresso JX Pro manual coffee grinder is the answer to all the questions!
This is a seriously impressive manual grinder boasting premium build quality and top-notch performance for its price category, meaning it also represents fantastic value for money.
It's not a grinder that can only grind fine enough for pressurized filter baskets, either. 1Zpresso JX Pro offers plenty of room for you to dial in for a perfect shot (Check the short video below).
However, it's also incredibly consistent for pour-over, French press, and Moka pot too.
Overall, this is one of our best manual coffee grinders. Now, after testing it for several months, we can explain what makes it such an excellent option with an authoritative, hands-on examination.
1Zpresso JX Pro Manual Coffee Grinder Summary
1Zpresso JX-Pro S Manual Coffee Grinder
The 1Zpresso JX Pro is the best manual grinder in its price category, offering impressive grind consistency for every brewing method from pour-over to espresso.
We earn a commission if you make a purchase, at no additional cost to you.
Pros
Premium build quality and grind uniformity
Hand grinding is effortless thanks to the 48mm stainless steel conical burr
A wide range of grind settings, grind for both espresso and drip coffee
Offer fine adjustment for perfect espresso shots
Cons
More expensive than many manual grinders
A bit heavy and large
Internal grind adjustment is not as convenient as the external dial used in newer 1Zpresso grinders such as the K series.
About 1Zpresso Manual Coffee Grinders
Despite being a relatively new brand with only a few years of history, 1Zpresso is developing an impressive reputation and foothold in the hand grinder market. Indeed, the company has some of the market's best hand grinders.
1Zpresso hand grinders are usually available in three categories: J Series, K Series, and Q Series. Of all the brand's hand grinders, the JX Pro is one of its most popular. Not only that, but recently, the company launched the J Max to its J Series product range. We've previously reviewed the 1Zpresso K-Plus, in the more premium K Series range. Meanwhile, the Q Series offers entry-level grinders, with the Q2 being the most popular compact travel grinder.
1Zpresso K-Max Manual Coffee Grinder Iron Gray...
Grind Adjustment Per Click
Grind Adjustment Per Click
Grind Adjustment Per Click
1Zpresso K-Max Manual Coffee Grinder Iron Gray...
Grind Adjustment Per Click
Grind Adjustment Per Click
Last update on 2023-09-27 / As an Amazon Associate, if you buy via the links, Brewcoffeehome earns a commission at no extra cost to you.
1Zpresso has a well-earned reputation for the build quality and craftsmanship of its grinders and all of its grinders have beautiful builds.
1Zpresso JX Pro Review – Read Before Buying
Design And Build Quality
The JX Pro is the flagship product in 1Zpresso's J Series range, and, as such, its competitors are the market's premium hand grinders. For materials and build quality, it certainly holds its own.
The material used throughout the grinder is aluminum alloy. At the top is a slightly wider-than-usual opening for easily pouring in the coffee beans. Meanwhile, the grinder's main body has an anti-slip rubber band, which works perfectly. Elsewhere, the handle has an ergonomic design with an attractive wooden knob, meaning it is both comfortable to hold and looks great.
The grinder's interior is also impressively designed. For example, you can reach the adjustment dial by removing the transparent lid. Meanwhile, beneath the adjustment dial is a burr and central shaft positioned to avoid wobbling.
The grinder is 7in (18cm) tall, while it has a diameter of 2.2in (5.7cm). The handle with the wooden knob is 5in (13cm) from the grinder's edge and dips down for easier grinding. Meanwhile, the 1Zpresso JX Pro weighs 800g, which isn't particularly lightweight for traveling but is easy enough to hold. In any case, it grinds impressively quickly, so you won't need to hold it for more than a minute.
The grinder's catch cup holds 40g of coffee, which is more than many other hand grinders. Meanwhile, although the catcher isn't the perfect fit for a 58mm basket, it does an adequate enough job of mess-free transfers of grounds to the portafilter.
Burr Quality
One of the main attributes leading to the 1Zpresso JX Pro's capabilities is its 48mm conical steel burrs. Stainless steel burrs this large are a rarity in other hand grinders, and even some electrical ones.
These gorgeously crafted precision burrs can grind coffee beans fine enough for espresso very quickly. Many manual grinders state they have espresso-grinding capability, but that's only partly true. Firstly, they don't allow you to dial in, so the grounds will only be compatible with a pressurized basket for lower-quality espresso. Secondly, it takes considerably longer to grind fine enough for espresso with their small ceramic burr sets. You'll have neither of these issues with the 1Zpresso JX Pro.
There are also dual top and bottom bearings fixed in the grinder's body, which almost eliminates wobbling and leads to an extremely smooth spinning action and excellent grind consistency.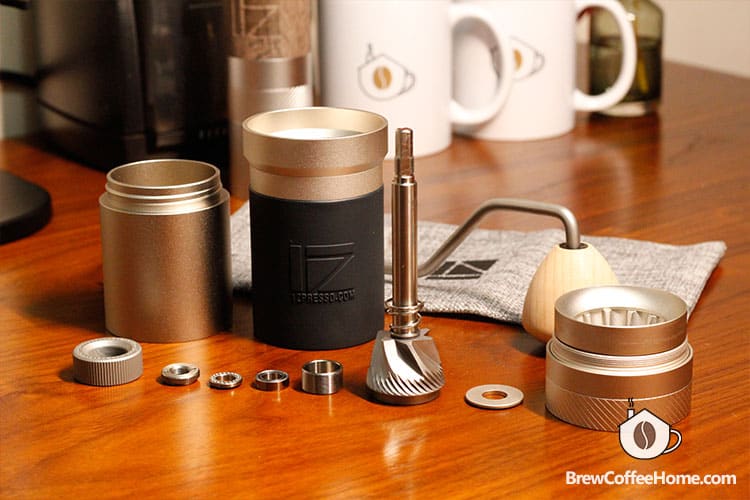 Grind Adjustment
The grind adjustment mechanism on the 1Zpresso JX Pro is as impressive as the other features detailed so far. There are over 200 grind sizes, which is plenty for manual brewing and enough to ensure you can make the necessary fine adjustments for espresso.
However, with so many settings, how has 1Zpresso made changing the settings straightforward?
Firstly, the adjustment dial is inside the hopper on top of the grinder. This positioning is in contrast to many other manual grinders, which place the dials beneath the burrs. That means you need to remove the grounds catcher before holding the handle and turning the knob at the same time to alter the grind size. However, the JX Pro makes that task far less arduous – instead, you just need to turn the dial to your desired setting.
Secondly, tracking the settings is easy, with 40 steps between 10 numbers per dial rotation. Additionally, you'll hear the individual clicks as you turn the dial. So, you just have to remember the rotation number and dial number for consistent grinds, whichever brewing method you're grinding for.
Every click moves the burrs by 0.0125mm (12.5 microns). Meanwhile, each complete rotation only moves the distance by 0.5mm, which is incredibly precise. That's what makes the JX Pro stand out when dialing in for espresso. Those incremental tweaks may seem almost inconsequential, but they will allow you to find the precise flow rate you require. Similarly, that precision will help you find the perfect size for coarser grounds, too.
In general, finding your perfect spot for any brewing style is easy with the 1Zpresso JX Pro, whether it's a fine espresso grind or the kind of coarse grind needed for French press.
Grind Consistency And Setting For All Brewing Methods
Not many manual coffee grinders can grind for both espresso and filtered coffee. This section details the grinding performance of the JX Pro, referring to the grind setting guide provided by 1Zpresso. Keep in mind that the setting is for reference. However, we recommend using them as starting points and tweaking depending on the coffee beans and roasts you're using, especially for espresso.
Turkish Coffee (Number: #10, 40 clicks)
With one full dial rotation, you'll have a powdery fine grind size suitable for Turkish coffee.
Espresso (Number: #12-#16, Clicks: 48-64)
For espresso, you can get a decent espresso shot using a pressurized portafilter with any espresso machine. However, to get the best possible shot, you can tweak the setting until you find your sweet spot.
Moka Pot To AeroPress (Number: #24-#28, Clicks: 96-112)
With two full dial rotations, you can get finer grinds suitable for Moka pot. If you go a little coarser to 112 clicks, you'll have an extremely consistent grind suitable for AeroPress.
Pour-Over And Drip Coffee (Number: #32-#42, Clicks: 128-168)
This medium-range grind setting offers grind consistency for pour-over to automatic drip coffee machines.
French Press (Number: #42-#50, Clicks: 168-200)
Four and a half rotations equate to 180 clicks, which is perfect for the French press.
Meanwhile, for cold brewing, you should opt for five full rotations. We still think this is a little fine for cold brew, but it's the coarsest the 1Zpresso suggests. Actually, you can keep turning the knob for a coarser grind. Here is the coarsest setting, right before you turn the dial ring off.
Overall, the consistency is extremely impressive, and there's plenty of scope for grinding fine and dialing in beautiful coffee. The only small issue is that, at the coarser end, it may not grind coarsely enough for some tastes.
| Brew Method | Grind Size | Rotation | Numbers | Clicks |
| --- | --- | --- | --- | --- |
| Turkish Coffee | Extra Fine | 1 rotation | #10 | 40 |
| Espresso | Fine | 1 rotation + 2~4 numbers | #12 – #16 | 48-64 |
| Aeropress, Moka pot | Medium Fine | 2 rotations + 4~8 numbers | #24-#28 | 96-112 |
| Pour Over (V60, Chemex) | Medium to Medium Coarse | 3 rotations ~ 4 rotations | #32-42 | 128-168 |
| French Press, Cold Brew | Coarse | 4 rotations ~ 5 rotations | #42-#50 | 168-200 |
| Cold Brew | Coarse | 5 rotations or more | #50+ | 200+ |
Grinding Speed
Of all the manual grinders we've tested, the 1Zpresso JX Pro is the fastest. With the grind setting at the recommended setting for espresso of #14 and using 20g of espresso beans, it completed the task in just 48 seconds.
Meanwhile, grinding coffee with the JX Pro for medium to coarse grinds takes very little effort. For example, grinding for Chemex pour-over takes less than 20 seconds.
Many people are put off by manual grinders, assuming it will be hard work. However, that is not true of the JX Pro. Indeed, it is almost effortless to grind using the manual coffee grinder, and it performs the task more quickly than many electric coffee grinders.
Cleaning And Maintenance
If you clean a burr grinder regularly, it should run smoothly for years. A brush supplied with the JX Pro is sufficient for removing grounds from the burr sets and grounds catcher.
If you regularly grind oily beans or have been using the grinder for a few months, you can easily perform a deep clean. To do this, disassemble the grinder to get inside the body. This video tutorial goes through the process.
Drawbacks
In our testing, the JX Pro works almost flawlessly. However, one small issue is that the beans sometimes get stuck in the adjustment ring when we pour them into the hopper, meaning we need to poke them out. However, this is a particularly minor irritation rather than a serious drawback.
Is The JX Pro Worth It?
The 1Zpresso JX Pro is more expensive than most manual grinders, but only costs a fraction of a decent electric grinder specialized for espresso.
Considering its build quality, thoughtful design, large number of grind settings for any brewing method, and 48mm steel burr, you won't find a better alternative in the same price range.
Also, if you compare it with the typical prices of electric espresso grinders, it's a bargain. But how is it so cheap by comparison? Well, because manual grinders don't have electric motors, hoppers, control panels, or a large body, that saved cost can go into the quality of the burrs. Indeed, they can even offer better performance than electric grinders with stepped adjustment for only around half the price.
Overall, these factors make the 1Zpresso JX Pro exceptional value for money.
Comparision Between The 1Zpresso J Series
1Zpresso JX Pro vs JX
Both the JX and JX Pro use the same burrs. However, the standard JX model is for drip coffee and pour-over, with a bigger step per click (25 microns) and fewer grind settings (75 clicks in total). Also, the grind adjustment dial is below the burr rather than at the top of the hand grinder. However, the JX is lighter, cheaper, and even quicker than the JX Pro. Overall, both grinders offer excellent grind quality for any brewing size, but the JX doesn't have the scope for micro-adjustment that the more expensive model has.
Last update on 2023-09-27 / As an Amazon Associate, if you buy via the links, Brewcoffeehome earns a commission at no extra cost to you.
1Zpresso JX Pro vs J Max
The grind settings are the main difference between the JX Pro and the newer J Max. The latter has 400 settings, with each click at 8.8 microns instead of the 12.5 microns of the JX Pro. This precision means it's the 1Zpresso grinder with the finest adjustment settings and a fantastic option for espresso.
The J Max has external adjustment with nine numbers and 90 clicks per rotation. There's also a magnetic catch cup that's also in the K series. Meanwhile, there is a sharper 48mm titanium-coated burr set.
While the J Max is the best of the two grinders for espresso, it can still grind for other brewing methods. However, the micro-adjustments it offers aren't necessary for drip coffee. So, if you want a grinder predominantly for espresso, we recommend the J Max. However, if you're not planning on perfecting your shots to that degree, the JX Pro costs less and works well.
Last update on 2023-09-27 / As an Amazon Associate, if you buy via the links, Brewcoffeehome earns a commission at no extra cost to you.
Our Verdict
The 1Zpresso JX Pro is a wonderful espresso grinder that more than holds its own alongside any other premium manual grinder.
With the incremental changes the machine offers, you'll soon find the perfect spot for your tastes – a significant advantage of the JX Pro over many of its competitors. Meanwhile, the build quality, comfort, grind consistency, and speed are all excellent.
1Zpresso and other hand-grinder brands, including Timemore, demonstrate considerable craftsmanship and innovation, leading the charge in an extremely competitive industry that demands continual improvement. This is excellent news for coffee fans as the promise of further great products is ever-present.
However, as we await further innovation, the JX Pro represents a fantastic example of a hand grinder produced by a manufacturer at very the top of its game.