Nothing beats a fresh cup of coffee. Ask any coffee connoisseur where their favorite gourmet coffee comes from, and they'll start gushing details.
While everyone has their favorite coffee brand, coffee drinkers agree that good coffee must be appropriately sourced, use quality beans, and offer an exceptional taste.
Today we'll focus on an online retailer that's making a splash on the coffee industry named Volcanica Coffee. We'll explore how they stack up against other outlets that let you order coffee online.
Volcanica Coffee At a Glance
Volcanica Coffee's origin story begins in beautiful Costa Rica. The impressive flavor profiles of the local coffee options blew the founders away.
They noticed a profound contrast between the richness of the exotic roasts and the bland, barely palatable everyday brew many Americans drink.
The primary mission of this family-run business became bringing gourmet coffee back to the United States. At the same time, they strive to inform consumers on the importance of selecting coffee made from premium ingredients.
Take another look at their name, and you'll see what makes this family-owned business different. They source their coffee from various volcanic regions across the globe.
Compared to regular soil, rich volcanic soil boasts higher nutrients such as phosphorus, zinc, iron, and potassium.
They freshly roast their coffee every week in their facility based out of Atlanta, Georgia. Their roasting process combined with rapid shipping preserves the complex flavor of the original beans.
What Makes Volcanica Coffee Unique?
Environmental Sustainability
As a socially conscious coffee consumer, you might be concerned about a company's carbon footprint. Good news! Volcanica has systems in place to ensure they have a minimal impact on the environment.
The Volcanica Coffee Company works directly with local farms and cooperatives to guarantee they only use top-quality, freshly harvested beans.
Their facility uses an Ovenpak 400 afterburner that removes smoke, odor, and particulate waste created as byproducts of the roasting process.
This device also removes harmful pollutants like CO, NOx, and dust by converting them into clean, natural gas.
Making use of this afterburner helps Volcanica Coffee control its emissions while staying compliant with environmental regulations.
Taking their environmental friendliness one step further, 1% of all their retail proceeds go toward community-owned water projects.
A Multitude of Options
Take a look at all the product offerings presented by Volcanica Coffee Company, and at least a few things should pique your curiosity.
They have regional collections from every corner of the world, including:
Africa & Arabia
The Americas
The Caribbean
Asia & The Pacific
If you're feeling adventurous, you can opt for more exotic coffee:
Rainforest Coffee
Shade Grown Coffee
Low Acid Coffee
Great tasting coffee flavors (Creme Brulee, Butterscotch Toffee, Jamaican Rum)
They have an entire section of their website dedicated to Estate Coffee, which means all their beans originate from a single farm or estate.
You can order beans that are sure to be a conversation starter. Bolivia Caranavi coffee and Cameroon Boyo coffee come to mind.
Freshly Roasted and Rapid Delivery
When it comes to a stellar cup of coffee, logistics matter. There's nothing worse than paying for world-class coffee beans from an exotic locale, only to have the quality botched by a delivery issue.
Fortunately, the staff at Volcanica Coffee understand the importance of quality control. They hand source and fresh roast all their gourmet coffee out of their Atlanta facility.
If you place an order, it has to synchronize with their roasting schedule. They are committed to shipping out your order on the same business day whenever possible.
To guarantee you receive an expedited shipment, make sure you place your order before 12 pm EST.
Accessible Pricing
By now, you might be thinking you'll have to break the bank to order some of their high-quality coffee, but this isn't the case.
Some of their best-selling roasts, such as the Ethiopian Yirgacheffe Coffee, are available for $20 on sale.
Once you've tried a few options out and discovered your favorites, you can take advantage of their bundle deals. Ordering three-pack coffee bundles or four-pack coffee gift boxes amounts to considerable cost savings.
They also offer a reward program named Coffee Perks for loyal customers. With each purchase, you'll accrue "Coffee Points" that you can use to apply coupons for future purchases.
Our Best-Picked Volcanica Coffee Beans Reviews
Ethiopian Yirgacheffe Coffee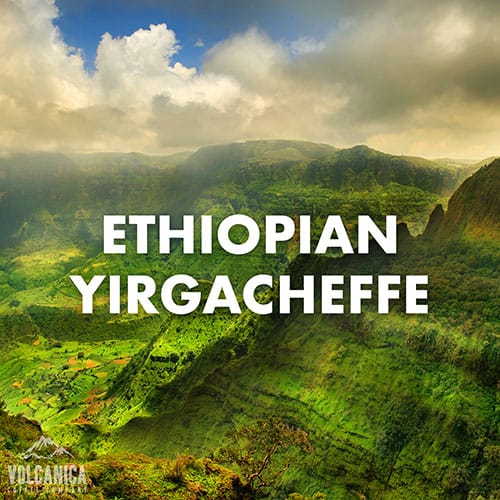 Roast: Medium or Light Roast
Type: Single Origin
Origin: Gedeo Zone
Varietal: 100% Arabica Coffee
Processing: Wet Process
Taste Notes: Lemon, Blueberry, and Blackberry
Certification: Fairtrade, Kosher, Organic
Coffee plays a massive role in Ethiopia's economy, accounting for over 28% of its yearly exports. It's no surprise that this region offers some of the world's greatest coffees.
As a testament to the flavor quality of these beans, Ethiopian Yirgacheffe Coffee stands as Volcanica Coffee's top-seller. It has a 4.6/5 aggregate review score. Many customers cite it as the best coffee they've ever tasted. It comes in both light roast and medium roast.
Farmers harvest Arabica coffee beans from wild coffee plants to produce batches of this coffee.
Upon your first sip of this popular roast, you'll detect notes of lemon, blueberry, and blackberry. The beans are certified organic, kosher, and fair trade certified.
Beyond the fruity flavor, you'll detect delicate floral aromas like jasmine flowers on the nose. Ethiopian coffee doesn't have overwhelming acidity, so it's a great introductory coffee for those looking to branch out.
Kenya AA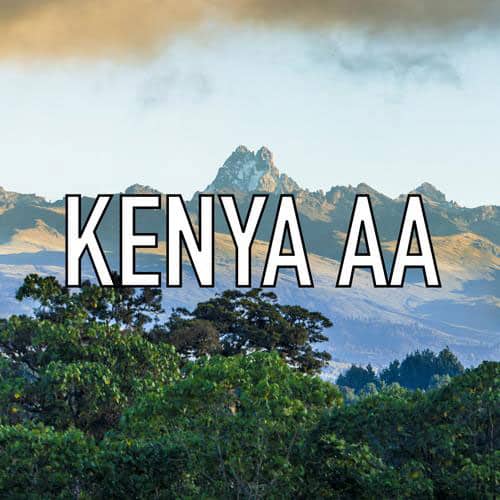 Roast: Medium or Light Roast
Type: Single Origin
Origin: Nyeri Hill Estate
Varietal: 100% Arabica Coffee
Processing: Wet Process
Taste Notes: Raspberry, Cranberry, Redwood
Certification: Kosher, Rainforest Alliance
Kenya has earned a global reputation for producing some of the highest quality coffee on the market. Its climate conditions create an ideal environment for healthy coffee growth.
The Kenya AA coffee grows in a mountainous region in red, volcanic soil. The nutrients absorbed during growth lead to a rich body and intense aroma once it's cultivated.
If you're a fan of wine, you'll probably enjoy this coffee. It has a sweet yet bold flavor. Tasting notes include raspberry, cranberry, and fresh-cut redwood. You can select either light roast or medium roast.
Kenya AA coffee goes through a production process known as wet-processing. The beans soak in a fermentation tank which causes their enzymes to activate and loosen excess residue from their surface.
The National Kenyan Coffee Board inspects these single-origin beans to verify their authenticity. They are also Rainforest Alliance Certified.
Tanzania Peaberry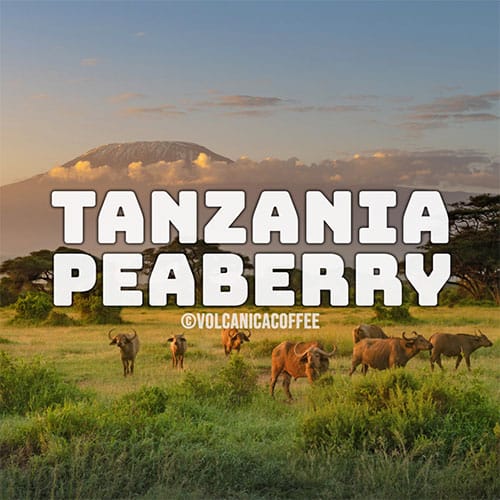 Roast: Medium Roast
Type: Single Origin
Origin: Tanzania Nitin Estate
Varietal: 100% Arabica Coffee
Processing: Wet Process
Taste Notes: Dried Fruit, Savory Chocolate, and Orange
Certification: Kosher, UTZ
It's harder to come across Peaberry coffee beans than standard coffee beans. Their relative rarity, combined with their sought-after taste, has made them an in-demand commodity.
Like many coffee-growing regions, Tanzania relies on coffee as its number one export. In terms of volume, it produces thousands of metric tons per year.
When it comes to processing Pearberry beans, coffee farms use both the wet and dry methods. If you prefer your coffee to go through a washing process, Volcanica's Peaberry Coffee might be right for you.
Their coffee grows on a single estate located in the Ngorongoro Crater. The medium roast coffee tastes of dried fruit, savory chocolate, and orange.
Desired by coffee connoisseurs, you'll find that this blend has a much richer flavor than standard coffees you've tasted. Every batch goes through UTZ and Kosher certifications.
If you want to know how a coffee bean becomes Peaberry and more information, check out this peaberry coffee guide.
Low Acid
Roast: Medium Roast
Type: Blend
Origin: Brazil, Sumatra and other regions at lower altitudes.
Varietal: 100% Arabica Coffee
Processing: Wet Process
Taste Notes: Chocolate, Nuts, and Tangerine
Certification: Kosher
The inclusion of Low Acid Coffee on the menu proves Volcanica Coffee has something for everyone. Maybe you're a coffee lover, but you have to cut back on your favorite beverage because of your sensitive stomach.
Low acid coffees work well for those who can't digest full-strength coffee without reaching for antacid tablets. The coffee sold on Volcanica Coffee's site comes from a blend of Brazilian, Sumatra, and Arabica beans.
Fans of trail mixes will relish the flavor profile, which evokes chocolate, nuts, and tangerines.
Many of the reviewers cite having issues like acid reflux and internal cystitis. Overall, they show obvious delight at having an option that agrees with their system while still tasting great. The Low Acid Coffee currently sits at an impressive 4.7/5 review score. It's one of our favorite low acid coffee option .
Jamaica Blue Mountain Coffee
Roast: Medium Roast
Type: Single Origin
Origin: Wallenford Estate
Varietal: 100% Arabica Coffee
Processing: Wet Process
Taste Notes: Chocolate and Orange Peels
Certification: Kosher, 100% JBM Coffee
Sitting at a much higher price point ($100-$120 per bag), Jamaican Blue Mountain Coffee stands as an amazing coffee by any standard. It has become one of the most popular coffees from any of the volcanic regions.
Blue Mountain coffee grows at a high altitude (7,420 feet), gaining exposure to misty, cool climate conditions.
With these single-origin coffees, you'll have several options available, namely Clifton Mount Estate, Clydesdale, Wallenford Estate, and Peaberry.
Each estate has a rich history and coffee cultivation process, so be sure to do your research to determine which delicious coffee appeals most to you.
Blue Mountain coffee isn't as assertive as other varieties of exotic coffee. It has a sweet taste and a delicate, floral aroma. If you enjoy coffee but can't stand the bitter aftertaste, Jamaica Blue Mountain coffee will be a dream come true.
Kona Extra Fancy Coffee
Roast: Medium Roast
Type: Single Origin
Origin: Aloha Farms
Varietal: 100% Arabica Coffee
Processing: Wet Process
Taste Notes: Fruits, Jasmine, Citrus, Sweet Caramel
Certification: Kosher, 100% Kona Coffee, Extra Fancy
Another gourmet option for coffee drinkers that aren't to splurge, Kona Extra Fancy Coffee, rounds out our list. This coffee grows in the Kona district of Hawaii.
The volcanoes in the area protect the coffee trees from excessive exposure to the sun and wind, creating optimal growing conditions.
The Kona coffee beans bear the "extra fancy" designation based on a tiered rating system. Special characteristics earning them this honor are their large size, uniform color, and exceptional taste.
Those seeking something more complex and lively than the average cup of joe will have a great time sampling this coffee.
The inviting tasting notes are an exquisite blend of bright citrus, tart cherry, and sweet caramel. A few cups may convince you to book a plane ticket to Hawaii.
Not all the kona coffee are 100% Kona, check our Kona coffee buying guide to avoid scams.
How to Find the Best Coffee from Volcanica
We hope your head isn't spinning from how many options are available at Volcanica Coffee. Here's a brief rundown to make your selection process easier.
Make Your Choice Based on Region
Africa & Arabia
These regions have been cultivating coffee for centuries. If you've experienced some of the distinctive flavors their coffee offers, it's not difficult to understand their lasting appeal. Stick with African and Arabian varieties if you're fond of floral aromas and the taste of fruit. You can find great light to medium roasted whole beans in this category.
Visit Africa & Arabia Collection >>
Americas
These coffees come from South America, Central America, and Hawaii. The flavors are clean and accessible.
If you're a standard U.S. coffee drinker, these options should seem most familiar to you. They make good options for guests, as they aren't likely to overwhelm.
Caribbean
Caribbean coffees have a fine blend of flavors without individual ingredients getting lost in the mix. Some of the most prominent producers are Jamaica, The Dominican Republic, and Haiti.
Choose these coffees if you're coffee curious and looking for unique flavor profiles.
Indonesian & Pacific
Exotic coffees from the Indonesian and Pacific regions may exhibit the most complex flavors. These work best if you enjoy intense aromas and tropical tastes. It's the place that you can find the best medium to dark roast coffee.
Visit Indonesian Collection >>
Choose By Certification
Fair Trade
Coffee producers must meet social, economic, and environmental standards designed to protect agricultural workers to gain the Fair Trade certification. If you're a socially conscious consumer, it's worth paying a bit extra to ensure that your coffee is ethically sourced.
Rainforest Alliance-certified Coffee
Rain forest Alliance-certified coffee protects the environmental health and biodiversity of the land surrounding the farms growing it. Local cooperatives ensure that workers in developing countries receive fair wages and enjoy safe working conditions.
Shade Grown
Growing under the protection of shade provided by trees produces some of the best-tasting coffee in the world. Trees create a natural habitat for birds that keep soil healthy by eating insects.
Organically Grown Coffee
You don't have to worry about exposure to chemicals or artificial pesticides if you opt for organically grown coffee. To produce this variety, farmers use natural fertilizer free from additives.
Find Your Favorite Flavor
You can find all the flavored coffee in this collection.
If you take a look at some of the delectable flavored coffees offered by Volcanica Coffee Company, you might worry that they include sugar or artificial ingredients. Thankfully, all the coffees are calorie-free and all-natural.
Our favorite flavored coffees are Caramel Chocolate and Creme Brulee.
If you're hosting for the Holidays, you should check out festive flavors like Gingerbread and Eggnog.
For date night or special occasions, nothing screams sophistication like Dark Chocolate Decadence or French Vanilla.
The Perfect Gift For Coffee Lovers
We understand how much you enjoy coffee, so why not share the love with a gift box?
The Jamaican Blue Mountain Clydesdale Coffee 8 oz gift box caught our eye because it comes in a signature coffee barrel.
The Coffee Lover gift box features four of Volcanica's most accessible offerings without hitting your wallet too hard.
It's best to share coffee with friends, so you can determine their preference, such as light roast vs french roast.
Volcanica includes free shipping on gift boxes over $60. Check all the gift boxes now >>
Final Thoughts
You can't go wrong giving Volcanica Coffee a try because of their meticulous quality control. They have options from all over the world fresh roasted and rapidly shipped to your door.
The variety of choices available all but guarantees you'll find at least a few coffees you enjoy. Customer reviews are positive, often listing Volcanica's coffees as the best they've tried.
Their proceeds go toward an important charitable cause, so you can feel good about how you spend your money.
You also don't have to worry about harming the environment or agricultural workers because all their coffees are fair trade certified.
No matter what option you settle on, we hope you have a great coffee experience next time you sip a cup of Volcanica Coffee.
Reference:
Volcanicacoffee About Us – https://volcanicacoffee.com/pages/about-us