What's up with all this 'Kona coffee' talk?! Why are they all so freaking expensive! Where are the real deals?!
These are the kind of questions that might be boggling in your mind at the moment as you seek to find a new replacement for your last Kona blend, or simply in the market to find better quality coffee beans to up your coffee experience. Whichever is the case, we've got you covered!
Sit back with a fresh cup of Joe as we help you to harvest the facts about one of the most prestigious (and rare-quality) coffee in the world, the Kona coffee. By the end, you'll know whether to start, or continue to, invest in this premium roast as well as possibly saying 'Aloha' on your next flight.
Read on to find out more!
What Is Kona Coffee?
Kona coffee is a particular bean originating from Hawaii. It is Arabica coffee that has been grown, processed, and roasted in the Kona region, otherwise known as the "Kona Coffee Belt," on the big island of Hawaii (hence, its name). The northern and southern Kona region contains the Hills of Mauna Loa and Hualalai.
The history of Kona coffee begins with the King of Hawaii, Kamehameha II when he traveled in 1823 to Britain with his wife and an Oahu governor. Upon becoming ill with his wife in England, the two rulers unfortunately died, and so, the governor traveled home alone. However, on his way back to Hawaii, the governor stopped through Brazil, where he retrieved some of their coffee beans to bring back home.
Then, in 1828, a foreigner named Samuel Reverend Ruggles introduced more coffee to the Kona region of Hawaii. From then on, the Kona coffee plans began to flourish. By the 1880s, dozens of Kona coffee businesses sprouted, most of which are family-farm-operated and remain today.
Kona coffee is the top option in our list of the best coffee in the world.
What Is So Special About Kona Coffee?
Photo Credit: https://www.flickr.com/photos/irisphotos/30189464014
One of the most distinctive qualities of the Kona coffee is that these coffee plants are grown in dark and porous volcanic grounds, which contain highly rich minerals. The rich volcanic soil in the Kona region of Hawaii is also continuously exposed to a unique, well-balanced mix of sunlight, rainfall, and humid temperature. Combining all these factors makes the region one of the world's most ideal conditions for growing coffee.
Furthermore, this gourmet coffee is highly praised by industry experts for its high-quality taste. You may find 100% Kona coffee in the marketplace, but in most cases, there are 10% Kona blends. Also, with its premium quality comes a premium price tag. Kona coffee is so darn pricey that it can only be grown in a very specific area. Thus, the supply of Kona coffee is limited.
Another reason is that the labor market of Kona coffee production is held with high standards as the workers are paid fairly, and they also handpick the plants. In turn, the labor costs are high. On average, a product with Kona coffee can be between 30 USD and 60 USD. Shipping from the island also increases the cost of Kona gourmet coffees.
What Does 100% Kona Coffee Beans Taste Like?
Depending on the brand, the exact tasting notes of the Kona coffee can vary, but in general, the flavor of Kona coffee can be described as smooth and clean. There is also a very slight hint of sweetness like citrusy notes or chocolatey notes and an underlying earthy tone.
It is medium-bodied and balanced with not so bright and not so sharp tastes. Others can arguably go further to say there's a nutty or buttery aftertaste due to its low-level acidity. Plus, overall less bitter than what you normally would find in stronger coffee blends.
7 Best Kona Coffees: Our Best Selection
1. KOA Coffee – Medium Roast Whole Bean Kona coffee Tri-Pack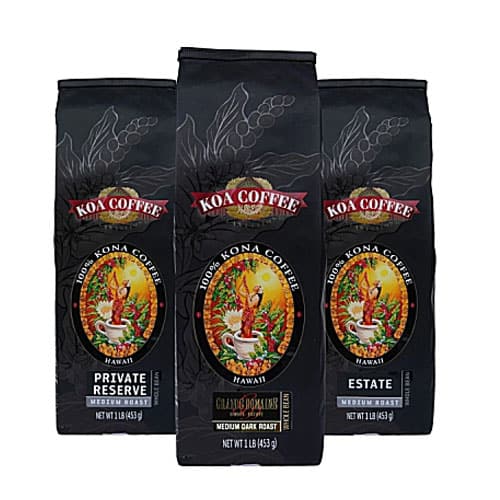 As a 3-for-1, this triple-pack by Koa coffee is the perfect way to test the different coffee blends of the Kona Belt region. They are all roasted to a medium body and all 100% Kona coffee beans.
The Grande Domaine is the darkest roast in the pack as it is a 'medium-dark roast.' So, if you share a coffee addiction with your partner, you both can come to the perfect compromise between medium-roast lovers and dark-roast lovers. To get as much of that rich and buttery tones out of the best Kona coffee beans, you can consider the pour-over brewing method.
With the Private Reserve Kona roast, you may as well say goodbye to your years with the coffee creamer. Every cup is as smooth and crisp as the last sip because there is a lack of bitterness in the aftertaste, and its boldness provides a pleasantly shocking jolt in your body. Popular with the French press, you will extract all the richness of this roast coffee.
Straight from one of Kona coffee's traditional farms, the Estate Kona coffee comes from a single-estate farm that sits on a highly elevated valley in Hawaii. There the coffee beans grew in Mauna Loa volcano's rich soil, where Kona coffee is known to prosper. Like its predecessors in the pack, the Estate Kona is considered very aromatic and fruity to nutty in flavor notes. Plus, it can be best enjoyed black without added sugar.
2. KOA Coffee – Peaberry Kona Coffee Medium Roast Whole Bean
Kona peaberry coffee is a specific coffee bean type that is rare to find because it takes a natural mutation to occur inside the coffee plant to create these "peaberries." They appear as an oval-shaped coffee bean, which is a peculiar shape because most coffee cherries naturally produce two coffee beans that grow facing against one another, thus giving most beans that flat-side look.
When coffee cherries produce oval-shaped peaberry beans, rather than the ordinary flat-sided beans, it becomes a matter of about 3 to 5% of the time. In other words, and according to KOA coffee, out of every 100 coffee bags produced, only 3 to 5 bags will be peaberry Kona coffee beans.
Despite the rare encounter with peaberry as they make up less than 5% of the yearly Kona coffee harvesting, the Peaberry Kona is still highly sought after or in demand by many coffee-lovers because of their full-bodied, smooth, and clean taste. You can also expect an intense and aromatic taste with no bitterness. KOA Coffee is one of the best Kona coffee brands that you can trust.
3. Royal Kona – Estate Extra Fancy Kona Coffee Medium Roast Whole Bean
Welcome your mornings with a taste of Hawaii from the fresh blend of the Royal Kona beans. Like all their roasts, this carefully-crafted coffee is naturally processed because its beans were left inside the coffee cherry, where it continued to soak in the sun rays. Such a traditional approach by the century-old brand creates a more smooth and full-bodied taste.
Also marketed as "extra fancy," this particular blend originates from a high elevation, a single-estate farm in Hawaii's famous Kona region. It is a medium roast yet with a relatively light flavor than other blends in the Kona line.
While it is expected for first-time coffee drinkers to not truly gauge what quality coffee tastes like, the caffeine-beginners can still rest assured that there are little to no bitter undertones in the roast's aftertaste. So, if you're introducing your passion for Kona coffee to someone new to the drink, then the Private Reserve Kona coffee might just make them get addicted.
Royal Kona is a brand owned by Hawaii Coffee Company. It's one of the best Kona coffee brands that has been roasting Kona coffee since 1969. They know the best way to roast those 'extra fancy' gourmet coffee beans. Also check out all the 100% pure Kona coffee at its official website.
4. Volcanica Coffee – Hawaiian Kona Coffee Extra Fancy, 100% Pure, Whole Bean
Volcanica Coffee is another prestige blend from the Aloha coffee farms because their plants are actually grown in mineral-rich volcanic soil, which happens to sit at altitudes of over 3,000 meters. So, thanks to their unique microclimate, it's no wonder that they love sharing their Hawaiian Kona coffee Extra Fancy roast with the rest of the world.
Also, as the beans were shade-grown, the coffee blend is a fulfilling medium-roast with discreet hints of citrus-fruity notes as well as bits and bits of jasmine, tart cherries, and savory caramel. Some could say there is a mellow taste with buttery aroma and tasting cinnamon spices in the coffee flavor profile.
Overall, this Volcanica roast is quite powerful yet flavorful.
5. Imagine Kona Organic Coffee Beans
Slightly different from the other Kona blends, yet still 100% authentic Kona, the Imagine Kona coffee is a medium-dark roast that can satisfy those who prefer a little bit stronger but not bold. With that relatively greater boost in caffeine, the robust blend can complement the lifestyle of workaholics.
Not to mention, the gourmet beans went through a high-quality process called Air Roasting, which allows the Kona beans to slowly mature under macadamia trees and involves careful handpicking. Thus, enabling that desirable smooth-buttery taste. Truly imagine every sip you get that combines an intensely dark flavor with a subtle note of sweet caramel.
Of course, quality can vary for some coffee-aholic. This particular roast is fairly fresh but might not be ideal for coffee lovers who are new in the caffeine game. We recommend starting with a light roast or a medium-bodied blend of Kona beans and then gradually building your way towards this medium-dark oasis.
6. MOUNTAIN THUNDER – 100% Kona Private Reserve
The Mountain Thunder pure Kona coffee Private Reserve was practically produced on a mountain top as its beans originate from the traditional Kona coffee plantation that sits on Mt. Hualalai's high elevated slopes. The unique microclimate atop the family-own estate is continuously exposed to the right balance of rain, humidity, and sun, which allows for its fresh and rich taste.
Within this particular blend, you can find a smokier tone because it is a medium-dark French roast. Therefore, those who have long since been drinking coffee since birth or those who no longer feel caffeine's effects but rather enjoy it for pleasure.
Some might disagree with the darker roast and feel a slight burnt or bitterness in the aftertaste. So, we'd recommend starting with a lighter blend or avoid using a French press or drip method as they are more designed to extract all the rich oil out of the beans.
7. BLUE HORSE – Farm-fresh: 100% Kona coffee, Medium Roast, Whole Beans
Suppose it's not Blue Horse's distinctive packaging that differentiates the brand from other quality Kona coffee blends. In that case, it's then the beans themselves in this particular offering that may get you addicted. As a medium-roast, this Blue Horse pack delivers that fine and crisp taste that all coffee should be.
Moreover, Blue Horse is certified by the Hawaiian State laws as a professionally graded authentic Kona coffee producer. In other words, their Kona beans have been previously shade-grown and meticulously hand picked straight from the Kona coffee cherries. In turn, this creates that sweet aftertaste with no acidity. Blue Horse mixes the high-quality Peaberry, Extra Fancy, Fancy, No1, Select and Prime beans together in their 'Estate Grade' product.
Not to mention, through sun-drying the beans for hours upon hours, the slow maturation process helps to preserve the aroma you'd get up on the first zipping of their tightly-concealed, double-layered package. Plus, their sustainable coffee harvesting ensures no pesticides and herbicides.
Additionally, as a bonus, Blue Horse also offers pure Kona coffee in the form of pods compatible with Keurig 2.0 machines. Like a pack of single-serve, you can enjoy about the same quality taste as the Blue Horse whole beans but with more tiny fragrant notes of vanilla and almonds.
Yet, while it may not be the best' kick' for Monday mornings, it's still perfect as an after-dessert or for your lazy Sundays.
Other Things To Consider When Buying Kona Coffee
Due to the rarity of locations that Kona coffee grows in as well as the high demand for its special quality, this has unfortunately created opportunities for scams, high price mark-ups, and a state-of-the-art coffee testing process in Hawaii.
Be Aware Of The "Kona Blends"
Given the high popularity and demand for Kona coffee, this, unfortunately, creates an abundance of opportunities for many 'fake' Kona coffee products or scammers.
Much of these misleading businesses that claim to be "100% Kona coffee" are, in fact, just regular coffee most of the time with artificial flavoring, and some come at a way lower price than the original Kona coffee roasts. This is largely because Kona coffee is grown in few parts of the world, making the beans' supply very limited and yet highly expensive.
In turn, to attract coffee-lovers, some businesses market "Kona Blends" products at a lower value. As delicious as these lower prices seem, you actually want to run away instead because the pure (and best) Kona coffee has to simply be expensive. Nothing we can do to change that!
According to the Hawaiian Coffee Association [2], as long as the "Kona coffee" contains at least 10% (by weight) of the origin named, then the packaging can be called "Kona coffee blend" for marketing purposes. Plus, the package labeling must explicitly state the percentage, and the font's size in the product description must match certain guidelines.
Truly authentic Kona coffee will bear the "100% Kona coffee" sticker or label on its packaging.
Not All Hawaiian Coffee Are 'Kona'
Similar to how Champagne is worshiped by the French, the Kona Belt region of Hawaii is idolized for its naturally coffee-inducing oasis.
However, contrary to popular beliefs, the entire 50th U.S. state does not contain a rich, microclimate condition suitable for coffee plantations.
For example, Maui and Kauai's commonly-known islands are not ideal for growing coffee, regardless of their high population of tourists. It also doesn't mean that the coffee from those regions is god-awful. It just means that if you want the best out of the Kona coffee experience, check out the Kona coffee grade.
The Kona Coffee Grade
When seeking to buy the best Kona beans, it is highly advisable to check the 'grade' label on the packaging. So-called Hawaiian coffee blends endure a rigorous testing process overseen by the state's very own Department of Agriculture [3].
As a result, the HDOA' grades' each Kona coffee batch according to certain criteria, including the beans' size, shape, growing conditions, moisture content and more. There are eight grades for Kona coffee according to the grading system:
KONA Extra fancy
KONA Fancy
KONA No.1
KONA Select
KONA Prime
KONA No. 3
KONA Natural Prime
KONA Mixed Natural Prime
KONA Extra Fancy grade contains the highest-quality or grade, even though the other grades are considered 'high in quality.' You can expect little to no defective beans while allowing for only less than 8% defects. The KONA Mixed Natural Prime is considered the lowest high-quality grade due to its allowance for 20% defects.
Where To Buy The Best Kona Coffee Beans
To get the best out of the best with Kona coffee, here are several trusted providers of the rare-quality beans:
1. From The Trusted Best Kona Coffee Brands
KOA Coffee
As an award-winning coffee producer (notably the PCCA Coffee of the Year award and for the Gevalia Cupping Competition), KOA Coffee has been living up to its prestigious reputation since 1997. Forbes also recognizes the Hawaiian brand as "the best coffee plantation" for its consistent delivery of a wonderfully decadent cup of coffee.
Hawaii Coffee Company
Other than its obvious name, the Hawaii Coffee Company is a renowned, trusted producer of 100% Kona coffee. With a long history in the industry, the brand operates its plantations in Hawaii, where its beans are only selected within the Kona Coffee Belt region.
Volcanica Coffee
As their name entails, Volcanica Coffee sources their beans from the very ashes of Hawaiian volcanoes to deliver the finest quality of the coffee. Given their fortunate plantation locations, it makes sense that they specialize in exotic gourmet coffee blends.
2. From The Kona Coffee Farm's Very Own Website
Kona Coffee Farm on the Big Island of Hawaii
If none of the above Kona coffee providers are convincing enough for you, then purchase 100% Kona coffee straight from the Coffee farm's website. With several local roasters operating online, they not only guarantee you quality coffee but an efficient and smooth delivery to your doorstep.
On Hawaii Big Island, there are also opportunities to attend a farm tour, especially if you speculate about the quality of the world-renowned Kona coffee! Try to see whether it's worth all the hype by indulging yourself in the local Hawaiian coffee-craze and sampling their Kona coffee before stocking up in your home.
The Verdict
As a royal-class brand, Kona coffee may be worth the hype for many of us. For the most part, it is because these special coffee beans are grown in only a few parts of the world, and for which those regions just happen to boast a very suitable microclimate that naturally makes its coffee plants one of the finest in the world. Talk about mother nature playing favoritism!
Kona coffee resembles any other coffee brand in that its flavor profile varies based on where and how it was roasted. With various blends, we'd recommend further research the coffee brands listed in on our review because if one thing is for certain, the price of pure Kona coffee is no joke.
Alternatively, we'd recommend the trio-pack for coffee-newbie and coffee-snob alike because you'd get an all-around taste of the best Kona coffee flavors that Hawaii has to offer. Its price tag will be thrown blissfully away once you have the first sip.
Reference:
[1] Featured photo credit: https://www.flickr.com/photos/irisphotos/30189463214
[2] https://hawaiicoffeeassoc.org/page-1771565
[3] https://hdoa.hawaii.gov/qad/files/2012/12/Summary-of-Chapter-4-143-7.14.pdf