You may be familiar with Vietnamese iced coffee (which we love!), but how about Vietnamese egg coffee (called ca phe trung)? If that doesn't sound as appealing, you're not alone, as we had our doubts about it too.
We love coffee, of course, and enjoy eggs, but put together, it doesn't seem as though it should work. More concerning is the fact that the beverage has raw egg yolk. However, to our surprise, the mouthfeel and flavor were a revelation.
This article will examine this unusual drink offering a particular recipe for Vietnamese egg coffee. We'll also explain how to pasteurize the egg so you can try it without any safety concerns.
A Brief History Of Vietnamese Egg Coffee
In 1946, Vietnam was suffering a shortage in the supply of fresh milk. At this time, a bartender named Giang, who was employed at the Metropole Hotel, worked out that by whisking egg yolk with sugar, you could concoct an alternative to the milk that was in milk shortage. The bartender began serving the guests coffee with the sugar and egg yolk milk replacement, and it proved extremely popular. Not long after, Giang left his job to set up an independent coffee shop, where he sold his creation – Vietnamese egg coffee.
If you're ever in Vietnam, you can visit Hanoi's Giang Café (Cà Phê Giảng), which serves the original Vietnamese egg coffee.
What Does Vietnamese Egg Coffee Taste And Look Like?
Egg coffee (Cà phê trứng in Vietnamese) combines freshly brewed coffee with egg yolks, sugar, and sweetened condensed milk.
The result is a robust coffee known for its creamy and thick egg layer that sits on top. We have sampled a Vietnamese egg coffee, and, in our opinion, it tastes and looks wonderful.
Vietnamese egg coffee harbors similarities with a cappuccino, or a coffee where the layer of foam sits on top of the drink. However, it is considerably thicker than a typical cappuccino. It also has more sweetness because of the combination of sugar and condensed milk.
It's the ideal mix of the strong and bitter Vietnamese Robusta coffee and the creaminess of the egg and milk. After you've tried it, you'll never forget the aroma and mouthfeel – in a good way!
How To Make Vietnamese Egg Coffee
It's extremely straightforward to make Vietnamese egg coffee at home. Also, you don't need a pricey coffee maker to do it, unlike espresso drinks.
First, you need to know how to make Vietnamese coffee. You only require a Phin (a traditional Vietnamese coffee filter), which is essentially a cheap coffee dripper. Vietnamese egg coffee is not the quickest coffee to make, but it's a great option for your Sunday morning coffee and you'll enjoy it.
What You'll Require To Make Vietnamese Egg Coffee
Coffee Maker
All you need is a Phin coffee filter (a traditional Vietnamese coffee filter).
Coffee Beans
One of the most critical aspects of making Vietnamese egg coffee is the beans. Ideally, you should use Vietnamese Robusta coffee beans. Robusta beans are intense and strong and contain around twice the amount of caffeine of Arabica beans. The bitterness and intensity of those beans work beautifully with the sweetness of the condensed milk and sugar.
If you can't get hold of Vietnamese beans, use some dark coffee beans and coarsely grind them. Café du Monde and Trung Nguyên Vietnamese coffee are good options.
Also Nguyen Coffee Supply offers everything you'll need to make Vietnamese coffee, including beans and Phin in different sizes. There "Original Phin Kit – Loyalty (Robusta & Arabica)" is great for getting started. Check out the price now.
An Electric Wire Whisk
An electric whisk isn't essential, but it will make whisking the egg yolks and condensed milk that much easier to achieve the creamy foam that sits on top of the beverage. If you don't have an electric wire whisk, that's OK – a manual whisk will work too, but it will take more effort.
Sweetened Condensed Milk
Sweetened condensed milk is essential for Vietnamese egg coffee, which is defined by its syrupy texture and sweet taste. There is a range of brands selling condensed milk, including Longevity and Nestle. We tried to dilute the condensed milk with some hot water, which also tasted great.
Egg Yolks
You'll require two egg yolks for every cup of Vietnamese egg coffee you make. To separate the egg yolk from the egg white, crack open the egg, then slowly pour the egg white into the other part of the eggshell, leaving the yolk in the first one. If you don't want to throw away the egg whites, you can keep them for baking or other cooking recipes.
Other Items
You'll need a small bowl that you can use to whisk the condensed milk and egg yolks. You'll also need a coffee cup, some tablespoons, and a bowl of hot water to keep the coffee heated. If you own a kitchen scale, use that to remove the guesswork.
Step-By-Step Instructions On Making Vietnamese Egg Coffee
Step one: Brew the Vietnamese coffee
Begin by setting up the Vietnamese coffee pot. Add 25g of coarsely ground Robusta (or other dark) coffee beans to your pot. If you have a coffee scale, you that to ensure more consistency. If you don't own a coffee scale, you'll need approximately two heaped tablespoons of the ground beans. Screw the filter loosely so that the grounds are compacted, but don't attach it too tightly.
Tips: Phin filters are relatively slow, so we recommend adding hot water to your cup before brewing so that when the coffee reaches the cup, it is already warm.
Step two: Bloom the coffee
In a similar way to pour over coffee, blooming releases the CO2 held in the ground coffee, enabling better extraction. Pour boiling water on the coffee powder to cover them (around 30 grams), and leave it for between 30 and 45 seconds. Blooming also allows the coffee grounds to swell as they absorb the water, which will ensure the coffee filters through far more slowly. This process will lead to a more intense taste.
Step three: Pour the rest of the water and let it sit
Once the blooming is complete, pour the remaining water until it reaches the top of the filter. We made out coffee using a small Phin, which equates to around 4 oz (120 ml) of water. Attach the lid and leave it to drip.
The entire process of dripping should only last approximately 5 to 10 minutes, although that will vary depending on the grind size. If it takes much longer, opt for a more coarse grind in the future. If it drips too quickly, go for a finer grind.
Step four: Prepare the egg cream
While the coffee is brewing, it's time to make the egg mixture. Extract the yolks from two eggs. In a bowl, mix them with one teaspoon of sugar. You can then whisk them until the creamy mixture expands a little. Pour in two tablespoons of sweetened condensed milk with vanilla extract. Whisk them on a medium speed for between three and five minutes until you see the soft peaks form.
While you're whisking, you'll see that the rich yellow color will become lighter. Also, as more air is added to the mixture, it will become creamier and thicker. You are looking for a fluffy texture that is airy enough for it to sit on the coffee. A good way to check whether it is fluffy enough is to place a drop of the mixture in some water. If it floats, you have the correct consistency.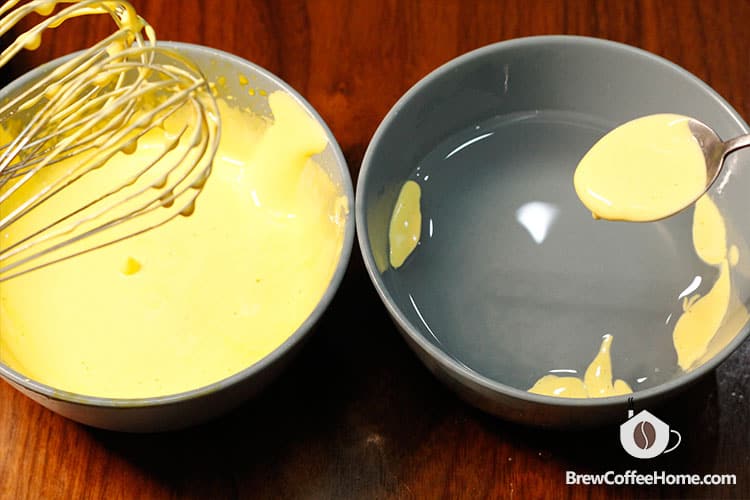 Step Five: Add the cream to the brewed coffee
By the time you have finished whisking the mixture, your coffee should be ready. To get a gorgeous top later, don't simply add the creamy fluffy mixture straight onto the coffee. Instead, with a teaspoon or spatula, pour the mixture onto the side of it and allow the foam to collect on top of the coffee.
Now, your Vietnamese egg coffee is almost ready to drink. If you want some extra decoration, sprinkle some cocoa powder on top. For a milkier flavor, add a small cup of evaporated milk and let it move to the bottom. Finally, stir the coffee and enjoy.
Tips: If you want to enjoy the hot coffee, put the coffee cup in a bowl with hot water to keep the coffee warm. Add ice cubes if you prefer the cold drink.
How To Pasteurize Eggs
There are safety concerns around using raw eggs. Some places sell pasteurized eggs. However, in other countries, raw eggs shouldn't be used directly for making this coffee.
Here's a quote from the FDA article, What You Need To Know About Egg Safety:
Fresh eggs, even those with clean, uncracked shells, may contain bacteria called Salmonella that can cause foodborne illness, often called food poisoning.

What You Need To Know About Egg Safety – https://www.fda.gov/food/buy-store-serve-safe-food/what-you-need-know-about-egg-safety
However, you can pasteurize your eggs at home to avoid salmonella poisoning.
Here's how:
Remove your eggs from the fridge and leave them until they are at room temperature.
Place the eggs in a saucepan and add water until they are fully submerged.
Turn on the stove to a medium setting, then gradually heat the water to between 135 °F – 140 °F (57 °C-60 °C). Use a thermometer for accuracy.
Hold that temperature for between three and five minutes depending on the egg size (three minutes for standard eggs, five minutes for extra-large eggs). Tip: Adjust the heat setting throughout this step – any higher than 142 °F, and the eggs will start cooking.
Take out the eggs and allow them to cool in a bowl of cold water.
Here's a video explains shows the process in greater detail:
Conclusion
Looking at photographs of Vietnamese egg coffee, you could be forgiven for thinking something so beautiful would need expensive equipment and highly technical ability to make. Also, the concept seems odd. However, it is technically easier to make than making a beautiful latte or pulling an espresso shot, and tastes wonderful.
Hopefully, we have inspired you to make Vietnamese egg coffee at home. All you need is a cheap Phin coffee dripper and the time to make it. If you don't have a Phin dripper, a Moka pot or French press can work too. You can even use instant coffee, as long as it's bold. Whatever you use to make the coffee, the key is it needs to deliver strong coffee.
If you're an enthusiast of Vietnamese culture or its coffee, it's well worth trying!
Vietnamese Egg Coffee (Cà phê trứng)
We will show you how to make Vietnamese Egg Coffee at home.
Equipment
Vietnamese Phin Coffee Filter

A whisk

A cup for brewing coffee

A cup for serving

Tablespoon and teaspoon

Kitchen Scale
Ingredients
2

tbsp

Vietnamese Robusta coffee

About 25 grams of coarsely ground coffee. Any dark roast coffee will work.

2

tbsp

Sweetened condensed milk

About 25 grams, if it's too sweet, use 1 tbsp instead.

2

Egg yolks

1

tbsp

sugar

6

fl. oz

water

194°F (90°C)
Instructions
Fill the coffee grounds to the Phin and put the filter on, then place the Phin on top of a coffee cup. Fill about 30 grams of hot water to bloom the ground coffee for 30-45 seconds. Then fill the rest of water to the top of the Phin. Let it drip for 5-10 minutes.

Whisk the egg yolk and sugar till you see the foam, add the condensed milk and continue to whisk for about 5 minutes till the mixture beocme thicker in texture and lighter in color.

Use a teaspoon to carefully pour the egg and milk mixture on top of the coffee.

Dust some cocoa powder on top