Let's take a closer look at Timemore's new flagship manual grinder, the Chestnut X Lite.
The X Lite is a more affordable successor to Timemore's previous flagship product, the Chestnut X. The newer model uses different materials but still features the same high-quality burrs of its predecessor.
I decided to try it out, and after using the X Lite for some time, I feel confident in sharing my thoughts on this premium hand grinder.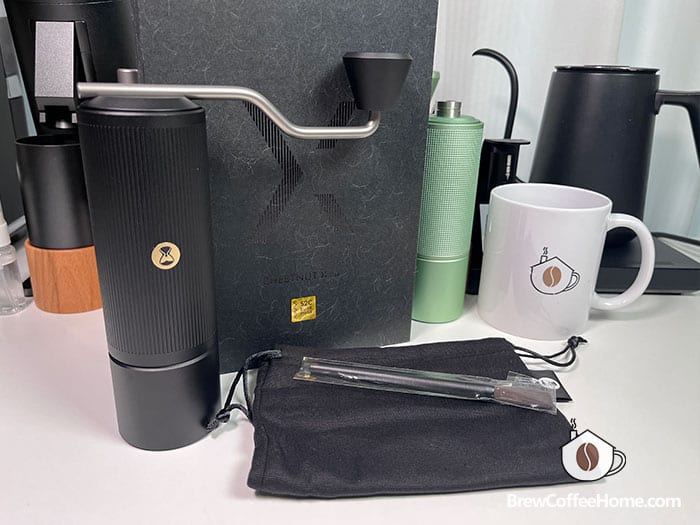 I have also reviewed and tested the Chestnut X and many 1Zpresso grinders, so in this article, I will also compare them side by side to give you a clear idea of the differences between them so you'll know which one is best for your needs.
TIMEMORE Chestnut X Lite Manual Coffee Grinder
Pros:
More affordable than Chestnut X

42mm spike to cut burrs, same as the Chestnut X.

48 clicks cover most brewing methods

Outstanding grind uniformity
Cons:
Internal adjustment is not as convenient as the external adjustment

Lacks micro adjustment for for espresso

Not as fast as other hand grinders we've tested in the price range
We earn a commission if you make a purchase, at no additional cost to you.
Key Takeaways
The Timemore X Lite offers a more affordable option than Chestnut X without sacrificing performance or style.
It has a 42mm spike to cut burrs, like the Chestnut X.
There is a 48 clicks internal adjustment, which is not as convenient as the external adjustment and is mainly designed for drip coffee.
Outstanding grind uniformity in the medium range for drip coffee or pour-over, sweet and well-balanced flavor profile.
Lacks micro adjustment for dialing in for espresso, takes 1.5 minutes to grind fine espresso grinds – not the best option for a daily espresso grinder. 
TIMEMORE Chestnut X Lite Hands-on Review
Aesthetic Design
Upon receiving the package, I was immediately impressed with the quality of the box. It shows that the company has invested time and thought into its packaging, making the unboxing experience memorable.
The accessories that come with the grinder, including a travel bag with two pockets, a brush, and the instruction manual, demonstrate the attention to detail that has gone into the product too.
Here is my Chestnut X Lite unboxing video.
The aluminum alloy body feels luxurious and comfortable to hold. It also features grooves on the side, providing comfort and a secure grip.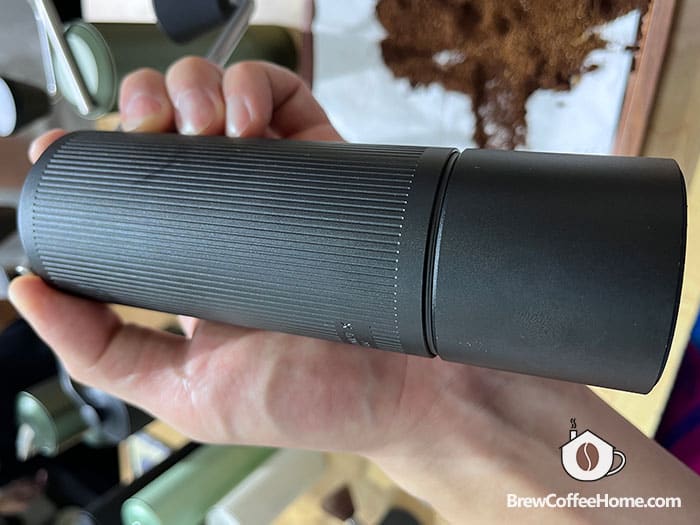 Unlike any other Timemore grinders, the ergonomically shaped crank handle is attached directly to the lid on top. I'm not a big fan of it, though, because it gives me the feeling that it will detach quite easily. However, it's very solid, and the lid is relatively thick. Of course, the aesthetic is quite subjective. It could be that you like it.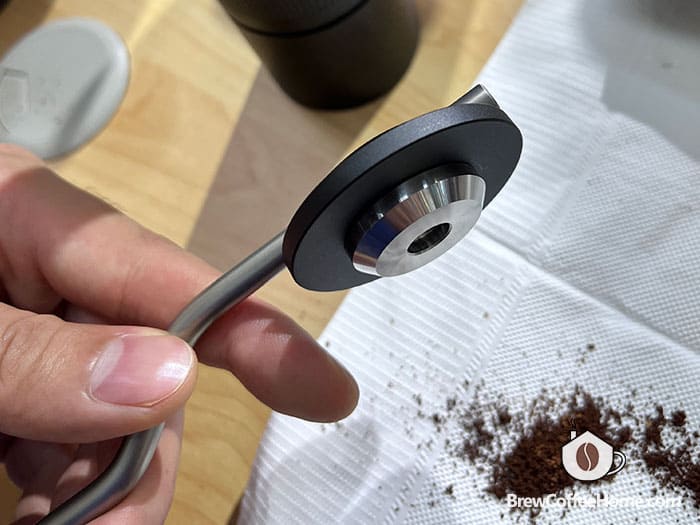 Additionally, the non-slip bottom ensures a stable base, preventing loud noises when placing it down on surfaces. This also adds safety, ensuring the grinder won't slide around easily.
As Timemore's new flagship grinder, I can tell everything is well built and they really focus on details.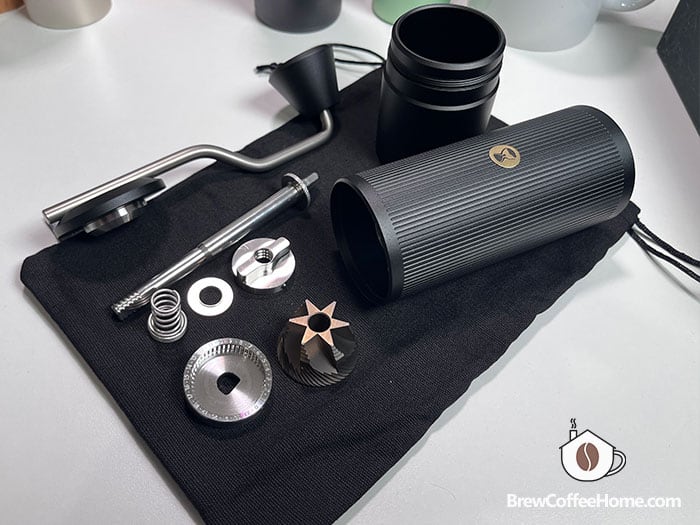 Grind Adjustment
There is a numbered dial on the Chestnut X Lite, which I also appreciate, as it allows me to keep track of my grind setting easily.
Unlike the Chestnut X, the X-Lite has no micro adjustment dial. Although it shows 24 numbers in the dial, you can adjust to 0.5 clicks, meaning you have 48 clicks for adjustment, which is enough for most filter coffee brewing methods or a coarser range for the French press.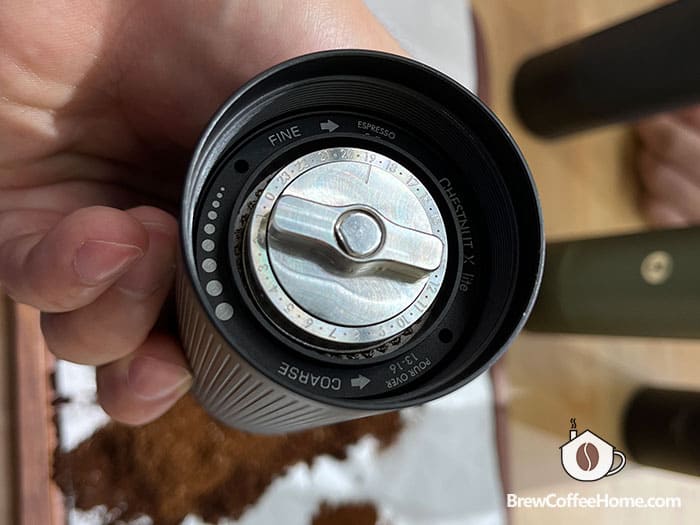 This grinder is also capable of grinding for espresso. However, because of the lack of minor adjustments and a larger adjustment distance between each click, you may not have the same level of control over the grind size for espresso. I tried the espresso setting, and one step can cause a big difference in the shot time. However, once dialed in, the shot quality is excellent.
In contrast, other hand grinders designed for espresso, including the 1Zpresso J Max and X Pro, offer hundreds of settings. If you are an espresso lover first and foremost, it may be an idea to consider the alternatives.
Grinding Experience
When it comes to the grinding performance, the grinder is adequate but not the fastest one I've tested.
I set the grinder to number 13, a medium-fine grind suitable for pour-over. It took about 45 seconds to grind 15 grams of light-roasted coffee. It took 1 minute and 30 seconds for espresso when grinding 18 grams of beans to fine grinds. Keep in mind that's the average speed. Overall, it's not as fast as other grinders designed for espresso.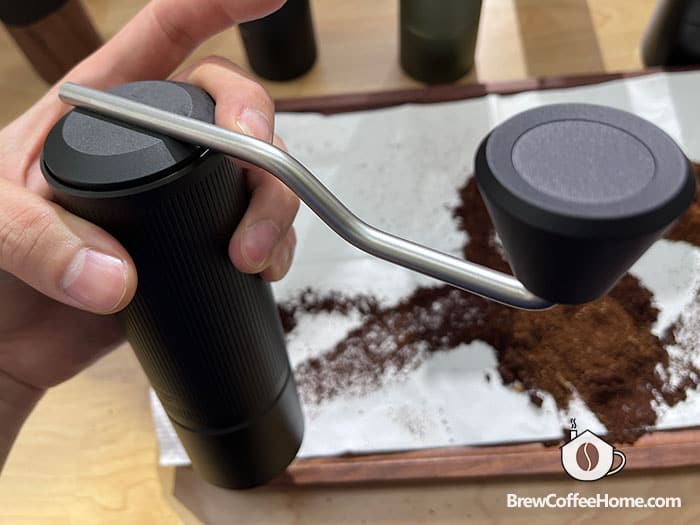 However, the ease of grinding with the X Lite is unmatched, especially with harder or more dense coffee beans like those from Ethiopia.
With its unique spike-to-cut design and the bearing system, grinding becomes a smooth and effortless process compared to other grinders like the C2, C3, and Slim.
Burr Specs and Durability
The Chestnut XLlite has a 42-millimeter diameter burr made from 440 stainless steel. It is also heat treated to achieve a Rockwell hardness between 58.5 and 60.5, enhancing its durability, and thus increasing the lifespan of the burrs.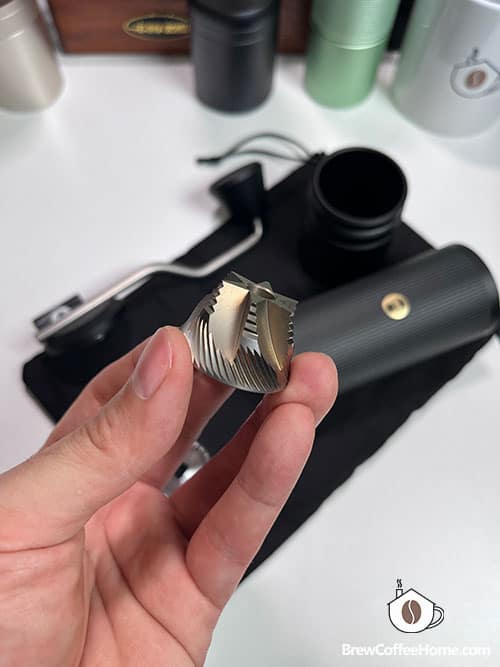 Moreover, the tensile strength of the 440 stainless steel is higher than the 420 stainless steel found in the C3 grinder, making it better suited for the more demanding tasks.
The patented burr geometry is unique, too. Most conical burrs in hand grinders have a curved tunnel with a sharp blade.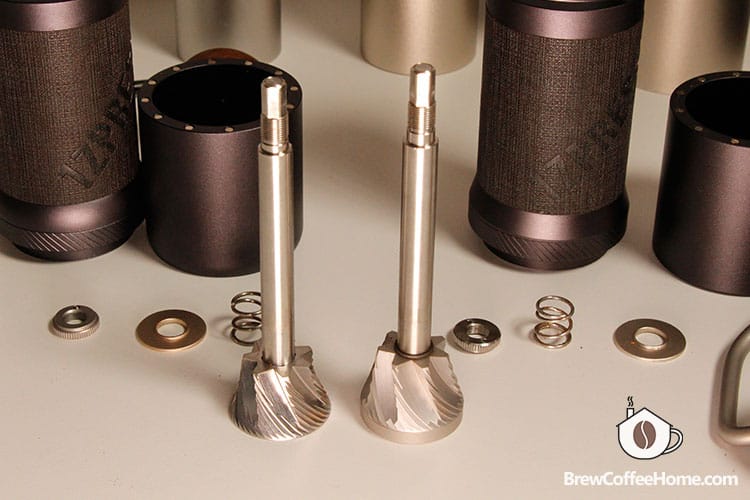 However, the S2C burrs in the X Lite have a more triangular shape and horizontal spikes to crash the beans before grinding them into the desired size. This ensures smoother grinding and more uniform particle distribution.
Indeed, I tested the grounds with Kruve sifts and found fewer fines and a higher percentage in the desired range for pour-over compared to other Timemore grinders.
Is It Worth Buying The Timemore Chestnut X Lite?
Timemore has introduced this product as a more affordable alternative to its higher-end counterpart, the Chestnut X.
However, although the materials used in the X Lite grinder are different, importantly, the product has the same quality of burrs as the older model. Given its affordability and performance, the Chestnut X Lite provides an excellent balance between price and value. Nevertheless, it is still not a cheap grinder and costs almost the same as an entry-level electric grinder.
As a user of this product, I particularly appreciate Timemore's attention to detail, which showcases the company's commitment to the overall customer experience.
For example, its performance and quality match well against the more expensive Chestnut X model or some 1Zpresso grinders, making it a worthy addition to any coffee enthusiast's grinding arsenal.
I particularly like its ease of grinding, high consistency, high precision adjustment, and well-balanced flavor of the grinds for pour-over. For these reasons, I have no hesitation in putting it into the premium hand grinder category.
In conclusion, the Chestnut X Lite grinder is a reasonably priced option for those who want a high-quality grinder.
Timemore X Lite Alternatives
Timemore Chestnut X Lite vs Chestnut X
The X Lite's big brother, the Chestnut X, has a dual adjustment dial and offers 120 grind sizes. For the medium grinding range, it may not be a huge difference compared to X Lite's 48 grind settings. However, it significantly improves the possibilities for espresso. That's because the smaller your adjustment, the higher the accuracy for dialing in.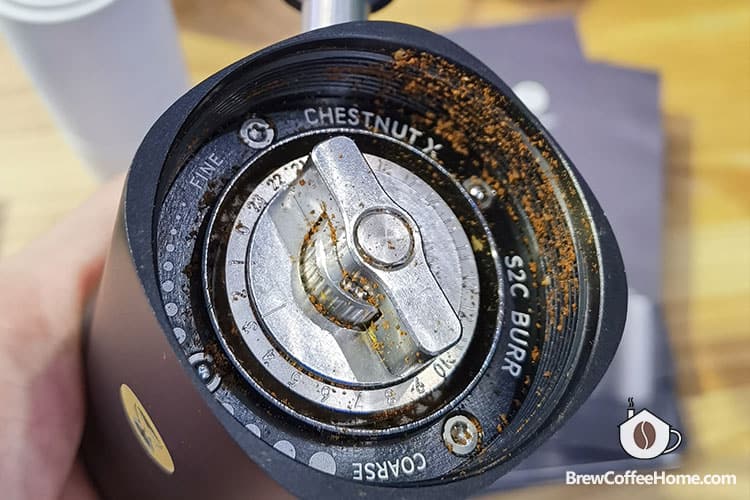 A few things I like in the Chestnut X are missing in the X Lite, perhaps unsurprisingly, given the latter's lower price. For example, the foldable stainless steel crank handle and the slightly square metal body are now a regular handle and a circular body, which are cheaper and easier to produce.
The X Lite is still stylish but not as elegant as the Chestnut X, in my opinion, but due to these changes, Timemore managed to reduce the price for a solid grinder, which is never a bad thing.
Timemore Chestnut X Lite vs. 1Zpresso X Pro S
We earn a commission if you make a purchase, at no additional cost to you.
1Zpresso also offers a wide range of hand grinders at different price ranges. The 1Zpresso X-Pro S is priced at the same level as the X Lite. There's not much between them. Indeed, some of my YouTube subscribers are torn over which one to opt for.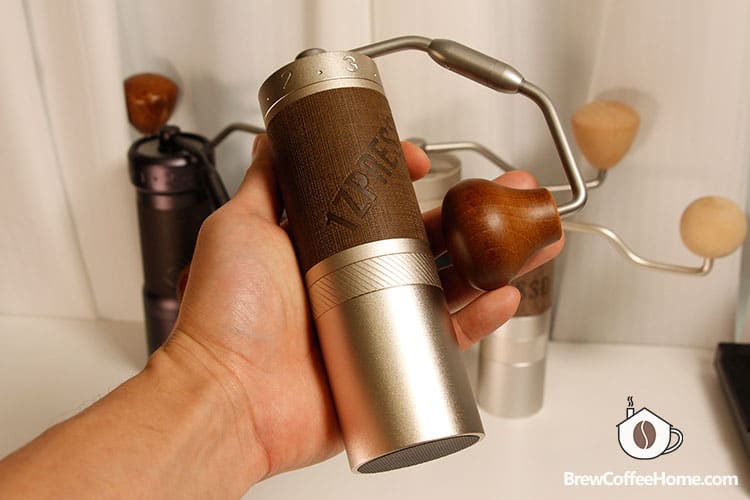 Here is my recommendation. The X Lite and X Pro S do a decent job if you mainly brew for filter coffee. The X Lite for pour-over produces a sweeter and more well-balanced flavor, while the X Pro coffee is more complex and brighter. However, for espresso, I'd recommend the X Pro. It offers 12.5 microns per click, while the X Lite lacks the micro adjustment. Each click may result in a big difference in the flow rate.
Besides the adjustment, I prefer the external grind adjustment dial on X Pro. Switching back and forth is much easier than the X Lite's internal dial. Here you can read my hands-on review of the 1Zpresso X Pro.
Conclusion
I've tested many Timemore hand grinders, so I am qualified to compare their models. The X Lite offers great value for money as a more affordable version of the Chestnut X without sacrificing the grind quality. That means coffee lovers can enjoy higher-quality coffee without breaking the bank for a premium grinder.
The build quality is top-notch, too. Many thoughtful designs can be found in the product, including the comfortable yet secure grooves on the body, the numbered dial, and the durable burr materials.
Compared to the other Timemore entry-level grinder, the S2C burr design makes it easier to grind even more dense beans and produces more uniform grind quality. It is especially suitable for pour-over. While it's true that 48 grind settings may not be suitable for espresso, it's fine for most brewing methods.
Considering everything, the Chestnut X Lite is a worthy investment for those seeking a high-quality, easy-to-use grinder at an affordable price.