We all have that particular favorite beverage from Starbucks that shines a little light on our day, but taking a daily trip to our favorite coffee shop can really be a blow to our bank accounts.
However, simple and quick recipes that bring the same flavors at a fraction of the cost can also save you a wait at the drive-thru or even an extra drive if the stop to the nearest Starbucks is out of your way.
Hot or cold, this article will guide you through making one of the most delicious options the famous chain has: the Starbucks matcha latte recipe.
What Is Starbucks Matcha Latte
Matcha is finely ground green tea, which is popular in Asia, especially in Japan. Matcha latte drink is made with green tea powder and milk, with sweeteners sometimes added to counter the slightly bitter flavor of the tea itself. Starbucks introduced the matcha lattes in its North American stores in 2005 as a limited-edited drink. Now you can find a few Starbucks matcha drinks, but the most popular one is definitely the Matcha latte!
This beverage can be served iced or hot and offers a caffeine boost to those that need it. Besides the outstanding taste, one of the most significant benefits of this drink is its simplicity.
Limited ingredients mean shorter prep time and mixing, which means you can enjoy your latte quicker and with far less hassle. That makes the drink ideal for anyone looking for a tasty drink without worrying about having to worry about following overly complicated steps. 
Starbucks Matcha Latte Recipes – Hot and Iced Versions
This recipe shows you how to make Starbucks Matcha latte at home, including the iced matcha latte and the hot version.
Equipment
1 Shaker or blender

for iced matcha latte

1 Whisk

or milk frother to mix matcha for hot matcha latte
Ingredients
1

teaspoons

matcha powder

about 4 grams

1/2

cup

milk

For the iced version

1/2

cup

iced cubes

For the iced version

1

cup

hot milk

For the hot version

2

pumps

syrup

or your desired amount of any sweetener

1

oz

hot water

Optional: For dissolving the matcha powder
Instructions
How To Make Iced Matcha Latte
Pour milk into the shaker.

Add 1 tsp of matcha powder to the milk.

Fill the iced cubes to the shaker, add syrup if needed.

Shake well until the mixture becomes frothy and the matcha is compelely dissolved.
How To Make Hot Matcha Latte
Dissolve the matcha powder in 1 oz of hot water or milk.

Add syrup or other sweeteners.

Steam or heat the milk then pour it over the matcha mixture.

Stir it thoroughly and serve!
Optional: Latte Art In Matcha Latte
Mix 1 oz of hot water with the matcha powder, use it as a shot of base 'espresso'.

Steam milk with the steam wand to create the micro-foam texture.

Pour latte art over the Matcha concentrate.
Notes
Notes
The Starbucks version uses ground Japanese tea with sugar. In addition, Starbucks typically uses 2% milk and ice. For the homemade version, you can definitely use whole milk, oat milk, coconut milk, or any matcha powder and syrup you like.
You will find that the caffeine content is close to what is available in coffee. Indeed, one teaspoon of matcha powder will increase equally roughly half the caffeine content of a cup of coffee. 
Sweetened matcha powder is a little harder to break down than regular matcha fine powder, so be prepared to take measures to break down chunks or remove them from the top of the mixture. 
Nutrition
Serving:
16
fl.oz
Calories:
200
kcal
Hot and Iced Starbucks Matcha Latte Recipes – Detailed Instructions
This section will instruct you on how to make the hot and iced Starbucks matcha latte recipes at home.
Starbucks Iced Matcha Latte Recipe
So, how to make a Starbucks matcha latte? Baristas use a specially designed shaker with measurement lines. First, fill the milk to the line according to the cup size, then add three to four scoops of matcha powder and ice cubs. Shake it until the mixture is frothy and the matcha is completely dissolved. Sounds pretty easy, so you can follow this simply copycat recipe to replicate it at home.
To bring a Starbucks iced matcha latte recipe from concept to reality, you will need to have the following:
Equipment:
Ingredients:
Matcha powder
1/2 cup of Milk
2 tablespoons of simple syrup
1/2 cup of ice cubs
Instructions:
Fill the shaker with about 8 oz of milk for a grande size (16 oz) of iced matcha latte. You can choose any type of milk, such as whole milk, 2%, oat milk, or coconut milk.
Add 1 teaspoon of matcha powder (About 4 to 5 grams) to the shaker, and you can add more if you like stronger matcha flavor.
Fill your desired ice amount. When you shake it, you are going to create some foam, and the ice will melt. So, in the end, you can fill a grande cup (16 oz), which is exactly the size you can order at Starbucks.
If you use unsweetened matcha powder, this is the perfect moment to adjust sweetness if you desire. Those with a sweet tooth can add vanilla syrup or similar options to achieve the desired taste. If you prefer less sugar, skip this step.
Shake well or stir the ingredients together. The matcha is unlikely to have clumps if you shake it with a shaker. Most of the time, the powder dissolves and mixes with other ingredients pretty well. However, you may see clumps if you use a spoon to stir the matcha in cold milk. Try to use 1 oz of hot water to help it dissolve, or you can use a strainer, as mentioned, to remove problematic chunks. Another option is to use a handheld whisk or an electronic milk frother to break down the powder quickly and efficiently.
Hot Matcha Tea Latte Recipe
As with the iced variety, a hot matcha latte recipe will require various ingredients and tools on hand. At Starbucks, baristas simply add sweetened matcha powder into the milk pitcher and then steam it using the steam wand of your espresso machine. You can do so if you have an espresso machine at home. However, if you don't, using simple kitchen tools can also make this.
Equipment:
Milk frother or handheld whisk (If you have an espresso machine, make use of the steam wand)
Ingredients:
Matcha powder
1 cup of hot milk
2 tablespoons of simple syrup or any syrup you like
Brown sugar or date syrup for added sweetness
Instructions:
Dissolve the matcha powder with a small amount of hot water or milk (1 oz or so). You can use a mug or a container of any size that can withstand heat. It is best to use a milk frother or steam wand to break down the clump of matcha powder while also making the frothy texture.
Add your favorite syrup to the mixture. The vanilla, caramel, and maple syrups pair well with the matcha latte.
Steam or heat your milk. Once that's done, simply pour the milk over the matcha mixture.
After you have stirred it all thoroughly, all that's left to do is sit back and enjoy!
Optional steps: If you have an espresso machine, you can treat the dissolved matcha mixture as a shot of espresso, then froth milk and pour latte art. The basic pouring technique is the same as you make other espresso-based drinks.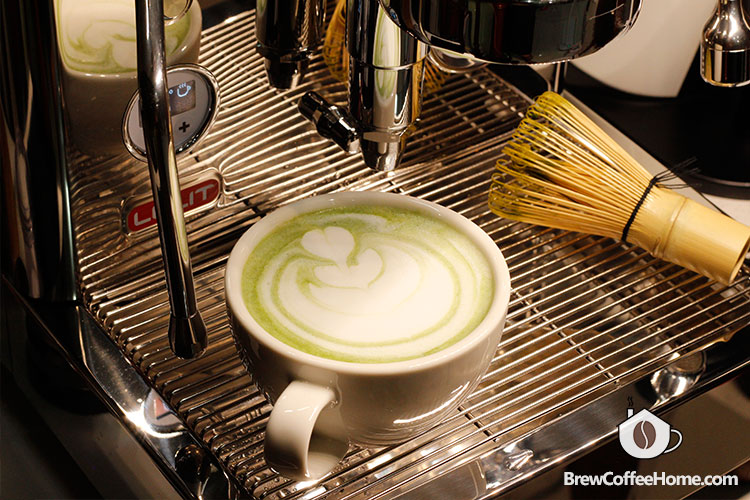 What Matcha Powder To Use
Now instead of using regular unsweetened matcha, you can substitute with sweetened matcha. However, the color will be a paler green, and it may lack some of the earthy taste associated with this drink.
Typically, the brighter the green, the better the quality of matcha.
There are two grades of matcha powder, ceremonial and culinary. The former is the best grade for drinking either traditionally or in a latte. It is made from young green tea leaves ground with stone and kept cool, which has a vibrant green color. Culinary grade has a more potent taste and tends to outweigh any sweetness added to it. 
Typically, the culinary grade is used for baking and cooking. The leaves used in this grade are older than those used in ceremonial and thus more potent. However, it has a gritty texture and a bitter taste, but it can suffice for drinks with milk or syrups.
You can find several brands on Amazon, such as Matcha DNA, Ito En, Ippodo, Matcha Love, and Navitas. You will likely also obtain matcha green tea powder at local supermarkets and organic shops. 
Something else to note is that the matcha powder may leave some clumping at the surface of the drink. To avoid this, you can use a traditional whisk called Chasen. Or simply use a handheld milk frother and a mesh strainer to make things easier.
How To Make Matcha Cold Foam
Matcha cold foam is a frothy topping used to tie your latte together. At Starbucks, fat-free milk is whipped in a high-speed filter to make the foam to top drinks.
You can make your own matcha cold foam at home by mixing 100ml of milk, one teaspoon of matcha powder, and 1 to 2 pumps of vanilla syrup. Mix these ingredients with a milk frother or blender and enjoy atop any of your at-home beverages.
Starbucks Matcha Latte FAQ
Is matcha good for you?
Yes. It is believed that matcha has the same benefits as green tea, which means it may support brain function, concentration, mood, and relaxation. Of course, it is essential to monitor your intake should you be less tolerant of caffeine, but the good news is that the caffeine content in matcha will likely not give you the jitters.
How to make matcha without lumps?
Traditionally people use a Chasen, a specially designed bamboo whisk to mix matcha. If you don't have one, the best way to avoid clumps is to mix well with a small amount of hot water, using a milk frother or whisk. Or use a fine strainer to sift through the matcha before mixing it with water gently.
Is the matcha latte at Starbucks sweetened?
The Starbucks matcha latte recipe has sugar added to it. Due to this, the drink will be naturally sweetened.