Have you ever thought about mixing coffee and orange juice? This popular drink mixes two acidic drinks; you may believe they do not taste the best together.
However, those who have tried it love how the sweetness of the orange flavor balances out the usual bitterness of the straight espresso. Don't make any prior judgments before you try mixing them.
Learn why orange juice and espresso make a great combination despite being acidic and how the viral drink trend started. We provide the basic recipe and variations to help you find an orange juice coffee recipe that best suits your taste so you can try the drink trend for yourself.
Key Takeaways
The main ingredients are orange juice and espresso, which makes this a simple recipe.
Both ingredients are acidic yet delicious when combined in one drink.
The coffee drink was popularized as a TikTok trend in early 2022.
It has many variations, such as making it bubbly with seltzer water for a Spritzy Americano or mixed with milk for a creamier, more balanced flavor.
The beverage has roots in Thai and Vietnamese coffee shops.
Why Orange Juice and Espresso?
Orange juice and espresso are uniquely odd yet delicious combinations (such as seltzer water mixtures!) While they are both acidic in their makeup, mixing the two ingredients dances on your tongue with notes of orangey sweetness and coffee richness.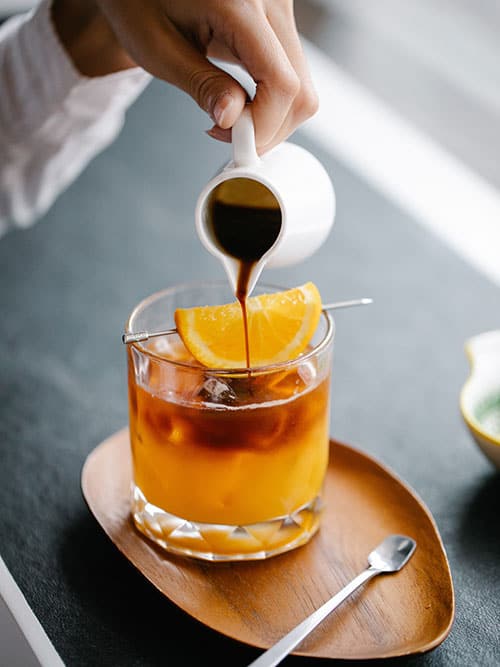 One study concluded that orange juice has a pH of about three. Coffee ranks about five on the same scale. Espresso is a more robust version of regular coffee with a unique depth of flavor.
According to the United States Geological Survey, substances ranking seven (neutral) and below are acidic, while anything above that number is alkaline. Since both beverages rank below a seven on the pH scale, which is the neutral area. Therefore, they are naturally acidic drinks.
Is Orange Juice with Espresso Good?
Many TikTokers have tried and loved the viral drink. The espresso and orange juice drink trend started on TikTok. London-based content creator @bundaddy posted a video on her TikTok page on March 2, 2022, where she showed how to make the drink and discussed her love for it. In less than a month, the video garnered almost two million views and nearly 193,000 likes on social media.
Some TikTokers prefer more coffee than juice, and others desire vice versa. The creator, @goldenbrown.coffee prefers to have more juice than coffee when he makes it in his video. He fills a tall glass with about 80% OJ and about two to three ounces of espresso.
TikToker, @rachellelui, prefers a smaller amount of orange juice than coffee in her rendition of orange juice and espresso. Before pouring in the juice and espresso, she adds a sizeable round orange slice to the bottom of her glass. What adds thematic flavor to the TikTok video is that she uses audio from the original viral video from @bundaddy.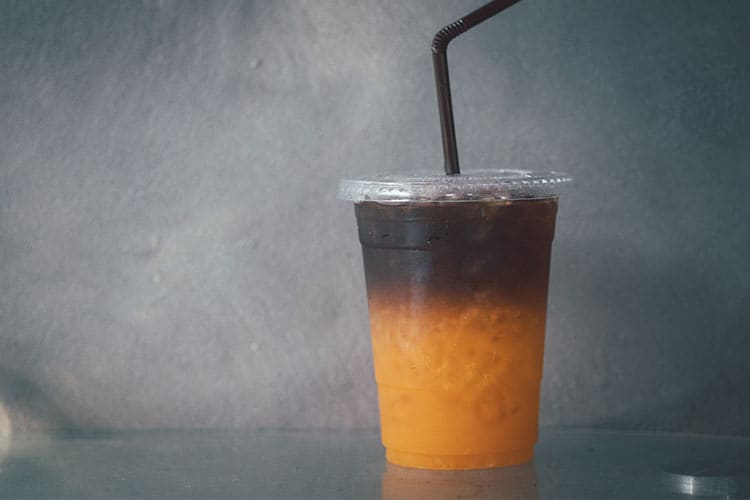 How to Make an Orange Juice and Espresso
Making this popular beverage is simple and subjective based on your desired taste. However, we have a basic recipe for you to get started on your first time making it. Refer to the instructions below to learn more about how to make orange juice and espresso.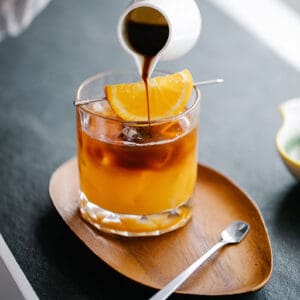 How to Make an Orange Juice and Espresso
This recipe show you the steps to combine orange juice and espresso to make a refrehsing drink.
Equipment
Moka pot or espresso machine

tall glass
Ingredients
2

shots

epressso

6

fl. oz

cold-pressed orange juice

An orange peel or other garnish of your choice
Instructions
Use an espresso machine to make your favorite variety. Let it come to room temperature.

Grab a tall glass from your pantry.

Fill the cup with about six to ten ice cubes.

Pour your favorite cold-pressed orange juice into the glass about 50% to 60% of the way up.

Add the espresso coffee to fill the remaining 40% to 50% of the cup.

Mix the drink with a straw and enjoy this refreshing drink!

If desired, add a garnish of your favorite orange part. Learn more about garnish options below.
Nutrition
Serving:
8
fl. oz
Calories:
110
kcal
Variations and Substitution Options:
Make the drink alcoholic with a splash of Amaro. This liqueur mixes a neutral-tasting spirit with citrus peels, herbs, or other plant-based ingredients to enhance drink flavors.
If you enjoyed an espresso tonic, you might want to try a mix of fruit juice, tonic water, and espresso.
When most people drink coffee, they like to pour in milk or cream. This dairy ingredient minimizes the overall strength of the coffee to make it more enjoyable. Hence, a bit of milk can do the trick.
Use a citrus squeezer to extract fresh orange juice if you do not have cold-pressed OJ. Use at least three to four oranges for the recipe. Of course, how much orange juice you use depends on their size and your taste preference.
To reduce preparation time, use a ready-made espresso instead of brewing it. Try the Starbucks Americano Black ready-made espresso as an option.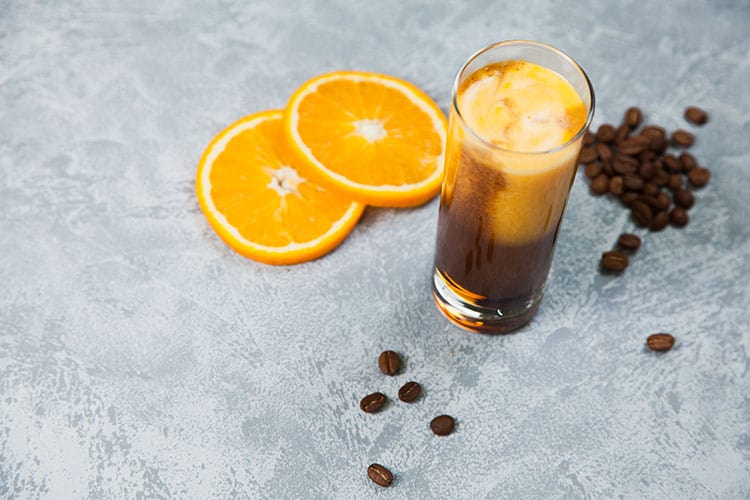 Cautions:
If the temperature vastly differs between the orange juice and milk, it could cause curdling. To prevent this, ensure that the milk and juice are at the exact, very cold temperature freshly from the fridge.
Milk is about 6.9 on the pH scale, close to a neutral ingredient in the initially acidic beverage recipe. Hence, adding a dairy product will further balance the orange's sweetness and bitterness of the espresso.
Garnish Options:
Try a garnish if you want to make your drink look fancier. Select from one of these creative garnish options that will bring your beverage to a new aesthetically pleasing level.
A round orange slice.
A quartered orange slice.
Homemade candied orange peels on top of the drink.
Use a vegetable peeler to extract orange peels from the citrus fruit.
Mix water with sugar and a dash of salt in a pan. Simmer the orange slices until soft.
Add a bit of vanilla extract and let it cook more.
Let the peels drain on a cooling rack with a paper towel under it.
Dust the peels in white sugar.
Add a few candied orange peels to your OJ and espresso beverage.
Frequently Asked Questions
Now that you know more about the espresso and orange juice trend, here are answers to your frequently asked questions.
What Are Orange Juice and Espresso Called?
Adding some seltzer water to juice and espresso turns the drink into a Spritzy Americano. The bubbliness of the seltzer water enhances the coffee's depth of flavor and juice's overall sweetness profile. In addition, seltzer water can create a new taste for this combination, making it the perfect add-on.
Can You Mix Orange Juice and Coffee?
Yes, you can mix orange juice and espresso or brewed coffee. The combination adds brilliant swirls for an aesthetically pleasing presentation.
What Do Coffee and Orange Juice Do?
Orange juice and coffee meld the bitter depths of the caffeinated beverage with the sweetness of the orange. It was most popular during the summer of 2022 and is making a comeback for the summer season of 2023.
Will You Try the Juice and Espresso Trend?
While some of the orange juice and coffee recipes can seem a bit daunting by the sound of them, you will only know your true thoughts once you try them out!
What do you think about the OJ with coffee espresso drink trend? Are you interested in making this unusual drink at home? Let us know what your thoughts are by leaving a comment below.