If you want a new way to kickstart your day, an espresso tonic might give you the shot of energy that you desperately need. You might just be looking for something different from your regular everyday espresso, and it is a step up from a refreshing iced coffee. You are sure to find this signature drink at your local coffee shop.
What Is Espresso Tonic?
Espresso tonic is an exciting and interesting combination made from espresso and tonic. These beverages are typically served in a highball glass. The glass is filled to the top with ice, and then four to six ounces of tonic water is added. The tonic water is topped with a double shot of freshly brewed espresso.
We made a short video to show you how to make Espresso Tonic at home.
Typically, the espresso tonic is a layered drink, and the espresso rests on top of the beverage and slowly trickles down through the glass.
People with a sweet tooth can add fruit syrup, and you can also add a garnish. The espresso tonic has endless ways to customize it depending on your palate.
Coffee lovers are always looking for great new beverages to try. The espresso tonic is a refreshing drink you can enjoy year-round.
People also find the espresso tonic visually pleasing, and they can watch the espresso foam slowly wind its way to the bottom of the glass.
Consumers who enjoy espresso and tonic will love this drink. The combination of flavors creates a bubbly experience that is bitter-sweet! The shot of espresso brings your tastebuds over the edge to caffeinated heaven.
Espresso Tonic Recipe
This recipe will show you the easy steps to make espresso tonic at home.
Equipment
Espresso Machine

Or any brewer that makes strong shot of coffee, such as a Moka pot, Nespresso or Aeropress
Ingredients
2

shots

espresso

4

fl. oz

Tonic water
Instructions
Fill a highball glass with ice.

Pour 4 ounces of tonic water over ice.

Pull a double-shot espresso, let it chill for a while.

Pour the espresso over the tonic water.

Add garnish or flavored syrup.
Notes
If you don't have an espresso machine at home, you can use cold brew concentrate instead. 
To get the layer, pour the espresso slowly.
Nutrition
The Origin of Espresso Tonic
The original espresso tonic was made after a staff party with a leftover tonic. Espresso and a little syrup were added, and the unique beverage was born in 2007. It was called Kaffe & Tonic and was added to Koppi Roaster Cafe's menu in Sweden.
The drink has become popular in Scandinavia, Europe, and the United States. Versions of espresso tonics have been created during barista competitions, and competitors would use tonic and coffee to create incredibly unique drinks.
These signature espresso drinks eventually found their way onto the cafe menus of specialty coffee shops such as Saint Frank Coffee in San Francisco. The espresso tonic trend is spreading to many other specialty coffee shops that personalize their recipe.
What Makes a Good Espresso Tonic?
An excellent espresso tonic is made from the unusual combination of tonic water and espresso. You might think drinking a carbonated coffee is a little offputting, but it is enjoyable.
Tonic water is sweet carbonated water that has a dash of quinine. Quinine is known for its fever-reducing properties, and this beverage is pleasantly confusing to the palate with its sweet and bitter taste.
An espresso is a robust form of coffee, and it is usually served in shots and is often used as the base of other coffee drinks.
This beverage is made with an espresso machine. Pressurized hot water is filtered through finely-ground coffee beans, creating a robust coffee topped with foam created by air bubbles.
Espresso comes in all the flavors of coffee, but it is much more pungent and bitter, and espresso is much thicker and creamier than regular coffee.
So there are only two main ingredients – freshly brewed double-shot of espresso and good tonic water you like!
What Tonic Water To Use
Several types of tonic water work well for espresso tonic. Each brand offers a particular flavor that will tempt your taste buds.
Double Dutch's Indian Tonic Water is top of the list because it creates a good balance of espresso and tonic water.
East Imperial's Burma Tonic Water is an excellent choice for people with a sweet tooth, and this drink's sweetness overpowers the espresso's bitterness.
Fever Tree Premium Indian Tonic is an excellent choice for chocolate lovers, and the tonic exaggerates the hints of chocolate in the espresso.
F & N's extra dry Tonic water is another excellent choice for a smooth and well-balanced espresso tonic.
What Coffee To Use
You can use your regular coffee to make your espresso shot. If you want to experiment with different coffees, a darker Brazilian or a fruity African coffee makes delicious espresso tonics. Fruitier beans will add brightness and floral notes and sweetness to your cafe tonic drink. Just remember to let it cool slightly before pouring into the tonic.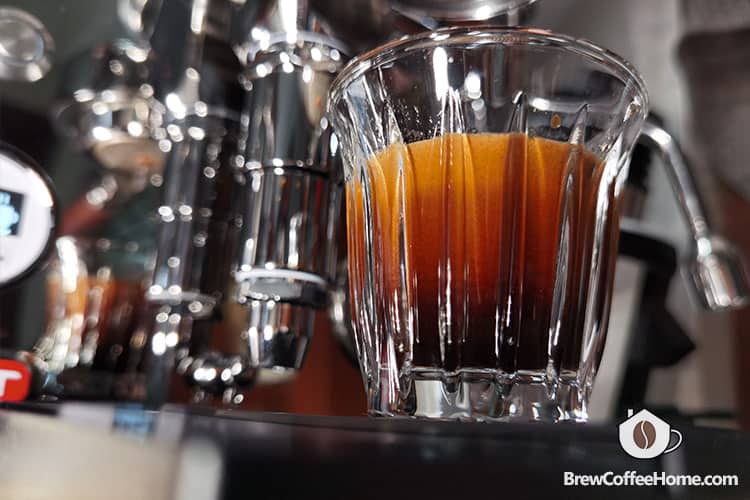 You can also use a cold brew instead of espresso to make the coffee tonic, but you should use a concentrate so your beverage won't be too watery.
What Does Espresso Tonic Taste Like?
It is hard to imagine if you have never experienced an espresso tonic. It tastes like a refreshing soda with a citrusy flavor that has hints of coffee flavor. You would think that the strong taste of both beverages would be overpowering, but it is the opposite. Instead, you will enjoy a light, tasty carbonated drink with a slight kick of caffeine and detect subtle floral notes.
How To Make Espresso Tonic At Home? – Tonic Espresso Recipe
You will need two ingredients to make an espresso tonic.
Ingredients
2 shots of espresso
4 ounces of tonic water
Typically, an espresso tonic is made with a 1:2 ratio of espresso to tonic water, and you can change this ratio depending on your taste.
Equipment
Espresso machine
Step-by-Step Instructions
Step 1: Fill a highball glass with ice. It is essential to use enough ice.
Step 2: Pour 4 ounces of tonic water over the ice slowly. Pour it slowly.
Step 3: Make your espresso. A double shot espresso is around 2 oz.
Step 4: Pour 2 shots of espresso over your tonic. Pour slowly to prevent any overflow.
Step 5: You can add a garnish, such as a slice of lime or a sprig of mint. You can also use simple syrup to add more sweetness to your beverage.
The Final Thought
An espresso tonic will make the taste buds dance for coffee lovers looking for something new and exciting, as it adds bubbles of a soda to your favorite coffee flavors. Moreover, the espresso tonic recipe is simple and easy to follow, so you can make it at your convenience anytime, during any season.