If you're in the market for a prosumer-level home espresso machine, you'd usually need to pay a high-end price. However, the Lelit Mara X promises premium experience and quality for a mid-range price. But does it live up to that promise?
This review takes a detailed look at the machine to examine its pros and cons and determine whether it really does offer value for money and excellent quality. Let's get started.
Lelit Mara PL62X Espresso Machine Review
Design And Build Quality
One of the first things that will strike you about the Lelit Mara X is its extremely compact footprint. It's only around 9in (23cm) wide, 14in (35cm) tall, and 16in (40cm) deep, making it one of the smallest prosumer machines on the market – ideal for anyone with limited countertop space. However, because of those proportions, it does appear quite tall. That shape might even be slightly offputting for some people more used to seeing prosumer machines with a boxy shape. However, it should still fit comfortably under most kitchen cupboards.
Like all E61 espresso machines, there is a lever to the right beside the E61 brew group. You'll also find two knobs for the steam and hot water wand. There are also two indicator lights – one for the temperature and the other for the water tank. Meanwhile, a dual pressure gauge indicates the pump pressure and steam boiler pressure.
There is ample clearance between the drip tray and the group head, so almost any coffee cup should fit comfortably. If you remove the drip tray, you'll notice a button for controlling the three temperature brewing settings – low, medium, and high. Typically, you'd make your selection based on the roast level of the beans you're brewing with.
The machine is hand-built in Italy and is predictably well made. Its casing is predominantly brushed stainless steel. This contrasts nicely with the polished stainless steel of the group head, steam wand, and water wand. Adding to the premium feel of the machine is its weight – a hefty 42lbs (19kg).
Because of its lower price compared to the more high-end machines, the Lelit Mara X doesn't have dual boilers. Instead, it is a heat exchanger machine equipped with a 1.8L stainless steel boiler. You can still pull a shot and steam milk simultaneously.
Finally, Lelit Mara X has a satisfying finish, with no awkward panel gaps, while you'll barely hear it vibrating while it's in use.
Ease Of Use
The Lelit Mara X is simple and intuitive, making it a great choice as either a first espresso machine or upgrading from your Breville, Gaggia or other entry-level semi-automatic machines.
Still, one of the things that many people see as a disadvantage of the machine is the absence of a control panel. While it's true that this limits your ability to tweak elements such as temperature control, it does mean that using the machine is less hassle. It makes beautiful, balanced shots with minimal fuss as there are no complicated settings to tweak. However, all the essential variables are taken care of.
Another great thing about the Lelit Mara X is its relatively rapid heat-up time – it only takes around 15 minutes. While waiting, you can grind the beans to the correct size, then distribute and tamp them evenly into your filter basket. Finally, lock the front-facing portafilter in, lift the lever, and you should get perfectly extracted beverages at the correct temperature and consistent 9 bars of pressure.
In other words, pulling an espresso shot with the Lelit Mara X is straightforward enough for beginners, with the advantage of tasting far nicer than entry-level home espresso machines.
Brewing Performance
As we mentioned earlier, this is a compact machine. However, it still has plenty of advanced and, in one or two areas, unique features for excellent brewing performance.
Pre-infusion
In keeping with other E61 machines, the Lelit Mara X has built-in mechanical pre-infusion. However, the Mara X's pre-infusion is unique as the pressure increases in a more linear, smooth way over a more extended period. This helps reduce channeling, meaning you can use finer grounds as you would on a commercial lever and profiling machine.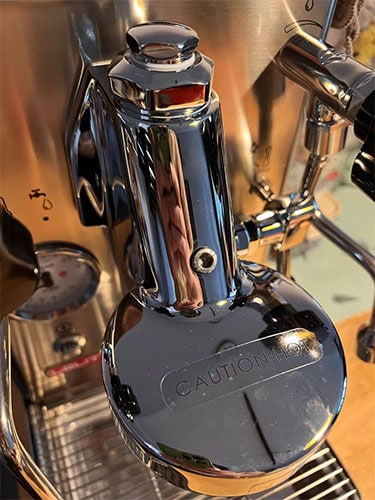 Brew Priority Mode/Steam Priority Mode
One of the more unique – and impressive – features of the Lelit Mara X is the brew temperature priority mode and steam priority mode.
You can find a switch behind the drip tray. The "off" button is for steam temperature priority, while the "on" button is for brew temperature priority. In steam priority mode, the machine will boil the water slightly hotter, which pumps better steam pressure for longer.
However, the brew temperature mode sets the machine apart from rivals. This lowers the steam pressure slightly but optimizes the water for the perfect temperature for brewing.
Temperature Control
In a traditional HX espresso machine with an E61 group head, there is often an unstable heat balance when steaming milk, while the water will overheat while brewing coffee. Lelit addressed this issue with the Mara X and its patent-pending double probe HX system. It measures the heat exchanger temperature with the steam temperature twice per second and tweaks the boiler temperature accordingly, depending on the mode you choose.
Meanwhile, on the front of the machine is a three-level switch to adjust your temperature between low, medium, and high depending on the roast level of the beans. This is in place of a PID screen with full adjustability. The "0" setting reaches 89°C to 91°C, the "1" setting between 91°C and 93°C, and the "2" setting offers temperatures of between 93°C and 95°C. Whichever you choose, you'll get a consistent shot temperature.
Milk Steaming Performance
The steam pressure is not high even with the Mara X set to Brew Priority Mode. Nevertheless, you'll still get enough steam power from the steam tips to create the optimum vortex for beautiful microfoam. Another advantage is you won't need to carry out cooling flushes since this mode keeps the temperature stability for the brewing.
Nevertheless, if you need a cooling flush, it's almost effortless to do so – just pull up the group lever for a few seconds to flush out the overheated water and get it to the correct temperature.
If you steam lots of milk for several cups of coffee, you can opt for Steam Priority Mode to offer more consistent and powerful steam.
This is perfectly suitable for beginners to hone their milk-texturing skills when making milk-based espresso beverages. With practice, you should even be able to produce gorgeous latte art.
Other Great Features
Quiet Vibration Pump
Vibration pumps are usually fairly loud – and certainly noisier than the rotary pumps used by dual-boiler prosumer machines, but that's not the case with the Lelit Mara X.
The main reason for this is the pump has been specially made for Lelit by Olab to guarantee higher quality – another element that speaks to the premium build quality of the machine's build. Meanwhile, the machine has a low water debit, and vibration pumps are always quieter when pumping lower volumes of water.
Cool-Touch Steam Wand
Another nice feature is the machine's cool-touch steam wand, which is great for brewing espresso-based milk drinks without risking burning your hand when you wipe it.
Cartridge Water Softener System
The machine has a cartridge water softener system that filters approximately 35l of water, meaning they won't need changing too often. This is particularly useful for anyone using the machine in areas where the water is hard.
Cup-Warming Rack
A simple stainless steel cup warming rack on top of the machine will comfortably hold two standard-sized coffee mugs.
Lelit Mara X Accessories
The machine has excellent accessories, including a spouted portafilter with three filter baskets. There's also a classy 58mm stainless steel tamper with a gorgeous redwood handle.
Other useful accessories that come with the machine include a measuring scoop, water filter, blind filter basket, cup rise, and cleaning brush. You can also buy a separate flow profiling paddle to step up your espresso brewing game. Similarly, you can buy a separate bottomless portafilter if you prefer.
Value For Money
If you're a beginner to domestic espresso brewing or want to upgrade to a prosumer machine, the Lelit Mara X is an excellent option without spending several thousand dollars.
A few things are absent in this machine that you'll find in the most expensive machines, including dual boiler, rotary pump, and the ability to plumb it directly. As we mentioned earlier, there is also no control panel, so it doesn't offer quite the precision and control of the most expensive machines.
Despite lacking some features you'd expect in a high-end machine, it does have some features others don't, too, including that unique mechanical pre-infusion, and brew priority mode and steam priority mode. Overall, it's hard to beat for price, considering ease of use, the quality of its build, and its brew and steam performance. This is one of the best value heat exchanger machines on the market.
Drawbacks
As we mentioned earlier, the Lelit Mara X is more than box-like, which may be slightly offputting for people who are more used to seeing traditional boxy prosumer machines. However, it can be a blessing if you have limited kitchen countertop space.
Another potential drawback is the legs the machine stands on. They have small rubber protectors to avoid scratching countertops, but they come off quite easily. Therefore, it's never a good idea to slide the machine across your countertop as it could cause scratches. Meanwhile, it's heavy, so lifting it also takes some effort.
Another minor issue is the ease with which you can spill water while removing a full drip tray. You need to tilt it a little before removing it to counteract this.
Some users also find the machine goes into standby mode a little too quickly, so it could even be worth turning this feature off if you intend to leave the machine for a short while before finishing brewing.
Lelit Mara X Alternatives
Rocket Appartamento
The Rocket Appartamento is a popular prosumer machine. Like the Lelit Mara X, it has a compact footprint. However, the design is perhaps more stylish. Other similarities with the Mara X are it's a heat exchanger and has a vibration pump.
The Rocket Appartamento is more revered than the Mara X. Because of this additional popularity, it's not difficult to find plenty of information, including hacks on getting the best out of the machine, online, which is another advantage it has over the Mara X.
Nevertheless, the Rocket Appartamento doesn't have as many advanced features as the Mara X, including PID and brew and steam priority modes. Also, the learning curve is steeper. However, it can pull excellent shots once you get to grips with that.
Lelit Bianca
The Lelit Bianca is a higher-end machine than the Lelit Mara X, with a dual boiler, LCC control center, and water profiling. As well as the features that offer better results and more control, the machine also looks more premium, with several wooden accents. There's also a rotary pump, and the machine supports directly plumbing from a water line. There's a marked improvement in the quality of available accessories, too.
Overall, the machine is suitable for more advanced domestic baristas pursuing perfect shots. However, as you would expect given its higher build quality and additional features, it does cost more than the Mara X. Check our hands-on review of the Lelit Bianca here.
Our Verdict
The Lelit Mara X is an excellent option if you want to upgrade from an entry-level espresso machine or try domestic espresso brewing for the first time, but want coffee-shop quality drinks without a steep learning curve or a hefty cost.
It's beautifully built and compact, making it durable and ideal for limited countertop spaces. Meanwhile, even though it lacks some of the features of higher-end machines, there's less hassle in brewing a beautiful shot.
The machine is quiet, too, so you don't need to worry about waking others up if you're using it first thing in the morning.
There are some limitations – for example, it's not a dual boiler machine. Also, there's no LCD, so it doesn't offer quite as much control as the most expensive prosumer machines. Nevertheless, these are only minor concerns for what you get for your money.
Overall, it's an excellent option regardless of what stage you're at in your domestic espresso brewing journey.