Have you tried dirty coffee at your favorite coffee shop? It's a beverage that's growing increasingly popular, particularly in Asia. In fact, if you travel to China, Japan, South Korea, or Thailand, you'll find it on the menu of most coffee shops.
But what is dirty coffee? If you've not tried it, it's a coffee that looks amazing and has a beautiful mouthfeel. This article will detail what dirty coffee is, why it is so special, and offer a recipe for making it.
What Is Dirty Coffee?
Dirty coffee is a beverage you can make by pouring hot, strong espresso over extremely cold milk. The hot espresso sits on top of the pure white milk, and it slowly permeates through it, creating a messy appearance, hence the name. The beverage is served in a clear glass so that the consumer can admire the art before drinking the delightful creamy and sweet coffee.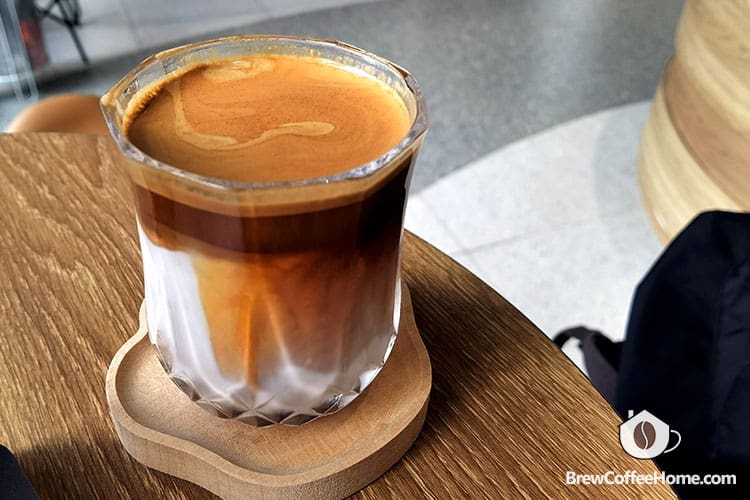 Because the coffee has hot and cold layers, dirty coffee has a really special and unique mouthfeel. Your first sip finds you enjoying the creamy, robust, and hot espresso. Then, when you reach the milk, that hot drink suddenly becomes cold.
The flavor is amazing, too, because after tasting the bitter espresso, the milk that follows seems even sweeter than usual. Finally, the two flavors and temperatures combine in your mouth for added complexity that you will love. Also, if you brew it correctly, you'll have a gorgeous, layered coffee that is worth a share on Instagram.
Dirty coffee originated in Japan, but it's now increasingly popular in other areas of Asia. However, not all dirty coffees are the same, with shops using different recipes and ingredients. For example, some use half and half, whipped cream with milk, which is incredibly rich, whereas others use fresh whole milk.
You probably haven't seen dirty coffee for sale in the USA, but you may have seen it in Starbucks under another name, the Undertow, which is on its secret menu. Meanwhile, many other coffee shops offer similar drinks with several varieties.
How To Make Dirty Coffee At Home
Because the drink is relatively new, there is no standard, accepted way to make dirty coffee. For example, you can either use a double shot of espresso or a single ristretto shot. However, if you own an espresso machine, you can easily make this delicious beverage at home.
Our short video below shows you the quick way to make a delicious dirty coffee at home.
You can either pull a shot of espresso into an espresso cup, then pour it over the milk, or pull the espresso shot straight into the milk.
As we explained earlier, one of the things that makes dirty coffee so special is the combination of a hot and cold drink, making the layer essential. Here's how to perfect it.
Ensure the milk and glass cup are both cold.
Use a spoon to pour the espresso over the milk.
If you're pulling the espresso straight over the milk, reduce the gap between the portafilter spout and milk. You can also rotate the coffee cup during brewing so the espresso will fall on the milk more evenly. Alternatively, use a spoon to slow the pouring of the shot for a beautiful layer.
Dirty Coffee Recipe
Ingredients:
18 grams of coffee – dark roast coffee beans combine beautifully with the milk.
4 to 6 ounces of cold milk – this is the amount you'll find in a dirty coffee you buy in a shop.
Coffee Equipment:
Cold cup – pre-cold the milk in a freezer for 15 minutes before you make the drink.
Espresso machine
Instructions:
1 .Before making the dirty coffee, pour the milk into the glass cup and put it in the freezer for 15 minutes.
2. Using your espresso machine, pull a double espresso shot. Using 18 grams of coffee, we ideally want 30ml of coffee liquid. The espresso needs to be a little more concentrated than a standard double shot.
3. As you begin pouring the espresso over the milk, use an upside-down tablespoon between the espresso and the milk. This will let the shot suspend over the milk instead of immediately mixing with it, creating a beautiful layer.
4. Immediately drink the dirty coffee before the layer sinks into the milk.
Tip: If you prefer a sweeter cup of coffee, add sugar or syrup to the milk before pouring your shot. Any syrup will work, including cinnamon, vanilla, or caramel.
How To Drink Dirty Coffee
What makes dirty coffee unique is the beautiful layers and the combination of a hot and cold drink. Therefore, we don't recommend stirring it before you drink it.
Also, it's worth drinking the coffee quicker than you normally would because it doesn't take long for the espresso to mix with the milk beneath it. Meanwhile, the different temperatures of the layers soon combine to give a lukewarm drink.
Dirty Coffee vs Iced Latte
Dirty coffee is sometimes mistaken for an iced latte, but the two are significantly different.
Firstly, the brewing methods of the two drinks are different. When making an iced latte, you would normally pull a double espresso shot, add ice cubes to the cup, and then froth the milk with a steam wand and pour it over the coffee.
When you drink an iced latte, you would typically mix or stir it, meaning that unlike dirty coffee, you have a drink with a consistent temperature and without layers.
Dirty Coffee vs Dirty Chai Latte
Dirty chai latte consists of chai tea (also known as Masala Chai), an espresso shot, and a cup of cold milk.
To make it, you add ice to a glass cup, then pour over the chai tea and milk. Additionally, you can froth the milk to add texture. Then you pour over the espresso.
There are pronounced color differences between the ingredients, which gives it a similar messy look as dirty coffee.
Dirty Coffee Recipe
This recipe shows you how to make dirty coffee at home
Equipment
Cold coffee cup

Espresso Machine

Tablespoon
Ingredients
2

shots

espresso

6

fl. oz

cold milk
Instructions
Put the cold milk and coffee cup into the freezer for 15 mintues.

Pull a double shot espresso with your espresso machine. With 18 grams of finely ground coffee, you pull 30 grams of espresso.

Pour the espresso over the milk in the cold cup.
Notes
Pre-cold the milk and glass cup;
Use a spoon when pouring the espresso over the milk for a better layer;
If you pull a shot directly into the milk, shorten the distance between the portafilter spout and the milk surface. Or use a spoon to slow down the flow of your shot to create a better layer.
Nutrition
Final Thoughts
Dirty coffee is well worth a try. It is an amazing coffee drink with a beautiful mouthfeel that satisfies your taste buds. You can brew it at home even if you don't have an espresso machine.
Instead, use a Moka pot, French Press, or AeroPress to brew a small amount of hot brewed coffee that's appropriately concentrated. Then, gradually pour the coffee over the cold milk in the chilled glass.
Considering how different from other coffee drinks dirty coffee is and how straightforward it is to make, you have nothing to lose trying it – and you might just produce your very own take on an increasingly popular, unique, and delicious drink!